Have you ever wondered where the soul of India resides? Where the spirit of freedom and justice lives on? Where the legacy of one of the greatest men in history is honored and celebrated? If you are looking for such a place, then you should visit Raj Ghat in New Delhi, India.
Raj Ghat is a memorial dedicated to Mahatma Gandhi, the leader of India's independence movement and the apostle of peace and non-violence. It is located on the banks of the Yamuna river, where Gandhi's mortal remains were cremated on January 31, 1948, a day after his assassination by a fanatic.
Raj Ghat is a simple yet elegant structure, consisting of a black marble platform that marks the spot of Gandhi's cremation. The platform is surrounded by a lush green garden that symbolizes Gandhi's love for nature and simplicity. On the platform, there is an eternal flame that burns continuously, representing Gandhi's immortal spirit and ideals. The platform also bears Gandhi's last words, "Hey Ram" (Oh God), inscribed in Hindi.
Raj Ghat is not only a memorial, but also a pilgrimage site for millions of Indians and foreigners who come to pay their respects to Gandhi and his teachings. It is a place where people can find peace, inspiration, and solace in the midst of the chaos and noise of Delhi.
It is a place where people can learn more about Gandhi's life, philosophy, and contribution to India and the world.
History of Raj Ghat
Raj Ghat has a rich and fascinating history that reflects the evolution of India as a nation and a democracy. The name Raj Ghat means "King's Bank" or "Royal Steps" in Hindi, and it was originally used for a historic ghat (a flight of steps leading down to a river) where several Mughal emperors were cremated.
However, after India gained its independence from British colonial rule in 1947, Raj Ghat became the site of Gandhi's cremation, as he was considered the "Father of the Nation" by many Indians. Gandhi was assassinated on January 30, 1948, by Nathuram Godse, a Hindu extremist who opposed Gandhi's efforts to reconcile Hindus and Muslims after the partition of India and Pakistan.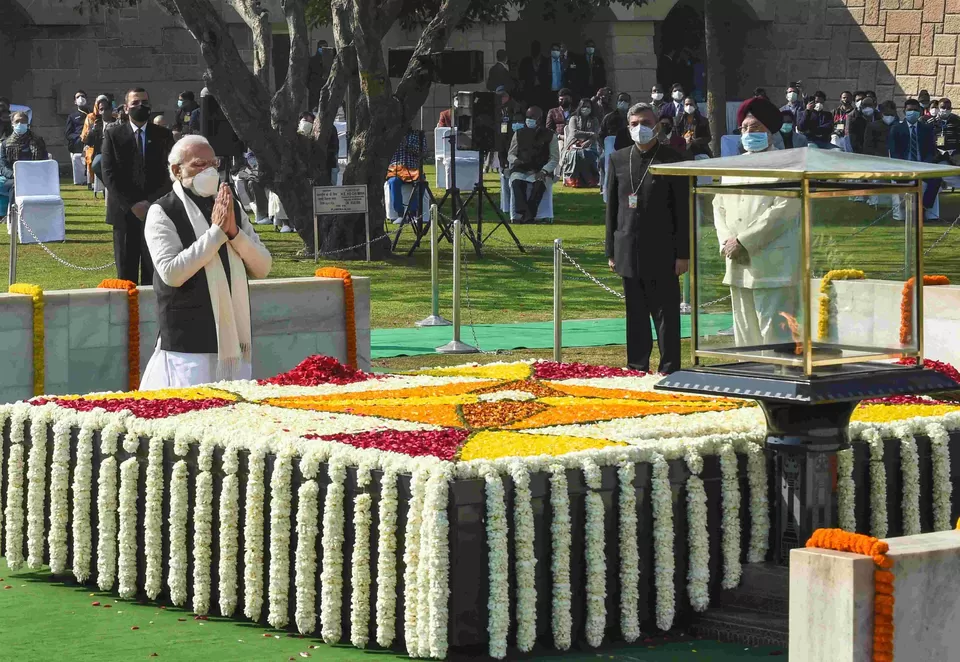 Gandhi's death shocked and saddened the entire nation and the world. His funeral procession was attended by over two million people who followed his body from Birla House (where he was shot) to Raj Ghat (where he was cremated). His funeral pyre was lit by his son Ramdas Gandhi, while his other son Devdas Gandhi collected his ashes.
The design of Raj Ghat was chosen by Jawaharlal Nehru, India's first prime minister and Gandhi's close associate. He selected a simple black marble platform that contrasted with the colorful flowers and flags that adorned Gandhi's coffin. He also chose to leave the platform open to the sky, without any roof or enclosure, to signify Gandhi's openness and accessibility to all people.
The construction of Raj Ghat was completed in 1951, and it was inaugurated by President Rajendra Prasad on May 30, 1951. Since then, Raj Ghat has become a symbol of peace and non-violence for India and the world. It has also become a tradition for visiting dignitaries and heads of state to lay wreaths at Raj Ghat as a mark of respect for Gandhi and his ideals.
Also check out: Crash Course in Delhi
Visiting Raj Ghat
If you are planning to visit Raj Ghat, here are some practical information and tips that will help you make the most of your visit: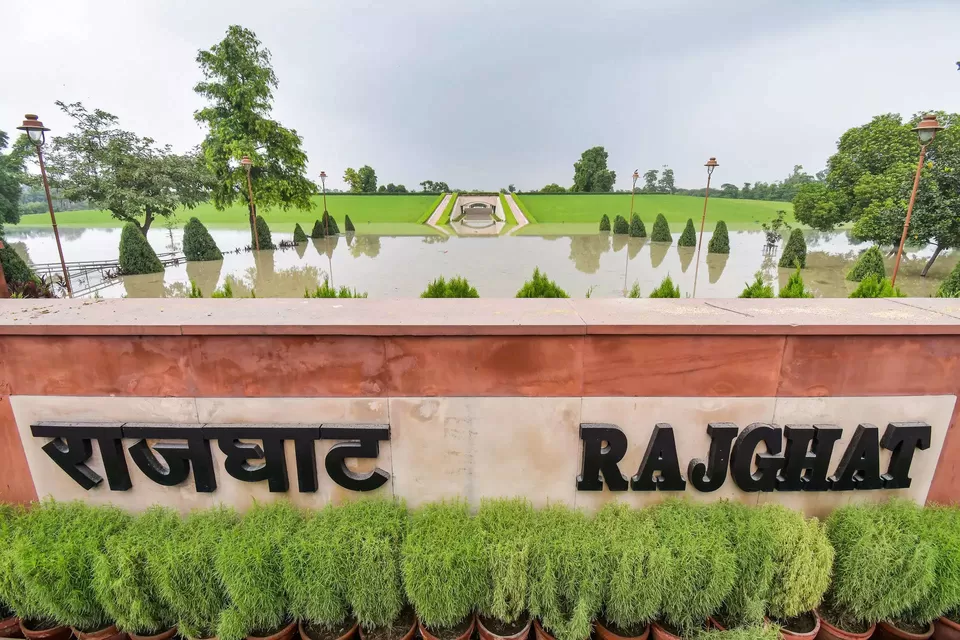 Timings:
Raj Ghat is open every day from 6:30 am to 6:00 pm. There is no entry fee for visiting Raj Ghat. However, you will have to deposit your shoes at a counter before entering the premises. You will also have to observe silence and remove your footwear while walking on the platform.
How to reach:
Raj Ghat is easily accessible by various modes of transportation from different parts of Delhi. You can take a metro train to Pragati Maidan station or Indraprastha station and then take an auto-rickshaw or a taxi to Raj Ghat. You can also take a bus to Delhi Gate or Raj Ghat bus stop and then walk to Raj Ghat. Alternatively, you can hire a car or a bike and drive to Raj Ghat via Mahatma Gandhi Road or Ring Road.
When you visit Raj Ghat, you should not miss the opportunity to attend the prayer meet that is held every Friday at 4:00 pm. This is the day when Gandhi used to hold his public meetings and address the masses. The prayer meet consists of recitation of verses from various religious scriptures, such as the Bhagavad Gita, the Quran, the Bible, and the Guru Granth Sahib, followed by singing of Gandhi's favorite hymns, such as "Raghupati Raghav Raja Ram" and "Vaishnav Jan To".
You should also take some time to read the inscriptions on the walls of Raj Ghat that contain quotations from Gandhi's speeches and writings. These inscriptions reflect Gandhi's views on various topics, such as truth, non-violence, freedom, justice, religion, and humanity. They also convey Gandhi's message of hope and courage to the present and future generations.
You should also explore the surroundings of Raj Ghat that are equally serene and beautiful. You can visit the Gandhi Museum that is located near Raj Ghat and displays various artifacts and memorabilia related to Gandhi's life and work. You can also visit the Gandhi Darshan that is an exhibition hall that showcases Gandhi's achievements and impact on India and the world. You can also visit the other memorials or museums near Raj Ghat that are dedicated to other prominent leaders or personalities of India, such as Jawaharlal Nehru (Shanti Van), Indira Gandhi (Shakti Sthal), Rajiv Gandhi (Veer Bhumi), Lal Bahadur Shastri (Vijay Ghat), and Atal Bihari Vajpayee (Sadaiv Atal).
Raj Ghat is more than just a memorial. It is a tribute to the Father of the Nation who inspired millions of people with his vision and values. It is a place where you can connect with your roots and your identity as an Indian. It is a place where you can learn from the past and look forward to the future. It is a place where you can find peace, inspiration, and solace in the midst of the chaos and noise of Delhi.
If you have visited Raj Ghat or are planning to visit it soon, we would love to hear from you. Please share your experience or opinion of Raj Ghat in the comments section below. You can also rate Raj Ghat on a scale of 1 to 5 stars based on your satisfaction level. And don't forget to like and share this article with your friends and family who might be interested in visiting Raj Ghat too.
You may also like this: Chronicles of a Globetrotter from Delhi
Thank you for reading this article on Tripoto, your trusted travel partner. We hope you enjoyed it and found it useful. Stay tuned for more articles on amazing destinations in India and around the world. Happy traveling!