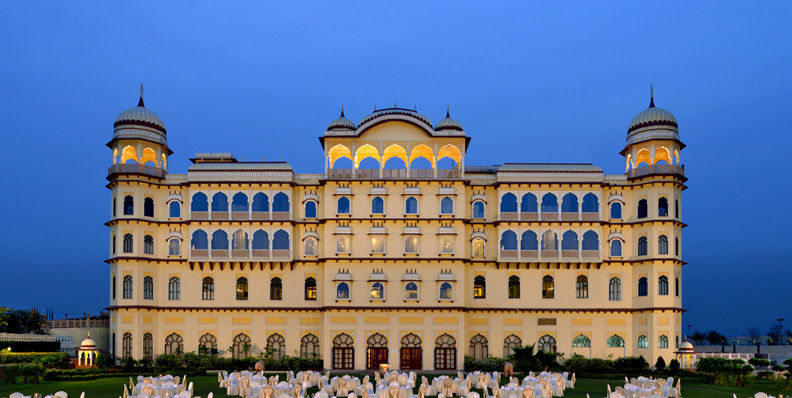 Stroll through gorgeous archways, spend some peaceful moments admiring extravagantly crafted marble jharokhas and indulge in a royal dinner at one of the many luxurious dining spaces at this palace. Welcome to Hotel Noor Mahal!
Ideal For
Couples, without a doubt! Book yourself a couple spa session, enjoy a candle light dinner or simply walk down one of the many hallways, reminiscing your favourite romantic songs!
If you're planning a couple photo shoot, Hotel Noor Mahal is the place to be for regal backdrops and some precious shots.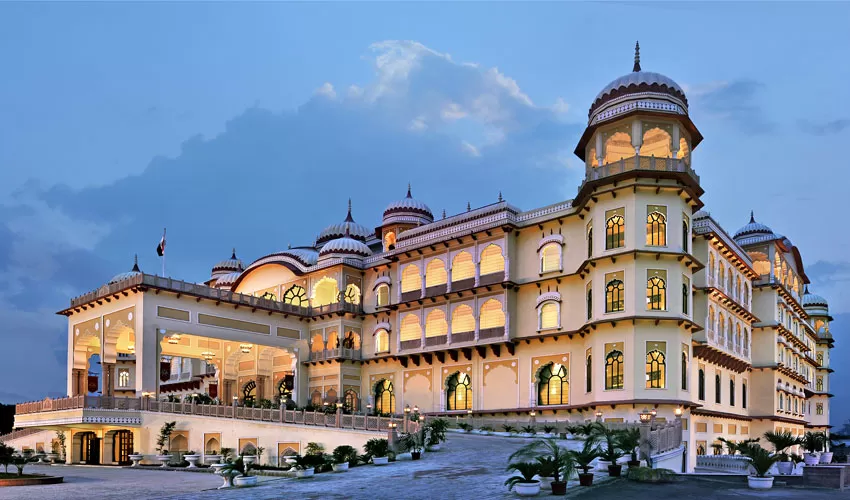 About Hotel Noor Mahal, the Dreamlike Weekend Getaway from Delhi
Just a 3-hour drive away from Delhi, the grandeur and architecture of the hotel Noor Mahal Karnal reflects the essence of the royal lifestyle in an idyllic way. On your visit, don't miss spending some time in the hotel courtyard, boasting of a traditional wooden swing, a marble fountain and numerous passageways decorated with chandeliers. Rajasthani cultural performances are also often held here.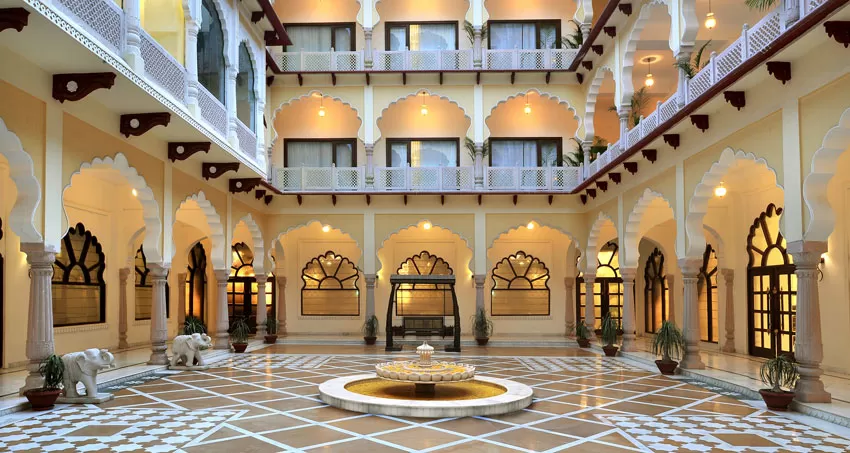 Everything from the rooms and the hotel lobby to the palace grounds and the swimming pool are great for spending quality time with the love of your life. The palace hotel has been done up in the most fairytale like manner and makes for the perfect weekend getaway from Delhi for couples.
While you are here, don't forget to capture the four impressive Golden Towers, one in each corner of the resort. These towers stand 100 feet high and have intricately carved octagonal chhatris on top of them. What's more, all corridors are lined up with mirror work wall art to make the hotel Noor Mahal look all the more stunning. These designs lend a royal touch to the hotel complex and will make you fall in love with it the first time you see it. They definitely worked for us like a charm!
Where to Eat
Noor Mahal offers its visitors many dining options to choose from. If you are a sports aficionado and enjoy your beer with an action packed game, head to Polo Bar in the evening and raise a toast to your favourite team.
Khaas Mahal and Frontier Mail are two restaurants offering a classic fine dine experience. My personal favourite was Frontier Mail, the luxury heritage railway wagon. Your better half will truly appreciate a nice, warm romantic date in here. Their North Indian food is delicious and portions king size. Khaas Mahal, on the other hand, is their open-air restaurant, much visited for its ambience and cocktail menu.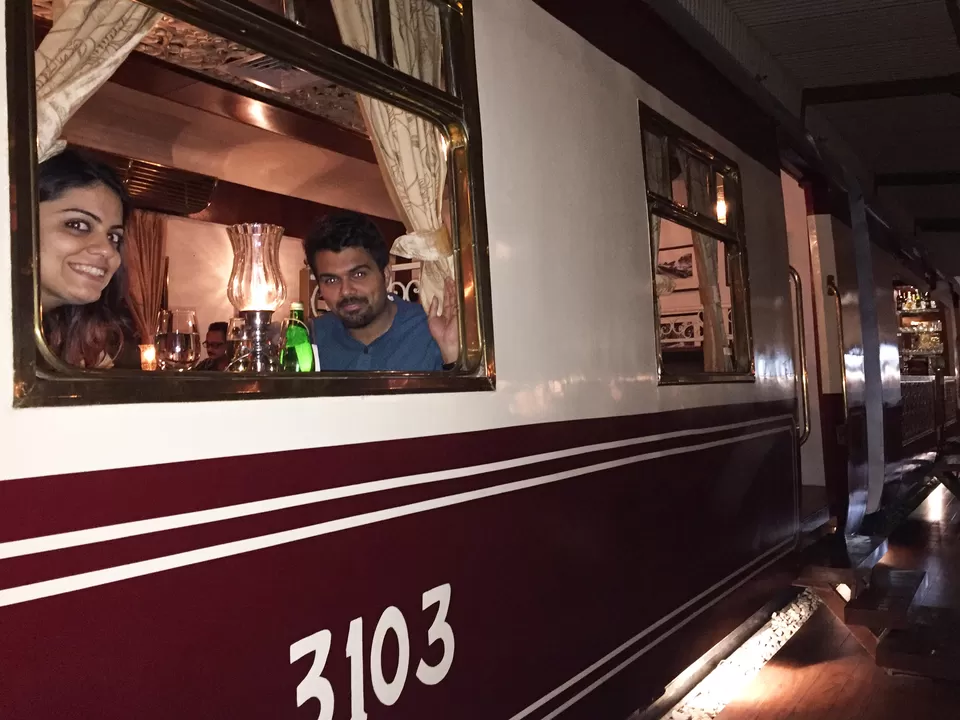 The Brown Sugar takes care of all your midnight coffee cravings and is accessible 24*7. If you have a sweet tooth, head to Cake Factory and devour their fresh tarts, pastries and truffles.
How Much Will It Cost
With just about 140 kilometres from Delhi, Noor Mahal is an easy drive away so you don't have to worry much about commuting costs. Stay options start from Rs. 5000 per night, depending on what type of room you pick.
Best Time to Go
For a truly memorable weekend getaway from Delhi, head to Noor Mahal between October and March when the weather is perfect for romantic walks and the many outdoor activities. April to September is also a great time to enjoy their huge swimming pool, spa services and the various photo spots at this palace hotel.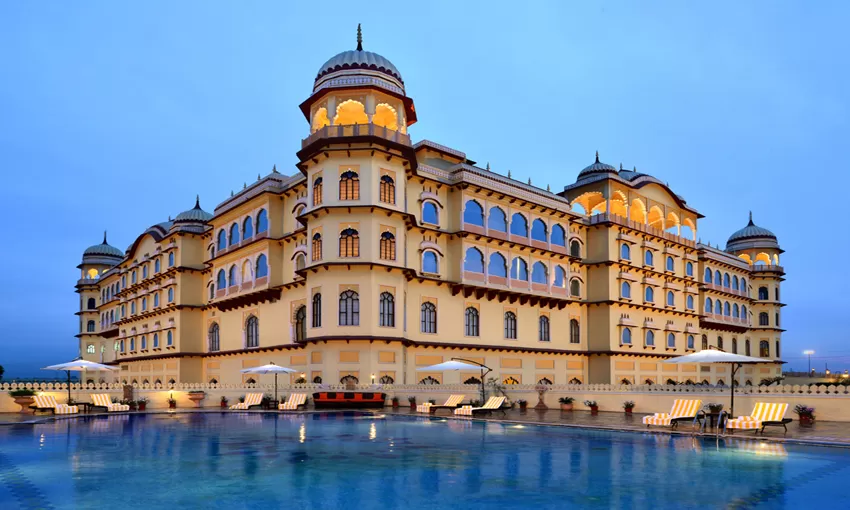 Quick Photo Tip
The palace hotel looks simply stunning when the yellow lamps are lit all over as the sun sets. The architecture is an amalgamation of Mughal and Rajputana styles, and is highlighted even more in the warm yellow light at night. Definitely a great photo opportunity for the shutterbug!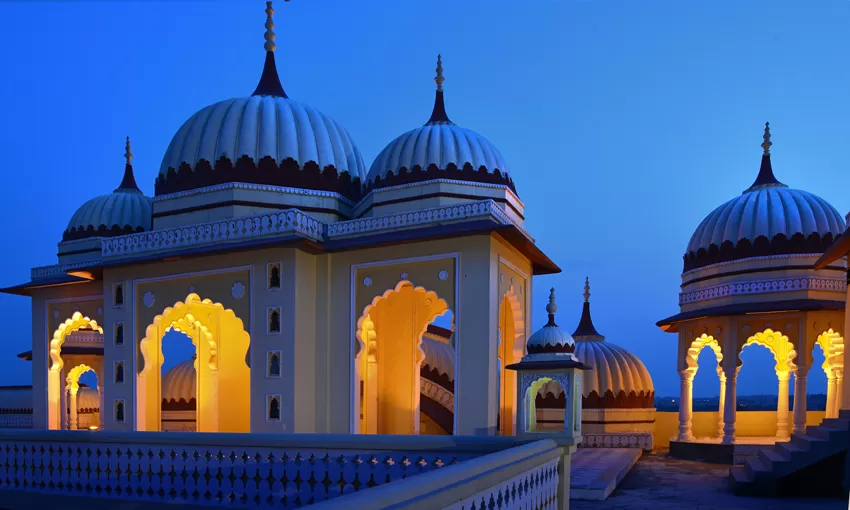 Which Weekend Will You Pick?
So if you have a birthday or an anniversary coming up, or you simply want a quick escape from your daily routine, Noor Mahal is your answer! Its close proximity to Delhi makes it a very convenient weekend getaway option and the uncrowded environs make it perfect for couples.
Address: Noor Mahal Crossing, National Highway 1, Sector 32, Karnal
Do you know of more hidden gems like hotel Noor Mahal Karnal near your city? Tell us in the comments section below!