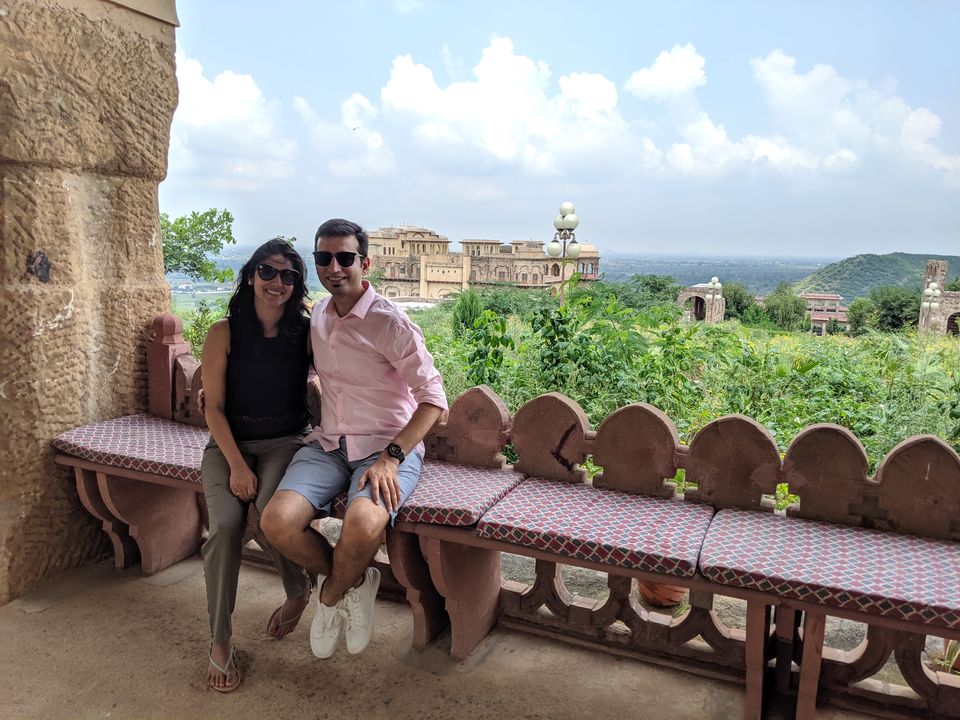 Have you ever wanted to go for a weekend getaway from Delhi which is not very far?Have you ever wanted a chill relaxing weekend getaway?Have you ever wanted a weekend, away from hustle-bustle of city life?Have you ever wanted to go to place for weekend not more than 3 hrs drive?Have you ever wanted a family weekend getaway near Delhi?Do you want to know a place near Delhi where you can go for a 2-day trip?If your answer to any question above is YES, Neemrana Tijara Fort Palace is the place for you!!
Why Neemrana Tijara Fort Palace?
My husband and I wanted a 2D/1N getaway with 2 other couple friends. Since we had a bandwidth of only 1 night, we wanted a place which is just 2-3hrs away from Delhi, to keep it less tiring and more fun. Places like Uttrakhand, Rishikesh, etc. are pretty far for a 2-day trip
Neemrana Tijara Fort-Palace is situated in Tijara, Rajasthan, India, which is easily accessible by road from New Delhi. The road journey takes approximately 2.5 to 3 hours. Buses are also available, run by Delhi Transport Corporation as well as some private travel companies. The nearest railway station to Tijara is in Alwar, which has trains to almost all major cities of Rajasthan. The nearest airport from Tijara is New Delhi, which is 92 kilometres away.
Our Journey and Experience!!
Tijara Fort seemed to be the best fit for one-night getaway, near Delhi. So we booked 3 Heritage Romance Rooms from MakeMyTrip for a Saturday night.
We were 6 adults, so we rented SUV Mahindra ZoomCar. We started our much-awaited trip with breakfast at I-Hop Cyber Hub, Gurgaon and left from there for the resort around 10am.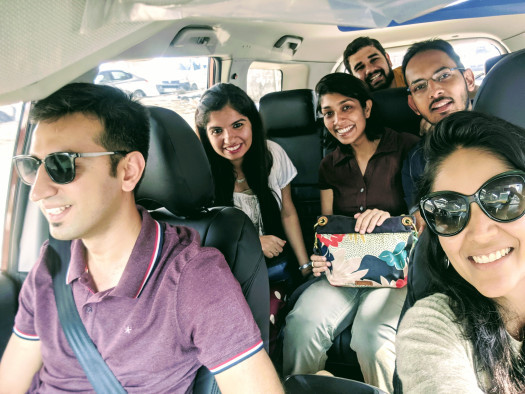 The route from Gurgaon to Tijara Fort is straight forward with not so good roads. You take NH8, cross Bhiwadi, and turn towards Alwar. The approach road which takes you up to the fort on a hill is bad. Luckily, we had SUV so we didn't face much issue. Its steep and bumpy, so if you have a smaller car, it will get little hard on Engine, but its manageable.
The fort is a great weekend getaway, away from hustle and bustle of city life. It's both a family and a couple place. They have few games to play like table tennis, cards, etc., a cultural show in evening, amazing pool and a fantastic venue for photography. The fort has three main structures- Hawa Mahal, Rani Mahal and Mardana Mahal, with some beautiful gardens.
So after a journey of about 2hours (from Gurgaon Cyber Hub), we reached the fort at 1pm. We were escorted to our respective rooms.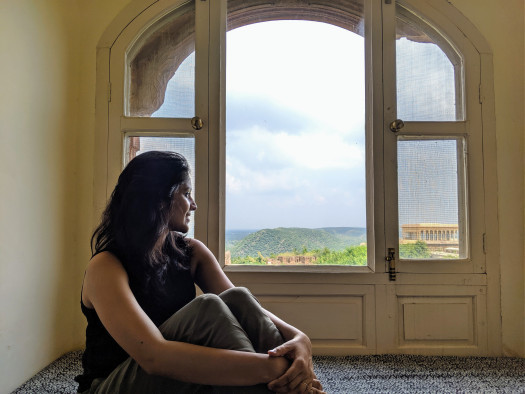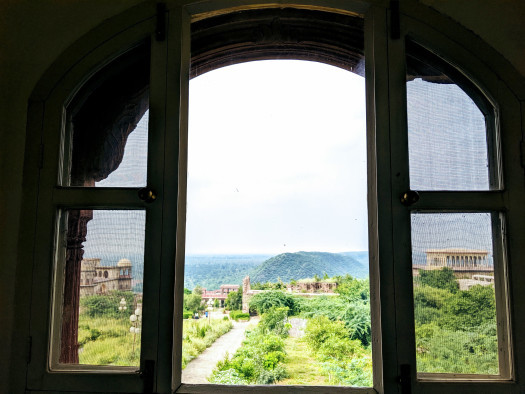 My husband and I stayed in Saurabh Mahal, which is on the first floor in Mardana Mahal. The room was spacious, with a drawing room, bed, study table and big seating area, aesthetically designed by India's leading designers. In this palace, every room is named after the painter/designer who designed it. The view from the room is a treat to the eyes.
Mardana Mahal is a big Mahal with a big lawn in the center. It has ancient paintings on the walls and spectacular furniture.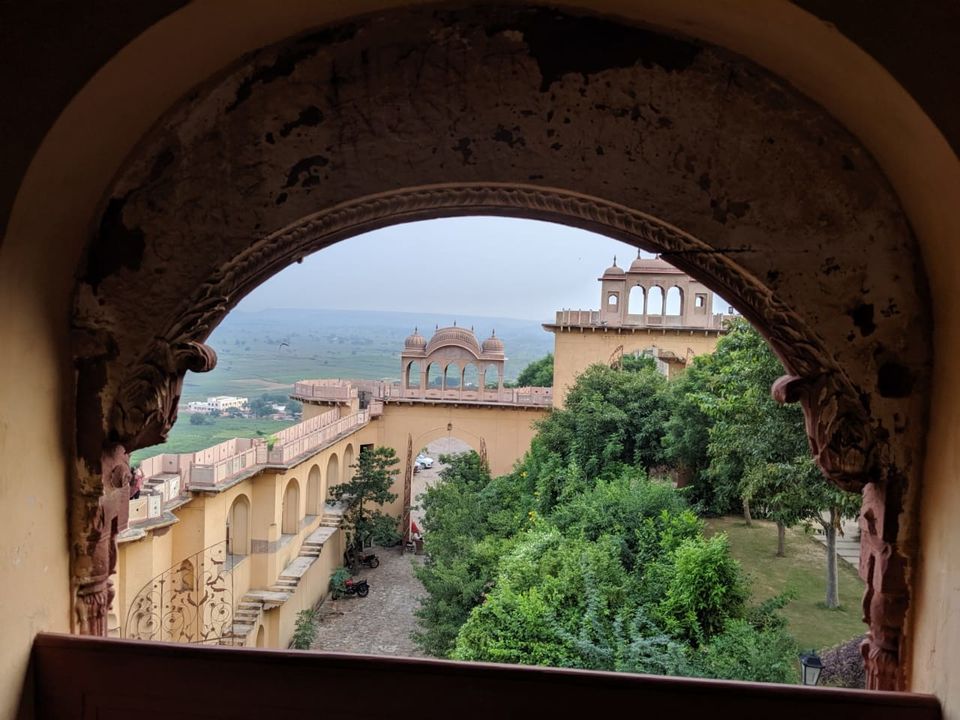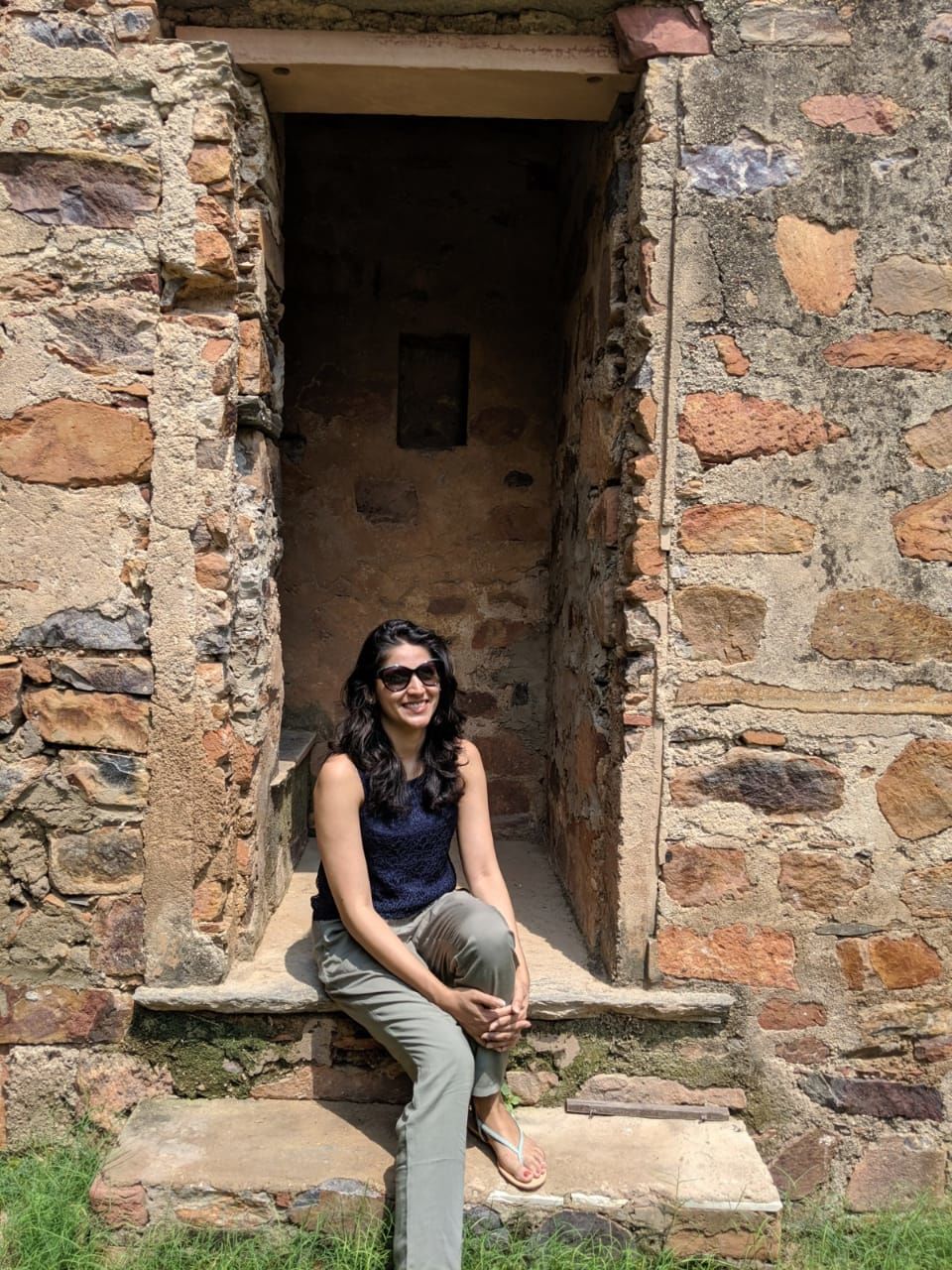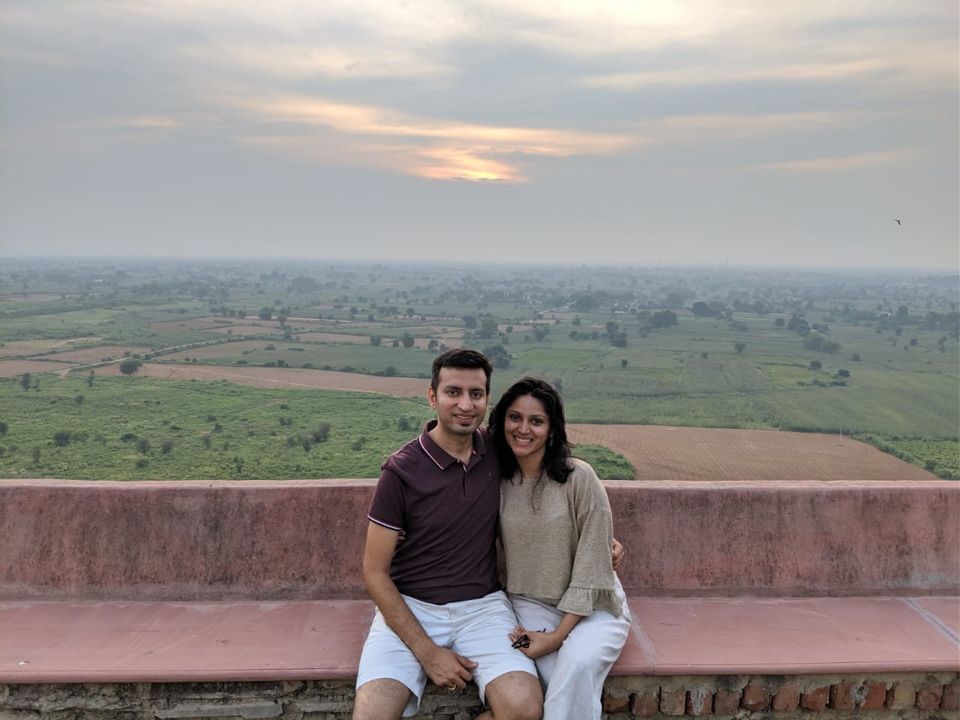 So, after check-in, since we were little hungry, we headed to the restaurant centrally located with great views. In food options, they have buffet which costs around Rs. 1200 per person or a limited Ala-Carte options like sandwich and pakora. Since we were not very hungry, we ordered few sandwiches and veg pakora.
After a light lunch, we went for a lovely walk in the fort. We attempted to see every possible corner of this magnificent fort.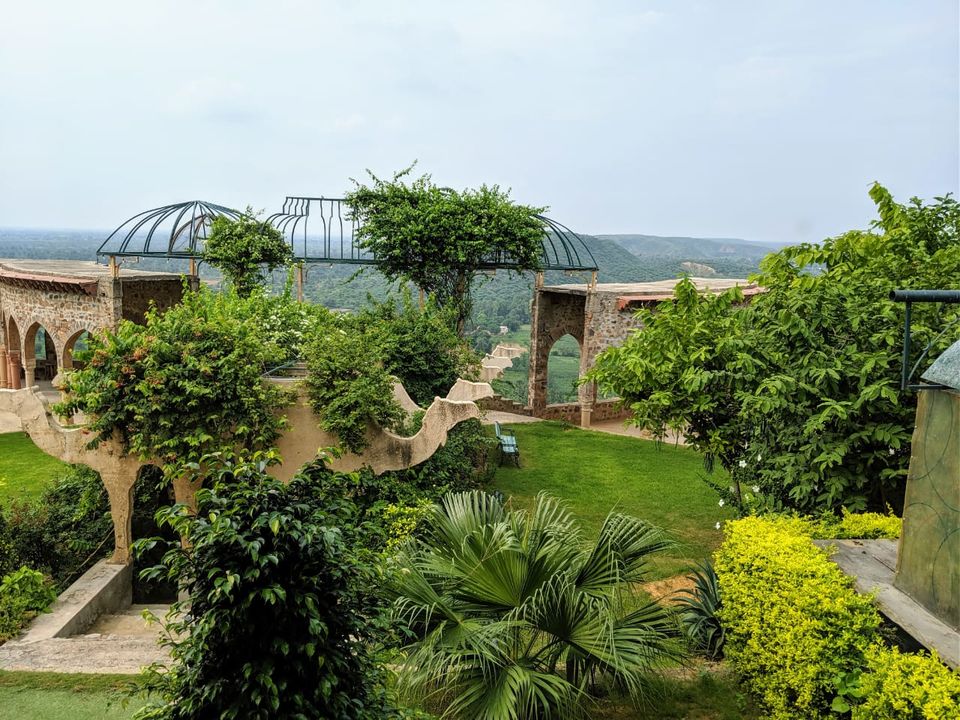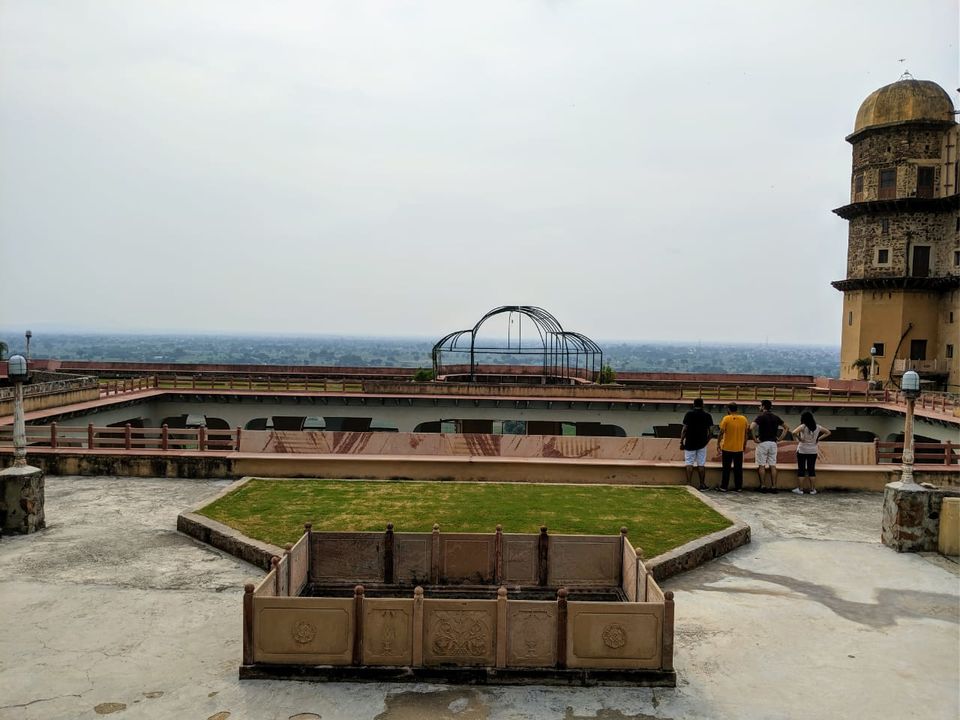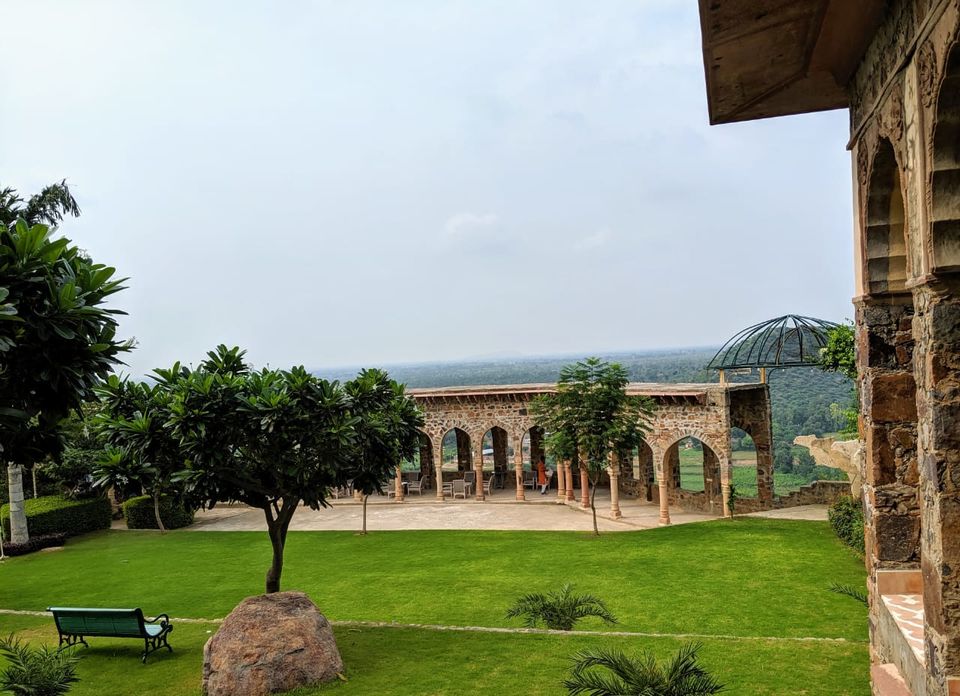 Rooftop of Hawa Mahal has a spectacular view and we spent some time there until it was time for snacks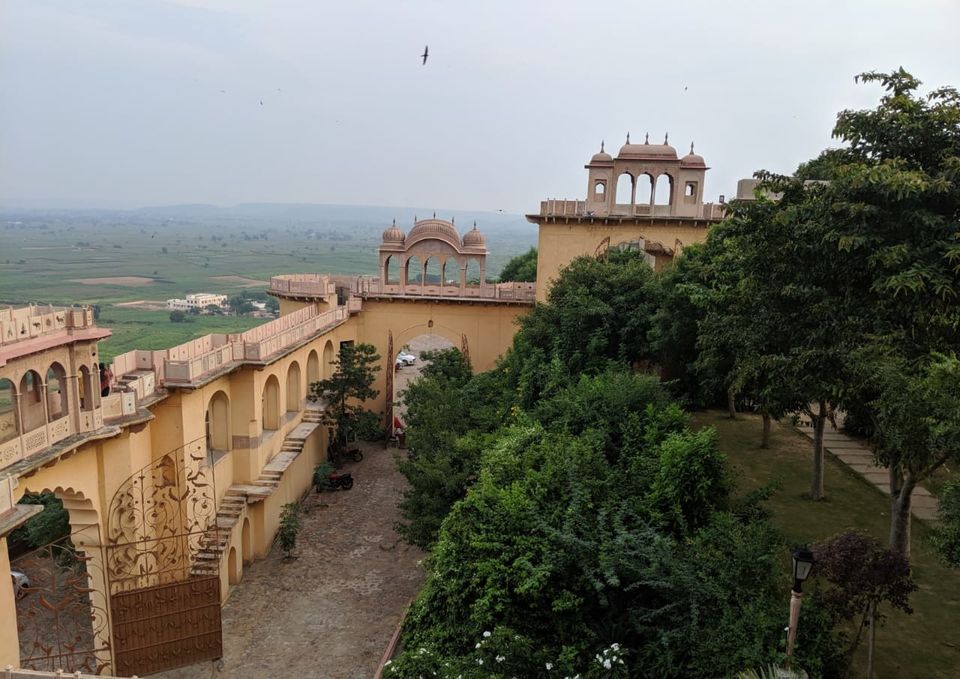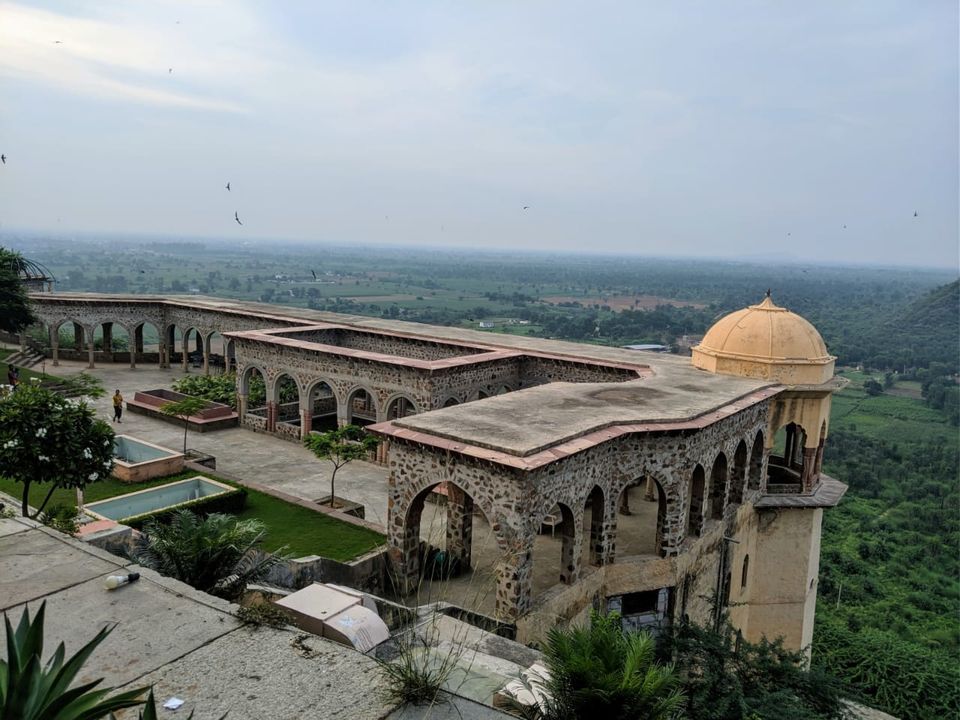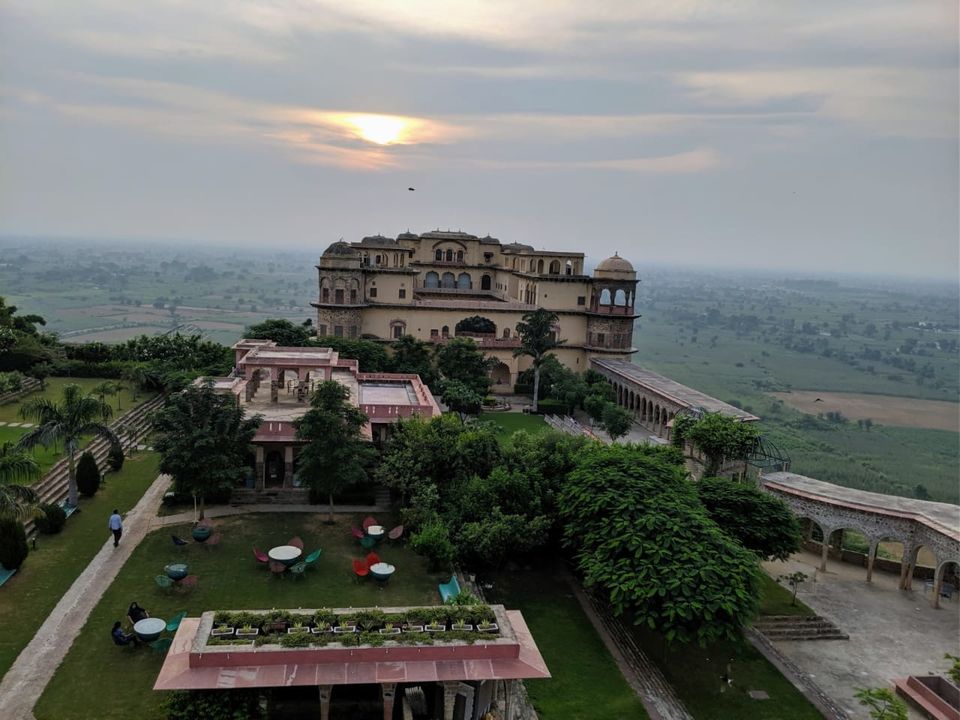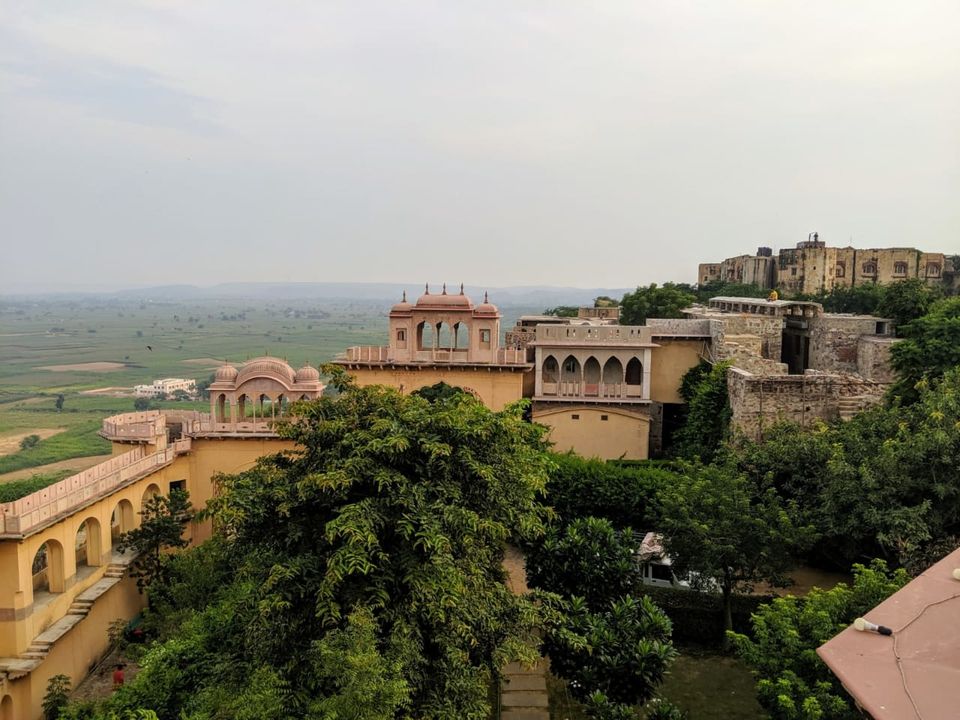 Snacks are served in dining hall of Hawa Mahal. We loaded our plates with some chocolate brownies and pakoras. Unfortunately, weather was disappointing and there was no sign of winds or rain.

After snacks, we headed to our rooms. A power nap was all we needed after the tiring day.
The swimming pool was definitely our favorite spot! We had a great time lazing around in pool and clicking pictures. With pool lights and reflection of lights on beautifully lit Rani Mahal in water, the vibe of the whole place was stunning. It was a royal experience indeed.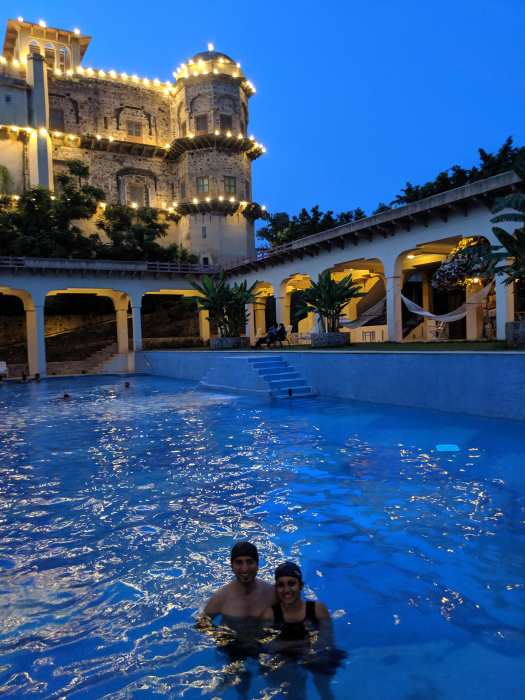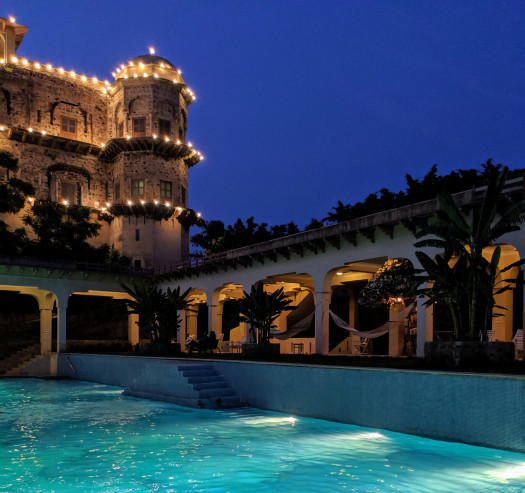 It was time for a must-see cultural show!!! No words can describe the talent those people have. It is entertaining and showcases the Rajasthani cultural beautifully. The performers are talented and enthusiastic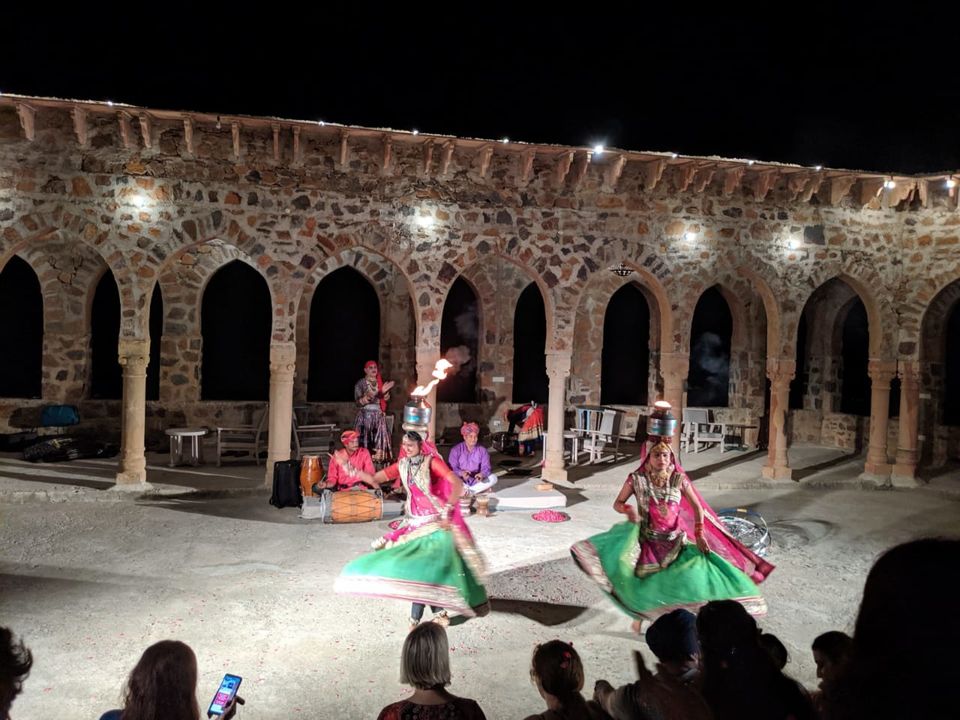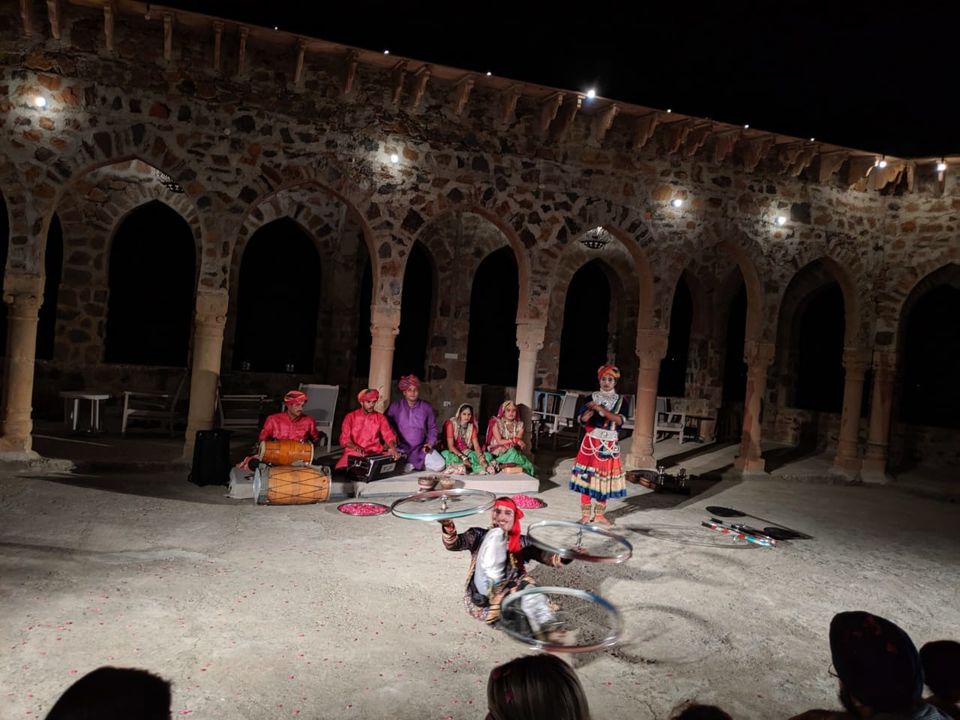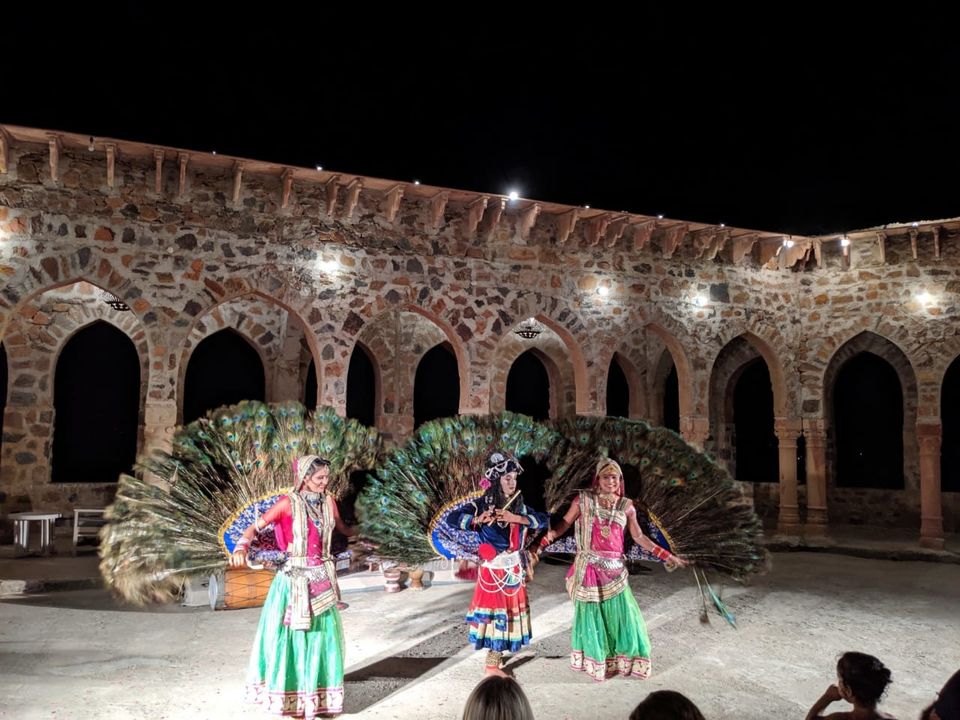 Dinner Time!!
Dinner is served in a centrally located, view facing restaurant. The staff is very warm and welcoming. The service is quick with a super friendly staff. The buffet spread ishuge. They serve traditional Rajasthani dishes, north-Indian dishes and a few continental options. We really really really loved the food. Daal-Baati-Churma was the winner!! It was so soft and authentic. They also serve "Laal Maas", a must try for a non-vegetarian. We couldn't stop ourselves from over-eating. Desserts were little disappointing though.
After a sumptuous dinner, we went for a walk. In night, Rani Mahal is beautifully lit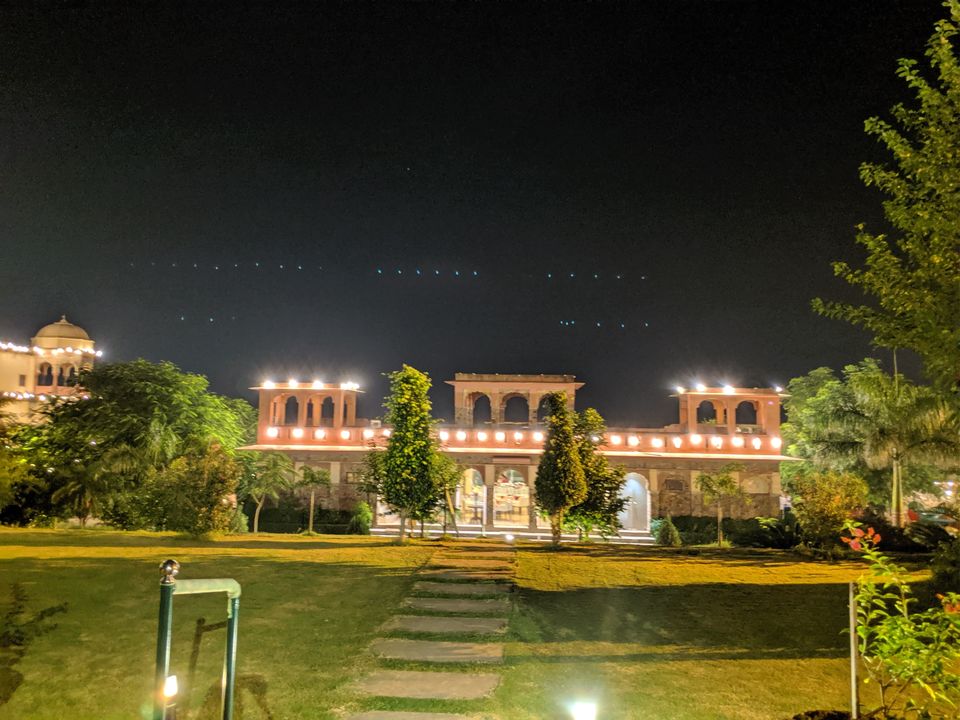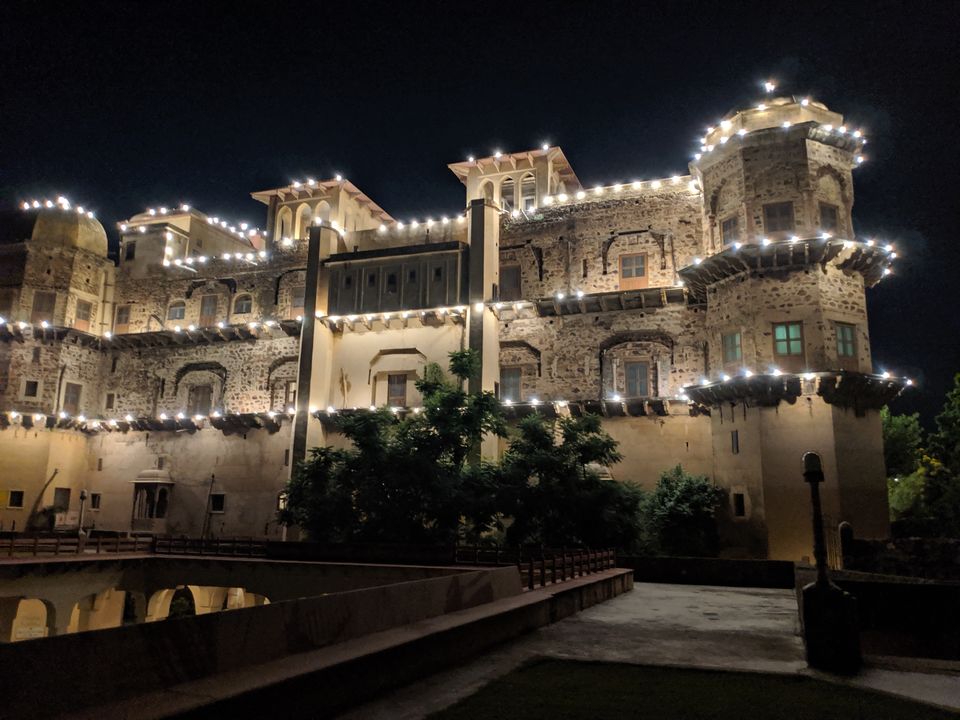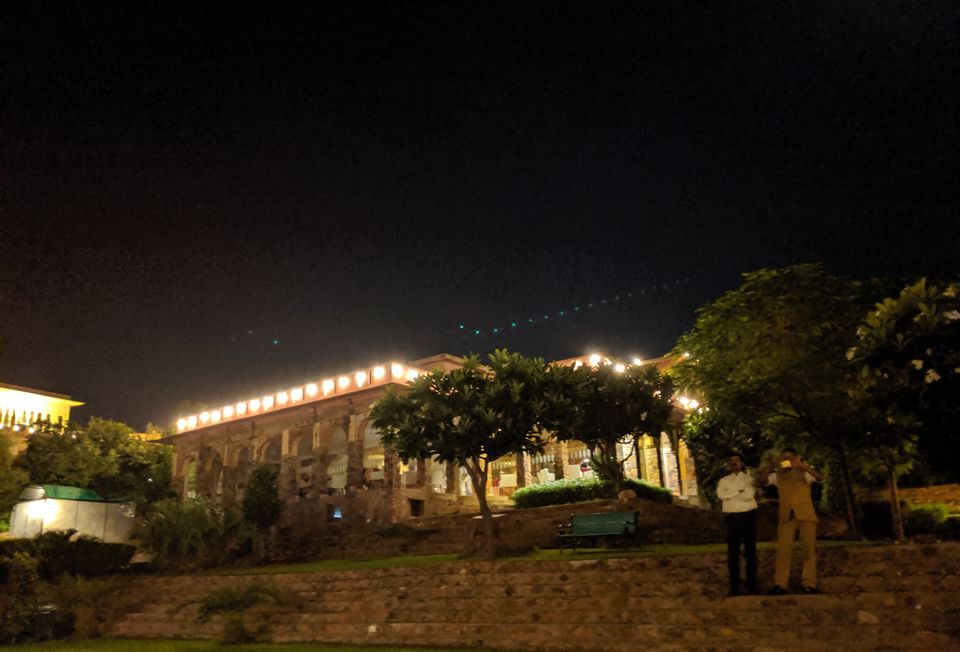 We got up early in the morning around 6am to view the sun-rise. Unfortunately, it was cloudy, and we couldn't see anything, and we went back to sleep ????

It was finally time for breakfast and check-out. Breakfast spread is OK, not as good as Dinner buffet. They have limited options. We had some cake, toast, cheese, omelet and juice.
Overall it was a relaxing weekend getaway.
Summary!
If you are looking for a place not so far from NCR, and you want to just eat, sleep, relax, chill and click pictures, this is the place for you. It's ideal for couples and families too.
I don't recommend for families with kids, as the roof tops and most of the areas are not properly guarded and quite risky with kids.
Tips
The hotel doesn't serve drinks, but you can get your own drinks and have in rooms The buffet served is expensive, but the dinner is worth having. Since we started with heavy breakfast, we just ordered sandwiches and pakoras and that was enough. The markets are far away, so better to carry some munching stuff Don't forget to pack your swim suit. Pool was our favorite part of the trip. Even if you don't know swimming, you can just relax in the pool. Just in case, you forget your swim suit, you can buy one from the reception.