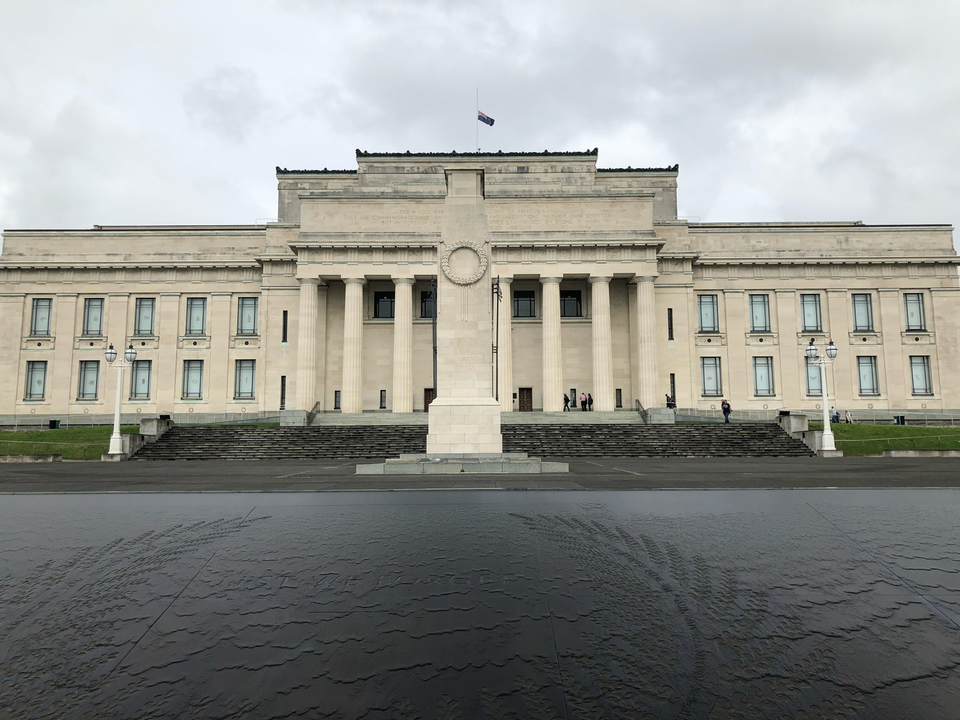 Disclaimer: I am a grammar Nazi. But not when dictating this account. I have dictated the words to Siri, Apple's voice assistant, with my distinctive Indian accent which may not be deciphered by this AI accurately. But I rely on the intelligence of people reading this account, to read as such viz: as I meant it. I did not have time to correct the grammar since I was too busy, or totally exhausted from a long walk or hike or too lazy to correct myself. Please understand.... I am sure you would....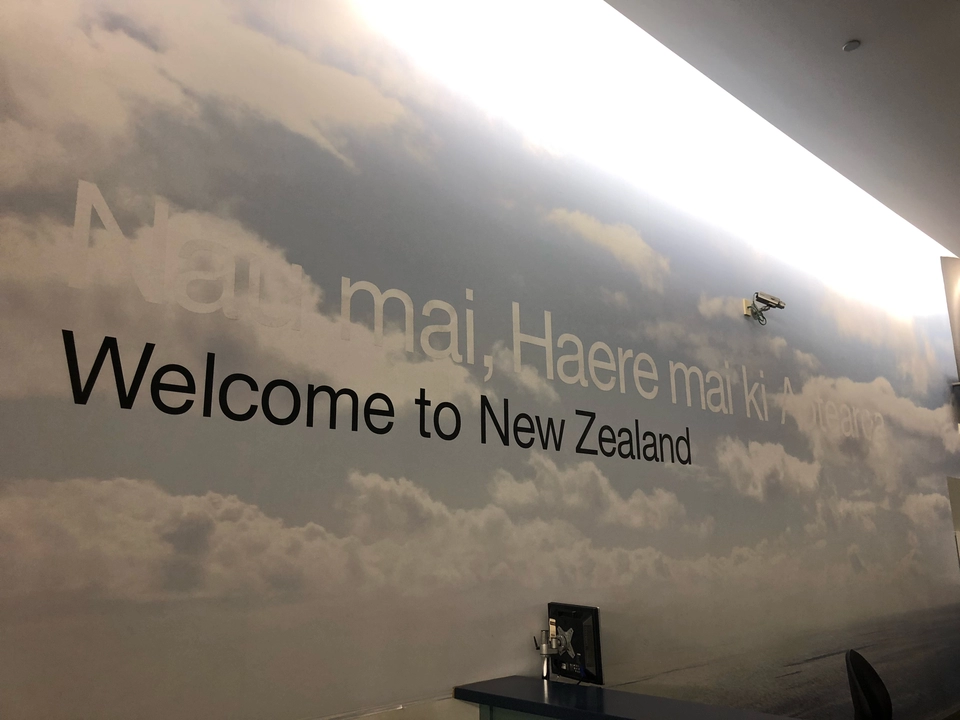 Reached Auckland New Zealand at night on twenty sixth March 2019. Had not slept for two nights or days you can say since I was travelling from Belgaum to Auckland. Took me about I don't know probably about 2+12+10+3+5=32 hours and reached Auckland airport at 11:30 PM on 26 March 2019. After immigration and The infamous bio security check, took a Uber to go to Auckland city and reached my hotel ensuite at around 1:30 AM on 27 March 2019. After that I had to unpack my bags to rearrange my entire packing since I dropped the idea of using the backpack which was the idea earlier. Now in Bangalore I bought a full-sized Samsonite soft cover suitcase and stuffed my backpack inside. Ha ha ha ha ha. So much hype made by me about backpacking (sheepish grin) And then I slept and been sleeping since that and now I'm talking to you after waking up so it's about 13 hours sleep. I don't know whether this is call jet lag or is it the lack of sleep which I covered now. I don't know what is jet lag I guess this is it. Now using the hotel Wi-Fi. Haven't had my bath for the day till now and will now have that and will go and check whether I can get some Sim cards for use in New Zealand and a good travel adapter. The one I bought is not working the way I thought it should. That's all for the day, good night...
PS: got an Old Monk rum distilled in India at a liquor store in New Zealand for approximately Rs.1600.
Update: I was crossing the road, for the first time in Auckland, and have a car coming from either side of the road and I was waiting for them to pass. The cars stopped, and I thought they were all parking and stood there, then I saw pedestrians from the other side of the road crossing and took the cue and I crossed myself. The cars didn't move till I crossed the road and onto the ledge. Wow!! this was the defining moment for me. Wish this could happen in India. Pedestrians rule the road here!!!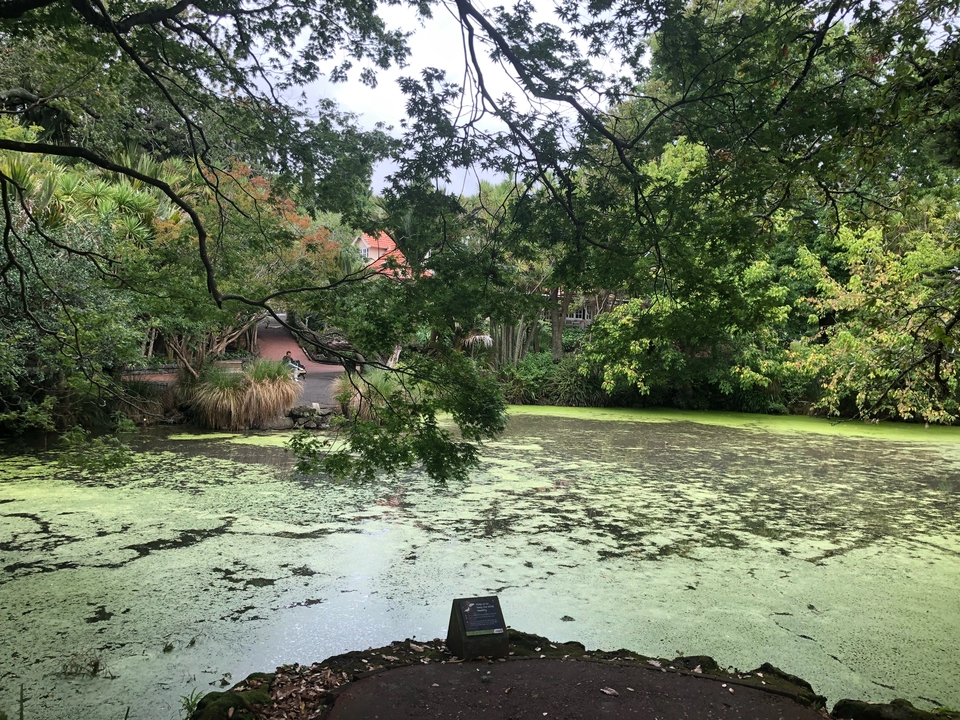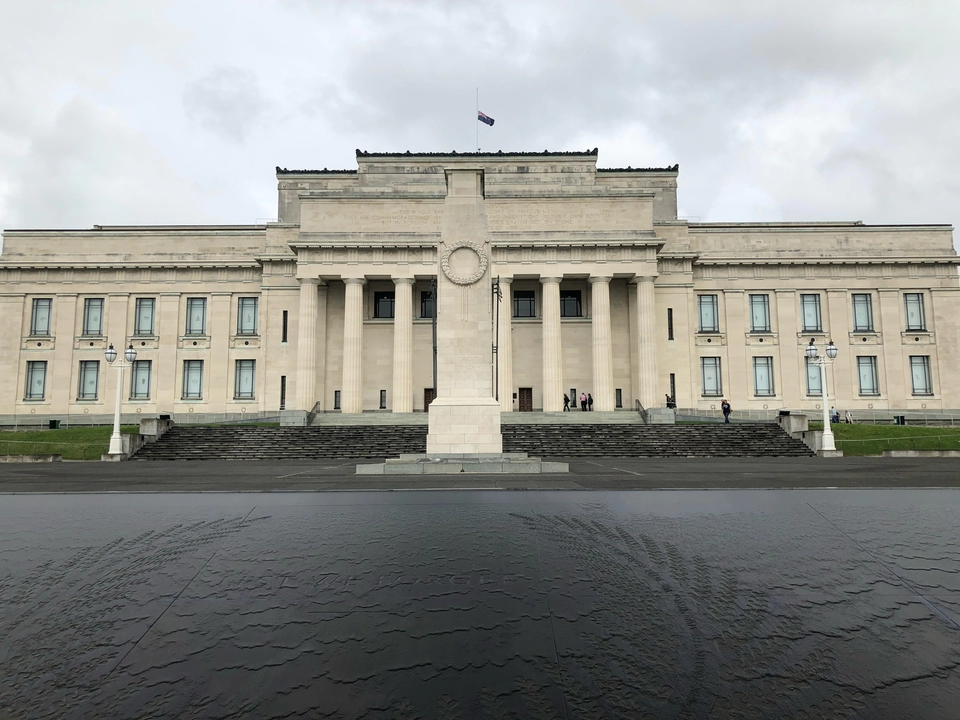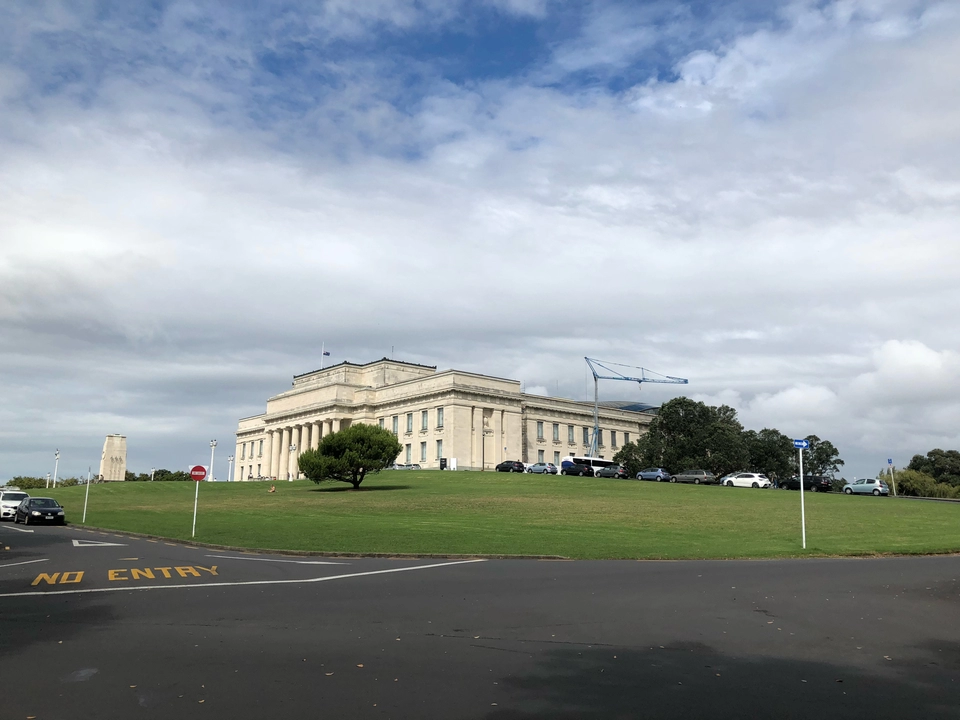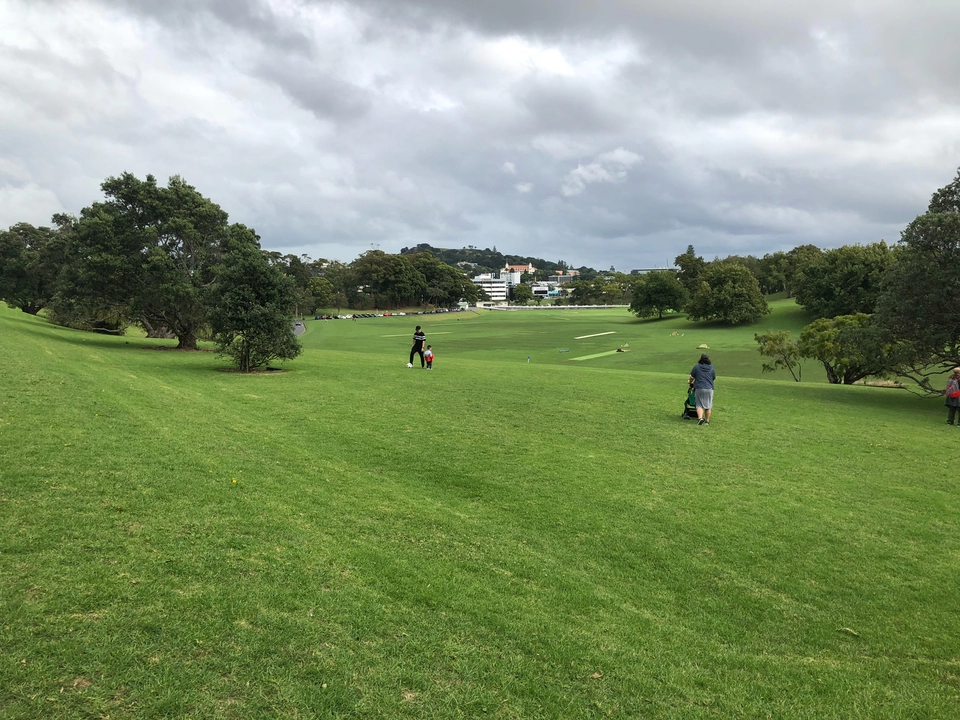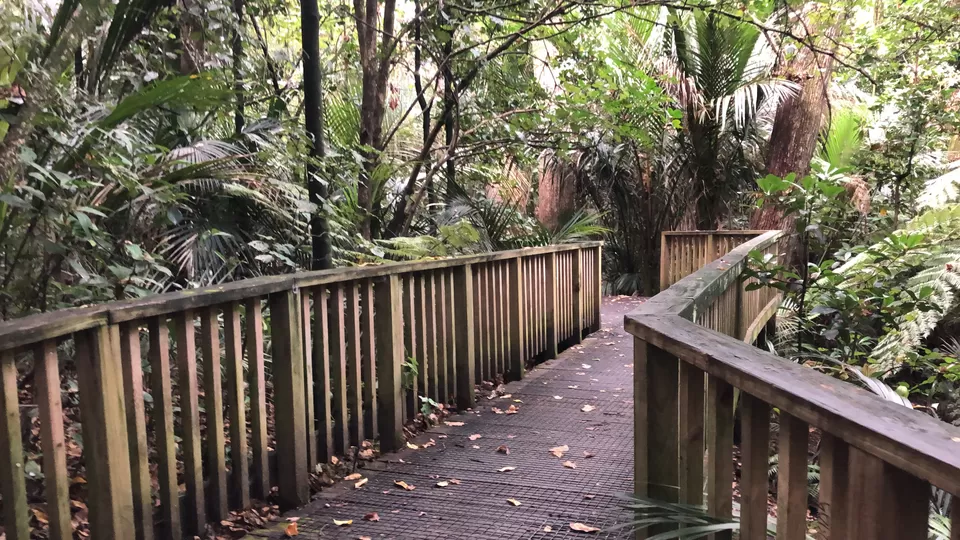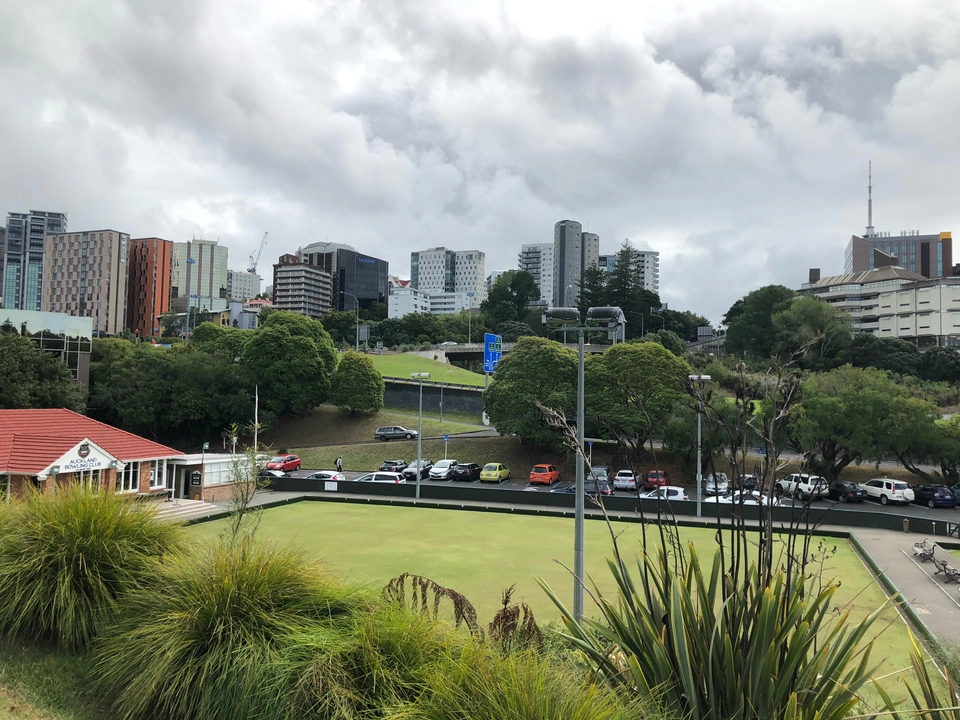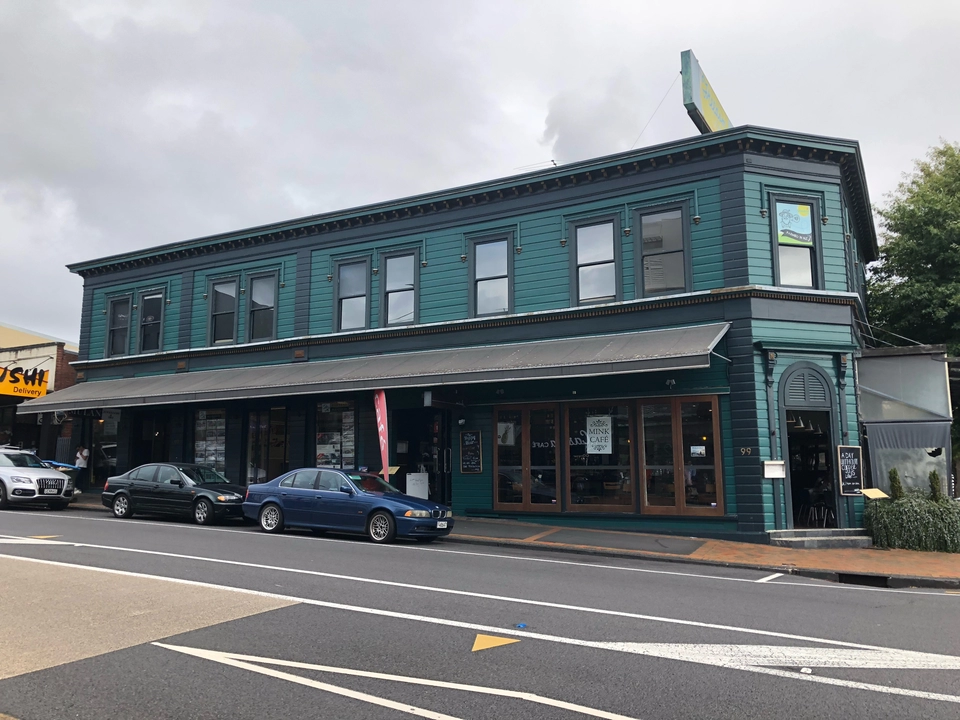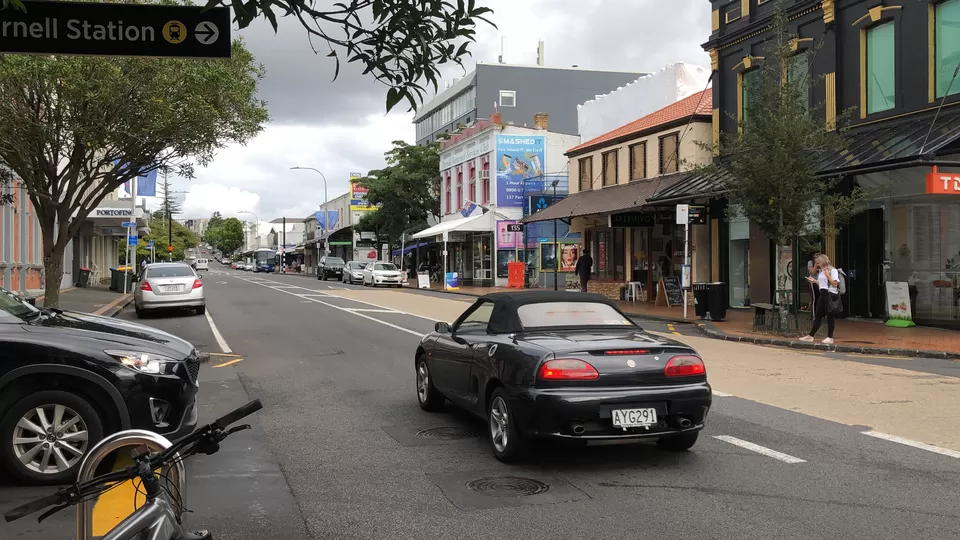 Woke up a little late and was off to travel Auckland. This was my first day of getting out there in the city. I have not been to Europe but from what I've seen through my parent's snaps when they had been to Europe, it was the same. I strolled through the streets of Auckland, purchased the 2Degree Sim card, ate a Samosa at an Indian convenience store, made friends with the Indian store keeper who was from Chandigarh and he help me through the SIM installation process, Also made friends with a Maori guy who are the native inhabitants of New Zealand. I got a lot of inputs from these two friends.
Today was only walking day. First stop was The Auckland War Memorial Museum which is within the Auckland domain and a museum its self is situated on the crater. The entry to the museum was approximately Rs.12 50 which included Maori and other traditional and cultural performances. As I was late for the cultural performances, I did not purchase the entry ticket. You can purchase the tickets and watch the various remains of the battles and the bravery of the Army Navy and air force of New Zealand. Instead I strolled leisurely in nearby walking trails, Duck ponds, walking around the museum structure which is a war memorial where many kiwis laid down their lives in various wars overseas (in India the war memorial was recently started in 2019). In totality today I walked about 16 km and climbed about 12 stairs as per my health app. That's not much but the air of a big city like Auckland and especially in the parks was fresh and unpolluted. This made me sit at a place for about half an hour in the midst of the park and do some breathing and meditation exercises. The second stop was a place called Parnell which is an upscale part, quaint, peaceful and architecturally beautiful part of Auckland city. There is also a park in this part where I sat on a bench and watched the people go about their daily lives. It was evening and I was famished and on my return way to my hotel near the University of Auckland, I got my lamb Shawarma in a middle eastern restaurant. Talking about Lamb, There are more sheep than the number of people in New Zealand.
The people of New Zealand aka Kiwis Are very warm polite and hospitable people. If you ask for their help, the Kiwis will go a step further and help you.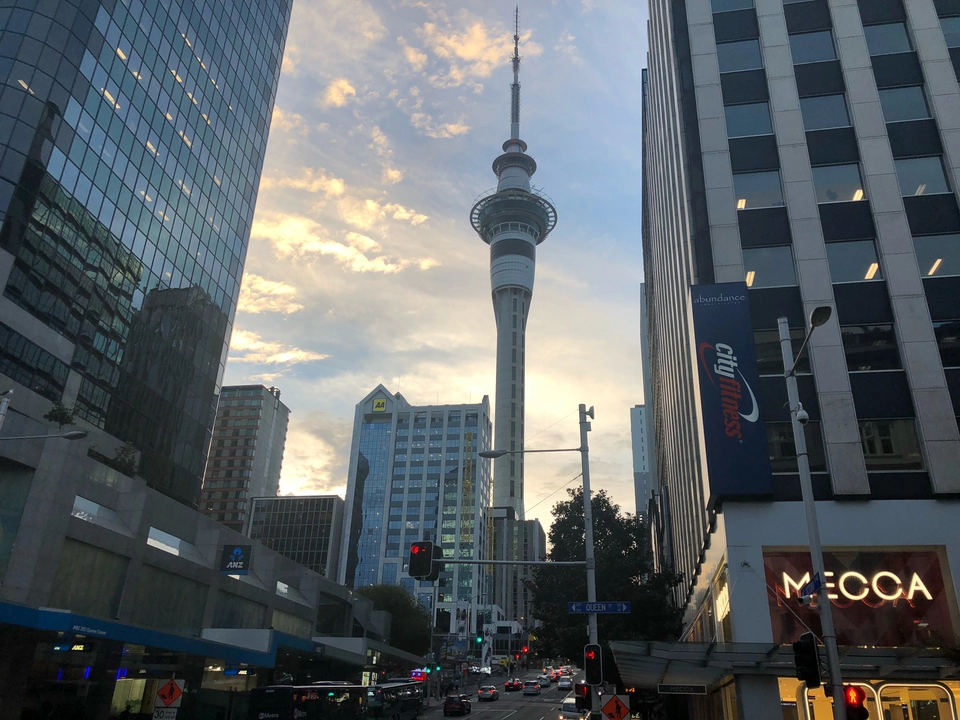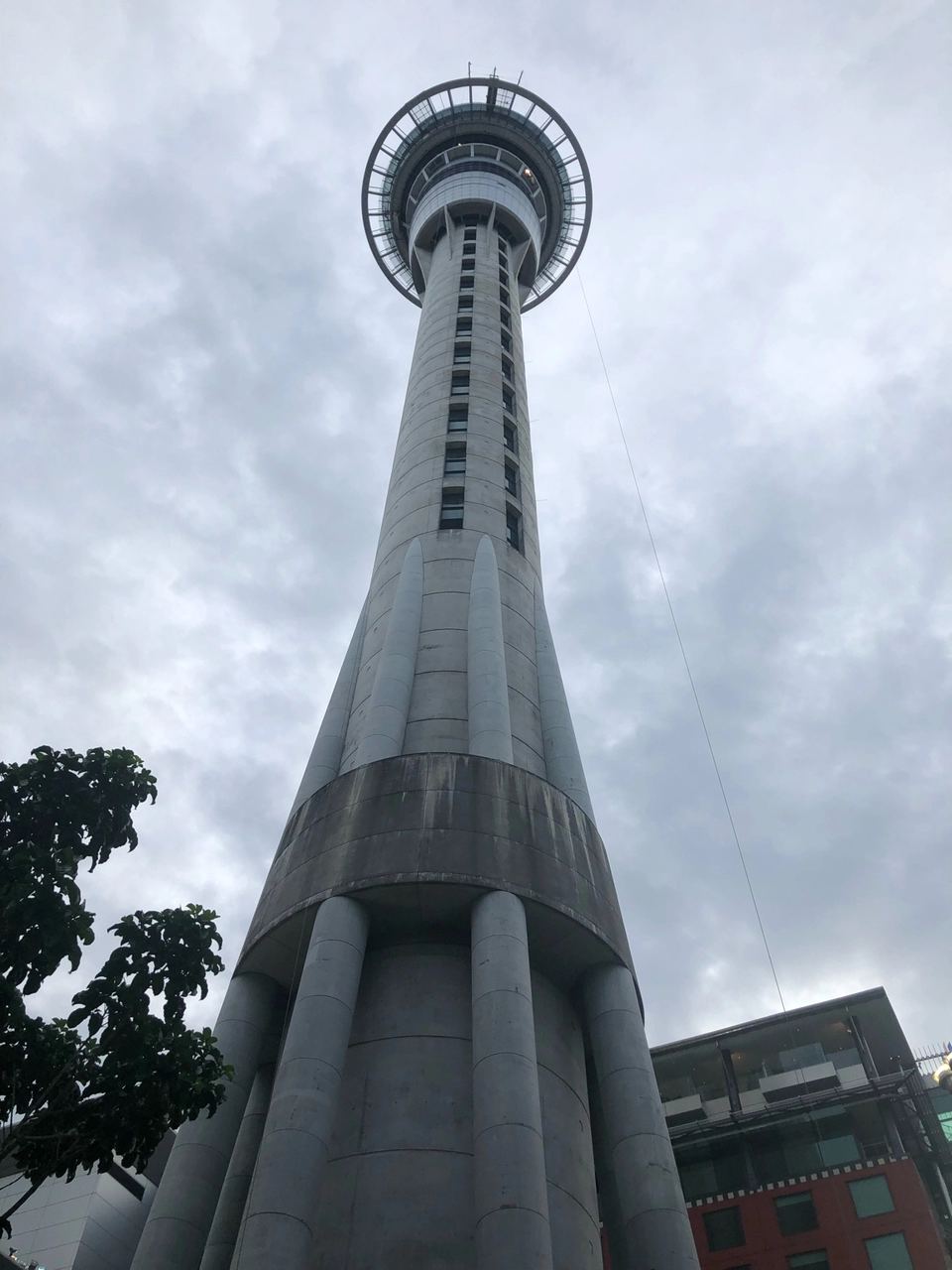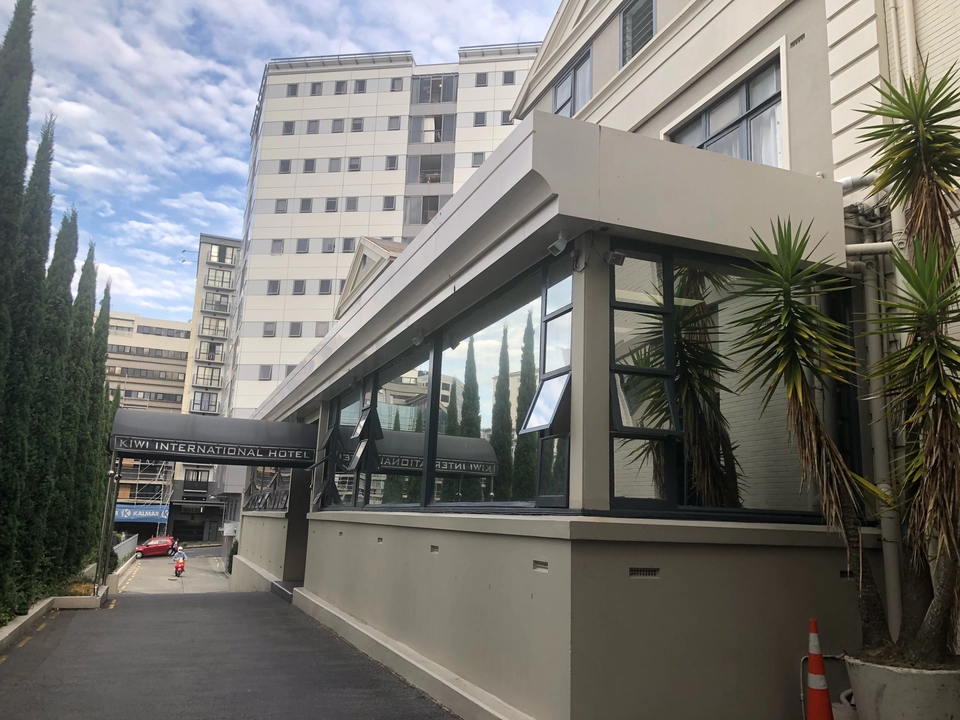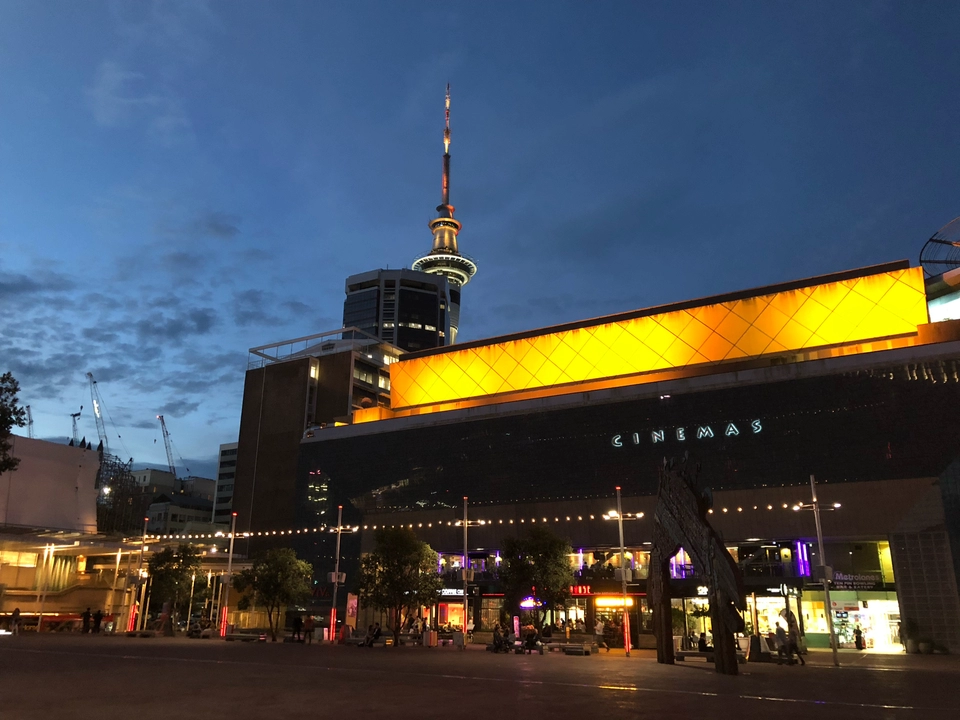 Ahhh Woke up late today, probably the jet lag still getting me. Couldn't do much today except a walk to the Auckland sky Tower which is about 2 1/2 km away from my hotel. On the way is the Aotea Square which is a place for the locals and tourists alike to hang out, stroll and watch some live music or cultural events for free if they are on.
On day one I had purchased 2° Sim card which is local operator for Rs.1000. I used only 35MB of data and the whole amount was exhausted. Upon enquiry, I came to know that I had not selected any plan and hence the default pay-as-you-go plan got applied which is very expensive. The convenience store person had assured me that A particular plan of NZ$19 will automatically get applied which has 1.25 GB per month of data with carry forward. In India, we have the luxury of unlimited data offered by our operators thanks to the trend set by Jio. 1.25 GB of data per month is minuscule back in India. There are many Indians which I came across owning restaurants, convenience stores and other businesses. Also there are a lot of Chinese people who are seen in abundance and these guys own a lot of properties in Auckland.
When I called the 2Degree helpline regarding my Sim card, a Indian call Center girl picked up the line and She recognised me by my Indian accent. She was very happy to know that I am from India and said that she loved South Indian food though she was a Punjabi. We never talk like this on call centre helplines.
Another thing that I understood was New Zealand was going to be very very expensive. One banana costs Rs.49, one burger costs Rs.60o and cup of renowned New Zealand coffee (or for that matter any coffee) costs Rs.250. Today afternoon I had an Indian lunch consisting of one chapati, one veg dish one non-veg dish and rice taking me down by Rs.500. I now have to devise ways to cut down the costs heavily or I may go hungry. Hahahahhaha. I have to spend another six weeks here and some jugaad has to be done. I will let you know as and when I find them.
Tomorrow I am going to board a hop on hop off bus service by A company called Kiwi Experience which I had booked before coming to New Zealand. Hop-on hop-off is a type of backpacker bus network in New Zealand, which, simply put, is a flexible bus tour for adventurous travellers! The "hop-on hop-off" aspect of the bus trip means you can opt to get off the bus and enjoy some independent travelling at most points during the route. Tomorrow At 8:30 AM the bus will be there at the pick up stop. So till then good night.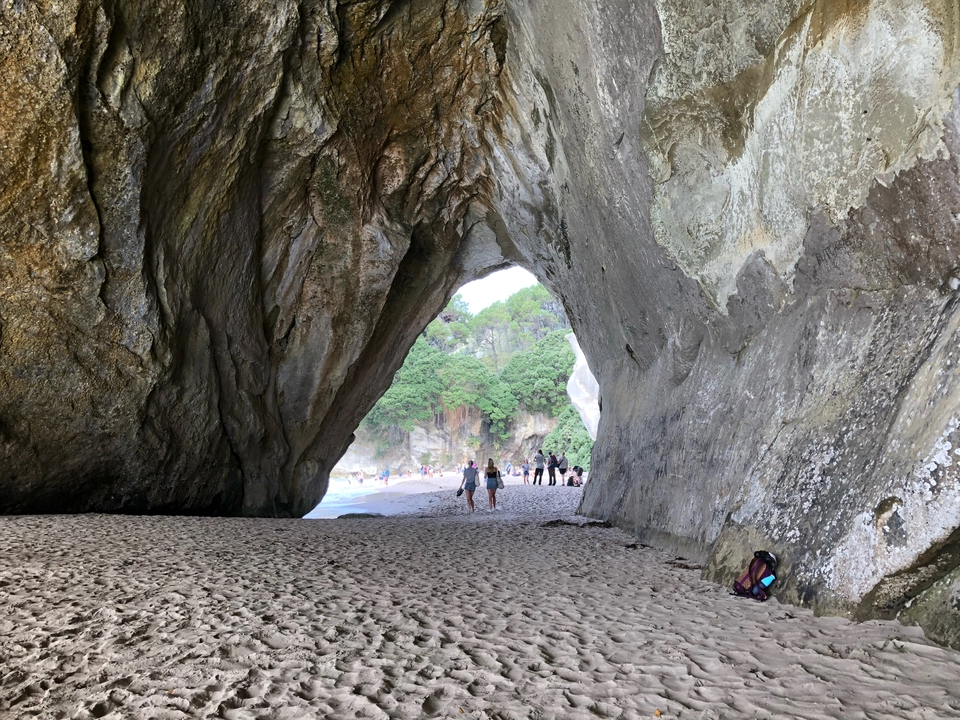 Sorry sorry sorry sorry I couldn't write, or rather type, day five blues due to nonavailability of Internet in the hostel that I lived. Apologies excited, today was the first day of boarding the Kiwi Experience bus. I reached my pick up location 15 minutes before departure and the bus was empty. Within the next 10 minutes, hordes of youngsters especially white girls in their just legal age or early twenties, boarded the bus and it was full. Immediately I felt old outdated and felt that I should have Opted for flying Kiwi, stray or any other intra city bus service, Where, I recalled that mostly people in their late 20s or early 30s or even nearing 40s avail of These other bus services. Kiwi Experience service is more like for youngsters.
Anyways I tagged along and it was not too bad!!
We don't find any Indian young backpacker and in my honest opinion, it is a way of discovering the outside world without confining oneself to what we see where we live. My honest suggestion is to let your children live for themselves and the best way to start is when they are out of 12th Standard. Let them explore the world or even for that matter various parts of our own country on their own.
So, on the bus with all the chatting in British accent and German accents mixed with Kiwi accent of the bus driver, we arrived at our first stop which was the Cathedral Cove In the Coromandel peninsula.
Oh by the way I forgot to tell you, today is my birthday, yeah..... I have completed 40 years of my life.... Yeah thanks, thank you so much I appreciate it.
Moving on... The cave and beach was used as the tunnel through which the Pevensie children first re-enter Narnia in the movie version of The Chronicles of Narnia: Prince Caspian. It is a one hour hike to the cathedral cove and one hour back but it was worth it since the view of the coastline from the peninsula was breathtaking with slight tinge of turquoise waters, carved out Boulders due to the waters. There are other trails along this trail which you can undertake. End of day and it was a satisfactory hike.
The bus stopped at a famous grocery store called Pack N Save where we bought my goods.
Cooked restaurant food in New Zealand is ultra expensive and for those who are here on Indian money like me, or those who are not earning as yet like the youngsters, had no other choice but to buy your own groceries and cook your own food if you're living for longer time in New Zealand.
Then we checked into our dormitory rooms in the hostel where I had to bunk with some of these youngsters. Never done that before, felt awkward, he he he he, and the only brown middle aged guy with mid life crisis in the battalion of white energetic youngsters. It was a mixed Dorm so girls and boys bunked together including the shared bathroom. Oh how will I deal with this, he he he he... When selecting our bunk beds, I was given the priority without anyone opposing, I got the double bed bunk and claimed it and nobody argued out of "respect", I guess.
Then it was dinner time. These guys started preparing their own food in the community kitchen from the groceries bought in the previous stop at market. I had bought a ready-made and spaghetti tomato mixture and ready to cook soup. I had never entered the kitchen to prepare my own food earlier and didn't know how to run the induction cooker. These guys told me how to turn on the induction cooker, remove the canned spaghetti as well.
After dinner, at night there was a drink party and I had purchased New Zealand's finest earthly Marlborough wine. There was also an excursion at 9 PM to the hot water beach which is famous for the hot thermal water coming out of the beach sand when dug up with shovel. You have to sit your ass down in the hot water and relax. But I didn't opt for that, for reasons not known even to me. Some youngsters told me it was worthwhile. But you should try this experience and I dearly miss it. Probably the wine got me and I went off to sleep. These youngsters know how to party and then even go get their posteriors hot in the hot water beach!!!! Why not, my birthday was Approaching fast.
Slept like a log and didn't even know that crucial 11:59:59 pm was turning into 12 am. I was waiting for some WhatsApp messages from my wife and my kid and suddenly realise that they were 7 1/2 hours behind me by time zone. Ha ha!! Then it was sleep time.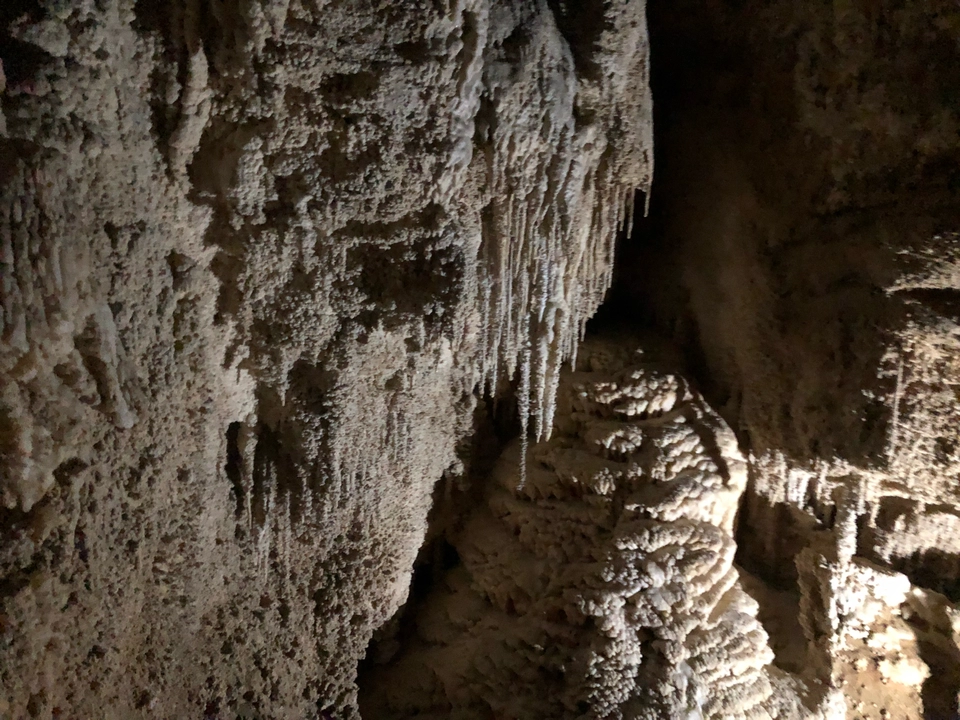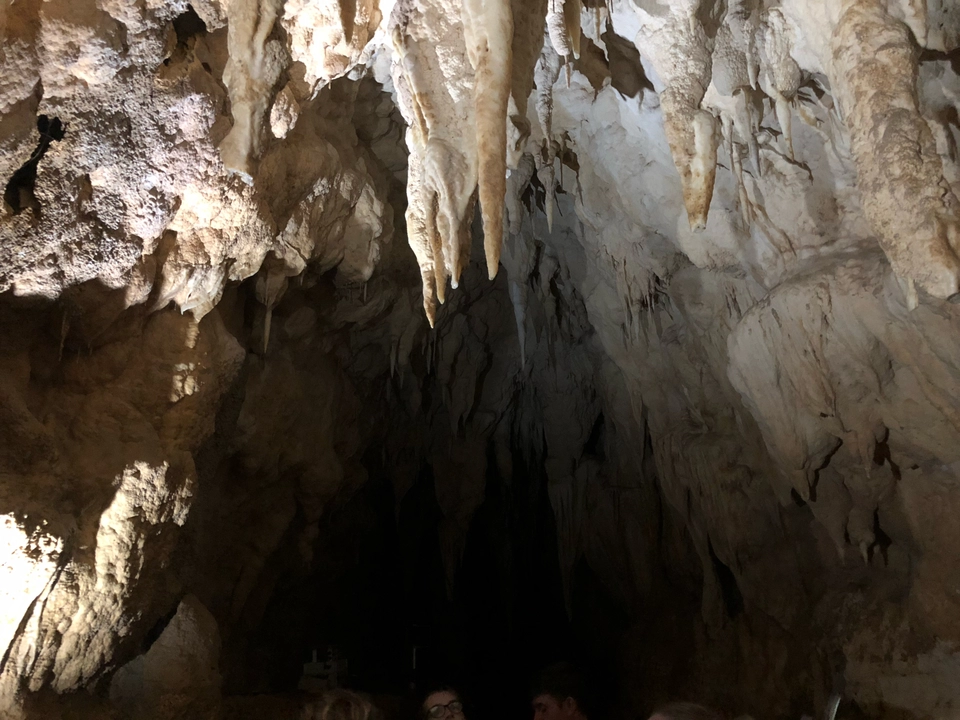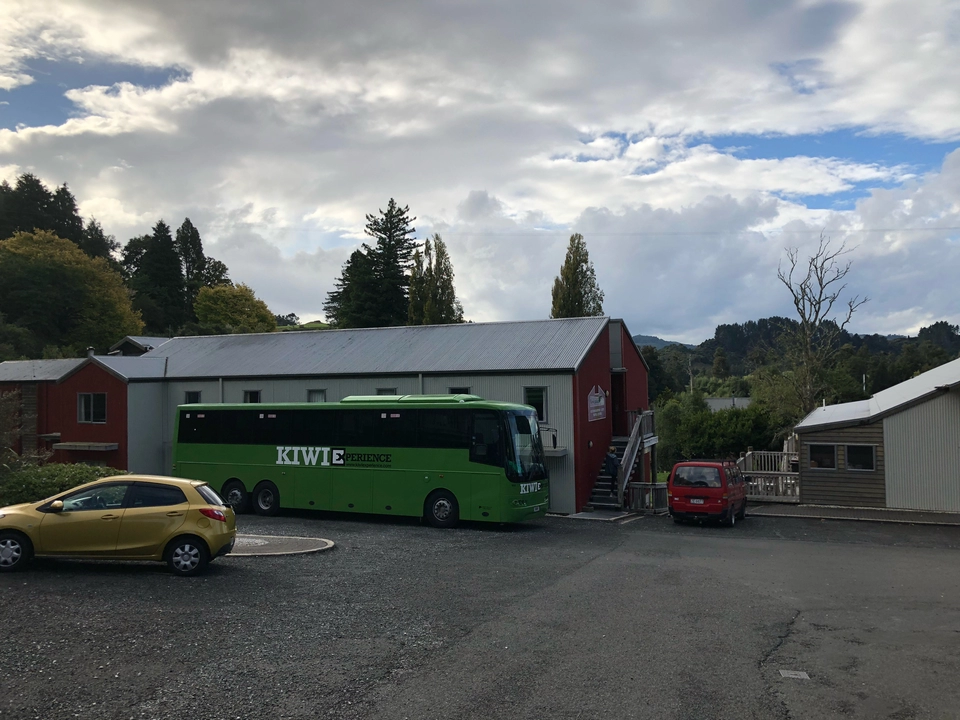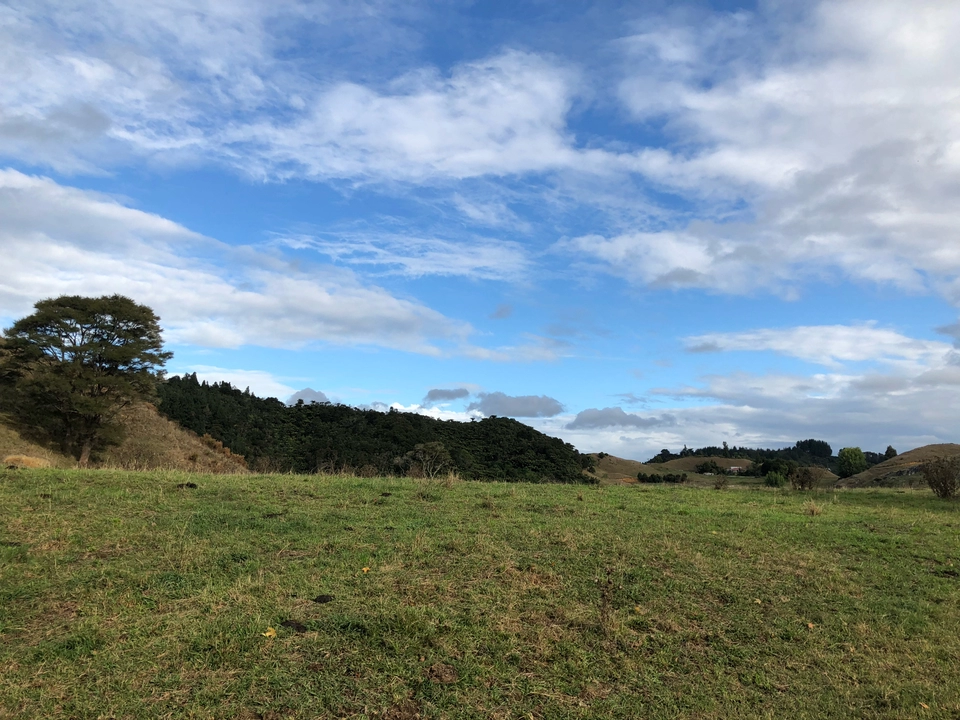 Early morning we had to leave at 7:30 AM and report by 7:15 AM to our next stop Waitomo for the Waitomo glowworm in caves. Alarms started blaring from each one's cell phone at 6:45 AM and then these guys were like ninjas. They were ready in a jiffy. I tried to cope up using the mixed bathrooms and was ready on time fortunately.
Our next stop was the famous Waitomo glowworm caves. It is known for its population of Arachnocampa luminosa, a glowworm species found exclusively in New Zealand. It is a must visit place. You can even go extreme adventure like swimming in the quarters in dark with head flash lights using tubes and other crazy stuff.
After the glow worm tour, we came back to our hostels. I had my tomato spaghetti brunch and went out on my own to explore the Waitomo village. It is beautiful village And I strolled leisurely. There was a walkway which led to the Waitomo village viewpoint of about one hour return which gave a beautiful view of the village from the top.
Tomorrow I am breaking up with these fellow youngsters because I am hopping off The bus at Otorohanga near Waitomo and taking an Intercity bus to New Plymouth for 3 nights where I want to explore other places on my own. Then I will be on the Kiwi Experience bus with completely different bunch of youngsters and, yeah...the driver..I will dearly miss his potshots and humour because he is an absolutely hilarious Guy I have ever met. This Kiwi Guy with his astounding sense of humour had the bus in splits whenever he opens his mouth. He really As got some good humour up his sleeves. And I also made friends with some of these youngsters in just two days whom I will miss, notably Emma and Daniel, can't say because we may even meet in the South Island of New Zealand.
This time I opted for an exclusive room with shared bathroom. Done for the day...EOD in process...zzzzzzzzzzz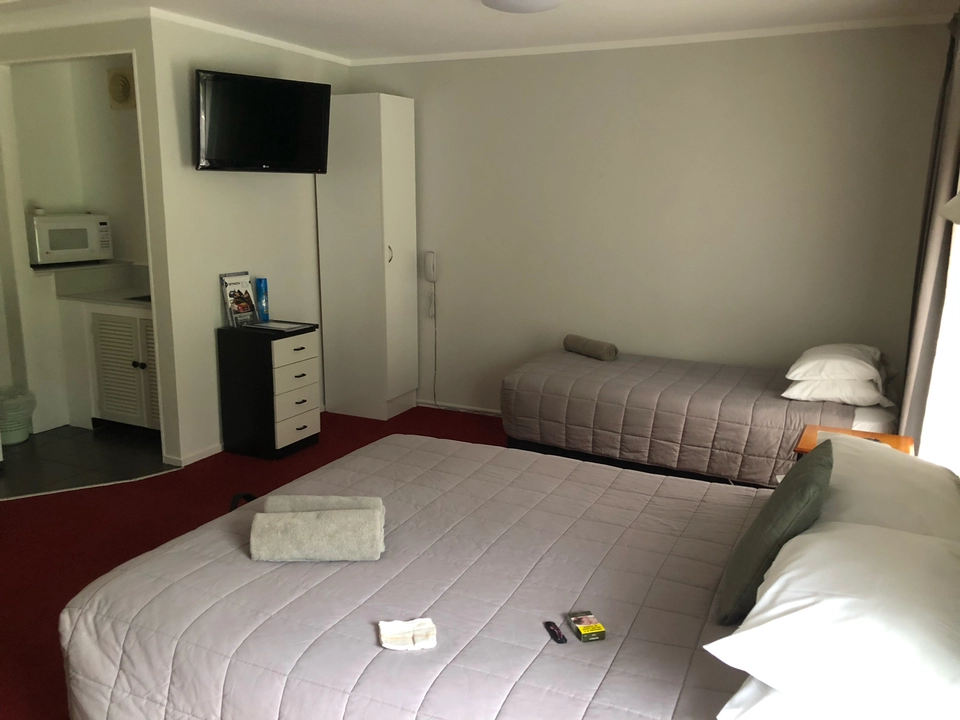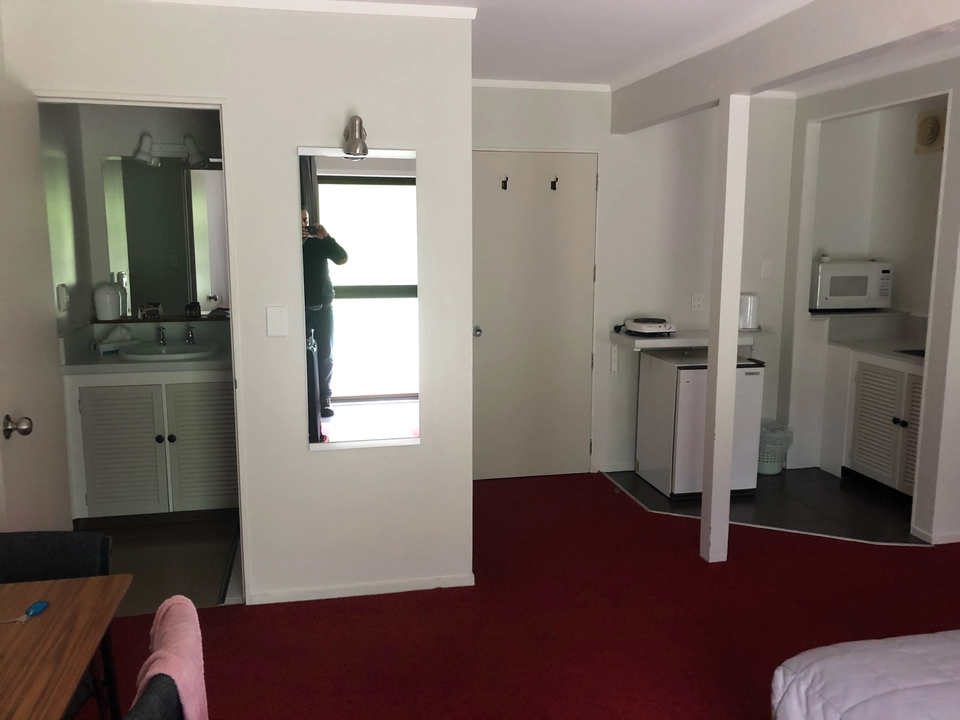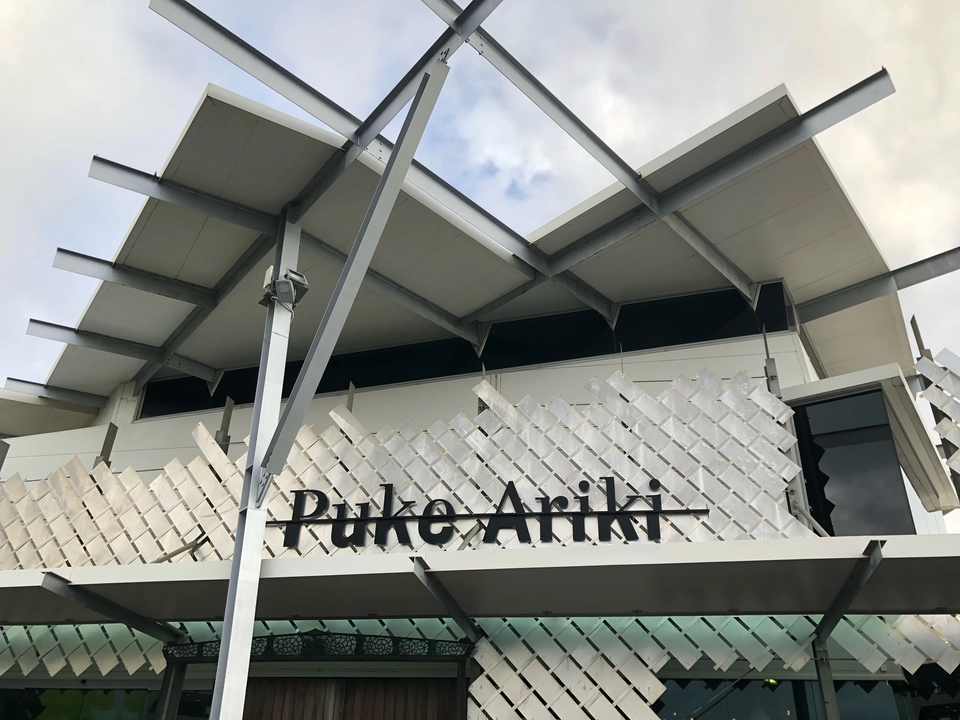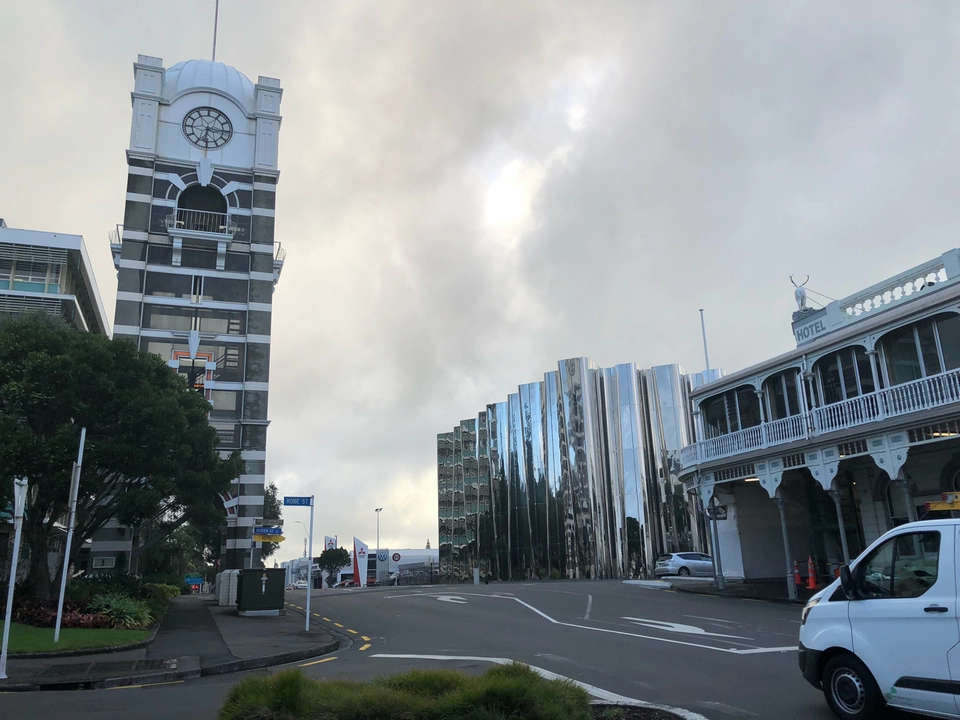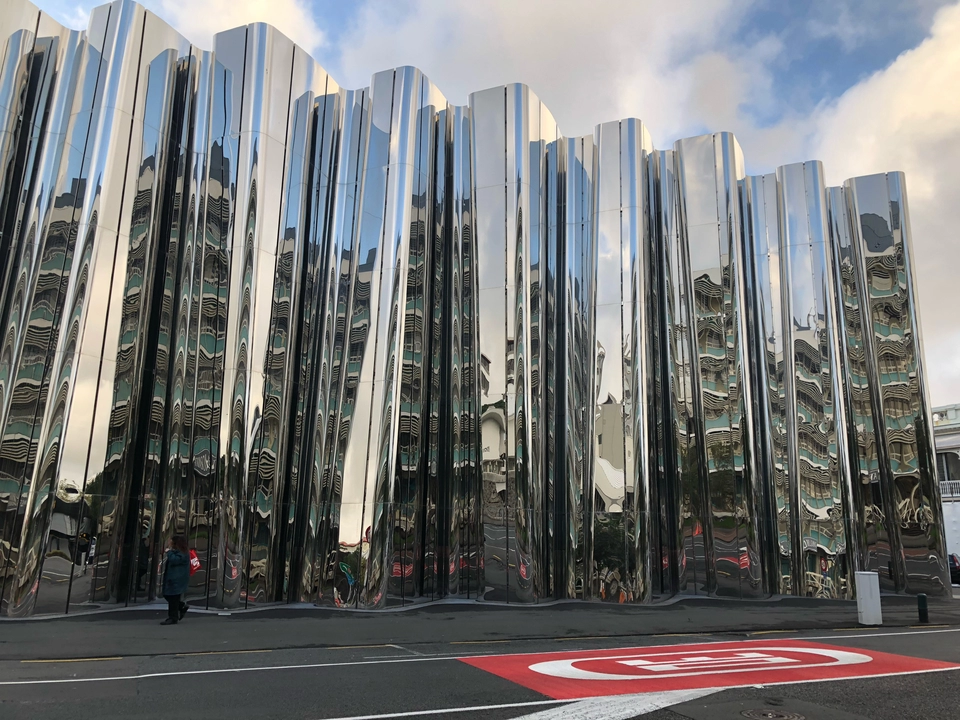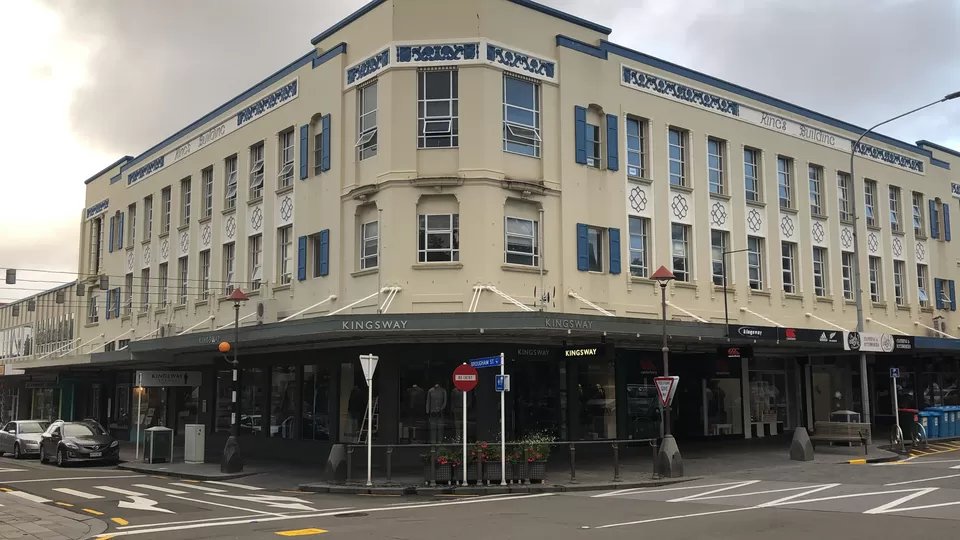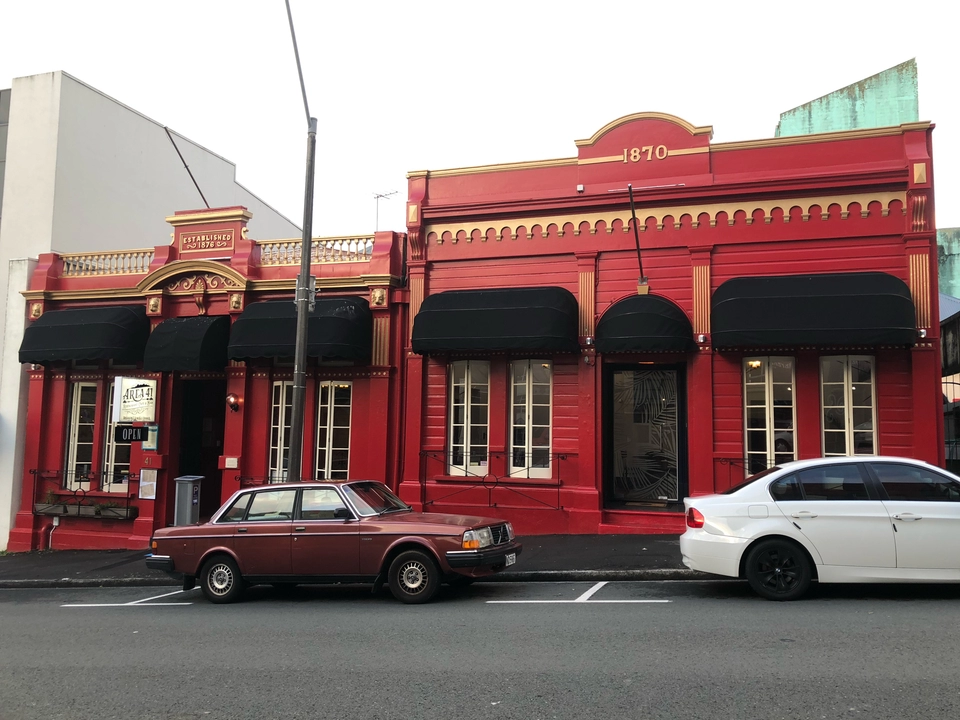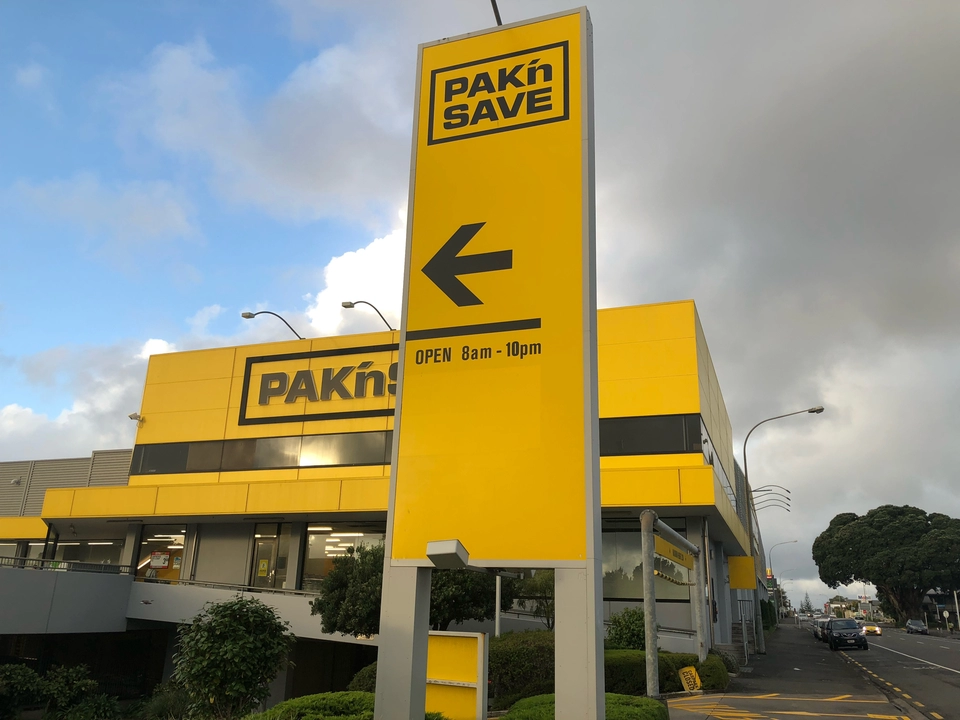 Today the departure was at 8:45 AM. So it was that much easy. I want to be dropped at Otorohanga for my hop off. We stopped for a half an hour walk at the Ruakuri Bushwalk and then reached Otorohanga where I gathered my baggage, bid goodbye to my friends, especially Emma and Daniel (who presented me with some condiments and sweets for my birthday....so sweet of them) and the bus driver. Otorohanga is a beautiful town with cafes and super market where I had my steak mushroom pie and coffee and Waited for the Intercity bus at the bus point...all of which was very near. I had previously booked my intercity bus via the app to take me to New Plymouth. The bus arrived 10 minutes delay and I got into it. It passed through some beautiful landscapes along the way. It also pass through one of the main attractions near New Plymouth which is called "the three sisters". If possible I will plan to visit this place. The bus took a break at a town called Te Kuiti, Which is called the shearing capital of the world. Beautiful town.... Actually, even the smallest village in New Zealand are cute, clean and unpolluted.
Upon reaching new Plymouth, it had started to rain heavily. I had no rain jacket so I waited at the bus point for sometime. Then it started to drizzle which point I kept moving to my motel which I had booked via hotels.com app. I was drenched since I went by foot dragging my luggage for about 2 kms in the drizzle. This was going to be en-suite room. Yeah I will be having my privacy for the next three nights. After taking some rest, I went out exploring this city. No rains this time but cloudy. The first stop was Puke Ariki, which is a museum regarding the history, geography and the culture of Taranaki region. It was a good museum and then I started to the iconic mirror walled museum called GOVETT-BREWSTER ART GALLERY. Then there was the ocean walk called "The coastal walkway". This walkway I will be doing tomorrow along with many other things. I bought some fruits from Pack and save and came back to my Motel. All the aforementioned places are within walking distance from my motel.
It was 8:15 PM on my return to the motel and there was not a single soul to be seen. The streets were so quiet and I felt like the streets are built for me.
The motel room has a fully furnished kitchenette with a fridge, Microwave Oven, utensils, induction cooker. In fact that is the reason why I went to the supermarket to buy some groceries and make some food for myself but I didn't know what to buy because I can't cook and I ended up buying fruits. Maybe in this trip I will learn to cook and save money. Hahahahha
Okay see you tomorrow. Good night.
Walk walk walk.... See my parents and my wife and everyone I meet, to lose those calories. There you go, Today I walked another 17 kms Exploring new Plymouth. I did not take any taxi, nor any rental cars, neither the city bus, also no rickshaws.... wait! There are no rickshaws here, my bad.
First place I visited today was Pukekura Park, which is known for its poets bridge and the fernery. Also you can see the towering Mount Taranaki and especially in winter when it's snowcapped and clear weather, it is Sone pe Suhaaga. Compared to tomorrow which was raining the whole day, Today was a beautiful sunny day though there were some clouds hovering around but it didn't rain at all. Tomorrow is expected to be a clear day.
There is also a Fountain by name Elizabeth II fountain which can be started by anyone by pressing just a button. After you have seen the fountain and enjoyed it, you had to press the send button to stop it. This park is one of the major attractions of the city. There is also Japanese garden within this Park which has been developed with the help of Japan which is sensible since due to Mount Taranaki, the city resembles A city flanked by Mount Fuji in Japan. I can only imagine how Beautiful it will look on a clear day and when it's snowcapped especially in winter.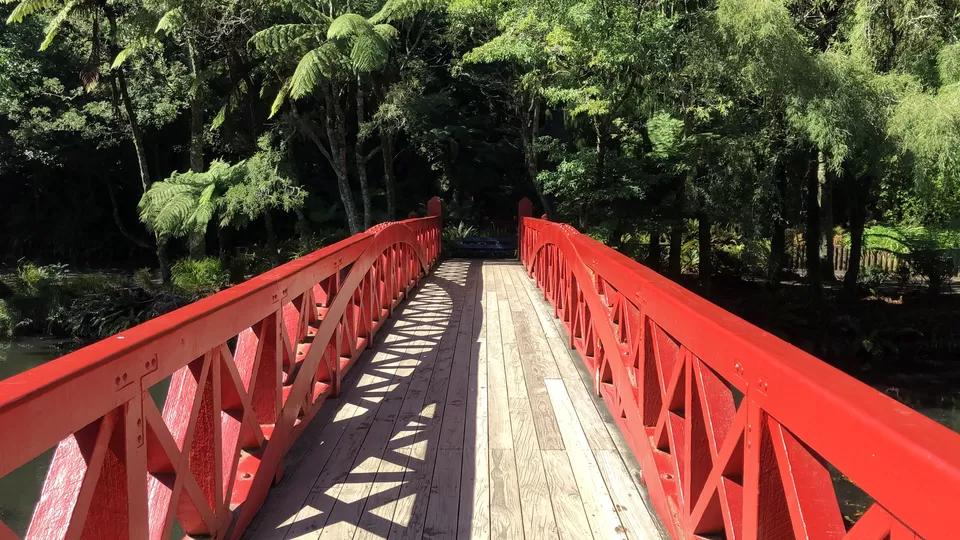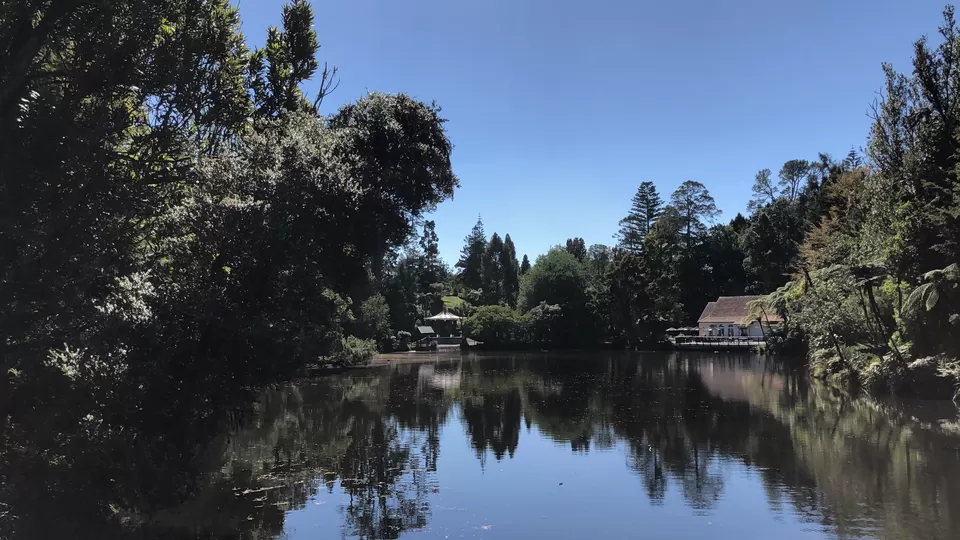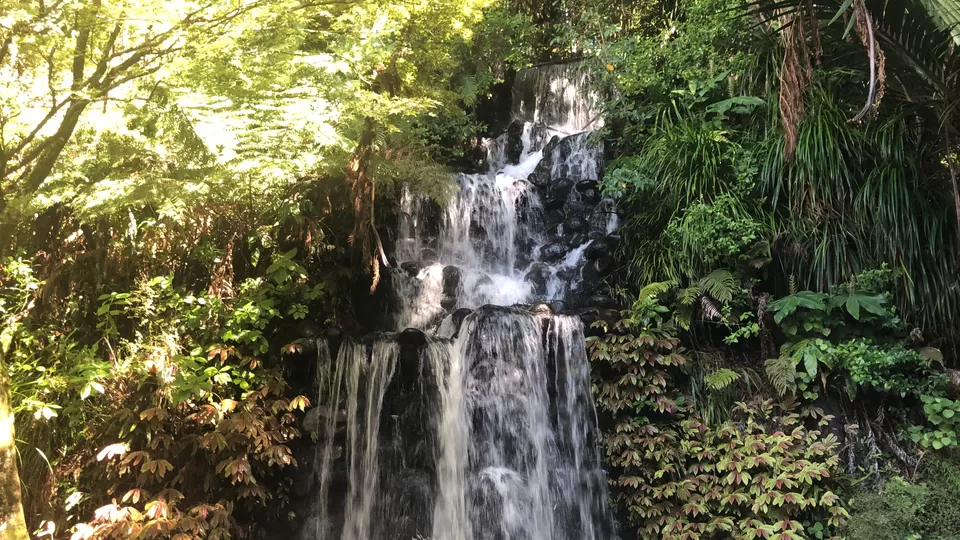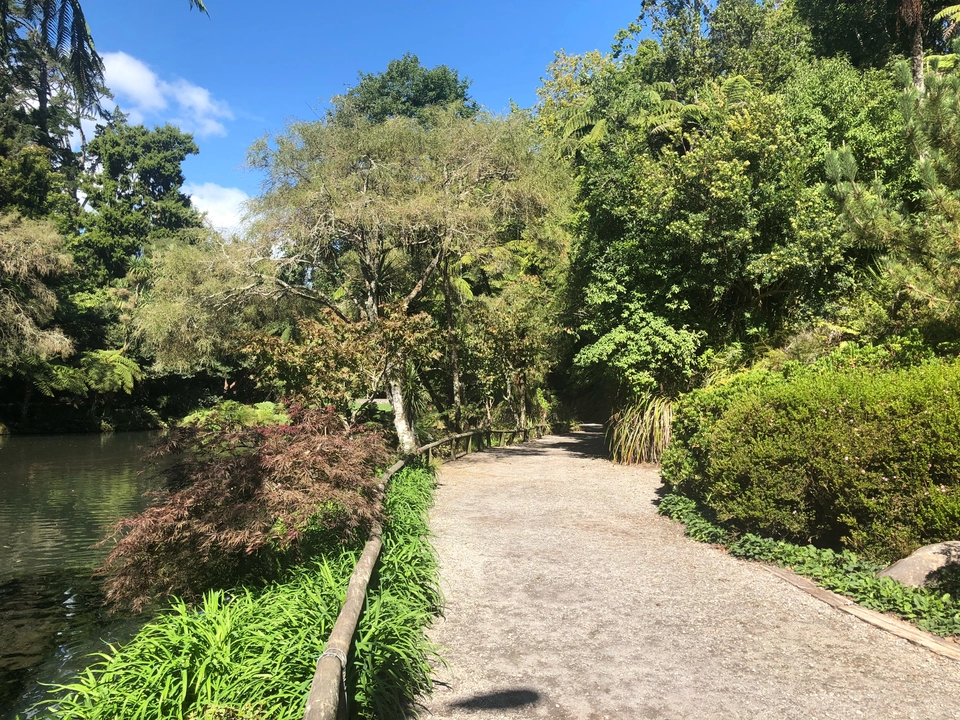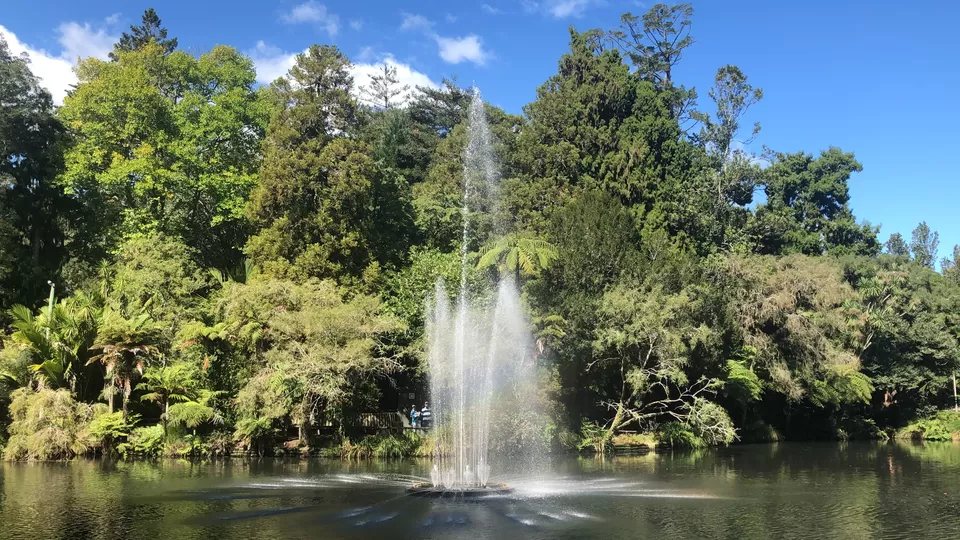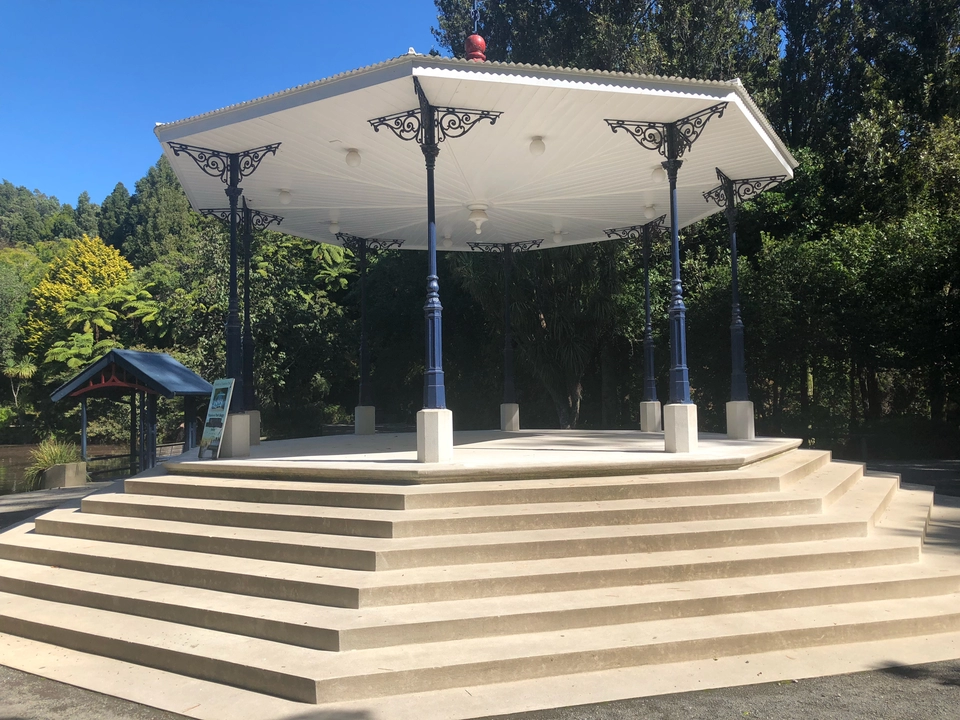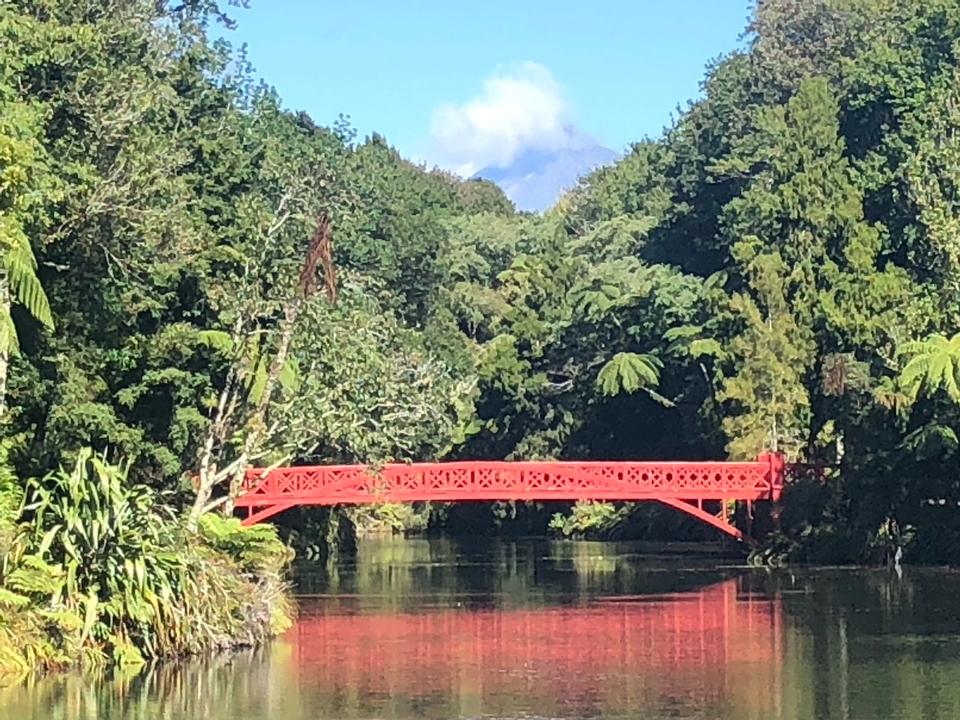 Then I went to the award-winning coastal walkway by the new Plymouth beach which is about 13 kms. It is a spectacular beach concrete work with the Sea on one side and shrubbery and laid-back city on the other side. I would highly recommend to undertake this work since it's amazing. The facilities along the way are world-class, just put on your sunscreen on a sunny day because the heat really works on you.
There is also the Te Henui walkway, which is actually a stream from the sea which has been developed into a walkway into the city. Also there is the Te Rewa Rewa bridge, Which is a beautifully sculptured bridge and is photogenic. Further there is the Rotomanu Lake which is almost at the end of the coastal walkway flanked by greenery and the golf course where visitors are also allowed inside. On a clear day you could see Mount Taranaki in the backdrop of the lake.
As far as my visit to new Plymouth is concerned, one of the things I wanted to check out was Mount Taranaki since it is similar to what Mount Fuji looks like.
One thing I noticed here in New Zealand is that people who have businesses, do not close their shops with shutters down. They display their wares through glass windows by putting a light on inside and just sticking a poster saying on the glass door "Sorry we are closed". I thought a grocery store was open because the lights were on inside, and I pushed the glass door and I slammed my nose into the glass door as the door was not opened. A kind Kiwi told me that the grocery store was closed and then we had a hearty laugh. I thought to myself, what?!, it's only 7:30 PM.
Further the streets look deserted all the time. Even during business hours. The streets are owned by you. The only rush you will see...... actually it's not a rush, it's.... Tens of people, is at places like Countdown, Pack N Save, Warehouse, New World, McDonalds. That's All!!! Got back to my mortal, legs aching and back breaking as a limped back into my room and on my bed while I am dictating this into my phone.
I have not yet decided on what to do tomorrow. Probably do a hike in Egmont National Park. Let me sleep on it. Good night! Ah!!! My nose...ugh!!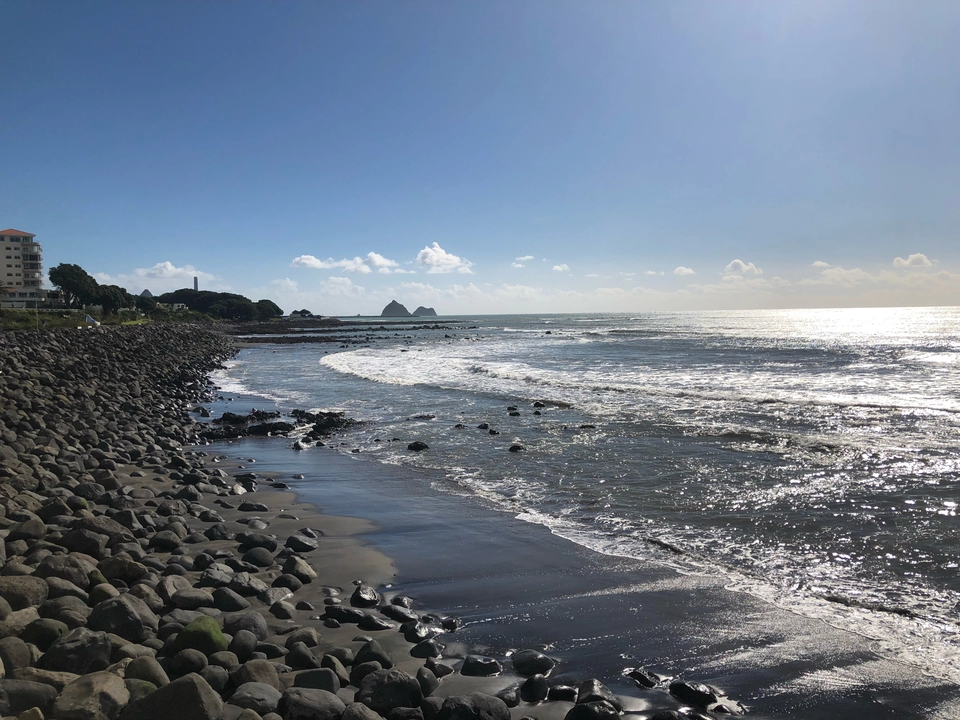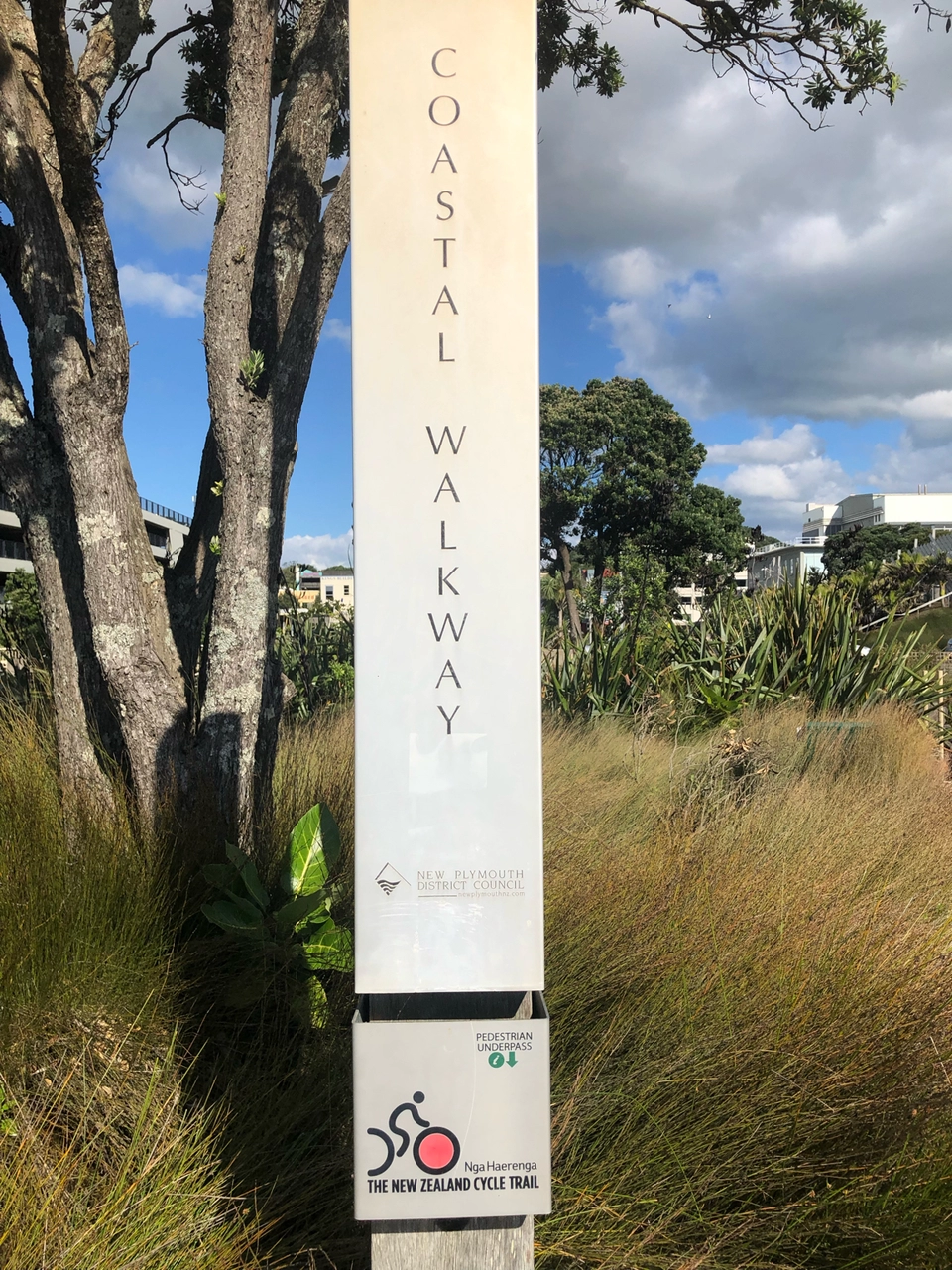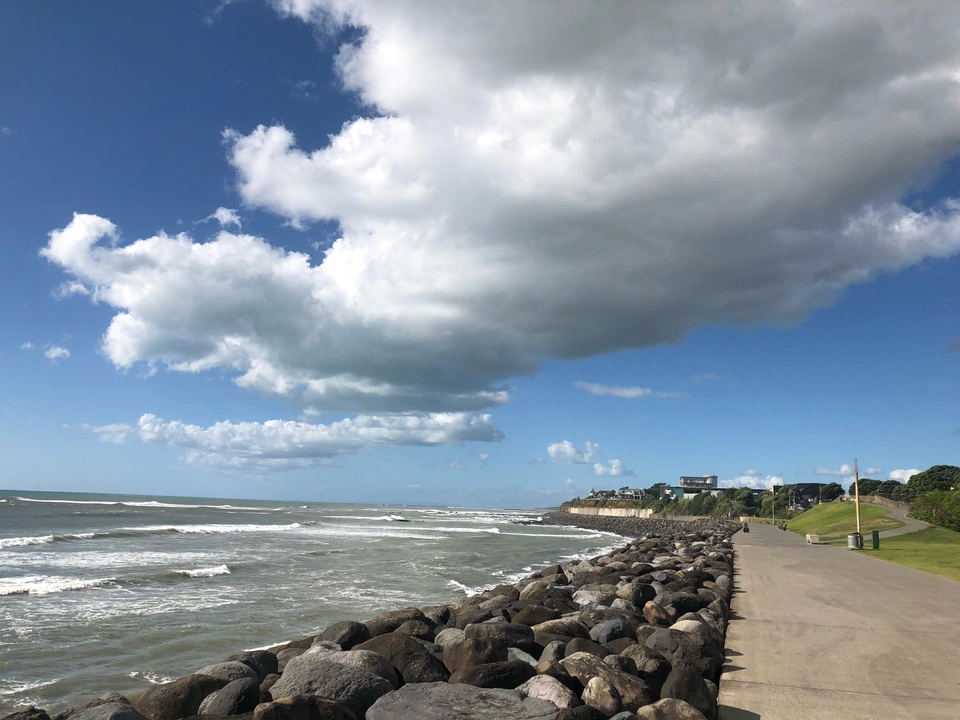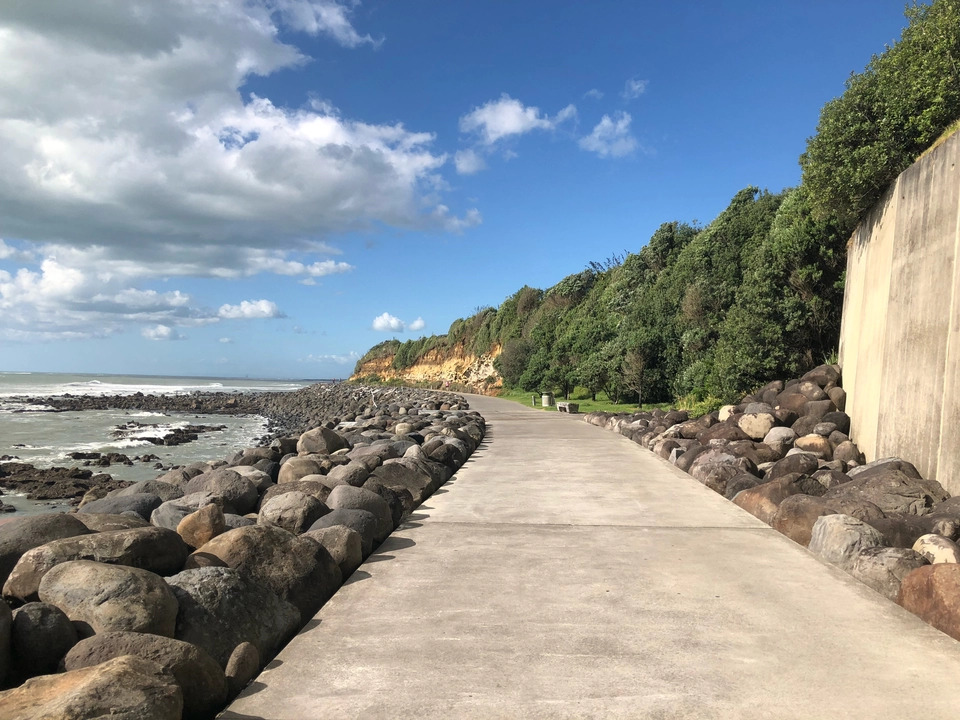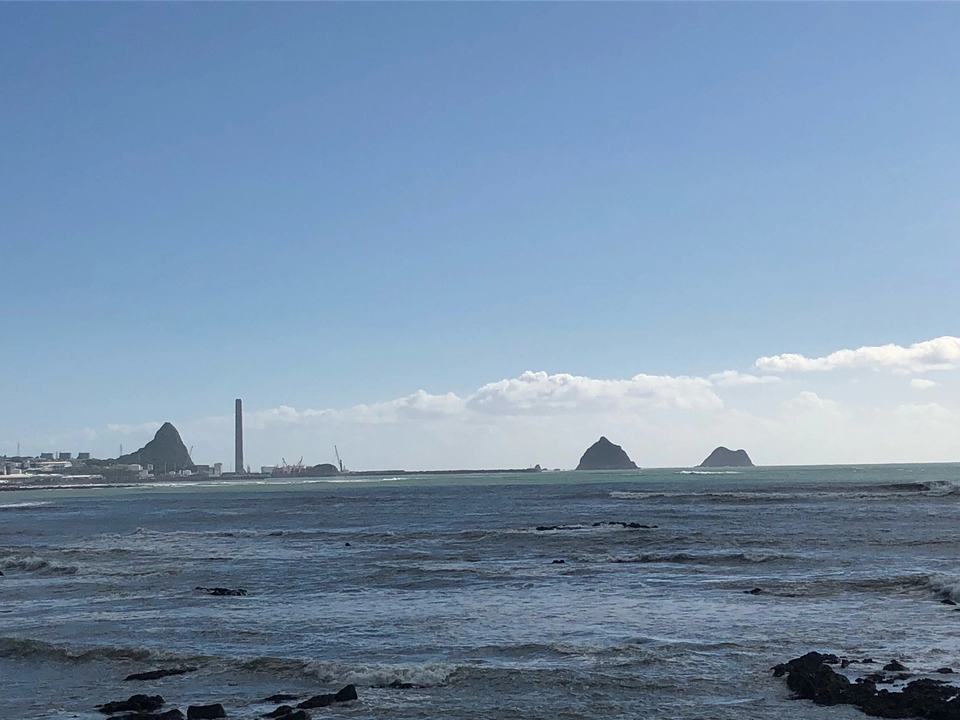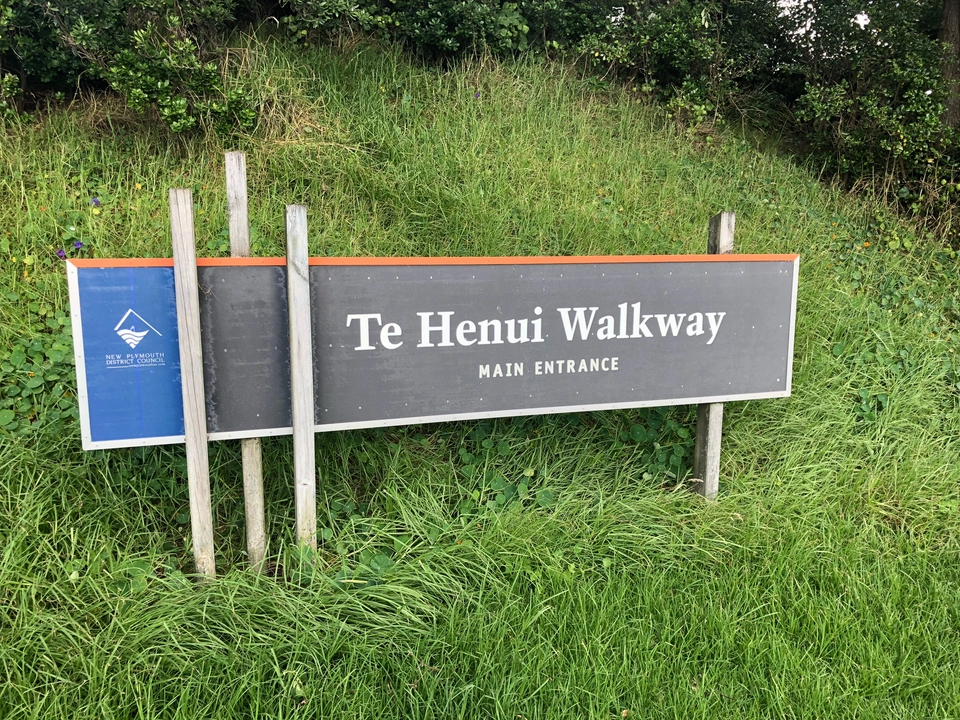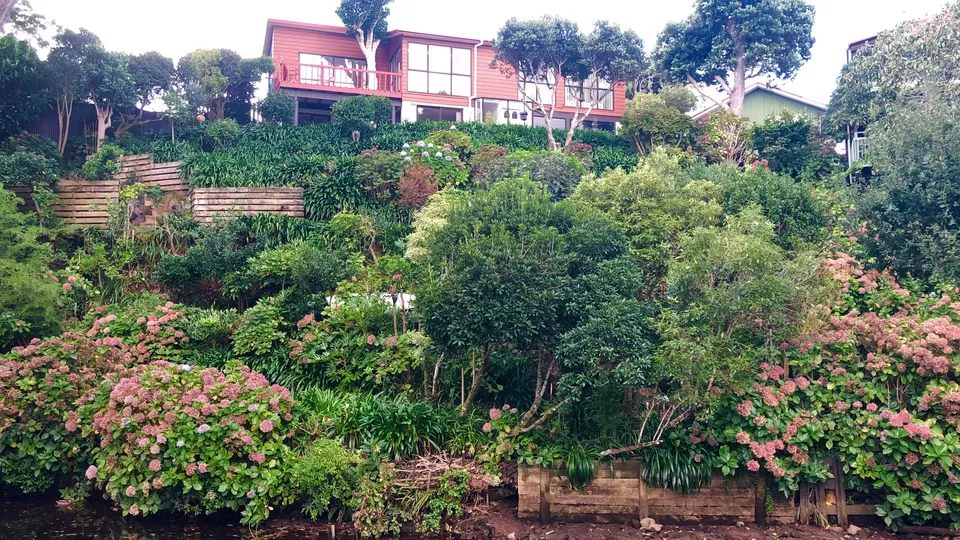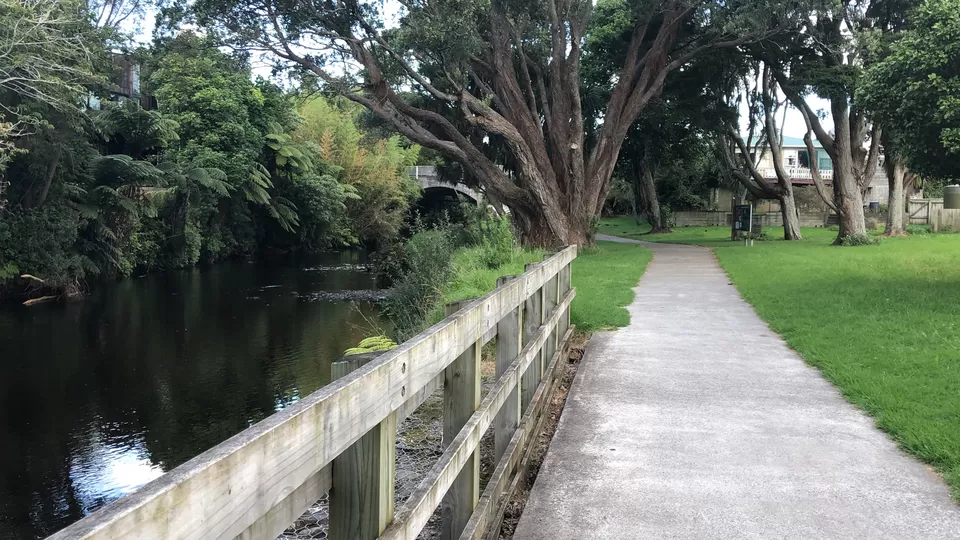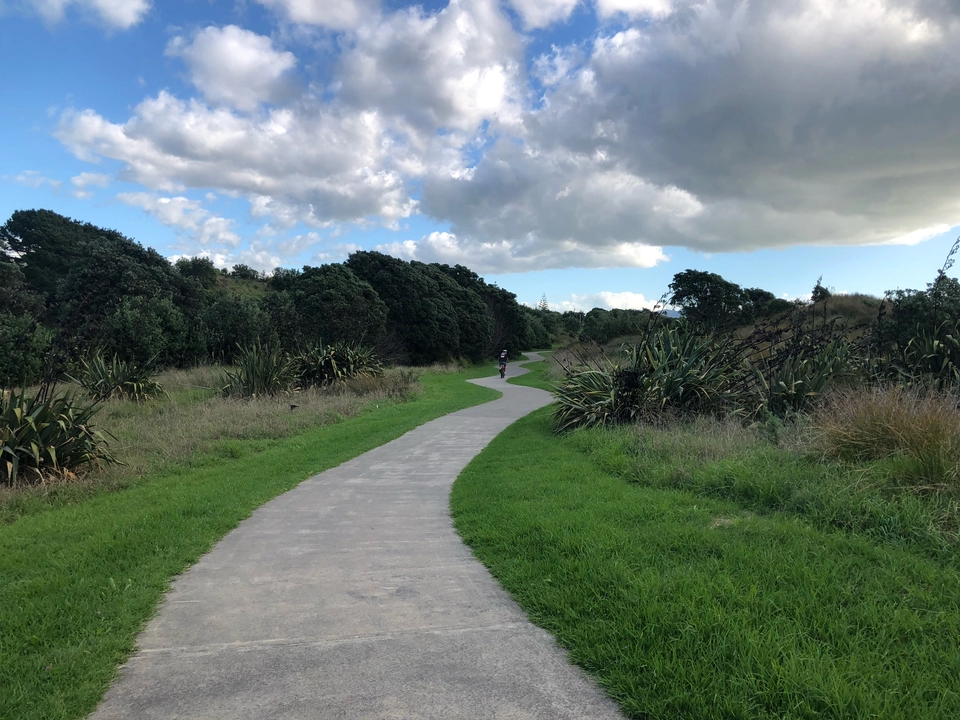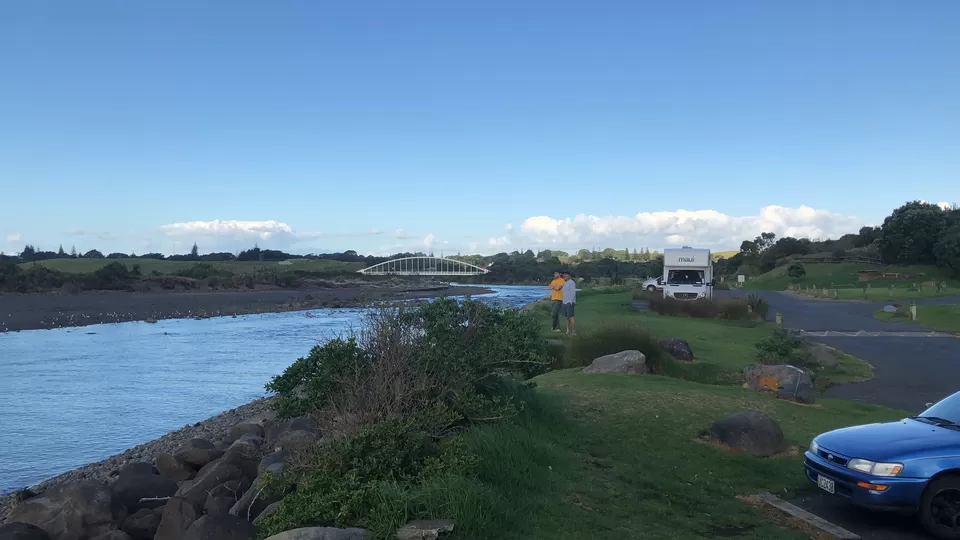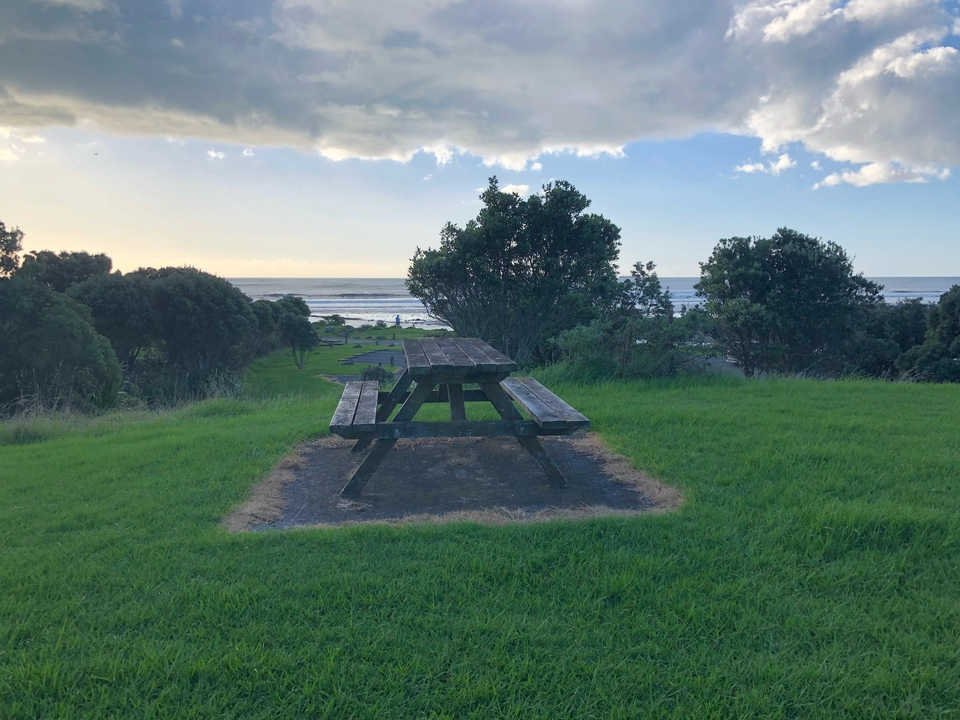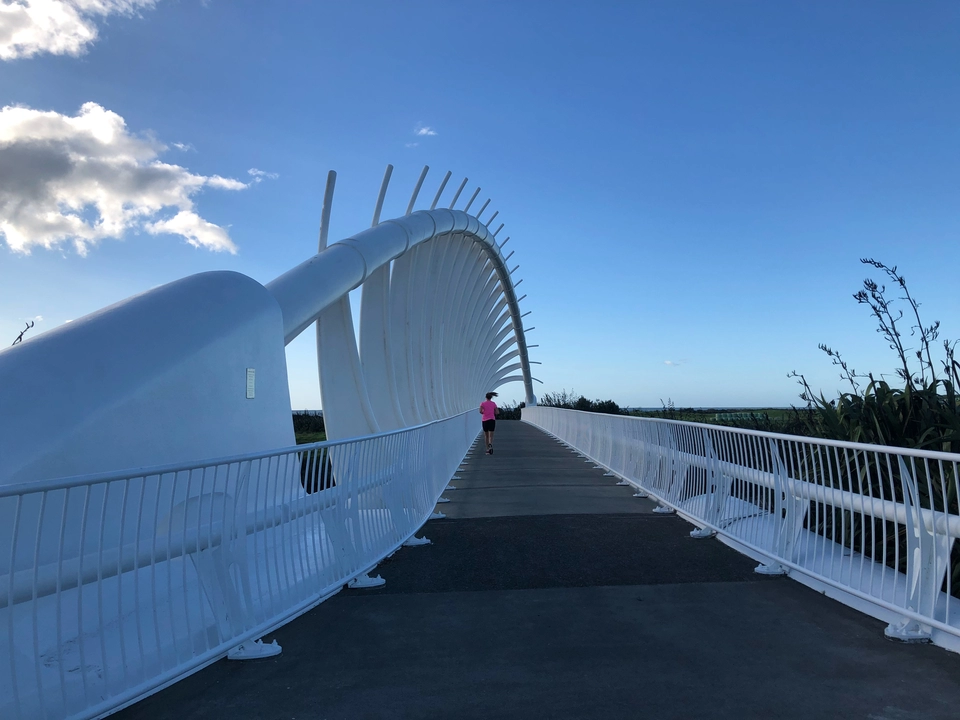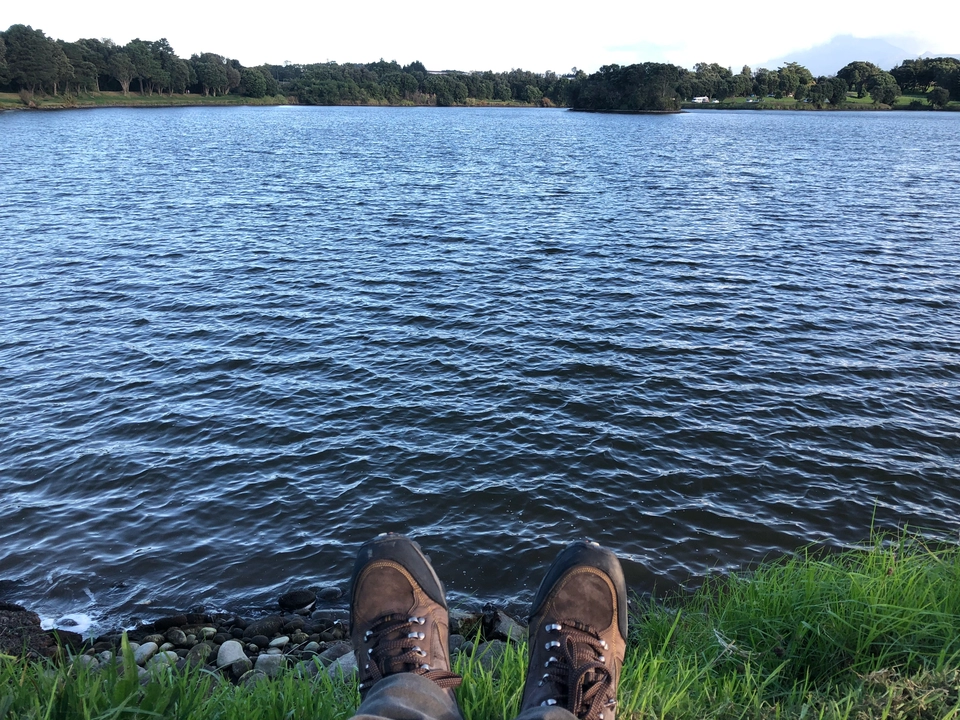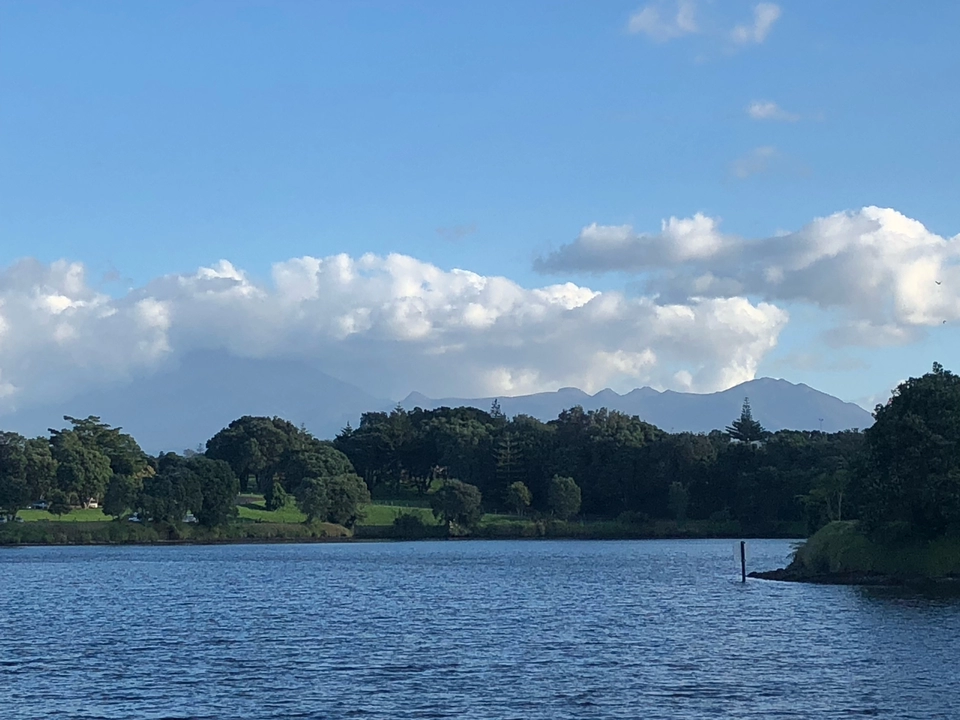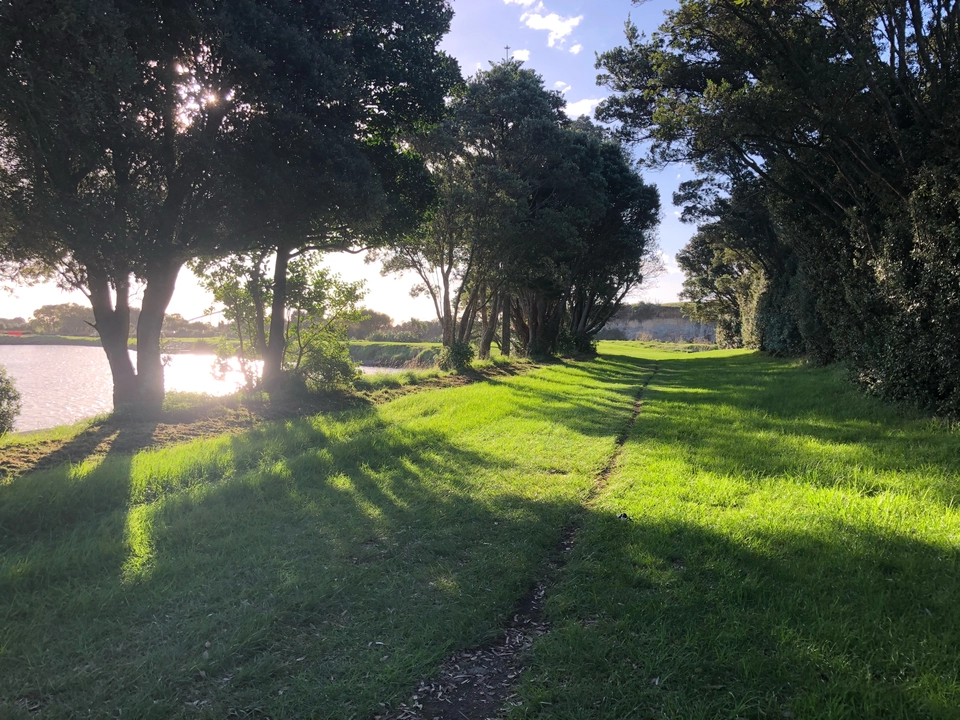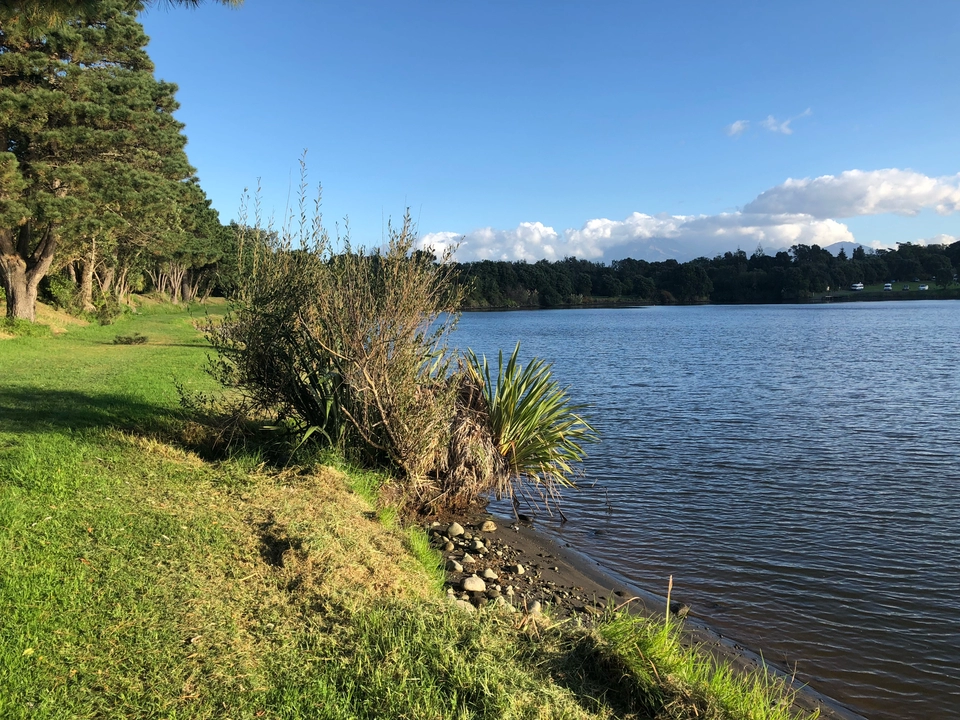 When I got up in the morning, I had no plans at all. Just got ready and out of my motel room. And I recalled that some of my friends recommended that I drive in New Zealand by renting a car. So I went to the city's iSafe Centre and enquired for a budget rental car. They were very helpful and I recommend anyone coming to New Zealand without any plan, to visit such a centre to know what activities, accommodation and other facilities and services that can be availed in the city. This applies to the whole of New Zealand. So these guys recommended me a Rental car company which was walking distance from the centre and I went there. The lady at the counter of the rental car company asked me my requirements of course which where a hatchback since I was all alone. She took my card number and CVV and after completing certain formalities and signatures
gave me the car keys. And then it's you and your car, that's all. Nobody will tell you the features of the car, as you're expected to know that already. All my life I have driven manual transmission, this was automatic transmission. I didn't know anything about New Zealand traffic rules. After gathering my courage, It took me about 45 minutes to get inside the car and see where all the controls were and how the automatic transmission works. Googled for most of the information, studied YouTube videos. In effect, it took another 15 minutes to gather courage, to start the car. Add another 10 minutes to gather courage to adjust the gear lever to drive mode, Then off I go.
The major problem for me was finding the courtesy to the fellow drivers and pedestrians, as the same is absent in India. But I managed. I planned initially to drive to The Three Sisters and The Elephant Rock which is about 65 km far and uses the state highway. The State Highway was near to the rental company premises. So it was easy I presumed... and it turned out to be so. I was cruising along and in the matter of five minutes I was out of the city and on the highway which has a maximum of hundred kilometres per hour speed limit. I knew driving in the city will be the most toughest Hence I kept it for the last. I rented the car for two days to begin with. What about my Kiwi Experience bus you may ask? I requested for another three days and I was waitlisted.
The drive to the above spot was exhilarating and fantastic. The scenery was beyond words and the discipline of fellow drivers something I have never experienced before, since this is the first time I am driving alone in a foreign country. It was a pleasure driving.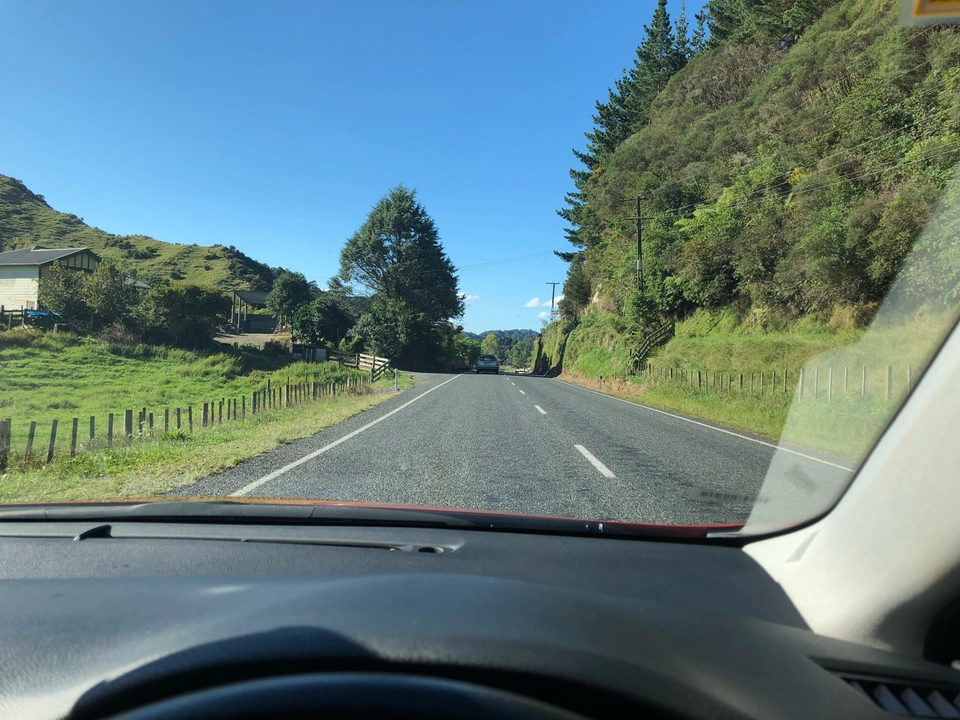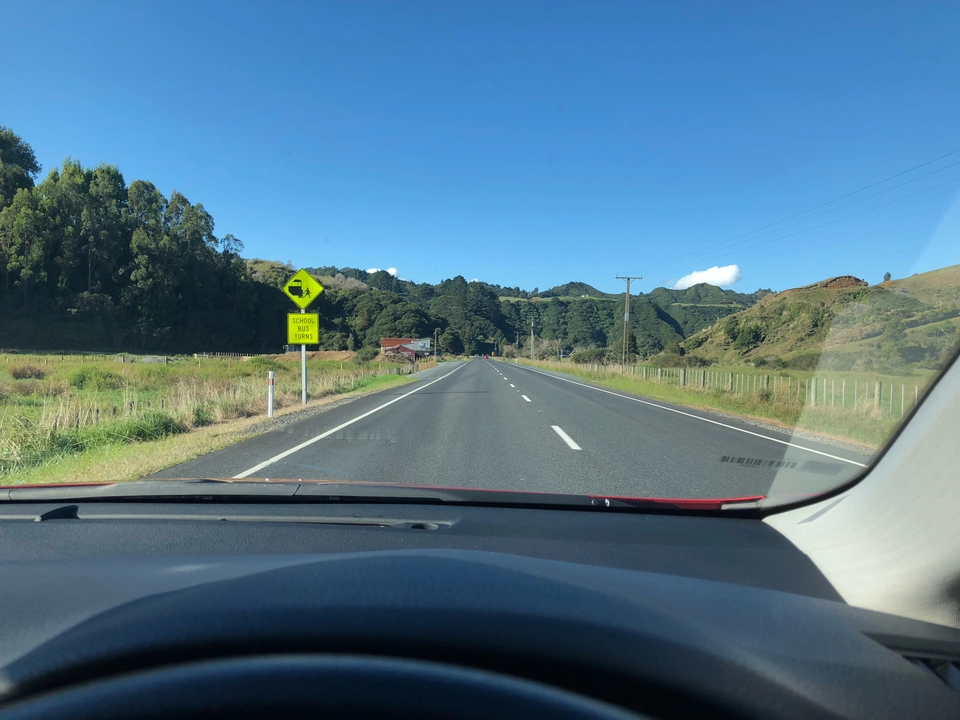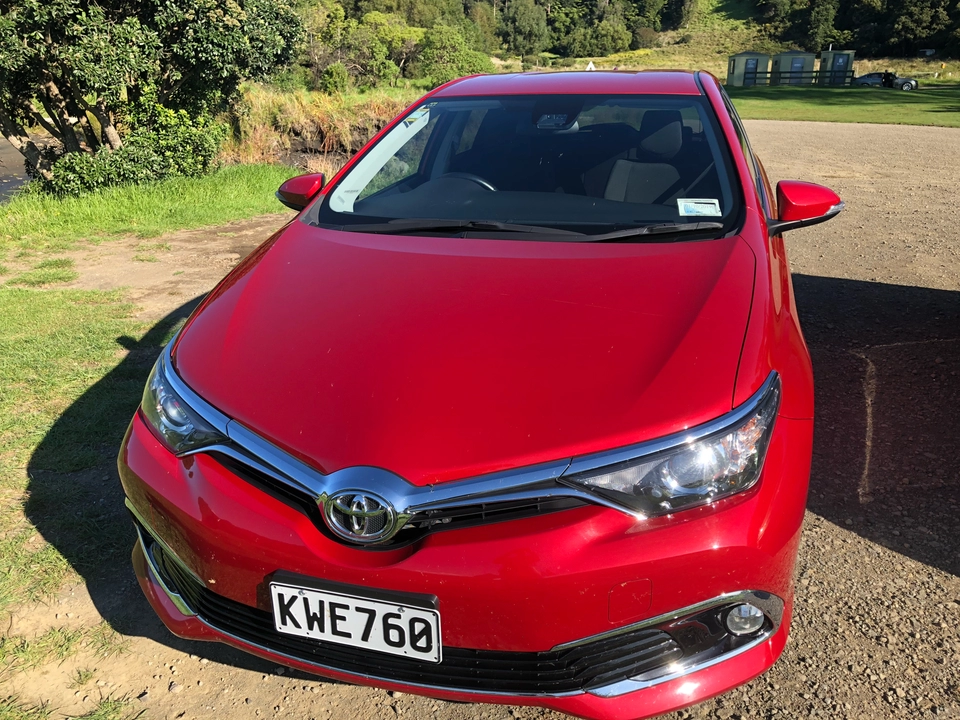 On the North Taranaki coast, near Tongaporutu, you can see two (formerly three) 25 metre rock formations known as the Three Sisters. Another spectacular formation called Elephant Rock once stood alongside the sisters, before losing its trunk to erosion in 2016.
Interestingly, there were four sisters at the turn of the century, but the sea is claiming them one at a time.
So far the Beaches that I visited in New Zealand are all black sand. Spectacular beaches!!
Then I will return back to new Plymouth, I make a detour just because I was enjoying the driving and subsequently rejoined the highway. I grew confident of my driving skills in New Zealand..... Till I reached back New Plymouth again. Once I reached the city, it was around 8:00 pm with all its signals and rules and people driving and following all the rules and signals, I got confused. I wanted to stop at the Countdown store to pick up something for my dinner and I turned on my Google maps to search its location and navigate. What seemed all through out the day of driving of two-lane one side Highway turned out to be two laned two side road with traffic on the left lane and on the right lane. I went into the right lane at the signal and then realised I was on the wrong side of the road, with the signal on the opposite side going green these cars came in front of me and started honking. One of them said "hey! This is not America!! ?? . I was shit scared And stumbled my way into the "right" left lane.
I just hope this infringement will not cost me, because in New Zealand nothing costs in hundreds but thousands of rupees. I just hope.... Fingers crossed. The rental car company already has my card details. The police may charge them but they will charge me.
So lesson learnt guys:
1. Never trust your friends about driving in New Zealand without having any information or simulation. Though we drive on the left side of the road, it's not the same.
2. The travel tour companies will give driving as an option in New Zealand. Just don't fall for it. Better safe. Or you earmark some amount for infringements.... Not some...a lot, I guess...Just in case.
But I would say driving is pleasure in New Zealand.
Well, since I already rented this car for one more day and there are still no tickets on me....yet, tomorrow I will be driving to Egmont light house and probably nearby villages.
See you tomorrow good night.. Please remember me in your prayers that I don't get ticketed.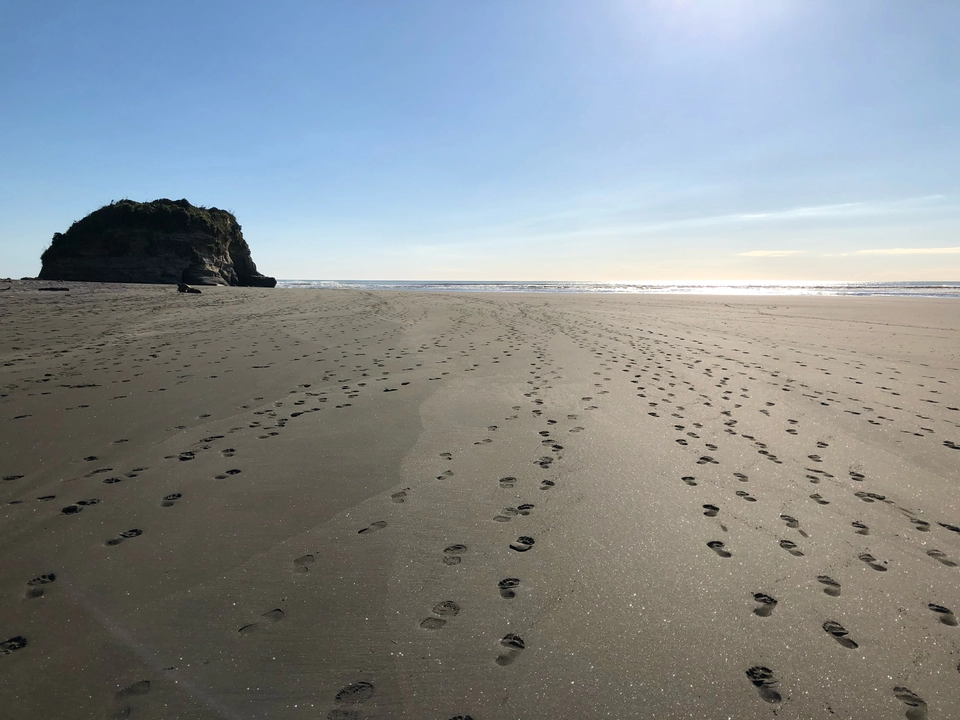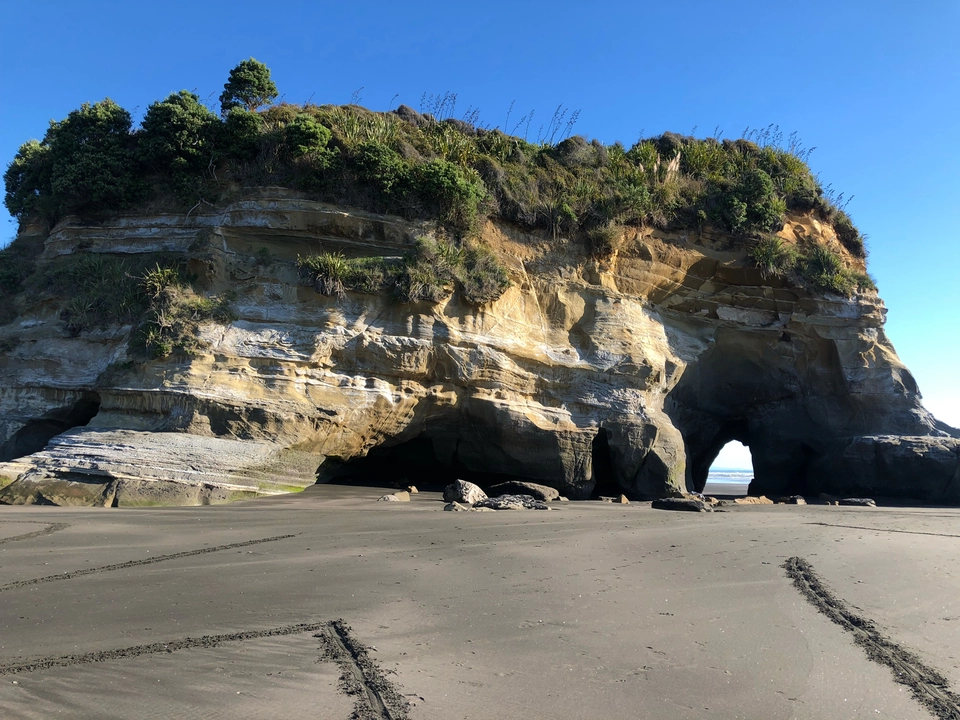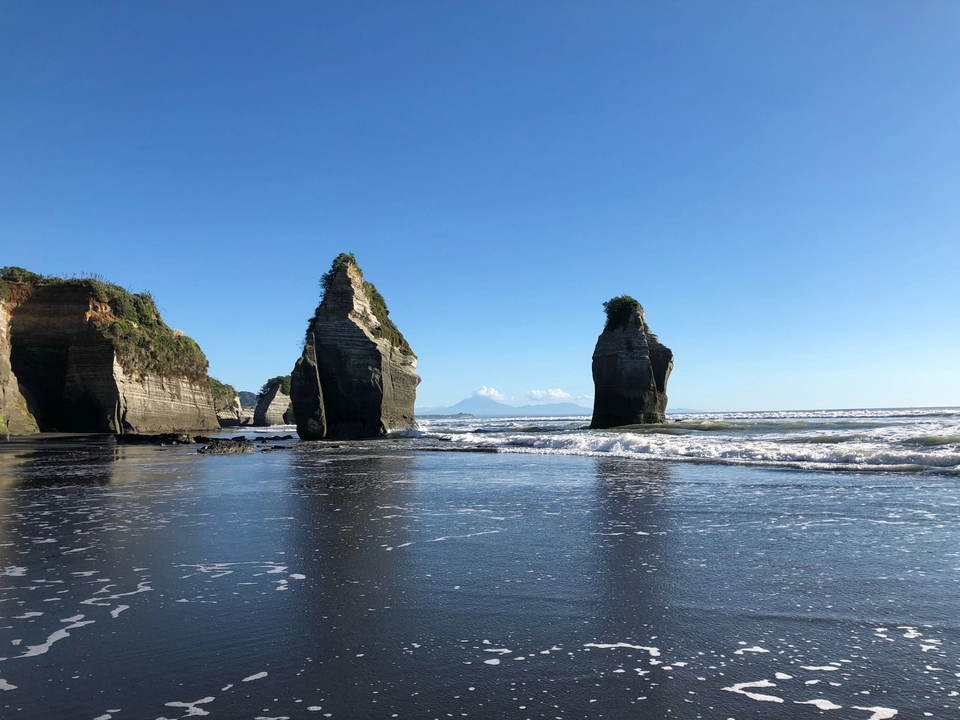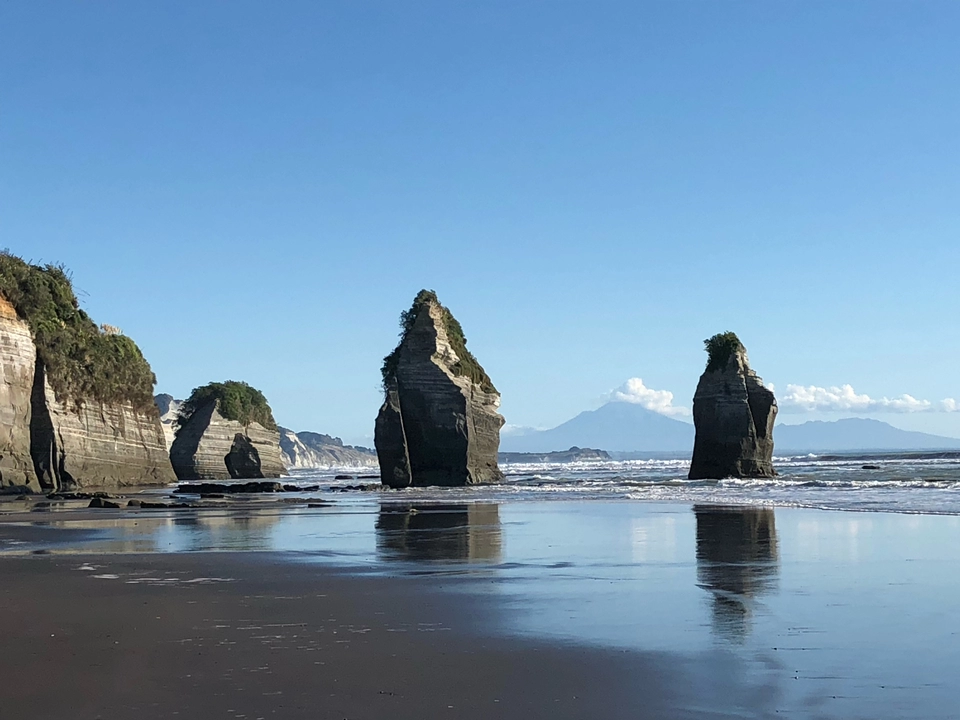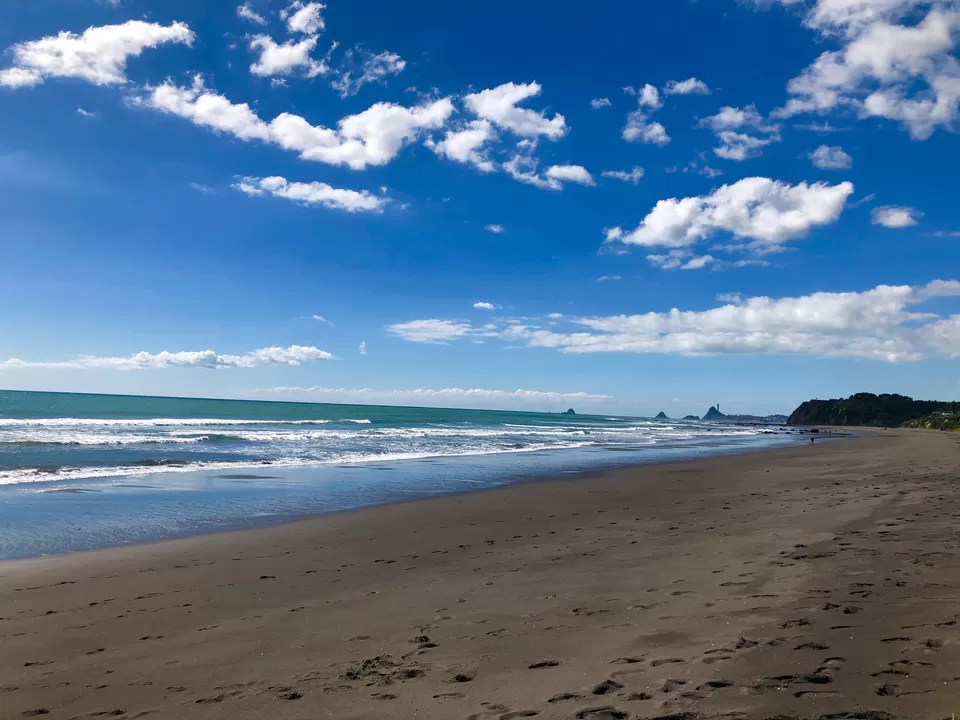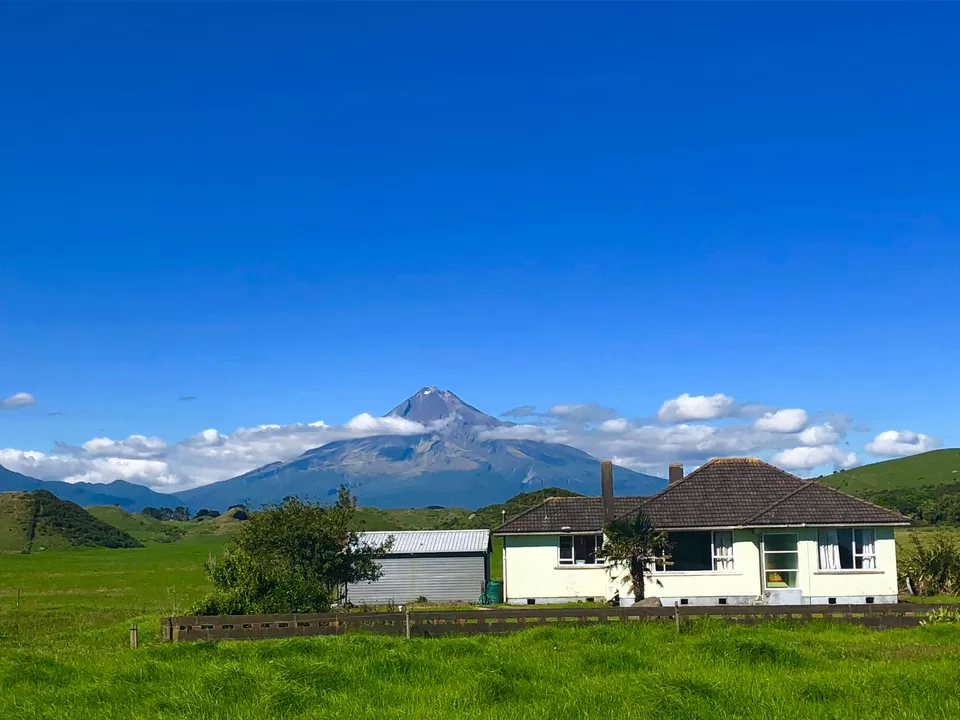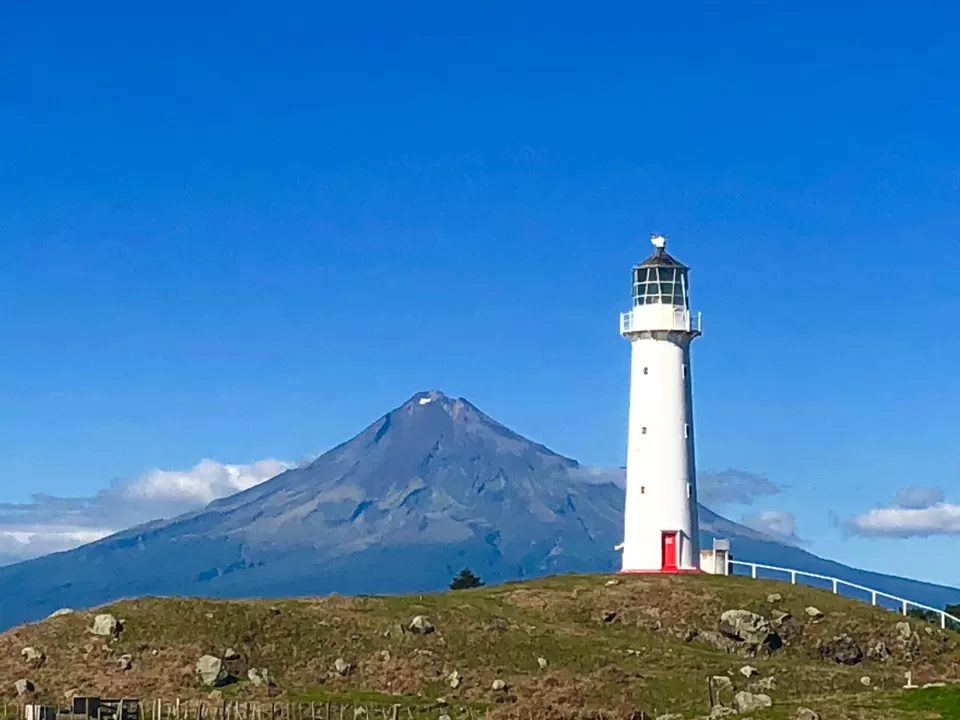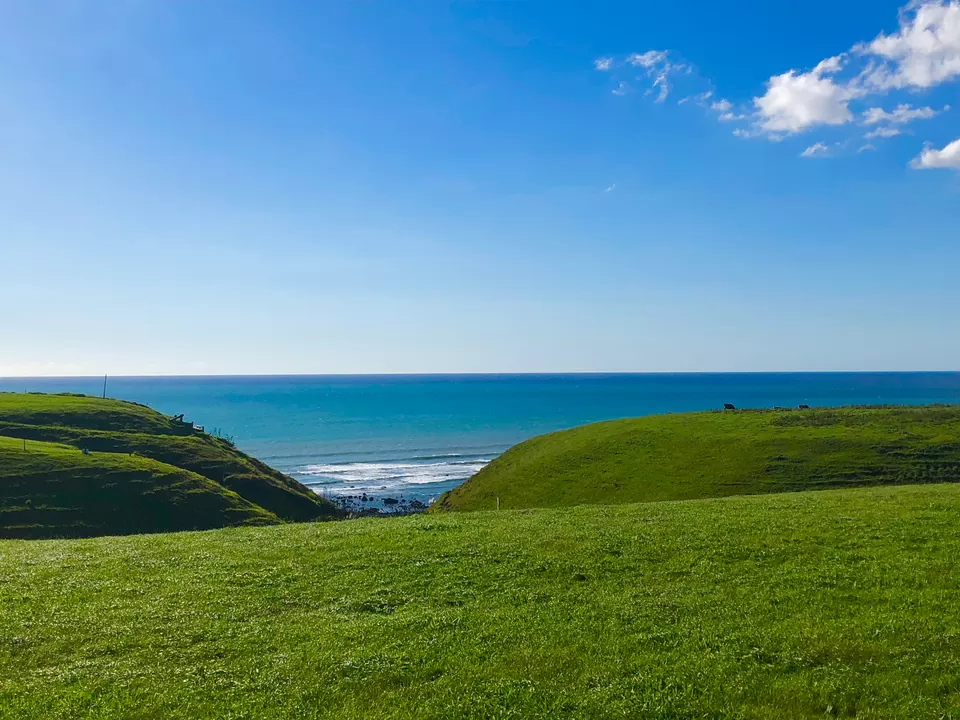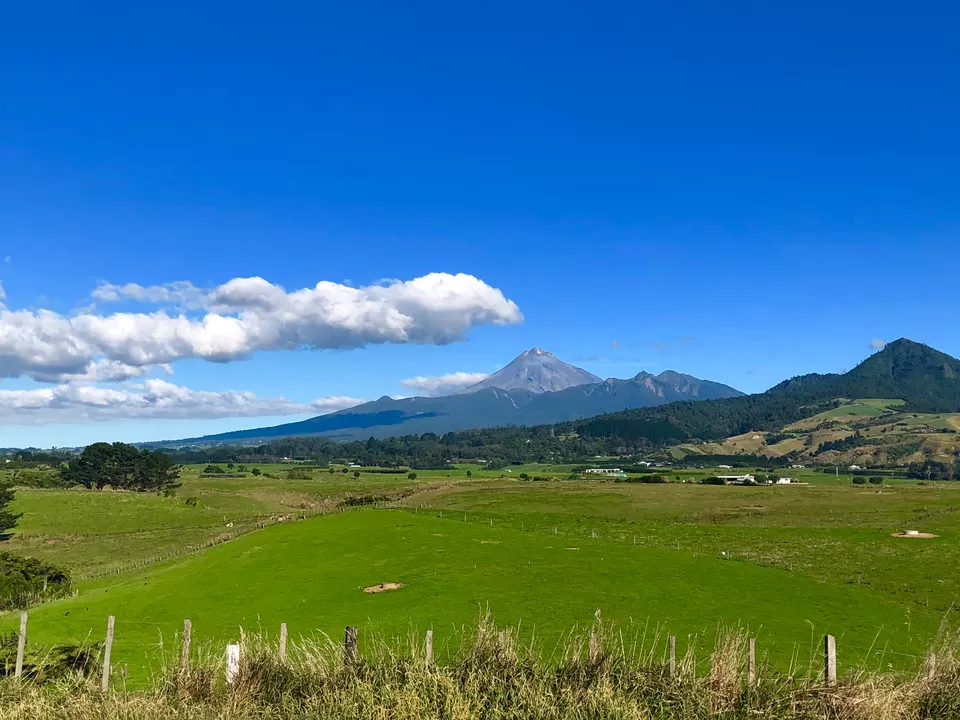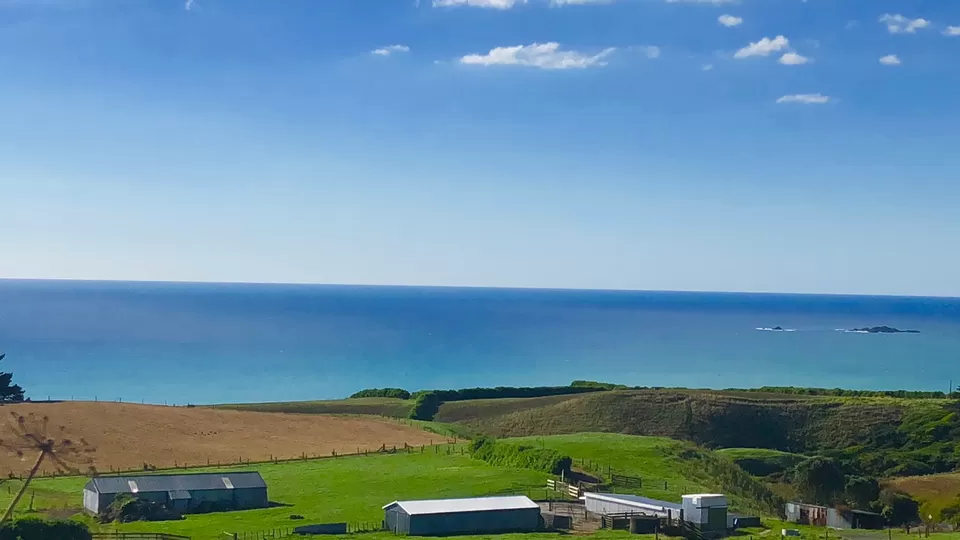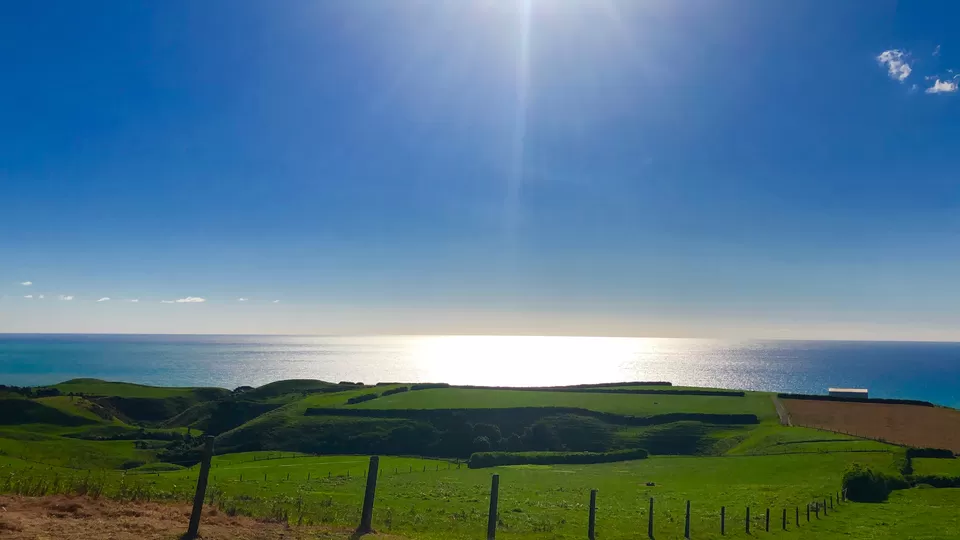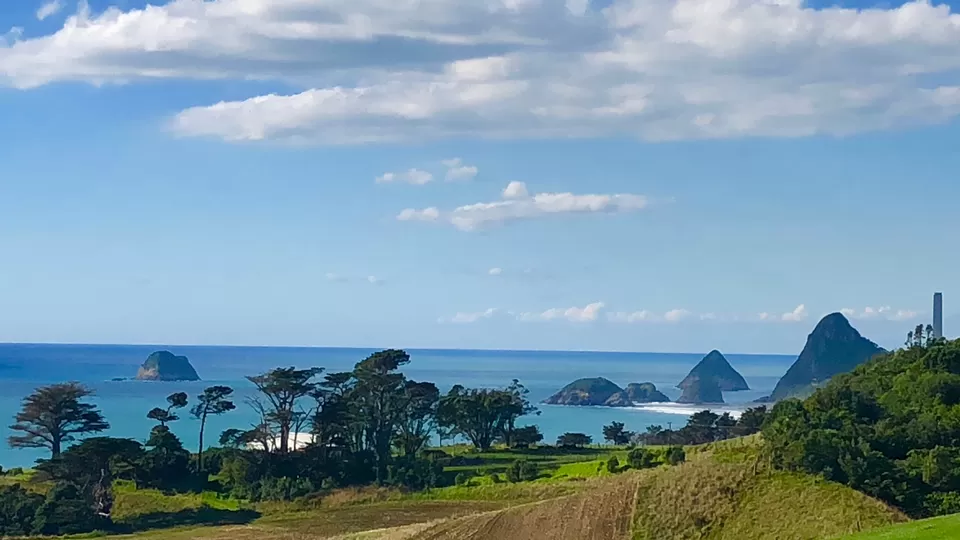 Woke up in the morning late. I had my rental car waiting for me outside for the whole day today in half day tomorrow. Got ready in a jiffy and plan to head south of new Plymouth to a place called Egmont lighthouse Which is about 40 km away. I already had the jitters from my previous driving experience yesterday. I remembered all the one crore odd gods and hoped for a safe journey.
I started the car and off I went. It was easier to drive in daylight hence I understood that it is better to drive only in daytime not nighttime since you don't see that traffic signs and signals properly at night. I came out of the city and onto the Surf Highway 45 which is a famed highway which takes you through spectacular coastal scenery. On the way I stumbled across the beach called surf beach. It was a detour of about 5 km. I park my car near the beach went out on a stroll admiring the beauty of the turquoise waters. Surfers were carrying their surfboards because these waters are known among surfers. Then I joined the highway and soon after reached Egmont lighthouse which is another detour of about 5 km from the main highway.
The setting of the Egmont light house with the Mount Taranaki in the backdrop was a sight to behold. I met a French guy and he was also stricken by the beauty. He had carried his drone and the flew it, wish I had bought. After admiring the beauty, it was time for me to get back to the city before dark. On the way I saw another detour to a place called Kiki on the way I saw another detour to a place called Pukeiti, which is the botanical garden which is about 10 km from the surf highway. Unfortunately I had to drop going there.
I reached new Plymouth at my motel, And I was elated as it was a zero incidence day today as far as driving was concerned. Today's driving was extra special because of the stunning coastal Surf Highway 45.
Tomorrow I got time after 3:30 PM to handover the car. And I have nothing else to cover apart from Pouakai crossing for which I plan to take a shuttle on Saturday.
Good night for now.
Nothing much today but in my personal life I have achieved a milestone. I cooked for myself yeehaw!!!
Okay first things first. I handed over my car to the rental company since it was my last day and I had to deliver it back by 3:30 PM. The lady at the counter just took the keys and She said "okay thanks have a good day". Wait what?! She replied " oh I will look at the car and since I have your credit card on file, the necessary charges will be debited to it." Okay, I trust these Kiwis. I did not ask her whether there was any infringement fines levied by the police to do my experience day before night. But I did not want to press the matter though in my opinion it was not such a serious offence. That's it bye-bye my car.. I plan to rent another car down the road elsewhere now.
Then I went to shop for a rain jacket and came across this store called kathmandu which sells tracking hiking and mountaineering merchandise. I got myself a rain cum windproof jacket. Further I strolled across the streets and once again came across the coastal walk away and two further I strolled across the streets and once again came across the coastal walk away and sat on a bench and spent a lot of time in thoughts watching the turquoise Ocean.
Had an idea to cook for myself, and with the help of my wife's instructions, went to the count down store and bought some groceries. I wanted to try out some stirfried vegetables to start with and bought some mushrooms, prawns, broccoli, butter and garlic paste. Went back to my motel all excited and pumped up. The end result was fantastic and it's there for you to see. These groceries I bought for about NZ$15 out of which I'll be using the butter and garlic paste for a long time in future where as a normal dinner cost easily about NZ$20. So that's one tip for you to save money in New Zealand, cook your own food!