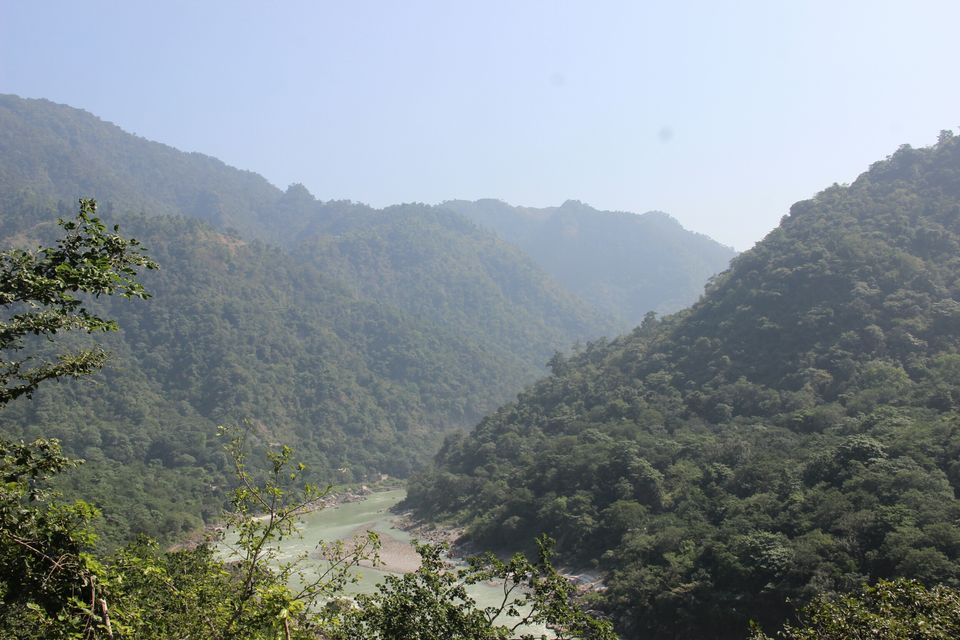 Midnight Love, Me & My Friend decide to refresh and take a Bike Trip to Rishikesh, (after consulting a lot of our friends). We left Faridabad at 12 Midnight, through Ghaziabad. Best time, Not to get involved in traffic and avoid empty fields. Just imagine, Riding at 80, Sun rising at the end of the road, a flock of birds flying overhead, and a passenger train racing away below the bridge - Astounded & Speechless. An extremist, We decided let's live it. We raced to Har Ki Pauri, Where we had our morning bath, and Decided to have our Chai and Bhajia. By the way, we stopped six times for our Chai Love to Haridwar. So, we proceeded for Rishikesh and My early impressions were a bit tattered because of the traffic and also, sleeplessness from the ride.
I decided to stop at ShivPuri first. I thought of sleeping under the shade on a mountain side, but my friend insisted on a room, we checked in a small, riverside lodge near Swarg Ashram. We slept for 4 Hours and then proceeded for our shoot (Check Out the Video). By 6 we reached Chotiwala, a famous restaurant, just on this side of Ram Jhula, Trust me you won't find a better Lassi elsewhere, Also checkout irregular items apart from Dosas and Pav Bhaji.
We left for Delhi on the same day we entered Rishikesh by 7:30 we casually strolled till 9 in Haridwar where our episodes of Chai Love started at every 50 Kilometeres. At 12 We reached Ghaziabad, where we were waiting for our Chai's. We reached Delhi by 1 and celebrated my Birthday. It was a wonderful start to my 24th.
Quick Recap: Best Chai: Muzzaffarnagar Road Side ; Best Lassi: Chotiwala, Rishikesh, Best View: Swarg Ashram; Solace: Last Ashram on Swarg Ashram Road. Cheap Items: Key Rings, Showpieces. Pricey: Accomodation, Spiritual Items.
For First Time Visitors: Please do not Underestimate the Fact that the Place is a breeding grounds for Serious Spiritual Seekers so Of course Spiritual Artillery is expensive but If You have the nerve you can get through easily. Also do not expect much cleanliness, or quality up market ambience. The fun lies in exploring. Keep Exploring. You may also want to checkout some spiritual breathing techniques and Yoga courses available here at various ashrams.
delhi to rishikesh trip cost, jaipur to rishikesh tour package, rishikesh adventure activities package, rishikesh auli packages, rishikesh jim corbett tour

Frequent searches leading to this page:-
delhi to rishikesh trip cost, jaipur to rishikesh tour package, rishikesh adventure activities package, rishikesh auli packages, rishikesh jim corbett tour