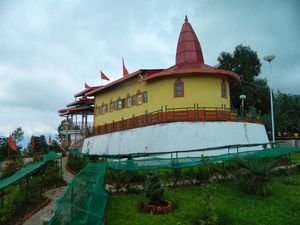 Best time to visit
January to March
Open hours
All days of the week 7:00 AM - 5:00 PM
Things to do
Sight seeing, Statues, Photography
Traveller Types
Families, Couples
Rank
3 out of 54 attractions in Gangtok
Hanuman Tok
Hanuman Tok is located more or less 5 km rising from the White Hall on a bifurcating street of the Gangtok–Nathula highway. It is 11 km far from Gangtok town. The height of this tall structure is about 7,200 ft. The Hanuman Tok in Sikkim itself gives brilliant photographic perspectives of the Khangcendzonga. The snow-topped mountain tops look heavenly from this sanctuary. From the Hanuman Tok, one can likewise see the waterworks of Selep located far away, the most important and only source of water for the whole city of Gangtok. The Hanuman Tok rests at a height of a few hundreds feet over for the whole city. The adventure to Hanuman Tok is an exciting one, which offers excellent perspectives of the capital city of Gangtok and the surrounding uneven hilly regions. There are several chortens and stupas at this spot, which imply the accurate areas where the last customs of the royal corpses were carried to.
Places to stay near
Hanuman Tok
Golden Star Continental & Spa
Mango Hotel Sikkim Delight
Reviews of
Hanuman Tok
•
3
Hanuman Tok: A little further from Ganesh Tok (5 km) is a temple of Lord Hanuman. Spread across a large area, the temple is the most beautiful Hanuman Temple have ever seen. It is located at an altitude of 7200 ft. The locals believe that Lord Hanuman rested in this place for a while when he was returning to Lanka from the Himalayas (carry Sanjeevani Booti). All along the way to the main temple, you can hear the chanting of prayers or the Bhajans playing on the speakers. The atmosphere is something to look forward to. The entry is free yet a parking fee of INR 30 has to be paid. There are toilets at the rear end of the parking lot.Request: Please help keep the area clean.
Hanuman TokHanuman temple maintained by Indian Army. The place was cold and foggy, Kanchenjunga Range can be viewed but there was too much fog we couldn't got that chance.You have to climb stairs to reach Hanuman Tok temple but it was a good temple.
After having my lunch I headed to Hanuman Tok. In trip adviser a guy has written about Hanuman Tok that 'If you have not visited Hanuman Tok , your trip to Gangtok is mere incomplete.' His statement made me to keep this place a must see in my list. It was well out of city on a mountain top. The road was typical zig-zag way and not many visitors make it there. On reaching there I realized, this is the place I was in search of. Absolute silence, chill breeze and lush greenery. The temple is maintained by Indian Army.
Attractions near
Hanuman Tok