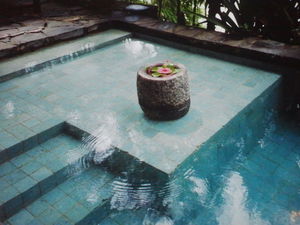 Places to stay near
Amanwella
3 Bedroom Garden Cottage Hideaway
ISHITHA HOMESTAY. TANGALLE TOWN.
Reviews of
Amanwella
•
2
It was dusk when we were approaching Amanwella and I was awoken by the driver to view the scenery. All around us, we were surrounded by lush tropical rainforest which led to a gravel road which then opened up to a pebbled courtyard; finally revealing the entrance pavilion to Amanwella.It was like my very own Bohemian Rhapsody, I was mesmerized; but for me, my most magical nights were those falling asleep listening to the summer raindrops falling and landing softly upon my terrace floor and the hills beneath. Was it the rose petals in my pre-arranged bath the evening I returned from safari? Was it the mini fridge filled with Toblerone and Ferrero Rocher? Was it the gourmet Italian meals made precisely to my liking? Was it the private candlelight dinner on the beach with only an orange crab passing by as my evening guest? Was it the intoxicating scent of the Frangipani trees as I strolled past the courtyard? Was it the gift from the Amanwella boutique? By and large, I could not pinpoint only one thing that was making this stay so exceptional. It was, simply put: Aman hospitality.I will never forget my days at Amanwella but one that particularly stands out in my memory is the day I went on safari. We saw gorgeous wild peacocks and some divine birds but not many other animals until… There was a moment of stillness, when we were in the open topped safari Jeep and nothing was to be seen.All of a sudden, I heard a rustling in the surrounding jungle foliage and in an instant a baby elephant gently popped out. I had tears in my eyes just looking at him, so innocent, so calm and even now, as I remember back to the moment, my heart warms up with nostalgia. But he was not traveling through the jungle alone, right after that baby calf, his giant parents, tusks and all, came right out, protecting their infant and began charging at us. I ducked like a little girl caught in the middle of a dodge ball game on the elementary school playground as the driver of the Jeep sped off as the elephant mother and father raced after us.It was like a scene straight out of The Jungle Book and I am bemused by every instant of it. Memories like this remind me that my greatest joys are attained through such priceless photographs engrained my mind as eternal postcards. It was a close to my time at Amanwella and time to say goodbye to the staff who had become like family. Sri Lankan's are some of the most hospitable people in the world and combined with Aman's embodiment for service, it is a match well made. Such cosseting can go to one's head but alas, isn't that what sumptuousness is all about? It had been almost a week in Sri Lanka, when I was surprised with an extravagance so opulent, I want to go back right now and do it all over again. An encore it was to another installment of The Dutch House Collection. But wait. It was like nothing you or I have ever experienced. Prime Ministers have lounged here. Kings and queens have holidayed here. Aristocrats have summered here. Presidents have played here. Writers have created masterpieces here. The rich & famous have wed here. Wealthy honeymooners spend their post-nuptial days here. This, in all its resplendence, is what only a hopeless romantic could conjure up. And it was just that. It is the work of art of Count de Maunay-Talvande.
Amanwella is set within a coconut grove facing a crescent moon shaped beach in Tangalle on the southern coast of Sri Lanka. Each of the 30 suites here are bungalow-villa style with their own plunge pools, crisp white linens (very signature Aman) and terraces facing the beach.Designed by Sri Lanka's famous architect Geoffrey Bawas, Amanwella, is clean and contemporary; completely in contrast to it's sister property Amangalla in Galle. And though nothing for me could match the essence of old world beauty that won me over at Amangalla, Amanwella had many offerings of its own.
Attractions near
Amanwella