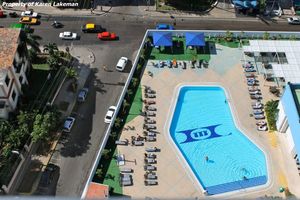 Places to stay near
Havana Libre Hotel
B&B with Wonderful Sea View
Colonial Mansion in Vedado, Havana.
3 Bedroom Gran Colonial Home. Room1
Reviews of
Havana Libre Hotel
•
1
By day Havana is noisy and hot and polluted but the wall around the pool at the Habana Libre, formerly the Havana Hilton before the revolution is an adequate barricade against the noise of the old cars. One can lie under a canopy drinking pina colladas or too sweet mojitos and look up at the rooms occupied by Fidel, Che et al circa 1959. The rooms there are large and comfortable and modern, afford spectacular views over the city and are drenched in sunlight via the floor to ceiling windows. But at night the heat and the breeze from the sea are delicious. Around Las Ramblas in central Havana the pavements throng with brightly dressed locals and live music emanates from every bar. In contrast the old town with its magnificent buildings is elegant and staid and more touristic.
Attractions near
Havana Libre Hotel