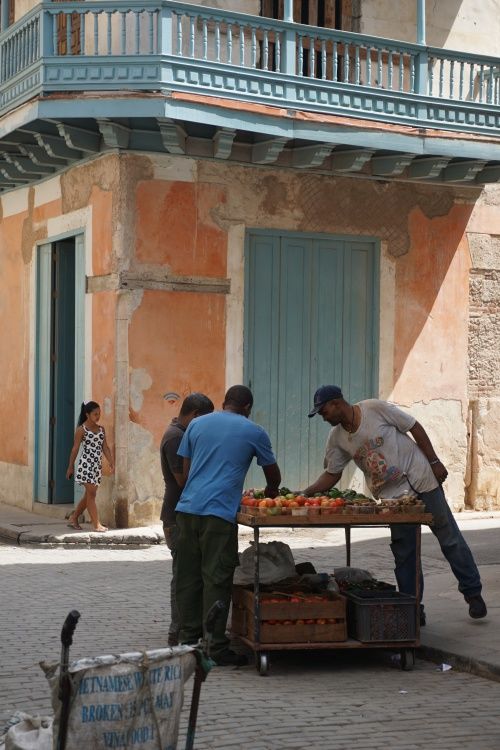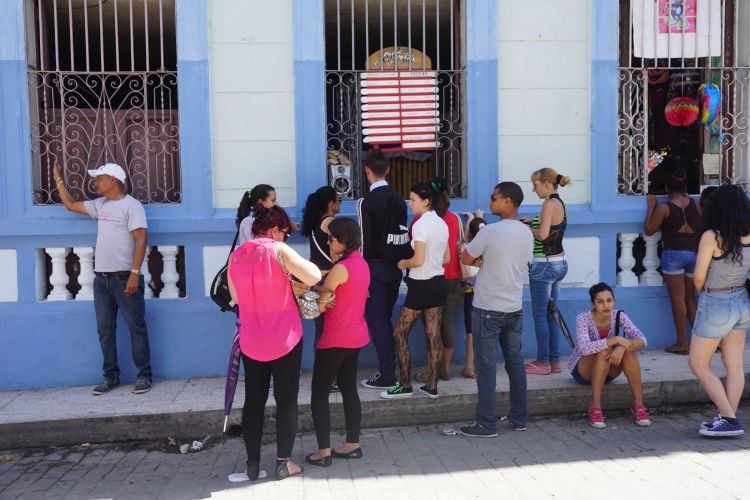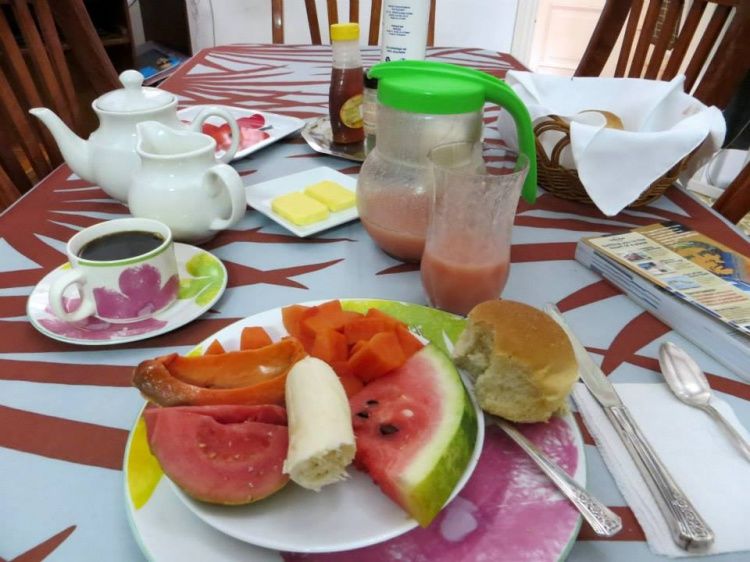 Before heading to Cuba, a lot of people told me it's hard finding food in Cuba and if you eat out it's expensive. In reality, that might be the case if you don't know where to go. Otherwise:
Eating out is so cheap.
And I'm gonna show you where to find cheap food. The only thing is that you will eat more or less the same dishes during the course of your stay.
In order to understand the prices below, here's a short explanation:
1 US-Dollar = 1 CUC (tourist currency)
1 CUC = 24 CUP (Moneda nacional/currency of the locals)
Paladares
Paladares are privately-run restaurants. They were legalized in 1995 but had strict restrictions. They were only allowed to provide 12 seats, had to pay high taxes, only family members could work there and certain dishes could be on the menu. Luckily that changed with a law of Raul Castro in 2011.
You can get huge dishes with rice, beans or vegetables and chicken or pork for 30-40 CUP which is 1.25-1.67 USD for a dish which definitely fills you up. Fish or lobster dishes are a bit more expensive obviously but still cheap in comparison to other countries.
Prices are indicated in CUP in Paladares but you can also pay in CUC and will get back local or tourist money as a change.
Cafeterias
Cafeterias offer some kind of fast food for very little money.
You can get a pizza with cheese for as little as 10 CUP (sometimes even less) – a perfect small lunch. You can buy sandwiches with scrambled eggs, ham, cheese or chorizo among others for about 6 CUP and get a glass of lemonade for 2 CUP. That's almost nothing.
Some cafeterias also offer bigger rice or pasta dishes.
Cafeterias can be found on almost every big street. You won't take long to find one. Even though prices are indicated in CUP, you can pay with CUC in most places and will be paid back with either CUC or CUP or both.
Tourist restaurants
Personally, I would not recommend you to eat in the touristy restaurants where you can only pay with CUC as they are more expensive. Most dishes are about 10 CUC (except salads, pasta and pizza). So only go there if you cannot see rice dishes anymore.
Eat in the casas
Another option to eat in the casa particular you stay in. A casa particular is a room in a local house. They offer you breakfast for about 5 CUC and dinner from 8-12 CUC depending on your choice of meat/fish.
If you are really hungry, eat in the casas, you'll get so much food. Breakfast almost always includes fruit juice, coffee/tea, bread, jam, butter, sometimes cheese, a fruit plate, eggs and a piece of cake. This way you will either don't need lunch at all, or at least only need to buy something small from the Cafeterias.
When you pay for dinner, you usually get ask if you want to have fish, chicken, pork or lobster. But that's far from everything. It is served with rice, beans, salad, bread and banana chips among others. You simply cannot finish everything they give you. So, if you come home from a big day trip for example, get some food in your casa.
Markets/Fruit stalls
You will come across fruit stalls and markets several times. To buy something, you are often required to pay with moneda nacional (CUP). So if you like to eat a banana or other fruits once in a while, keep some spare CUP after eating in a Cafeteria or Paladar to be sure you get them.
If they give you your change in CUC and you want to have some CUP, just ask "Me puede dar el cambia en moneda nacional por favor?"
Supermarkets
Supermarkets in Cuba are not what you expect from a supermarket anywhere else. The choice is very limited. Getting rum, cigarettes and some crackers might be easy, but as soon as you want to buy milk, juice or cheese for example it can become quite challenging. But as eating out is cheap, I found it no problem to abstain from supermarkets for a while.