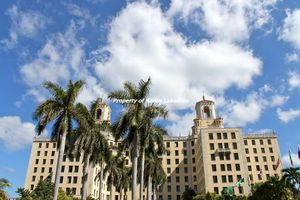 Places to stay near
Hotel Nacional de Cuba
B&B with Wonderful Sea View
Colonial Mansion in Vedado, Havana.
Reviews of
Hotel Nacional de Cuba
•
1
At the nearby Hotel Nacional, all leafy lawns and shade, a tranquil antidote to the glare of the modern Habana Libre where we whiled away a few afternoons, they offered to take the ham out of the pre made ham and cheese sandwiches when they had run out of the cheese ones. I declined. .The fruit at breakfast is amazing but salads at dinner in various restaurants were usually made up of shredded cabbage or pickled cabbage. The delicious vegetables many of which are grown in organic urban gardens from the markets dont seem to be served to tourists who can pay for expensive meat. Following Cuba's 1959 revolution and the United States implementing the biggest trade embargo in history the Soviet bloc was Cuba's largest trade partner to the tune of 85%. Following the collapse of Soviet Union in 1989 Cuba could no longer import the chemicals it had been using in agriculture resulting in the world's largest conversion from 'traditional' chemical led farming to organic farming.
Attractions near
Hotel Nacional de Cuba