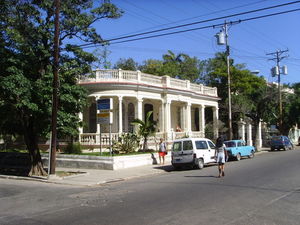 Traveller Types
Couples, Friends
Rank
25 out of 183 attractions in Havana
Places to stay near
Vedado
B&B with Wonderful Sea View
Colonial Mansion in Vedado, Havana.
3 Bedroom Gran Colonial Home. Room1
Reviews of
Vedado
•
1
In Vedado, the vegetarian stalwart of pizza is delicious in the cafe style formica tabled Trattoria Maraka's on Calle 0 between Calles 23 and 25, literally around the block from the Habana Libre Hotel and its also delicious a taxi ride away in the old town, served on the elegant piazza in Restaurante La Dominica. I read Graham Greene's hilarious 'Our Man in Havana' while I was there and delighted in visiting the streets of the old town that he mentioned so often.