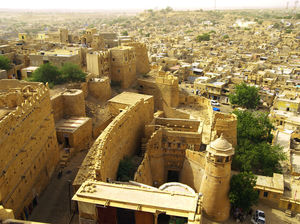 Best time to visit
March to October
Things to do
History tours, photography
Best Months
September - February
Traveller Types
Families, Couples, Friends
Rank
4 out of 68 attractions in Jaisalmer
Jaisalmer Fort
This is an 800 year old fort and is also known as the "Golden Fort" of Rajasthan. This is one of the most magnificent fortifications of the state and is the second oldest also after the Chittorgarh Palace. The title given to this fairytale fort complex is because of its light color which almost merges with the color of the desert sand like a mirage coming out of it. Jaisalmer City is located in the interiors of the Thar Desert and the King Jaisal planned to make this place his capital. The intricate designs on the sandstone base of the fort buildings make them look even more heavenly. It is also the only living fort of the country. This means almost half of the whole city resides inside the fort complex even today. This includes rich merchants, artisans and other common people as well. Earlier, the whole population of the kingdom lived inside but a part had to move out given the constraint of increasing population. From earlier times onwards, Jaisalmer has been a very important trade connection especially with the Muslim kingdom. Till today you will find a number of Muslim merchants dwelling here. An interesting legend about the history of this fort complex says that Lord Krishna, the leader of the Yadav clan once dreamt of setting up his kingdom in this area and his wish was fulfilled by King Jaisal, who also belonged to the Yadav clan. The fort crowning the Trikut Hills looks no less than a dreamland. You can come here in the month of February and enjoy the famous Annual Camel Fair and other festivals too.
Places to stay near
Jaisalmer Fort
The Surya Paying Guest House
Golden Marigold Hotel - welcome!
Reviews of
Jaisalmer Fort
•
30
Attractions near
Jaisalmer Fort