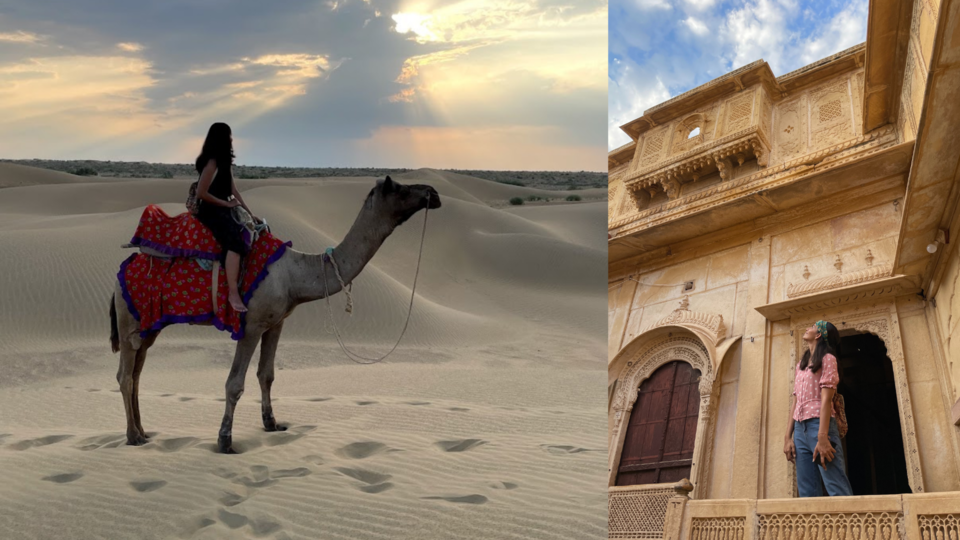 Welcome to the virtual tour to Jaisalmer with me. But first, let me ask you a question. When someone thinks of planning the Rajasthan trip, why are they crazy about keeping Jaisalmer as a mandatory stop? Well, its name 'Golden City' is enough to attract anyone.
Situated in the heart of Thar Desert, from royal Havelis to Sand Dunes, from sandstone buildings to camel rides, from abandoned village to Pakistan border being stone's throw away, this city has got all the adventures. Being a Rajasthani, I have seen this city so many times but never get bored of this place. And here again, I went on a road trip from Jodhpur few days back during monsoons.
Here's how I explored this golden city during my 4-day long trip. I'm sharing what I explored within the city, outside city, good cafes and spots to get the best view of it.
Places to Explore in Jaisalmer City
1. Gadisar Lake
Gadisar Lake is an artificial lake, built by the founder king of Jaisalmer Rawal Jaisal. Back then, it was the only water source in the Jaisalmer region. Go here to catch a beautiful sunrise, grab breakfast at a nice cafe by the lakeside.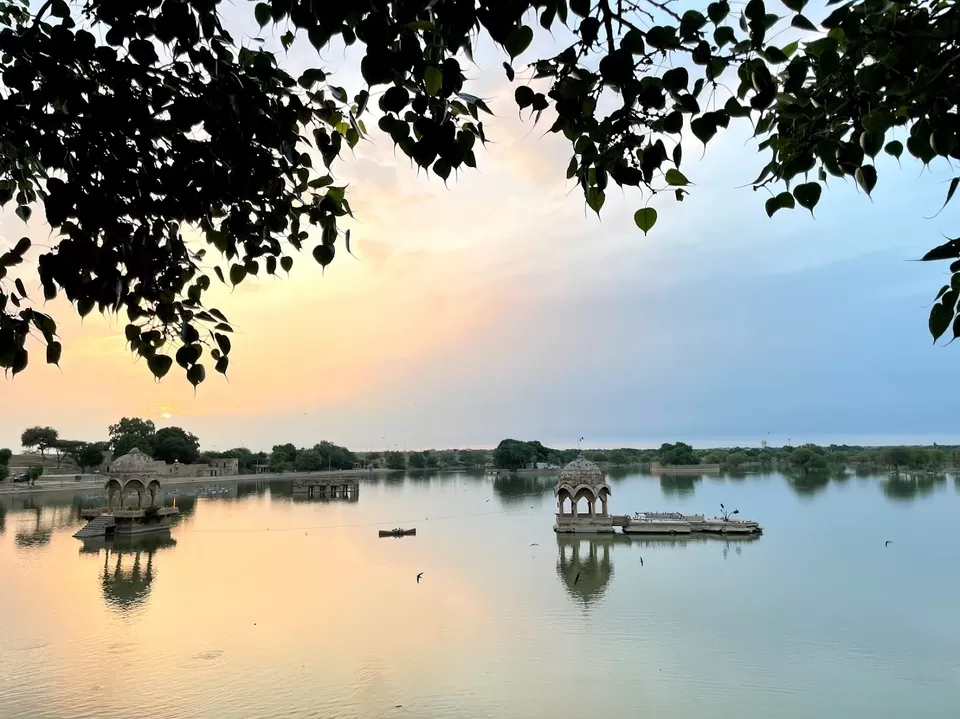 2. Jaisalmer Fort
Golden city's fort is believed to be one of the very few "living forts" in the world as nearly one-fourth of the old city's population still resides within the fort. There is a huge King-Queen museum inside the fort which is worth taking a stroll and admiring the golden touch.
Entry Ticket: Rs 100/ person.
Timing: 9am-6pm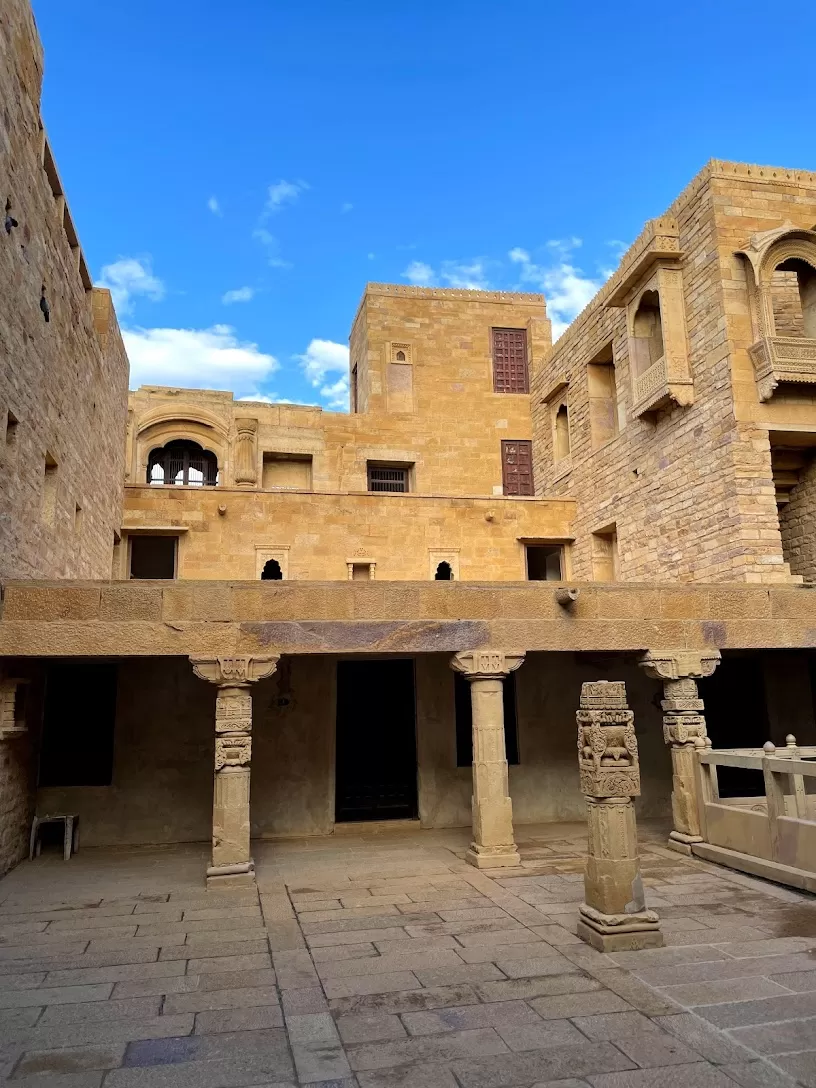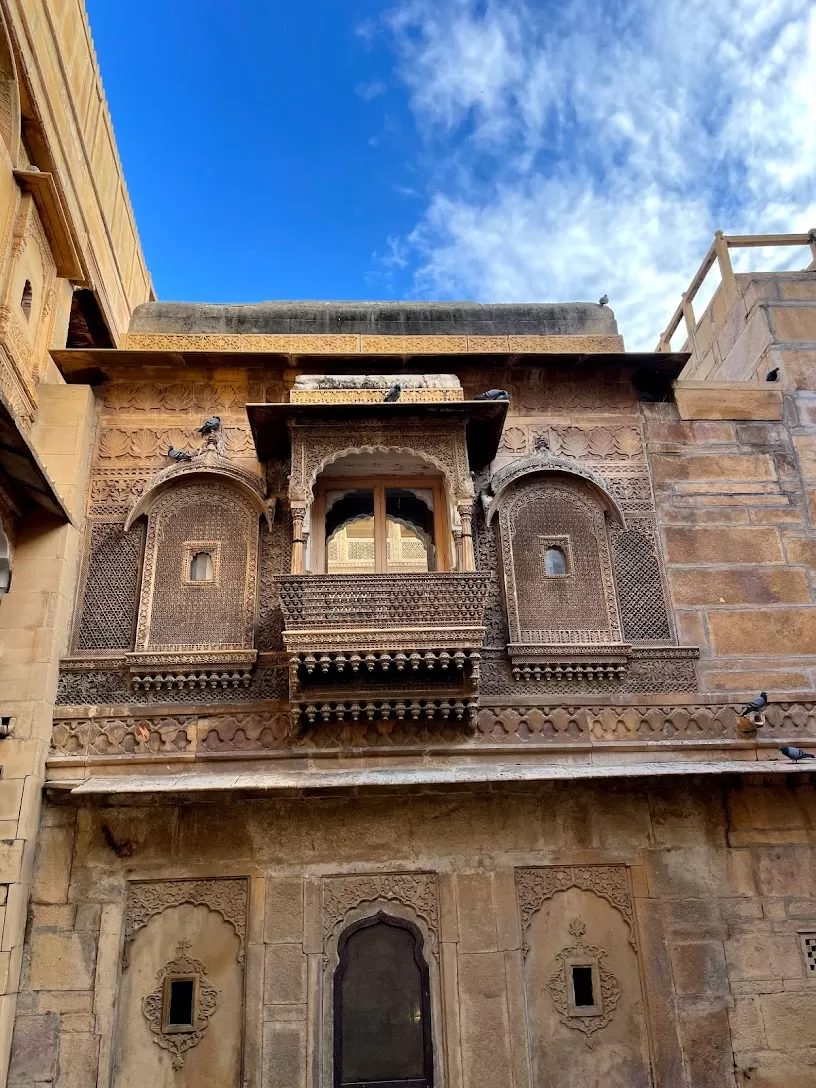 3. Patwon ki Haveli
Also known as the Mansion of Brocade Merchants, Patwon Ki Haveli is a cluster of five large Havelis in Jaisalmer. Its beautiful architecture, creative mirror work, intricate carvings, lovely paintings, and its rich goldish yellow color makes it one of the most interesting places in the city.
Entry Ticket: Rs 100/ person.
Timing: 8am-7pm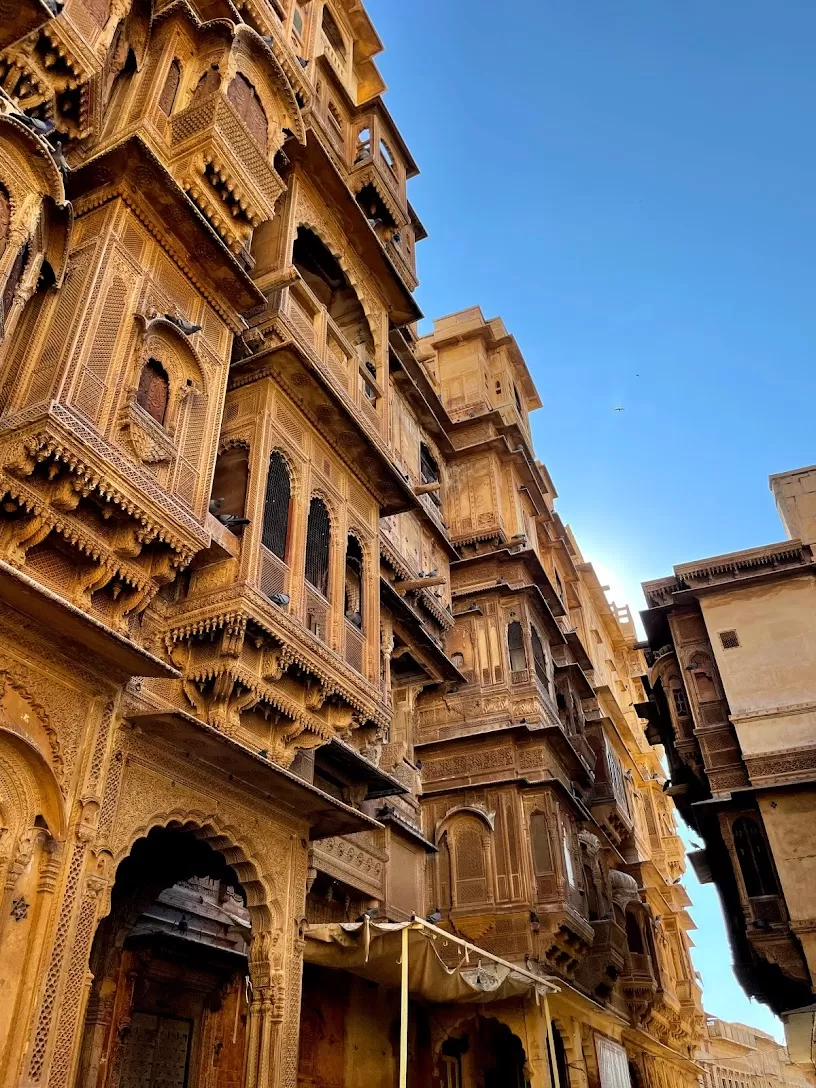 4. Bada Bagh, The Royal Cenotaphs
The famous royal cenotaphs at Bada Bagh are located at a distance of 6 km from the city. It has been said that every single cenotaph here is honored to be constructed in the memory of either a king or a queen from the royal family that stayed here. This is another amazing place to catch the sunrise in golden city.
Entry Ticket: Rs 100/person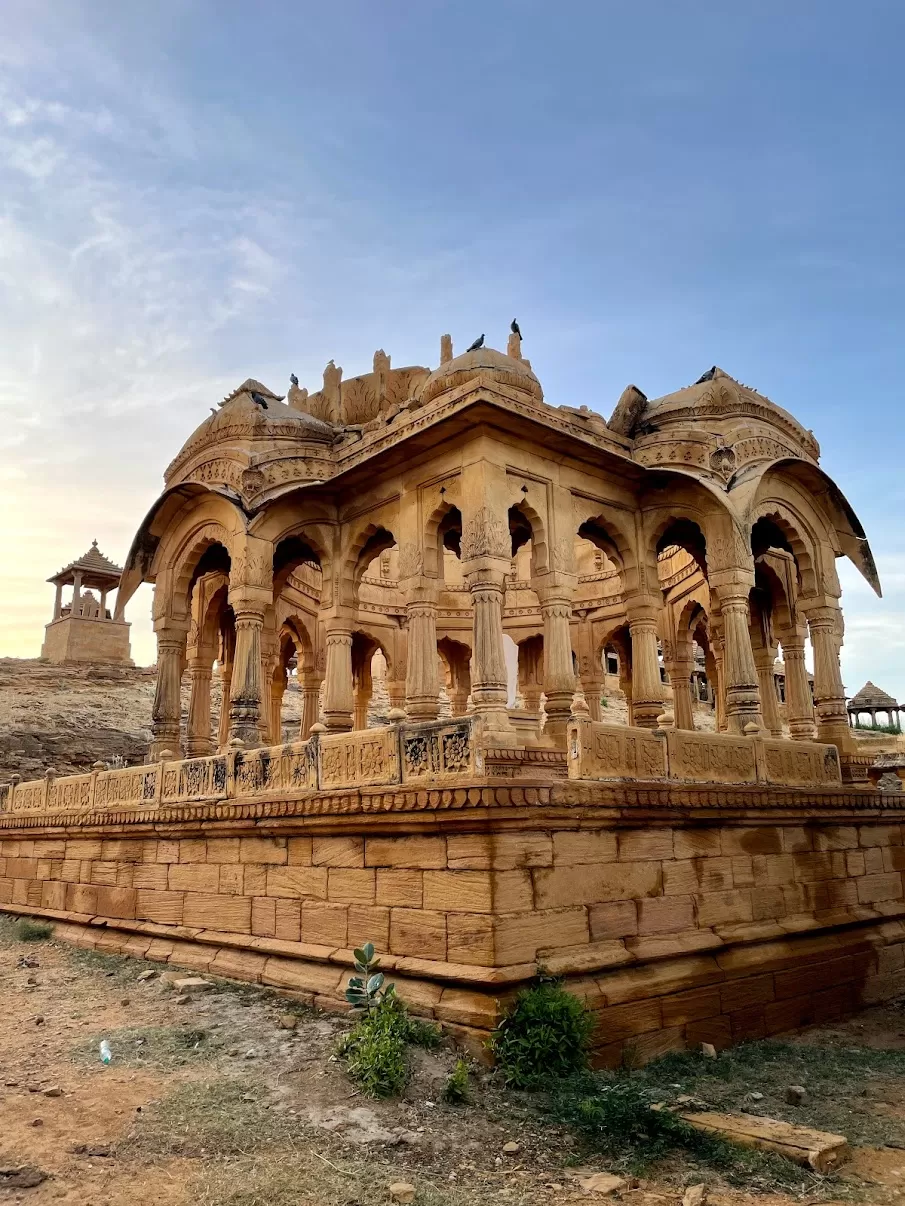 5. Jaisalmer War Museum
The War Museum is located around 10 km from Jaisalmer on the Jaisalmer-Jodhpur Highway near the Military Station. The murals of the soldiers, whose supreme sacrifice led to victory in the Laungewala Battle, and the 106 mm Recoilless Gun (main anti-tank weapon) employed to destroy a number of enemy tanks occupy a place of pride in the memorial.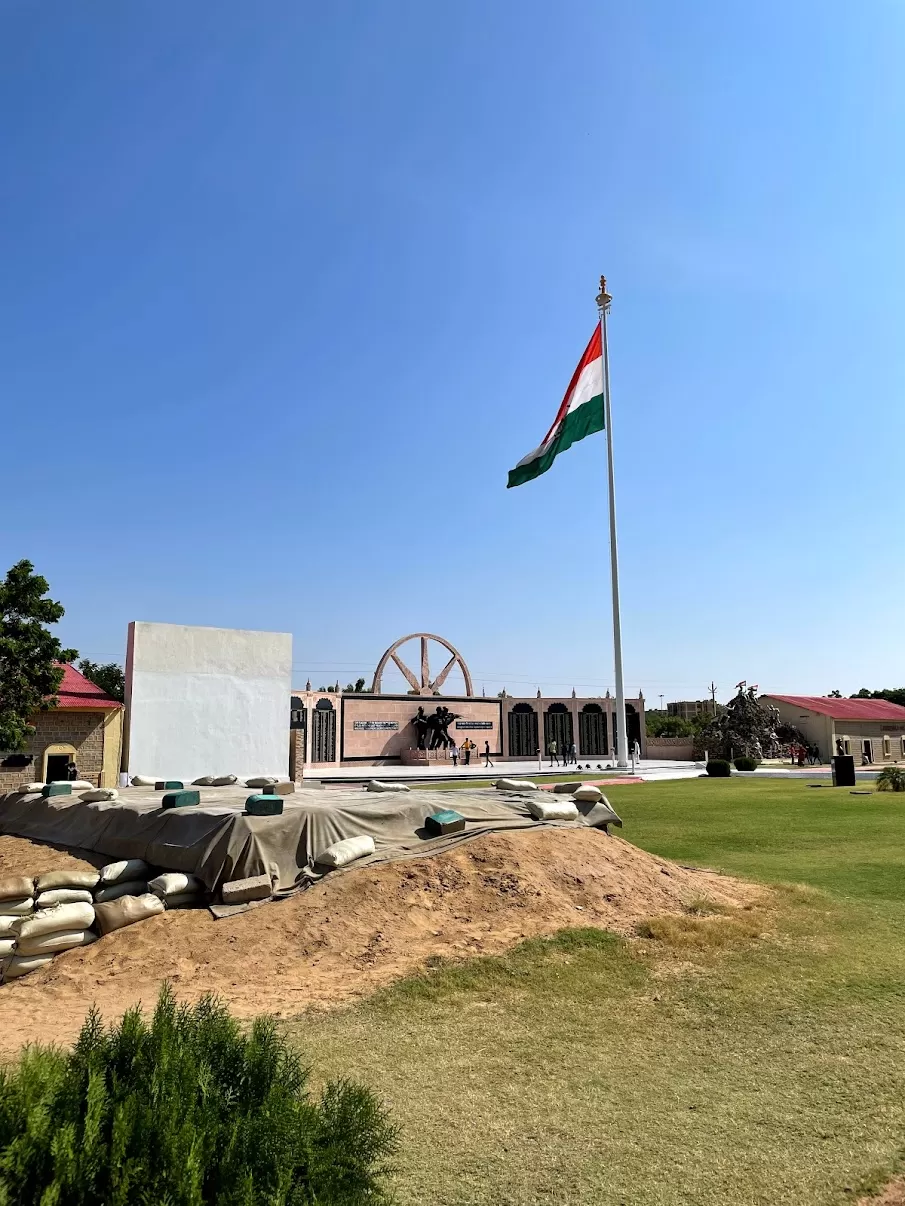 Places to Explore Outside Jaisalmer City
1. Sand Dunes
Sand dunes are located in the outskirts of Jaisalmer, around 40 K.M. southwest of the main city. Famous for its desert beauty, here you can experience the traditional lifestyle and Rajasthani folklores at their best. You can enjoy Camel Safari, Jeep Safari, Parasailing, and enjoy the sunset from the dunes. If you plan to stay overnight, experience the best star gazing and spot the Milky Way.
Camel Safari: Rs 500/camel
Jeep Safari: Rs 1000-1500/Jeep(accomodates 4-5 folks)
Average Tent stay with Meals: Rs 1500-2500/tent (accomodates 2 person)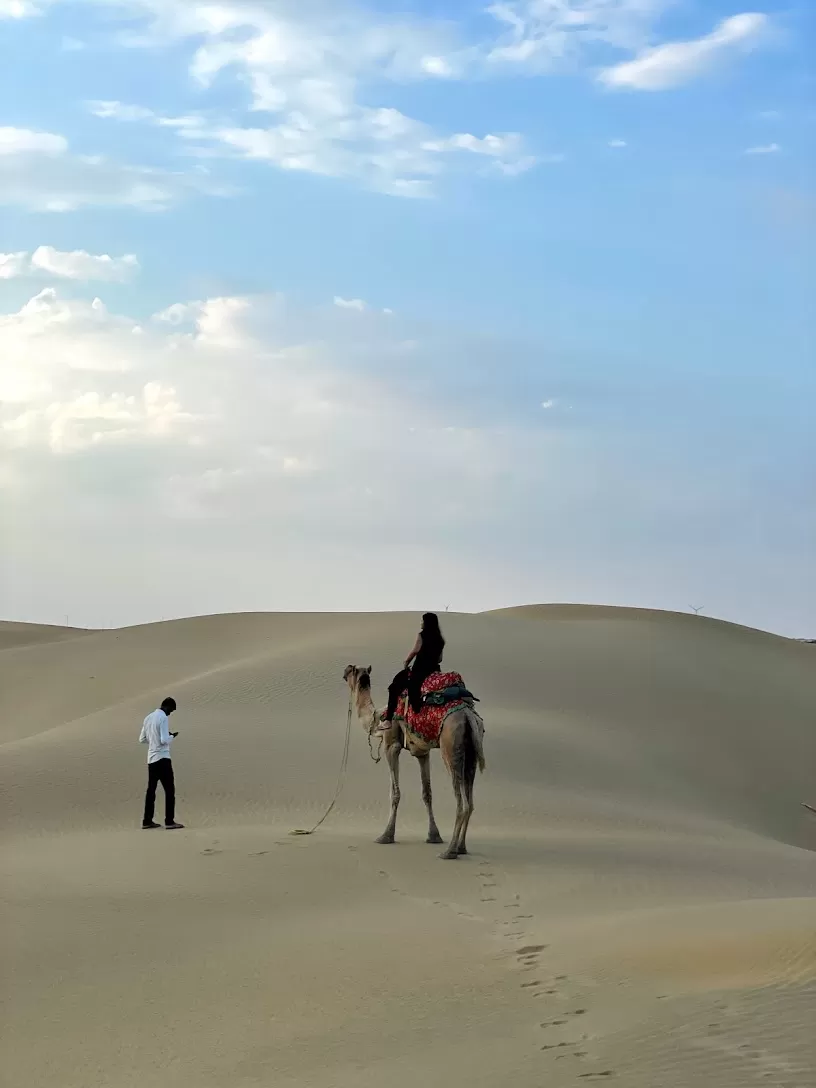 2. Road Drive to Longewala War Memorial, Tanot Mata Temple
If you love driving, then this road trip will make you go crazy while driving on one of the best roads in India. Longewala is a border town in the Thar Desert and the Pakistan border is just 10kms from here. The Battle of Longewala was one of the first major engagements in the western sector during the Indo-Pakistani War of 1971. The war memorial depicts the history of that war and how we got the victory.
Tanot Mata Temple is in close proximity with Longewala and this temple is known to hold sacred power and purity. This temple was featured in the 'Border' movie and to date it's totally managed by Army.
How to Reach: Tanot temple is around 120km drive from Jaisalmer and from the temple, Longewala is around 45 km.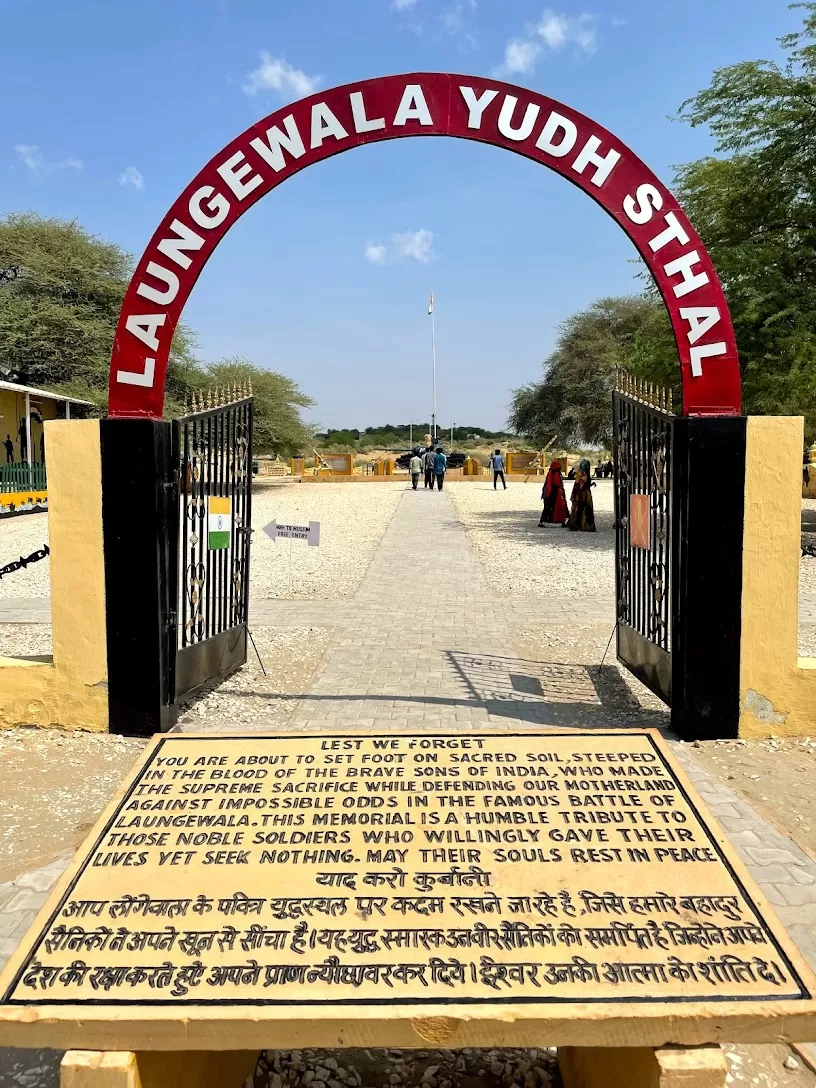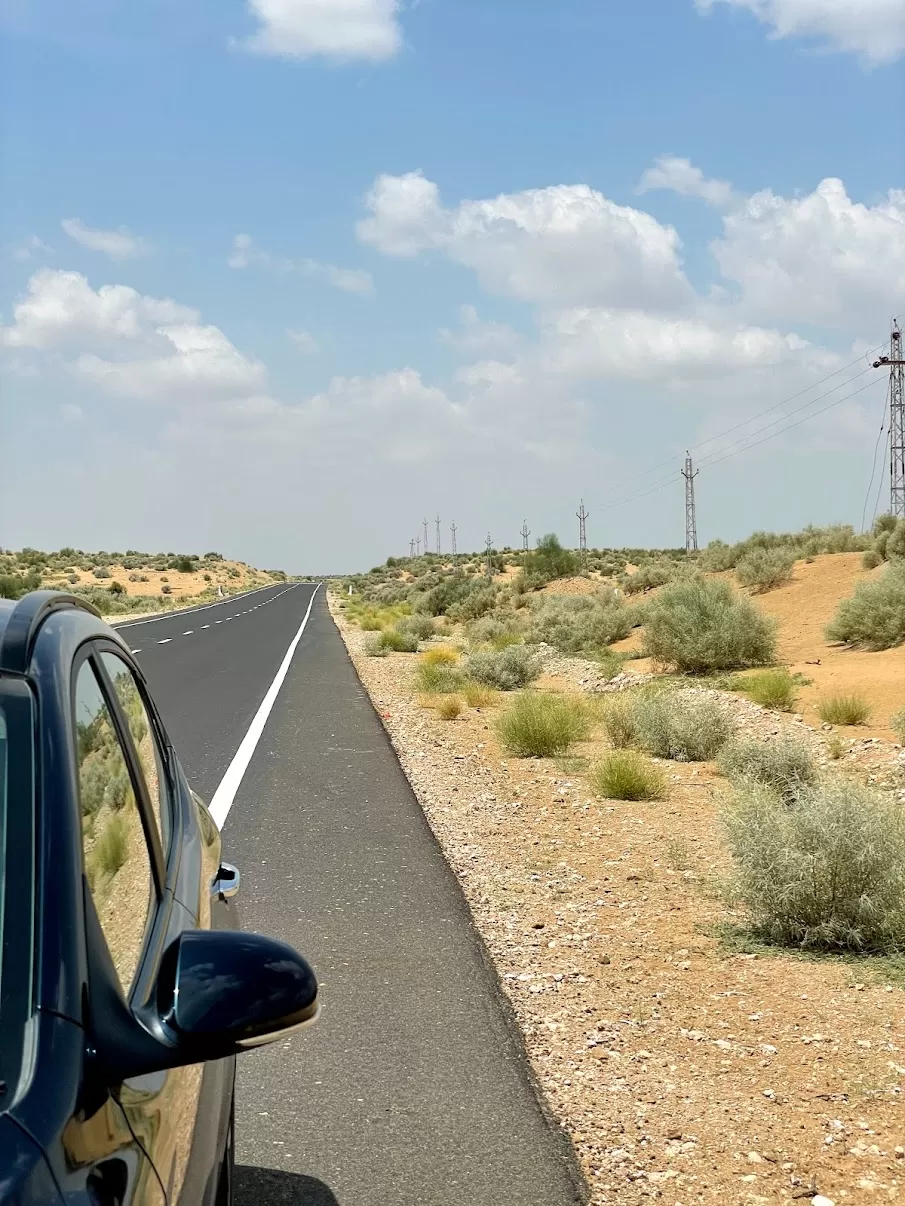 3. Abandoned Village: Kuldhara
Lying 17km west of Jaisalmer, Kuldhara has a story. Some 300 years ago, it used to be a prosperous village of Paliwal Brahmins under the state of Jaisalmer. As per folklore, this village was abandoned overnight due to an earthquake and cursed that no one will be able to stay here ever.
As per locals, it is haunted and not allowed to visit after evening.
Entry Ticket: Rs 20/- per person
Timing: 9am-6pm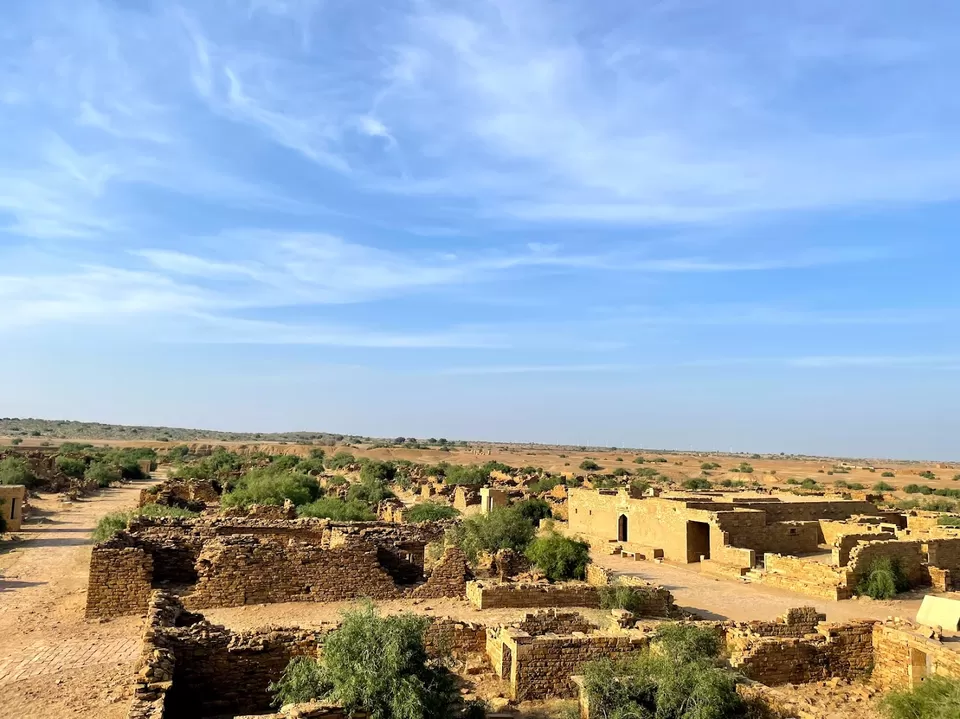 Cafe Recommendations
Jaisalmer has got amazing cafes. A few of them which I explored are:
Sunset Palace (inside fort, amazing sunset place)
Cafe 1156 AD (yummiest food)
Panorama Cafe (next to Canon view point, what a view)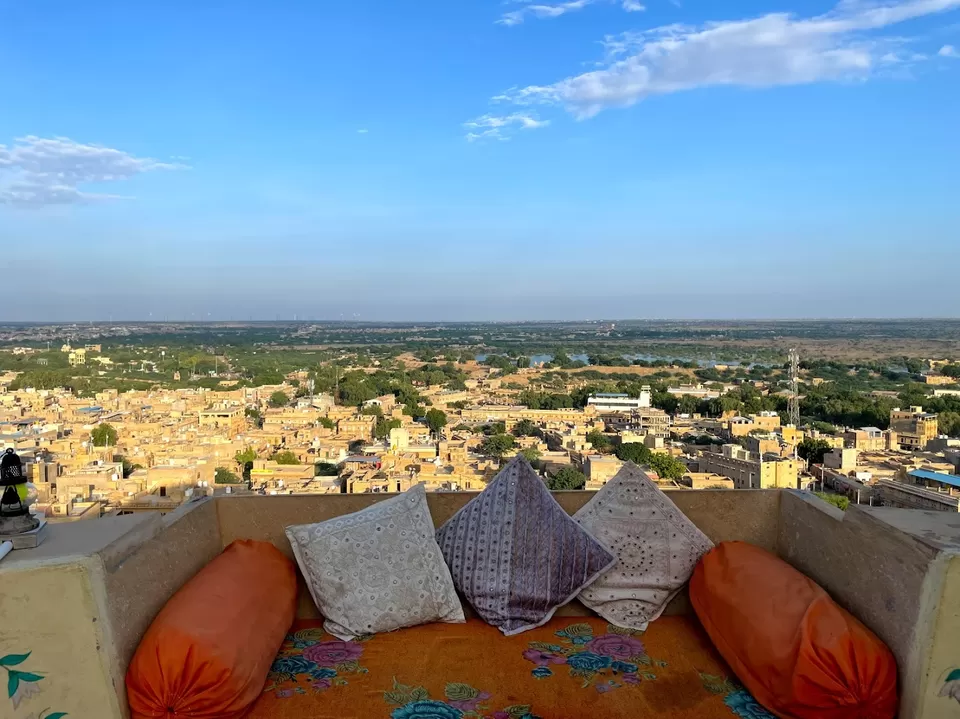 Stay Recommendations
In Jaisalmer, I stayed:
1. Zostel
Cost: Rs 300 for dorm bed, Rs 999 for private room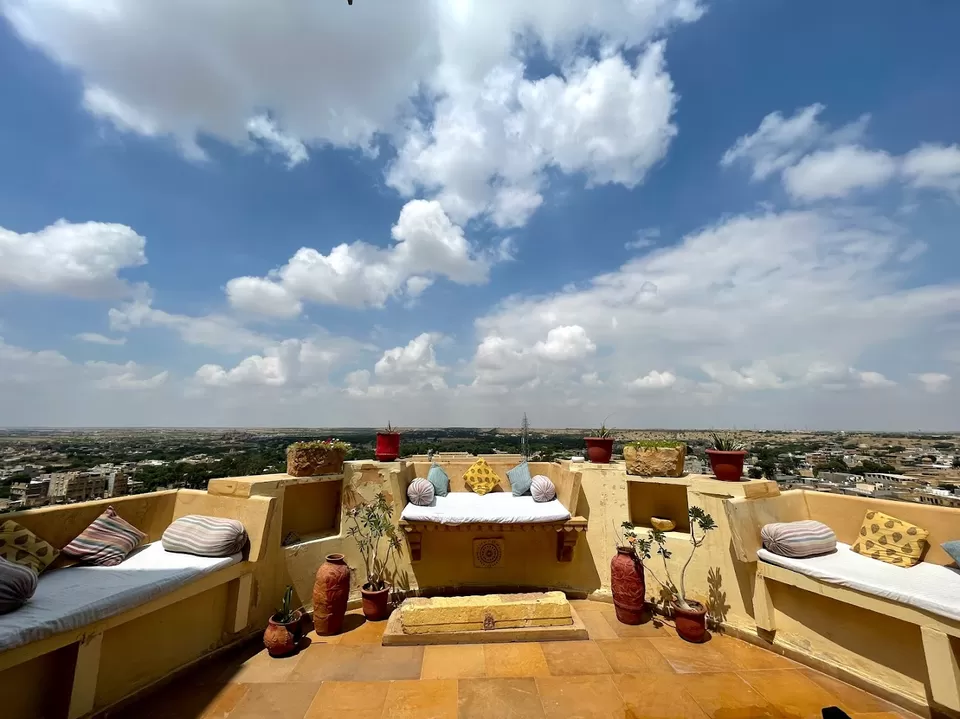 2. Over Night Stay in Dunes @SamSandDuneJaisalmer
Cost: Rs 2000/tent for 2 Person, Includes folk dance event and Dinner.
For booking contact +91-9784844524