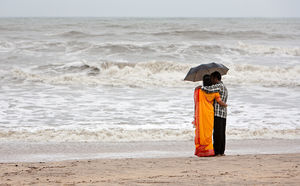 Things to do
picnics, walking, photography, eat- out
Best Months
September - February
Rank
3 out of 64 attractions in Kannur
Payyambalam Beach
About 2 kilometers from the railway station of Kannur, this is the most popular beach in city. The location is such that you can easily go there and the cheerful atmosphere can bring a smile on your face instantly. The shoreline is long and thus aot for a lazy walk along it. There are a number of holiday resorts here as well so it is even easier to stay close to it. The stalls on the beach sell delicious South Indian snacks, tea and coffee. There are other ferry sellers too who sell straw hats and other stuffs such as beach balls. the restaurants lined along the outer part of the beach serve delicious local cuisine and are a must try.
Places to stay near
Payyambalam Beach
Reviews of
Payyambalam Beach
•
3
Happy to have experienced the cultural side of Kannur, we next headed to the beach opposite our room. This was the Payyambalam beach. There was hardly anybody on the beach and it gave us a feeling of a private beach. We happily played in the beach for about two hours and only stopped once our belly started to growl for breakfast. We had ordered a typical Kerala breakfast and we loved 'Puttu'.
Payyambalam beach is a large stretch of golden sand frilled by coconut greenery. The beach is good for swimming and sunbathing. However, it is one of those places that may make you feel to confine to local dressing code.
The blue-green water rich in marine life and the thick tree cover that stretches parallel to the sandy beach gives the beach a heavenly look. The serene beach stretches for about three km along the coast. The beach is widest at its southern end. The beach has been the preferred location for several Indian movie directors. Scenes from Mani Ratnam's Alaipayuthe were shot at the beach. The place also lets you fulfill your cravings for para sailing, jet skiing, swimming and snorkelling.
Attractions near
Payyambalam Beach