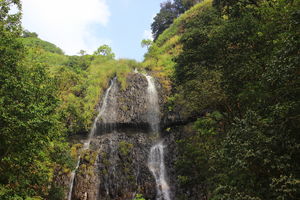 Best time to visit
June -Aug
Amboli Ghat Waterfall
Amboli Ghat Waterfall is close by Kegad in Maharashtra. Amboli is a hill station in south Maharashtra that is based on the Sahayadri Mountains of Western India. At an elevation of 690 yards it is the last mountain station ahead of the coastal highlands of Goa and a comparatively unexplored one. Amboli gets the highest rainfall in Maharashtra and remains pleasant all over the year. The best season to go to Amboli is during the monsoon between June and Aug wherever you will find heavy rains. All through non-monsoon conditions, town wears a deserted look and brings life with a lazy approach.
Places to stay near
Amboli Ghat Waterfall
Reviews of
Amboli Ghat Waterfall
•
2
We started the ride at 7.30. Both of us were very tired as we did not get any sleep the day before because of bike repairs, and yes because Hemant had to buy riding jacket. He chose Solace Sprint jacket and Solace all weather gloves. We fueled up our bikes in thane, reset the trip meters. We stopped in Lonavla for breakfast where we saw a couple of Triumph Street Triples. Started moving towards Pune where we decided to take the second break. Hemant was getting used to new Pirelli, wherein I had already started cornering in Khandala ghat section. We crossed Katraj and the took a short break. Clicked some photos and then we started off, we were doing three digits on speedo by the time we were in Satara. It was around 10.30 when we crossed Satara. It was drizzling after Pune every now and then but no heavy rains. One Duke390 guy crossed us by showing friendly thumb.We crossed Karad and there was a very beautiful ghat section road. Nice and wide road, good tarmac without potholes. Hemant already figured out that he had to prepare to catch up with me as he was not able to corner with all his weight and lack of confidence after his last adventure on kissing the divider. He knew that he was one unseen pothole away from red sirens again... So I was enjoying corners, shifting weight and bending the knee on each curve at probably 55 to 60 kph at least. Hemant told me that if I was Jon Snow, it wouldn't have taken 5 episodes to bend the knee, all I needed was a corner! It was good fun! Hemant wished that he had an action cam on him at that time to capture my adrenaline rush.My right glove lost all the grip after 4 years of usage, my hand started to pain and so I removed the glove somewhere after Karad and decided to sit on it. Then the inevitable happened. We were crossing some over the bridge and in one of the annoying gaps on the bridge, I dropped the glove due to jerk and I kept on driving without realizing it. Hemant must have been at 50 meters distance, saw the glove flying. We were doing three digits so it took Hemant some good 500 meters to safely stop and turn back for the glove. Since I didn't even notice the mishap I flew ahead thinking that I am still sitting on the glove. Hemant fetched the glove and gave throttle extra twist to catch up with me. I took a quick pitstop as I could not see Hemant on the rear mirror. Then Hemant arrived with my glove. We decided to stop for food after Kolhapur. It was almost 2 in the afternoon when we crossed Kolhapur and got in a hotel for food.Both of us were tired however excitement of open road was overpowering. The weather was nice and cloudy. After finishing our lunch at around 3 in afternoon, we started moving towards Nipani. Rain caught up on us and Hemant stopped to wear rain liner. Rain accompanied us pretty much till Amboli. Then we took Amboli road by turning right from Bengaluru highway at around 5.15 and stopped as we covered almost 450 kilometers. Restlessness was taking its toll on us at this point. Bad roads made it even worse. At around 6.15 in the evening, we were welcomed in Amboli village by a thick blanket of mist. Tripmeter was showing that we clocked 510 km. It was the very pleasant weather. We checked in the hotel, freshened up. Ordered food and were waiting for food. We were chatting and I was napping between every two sentences (That tired I was). Food was delivered and we immediately regretted ordering Chinese over there. It was nothing but salt rice. We had a little bit of it due to hunger and we slept off.Day 2: September 3, 2017Got up early, it was a beautiful morning. I was expecting fog to be present. But it wasn't there. We went out with bikes to take some photos in the forest, the light was beautiful. Captured some nice frames of the mean machines and the forest. We used all the gadgets for photography. Oneplus One, Oneplus Two, Garmin Virb Ultra 30 and Nikon D5200 with 18-105mm Kit Lens.
Best place to take a pause from long journey!
Attractions near
Amboli Ghat Waterfall