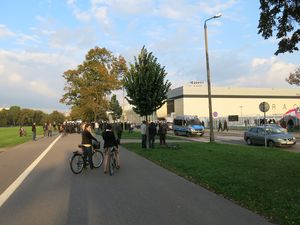 Places to stay near
Błonia
NEW AND 5 MINUTES FROM MAIN SQUARE!
Nice room in the old town
12 steps to the Main Square
Reviews of
Błonia
•
1
I was walking through Błonia Park, which is right next to the Cracovia Stadium. It just so happened that a match was about to start, and the crowds were NUTS. It turns out, this wasn't just any match, it was against Wisła Kraków. When they play, it's known as the Holy War, and riots and stabbings after the match are apparently pretty common. I went down to the park, just wanting to check it out after having a late lunch, and I realized that something was going on after I saw all the police. These are all police vans, and there were tons of cops, loaded down with riot gear, just waiting for the inevitable.