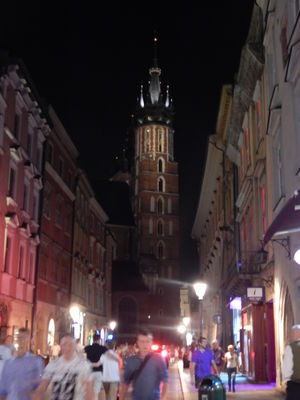 Places to stay near
St. Mary's Basilica
NEW AND 5 MINUTES FROM MAIN SQUARE!
Nice room in the old town
12 steps to the Main Square
Cosy room in the center of Cracow
Lovely room in the Old Town
Reviews of
St. Mary's Basilica
•
1
The Church Of The Assumption Of Our Lady or St. Mary's Basilica is an 80 metre tall brick church standing tall and pretty adjacent to the Rynek Glowny. The crimson façade is essentially composed of two asymmetrical towers one of which is a watch tower and the other a bell tower. While the 13th Century Tartar raids left it in ruins, it was rebuilt in Gothic style to look like the iconic structure that it is today. The southeast entrance is open for tourists and it is illuminated courtesy of breath-taking stained glass windows. The blue starred ceiling of the nave and the intricately carved wooden altarpiece are the most striking aspects of the interior. Designed by Veit Stoss, the beautiful altarpiece represents the assumption of the Virgin surrounded by the Apostles and is an extremely important piece of medieval art. 13 metres high and 11 metres wide, it is also the largest. Tourists are expected to pay 6PLN for the side entrance and 5PLN for ascending the tower for arresting views of Krakow. The church is open from 11:30am to 6pm Mondays through Saturdays and on Sundays, it is open from 2pm till 6pm. The timings for the watch tower with its gilded ball and stunning spire may differ.
Attractions near
St. Mary's Basilica