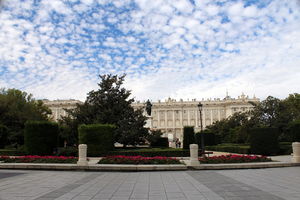 Rank
5 out of 652 attractions in Madrid
Places to stay near
Royal Palace of Madrid
Nice room near Madrid downtown
Habitación doble y baño en centro
B&B cozy room in Chueca Malasaña
Madrid Center: Puerta del Sol
Reviews of
Royal Palace of Madrid
•
3
Royal Palace of MadridThe Royal Palace of Madrid is the official palace of the Spanish emperors and has been inhibited by the royals for the longest time. However, today it only serves as the venue to state ceremonies. King Felipe and his family too do not live there, instead live in the rather modest Palacio De La Zarzuela.The contemporary style of architecture is this castle is a noteworthy aspect of this project.
Majestic royal palace, located on a hilltop with a commanding view of the city
One final place that might be of interest to you ties into Spain's royal history. Palacio Royal is Madrid's royal palace is built upon an old fortress and is now mostly used for ceremonial occasions. You can check out the views on the patio area, but definitely take a tour of its lavish interior and exquisite rooms!
Attractions near
Royal Palace of Madrid