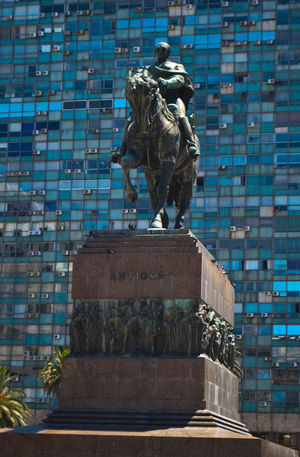 Plaza de la Independencia
Places to stay near
Plaza de la Independencia
New Studio at Montevideo Center
Perfect location. Free wi-fi!!!
En el corazón de Ciudad Vieja!!!!
+ Montevideo! Habitación en Pocitos
Reviews of
Plaza de la Independencia
•
1
I first came upon Montevideo's "Locks Fountain" where couples in love carve their initials into a lock and secure it to the fence surrounding the fountain, thereby securing their love forever. How romantic! I took a quick look around for a prospective "lock" candidate, but no dice. Moving on! My next stop was the famous Plaza Independencia, which marks the dividing line between Montevideo's City Centre and its Old Town and is considered the most important open space in all of Uruguay. In the center of the square sits the bronze equestrian monument of General Jose Gervasio Artigas, the hero of Uruguayan independence. His ashes rest in an urn under the monument. The plaza was designed in 1837 and features four fountains and 33 palm trees. The most prominent building in Plaza Independencia is the Salvo Palace. When it first opened in 1928, it was both the tallest building in South America and the largest in the world made from reinforced concrete. Designed by Italian architect Mario Palanti, it is similar in style to another of his famous projects, the Barolo Palace in Buenos Aires.
Attractions near
Plaza de la Independencia