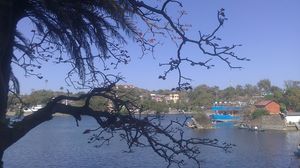 Best time to visit
Anytime when one is visiting Mount Abu.
Open hours
Right through the week from 8:00 am to 6:00 pm.
Things to do
Bring out the child in you here. Enjoy the lake and the festive mood here.
Budget
No entry fee is charged for visiting the lake but the various stalls here are sure to lure you to buy something, so go prepared.
Traveller Types
Families, Couples
Rank
4 out of 33 attractions in Mt Abu
Nakki Lake
It is both, the myth that surround the Nakki Lake and its natural beauty, that make it a great sightseeing and tourist hub in Mount Abu. The name of the lake 'Nakki' comes from the Hindi word 'nakh' which when translated into English means 'nails.' The myth goes that the Gods had dug the earth using their nails and a stream of water burst forth here. Nakki Lake is surrounded by hills on all sides and attracts those who wish to be enveloped in nature's lap. The atmosphere here is like that of a carnival with a number of stalls selling balloons, ice cream, juices and souvenirs around the lake. As a matter of fact, this place is great for a day out with the family.
Places to stay near
Nakki Lake
Hotel Good Luck Residency
Reviews of
Nakki Lake
•
11
Attractions near
Nakki Lake