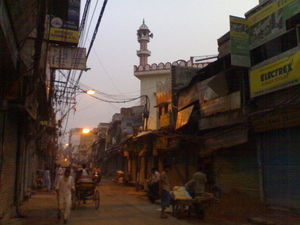 Best time to visit
11:00 AM – 5:00 PM
Things to do
Shopping More details: The nearest metro station is the Chawri Bazaar Metro station.
Chawri Bazaar
Chawri in Marathi means the meeting place. This market was set up in the year 1840 as a hardware market that has now become famous for the restaurants, brassware, copper, hardware and paper products sold out here. during the 19th century this same place was popular due to the courtesans or dancing girls. After the advent of the British, the Tawaif culture faded and business culture became popular and the result was the formation of the Chawri Bazaar which is now one of the most important street markets of Old Delhi. This market is located to the west of the Jama Masjid.
Places to stay near
Chawri Bazaar
Superior Double AC With Breakfast
Bnb room 4 near metro and airport
Stay in a true Delhi neighbourhood
Reviews of
Chawri Bazaar
•
3
Nearest Metro Station: Chawri BazaarMore things to do:Pay a visit to the majestic Jama MasjidExplore the lanes of Delhi 6 to get the real feel of Old DelhiGorge into the local delicacies. This area is specifically famous for its amazing variety of street food.
The Daily hustle at Chawri Bazaar, Old Delhi.
Attractions near
Chawri Bazaar