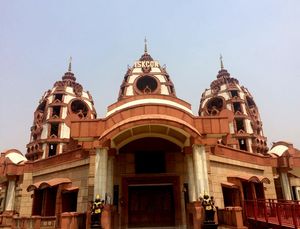 Best time to visit
8:00 AM - 6:00 PM
Open hours
7:15 AM - 1:15PM and 4:15 PM - 8:00 PM
Traveller Types
Families, Friends
Rank
15 out of 370 attractions in New Delhi
ISKCON Temple
ISKCON is the International Society for Krishna Conciousness and the temple in Bangalore is dedicated to Lord Krishna of course. The temple is situated on a hillock also known as the Hare Krishna Hill. The temple is built in a neo- classical style with typical South Indian temple Gopurams in it. There are 4 gopurams inside the temple which are joined by a glass canopy which looks spectacular. This temple was built to mark the birth anniversary of Sri Prabhupada, the founder of the whole community. The peaceful atmosphere and the continuous chanting of "Hare Rama, Hare Krishna" is extremely soothing. There is also a separate prayer hall, vedic theatre, vedic museum and lecture hall in the temple. There is an average footfall of around 8000- 10000 people everyday and this goes up to 15000 or even more on weekends. The main festival celebrated here is the Krishna Janmashtami.
Places to stay near
ISKCON Temple
OYO 2705 Hotel Preet Palace
★☞ The historical Center of Delhi !
A/C Private Room + Living + Kitchen
Quiet comfort in green surroundings
Reviews of
ISKCON Temple
•
1
Attractions near
ISKCON Temple