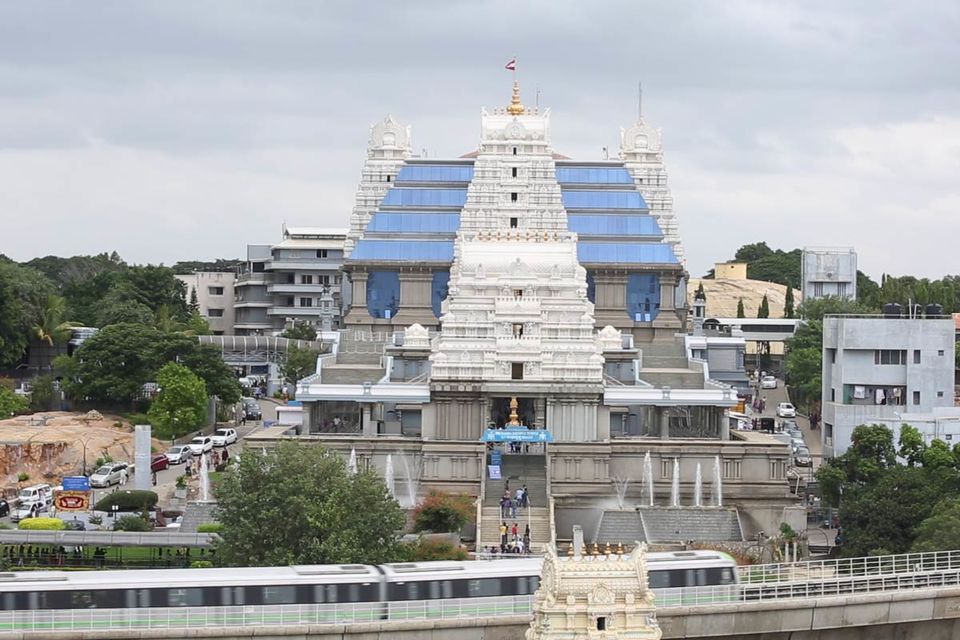 Have you ever seen technology and traditional in a single place if not then go to ISKCON (International Society for Krishna Consciousness) temple? Here you will see a temple with traditional look and technology around the place.You may take a cab,auto or any other public transportation vehicle to reach there."Perfect time to visit this temple was evening (6-9)". On that time temple glows like a gold and inside you will feel some kind of peace in mind.
Once you reach there you need to see Krishna's main place known as a pooja spot. If you don't have a belief in god then sure it was a nice place to see in around 2hrs. The history of the temple is Srila Prabhupada who went to the United States of America in the year 1966 to spread the message of Krishna and engage people in the practice of the yuga-dharma (chanting of the holy names of Krishna) established this society in 1967.He carried along with him a copy of Srimad Bhagavatam and an amount of 40rupees . On USA, he opened a store and start regularly teaching Bhagavad-gita to others. With the help of some followers, he was ready to start a society with a vision of developing into worldwide organisation.Then he found this as ISKCON.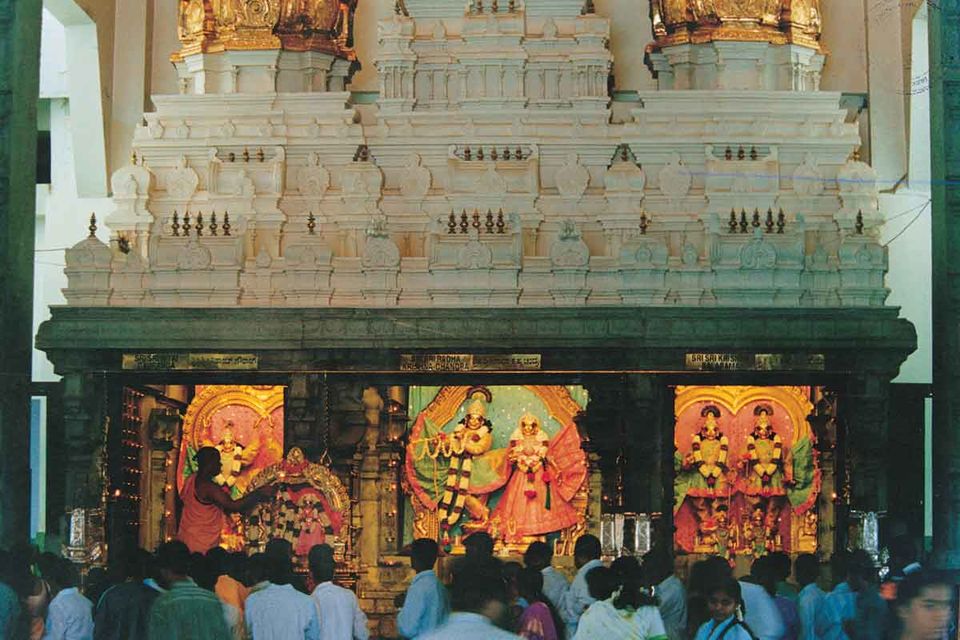 After you see lord Krishna and there are all a huge number of stalls present on the exit way. Maybe most of the people came here and have a great experience of a wide variety of chats and other sweet items. From bakery to tamarind rice to got all of them on the stall which was present there. After you devote a Krishna you may see the Bhagavad - Gita book stall where they can sell in all languages and they can also have some kinds of devotional CDs too. After you walk a while you may see a stalled load of sweets and tiffin item ("you got to know you are in a food paradise") but unfortunately it was all cost (medium only)..first of all you can see on bakery where they sell some cakes and sweet items don't go with that (it was also good) but after all you may see a large group of stalls that were present on there you have seen a huge amount of variety food and that was also cost low like normal...and quality was also good.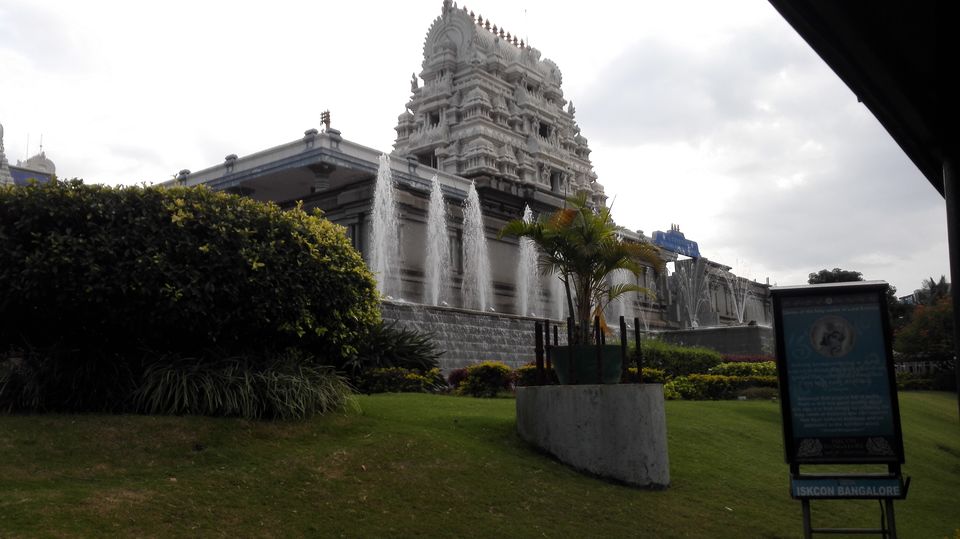 After you ate at all stall (not possible) you get out there with a big fat belly....(lol) and you may see some yoga (meditation) centre there. There they can teach you some of the meditation tips and procedure to follow during meditation (if you close your eyes after ate all the stuff and a cool breeze that we have ..it will get you on to sleep....heee---BE CAUTIOUS!!!!!) and after crossing that too you see a free Prashad that will be provided by a temple devastanam. I don't know exactly what the food was and I think it will be a liquid Pongal..(-)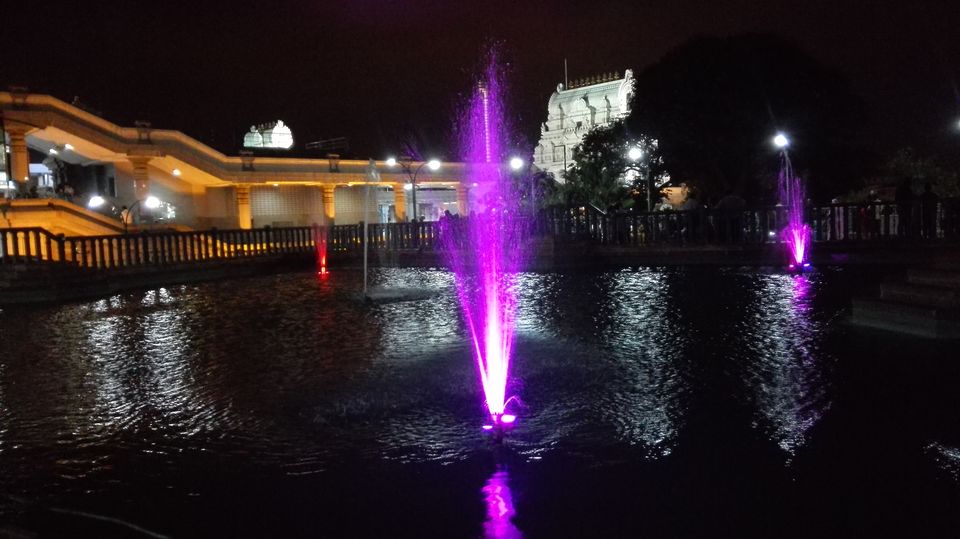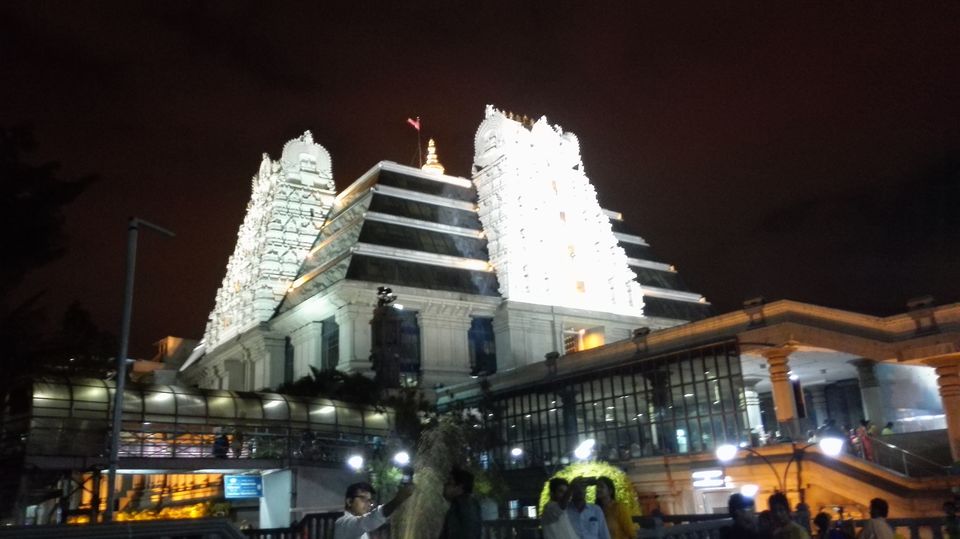 Then you reach a small water colouring spot where you will see some calm place where crowded with all people with noises. This area will give you some time to talk with your loved once along with the background of the traditional temple and technology buildings......
TEMPLE TIMINGS:
Everyday Morning:
4:15 am to 5:00 am
Monday to Friday:
7:15 am to 1:00 pm
4:15 pm to 8:15 pm
Saturdays, Sundays & Public Holidays:
7:15 am to 8:15 pm
VISIT their official page to know more about them---->https://www.iskconbangalore.org/