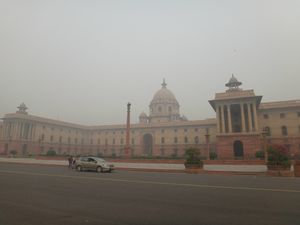 Best time to visit
11:00 AM – 2:00 PM
Open hours
9:00 AM – 4:00 PM
Things to do
monument tour
Budget
9:00 AM – 4:00 PM The Rashtrapati Bhavan remains closed during all weekends.
Rank
11 out of 370 attractions in New Delhi
Rashtrapati Bhavan
The President's house is the official residence of the President of India. It was in 1803, that the Lake East India Company defeated the Mughals and went to transfer kingship upon them. This is when the English appointed the first resident of what was then the capital of Mughals. After this, two important officials, Edwin Lutyens and Herbert Baker went on to form a dream city around the Raisina Hills. This later went on to be named as New Delhi. This was a more planned and developed city and one of the most important buildings in this place is the Rashtrapati Bhavan. There are blocks and chambers inside this huge building that is stretched from one end to the other. During the evening, this building is lit up in festive light and it is a magical treat to the eyes.
Places to stay near
Rashtrapati Bhavan
Superior Double AC With Breakfast
★☞ The historical Center of Delhi !
Bnb room 4 near metro and airport
Reviews of
Rashtrapati Bhavan
•
10
Attractions near
Rashtrapati Bhavan