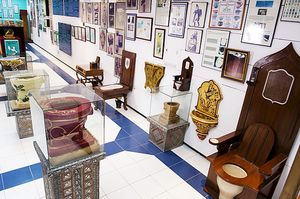 Best time to visit
11:00 AM – 3:00 PM
Open hours
10:00 AM – 5:30 PM
Things to do
Experience a unique, weird yet interesting tour along this quirky museum.
Traveller Types
Friends, Families, Couples
Rank
99 out of 370 attractions in New Delhi
Sulabh International Museum of Toilets
A hero in the New delhi part of the capital city, this museum is run according to the theme of World sanitation and cleanliness by the Sulabh Organizations. The exhibits housed here are brought down from more than 50 different nations. The Time Magazine has rated this one among the top 10 weirdest museums present in the whole world. The museum was established in 1992 and has three clear sections based on the Ancient, Medieval and Modern Eras. The collections date from 3000 BC till the end of the 20th century. The museum is a symbol of the sanitation evolution in the whole world. The museum was actually a result of a revolution against the ignorance towards the sanitation problems in the whole world, especially India. The most interesting exhibits are the commode that is presented in the form of a treasure chest, the toilet set that is supposed to have been used by King Louis while holding court and the commode that has been camouflaged in the form of a book shelf.
Places to stay near
Sulabh International Museum of Toilets
Stay Royal Bed & Breakfast
Welcome Home in New Delhi, India
OYO 529 Hotel MSK Residency
Reviews of
Sulabh International Museum of Toilets
•
2
3.Sulabh International Museum of Toilets -Here you can find information about kings who use commodes and how elephants were potty-trained, toilets Established in 1992, the collection includes a commode shaped like a treasure chest.The walls are dedicated to the history of sewage systems and toilet.
Have you ever wondered that toilets have a history too? This museum is located in Delhi and tells the history of the toilets from the time of Indus Valley Civilization till now. It shows you how the toilets have evolved over the years. Also, this museum was included in the list of World's Weirdest Museums and it ranked 3 in the list.
Attractions near
Sulabh International Museum of Toilets