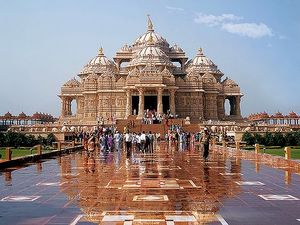 Best time to visit
10 AM – 5:00 PM
Open hours
9:30 AM – 6:30 PM(Closed on Mondays)
Things to do
Relax and pray
Budget
Entry- Free, Exhibition - Adults- Rs 170 / Senior citizen- Rs 125 / Child (4-11 years) - Rs 100 / Child (below 4 years) - Free, The Musical Fountain, Lotus Garden and Garden of India Charges are extra
Traveller Types
Families, Friends, Couples
Rank
2 out of 370 attractions in New Delhi
Swaminarayan Akshardham
Holding the Guiness World Record to be the World's largest comprehensive Hindu temple, the Swaminarayan Akshardham Temple was built-in just 5 years. The nearest metro station is the Akshardham Metro Station. Mobiles and other electronic gadgets are not allowed. These are to be deposited in the cloakrooms. It's an example of the grandeur and beauty of all the ancient and traditional architectural and religious styles which have ever been present in India. Usually the one who took such a noble initiative was Swami Maharaj of the Bochasanwasi Shri Akshar Purushottam Swaminarayan Sanstha along side more than a thousand talented artisans. The temple is mainly specialized in Swaminarayan and also includes a separate shrine for Lord Shiva. There are a number of halls amongst which the initial one is where you will find films and robotic shows going to spread the message of honesty, peace and unity. In the second hall you is likely to be presented with the story of a classic yogi named Nilkanth in an exceedingly attractive manner. Last however, not the smallest amount of the next hall is where you are able to find out about the discoveries and works of the saints- scientists and the art of Ajanta- Ellora. The musical fountain is an amusement after sunset, the Lotus temple is another bit of beauty and the Garden of India is just a memorial for all the famous men and women of our country.
Places to stay near
Swaminarayan Akshardham
★☞ The historical Center of Delhi !
Stay in a true Delhi neighbourhood
goStops Delhi (Stops Hostel Delhi)
Attractions near
Swaminarayan Akshardham