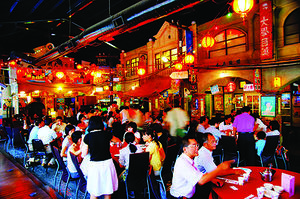 Traveller Types
Friends, Families, Couples
Rank
1 out of 95 attractions in Taichung
Places to stay near
FengJia Night Market
Safe and cozy, Female only.
Taichung City童趣高樓景觀 Walker Taichung
❤ ❤ 快樂腳旅棧 HappyInn near TaichungSTN
TaichungFengjia 7WarehouseRoom III
Reviews of
FengJia Night Market
•
1
Taiwan is famous for its night markets and good bargains. Fengjia Night market, Keelung Miaokou Night Market, Jiufen Old Street and Shilin Night Market and Ximendingin Taipei are some of the other popular local style markets spread over Taiwan. Keep your eyes open for a good bargain in clothes, shoes and bags. Look out especially for Made in Taiwan products, you will want to make a trip again only for shopping!
Attractions near
FengJia Night Market