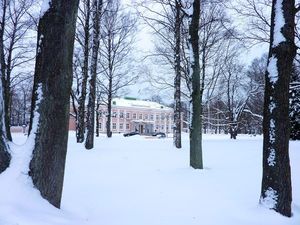 Traveller Types
Couples, Friends
Rank
22 out of 243 attractions in Tallinn
Places to stay near
Kadriorg Palace
Private Room near Old Town
Modern, well-located apartment.
Beautiful apartment in the Old Town
Amazing view from the heart of TLN
Reviews of
Kadriorg Palace
•
1
The Kadriorg Palace is set in a beautiful park where the Prime Minister's house is located. The Prime Minister is the actual political head of state, and their President is mainly a symbolic figure, who does not hold any executive power. We are pretty sure he was there as the flags were up, the red carpet was out, and guards were walking everywhere. It was a lovely walk through the park. The Palace and park were created by Tsar Peter I in the 18th century for his empress Catherine. The name, Kadriorg, means Catherine's Valley. We toured the Royal Palace, which is now an art museum.
Attractions near
Kadriorg Palace