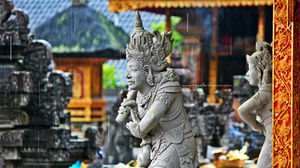 Traveller Types
Couples, Friends
Rank
2 out of 11 attractions in Tampaksiring
Reviews of
Tirta Empul Temple
•
3
Tirtha Empul temple is situated near to the town Tampaksiring, and is famous for its holy water, where people go for purification. Tirtha Empul basically means Holy Spring.
This is a Hindu temple in the centre of Bali. It is famous as its holy water can wash away sins. To participate in this ritual, you first need to buy a ticket, then proceed further into the temple. Keep going, just follow the crowd, and you will come to a series of open air rock pools where you can immerse yourself to whatever degree you feel is required, to wash away your sins. I merely dipped my hand into the water. This temple is popular, with both locals and visitors, it is always busy. Take care when walking on the rock, it is slippery. There is a happy feel to the place. Much laughter and good cheer.
Tirta Empul is a holy water temple, sourced from the sacred Tampak Siring spring. This 1,000 year old temple has largely been unchanged. The temple houses purification pools for locals who practice Balinese Hinduism. The temple's long rectilinear pools are carved out of stone, and feature fountainheads that fill the pools with the holy spring water. Worshippers first make an offering in the inner-court temple, then climb into the main pool to bathe, pray, and collect the water in bottles to take home. The water is believed to have curative and prosperous powers. I certainly felt refreshed and renewed after taking a dip!Tirta Empul Temple includes the traditional Balinese split gate architecture (photographed below) along with shrines to Shiva, Vishnu, Braham, Bali's Mt. Batur, and Indra. On the grounds is a large community pavilion, where you will see many families and tourist relaxing and taking in this wonderful site.Tirta Empul is located in the village of Tampak Siring, you can drive independently via google maps (as I did) or have your hotel's concierge arrange transportation. The drive is spectacularly scenic, you will cross narrow bridges, see verdant junglescapes and paddy fields, venture through tiny villages, and come across hundreds of ancient temples along the winding road. The drive is 30 minutes from Ubud.
Attractions near
Tirta Empul Temple