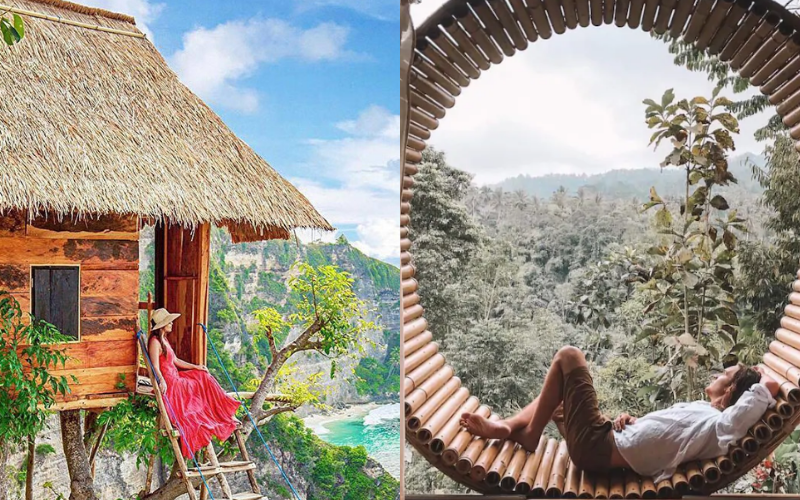 Ever since we were kids, it was a dream to live in a tree-house. And now even as we try acclimatising ourselves with adulthood, there is a constant urge to pack our bags, say bye-bye to our bosses and run away to a tree house in a far-away country.
Fortunately for us, Bali is far away (yet close enough to be affordable) and the tree houses here are gorgeous, complete with all modern necessities.
With spell-binding views, these properties are all under Rs 3000 and totally Instagram-worthy!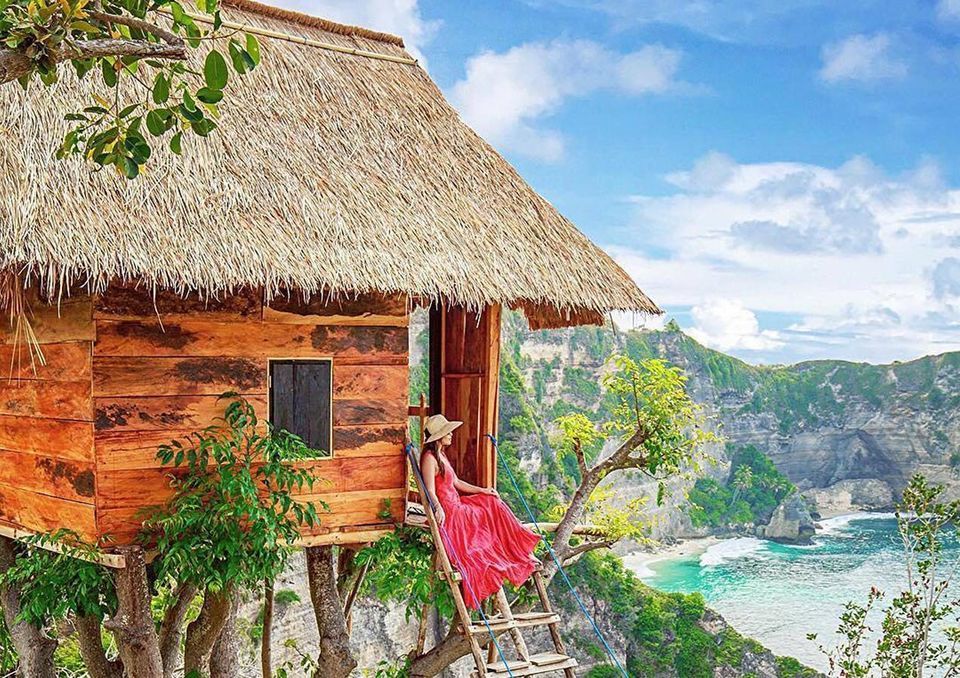 1. Rumah Pohon Tree House
Perched on a cliff, atop a tree, living in a wooden tree-house cannot get more authentic than this! The Rumah Pohon are three tree houses that are located on the island of Nusa Penida, which is southeast of Bali.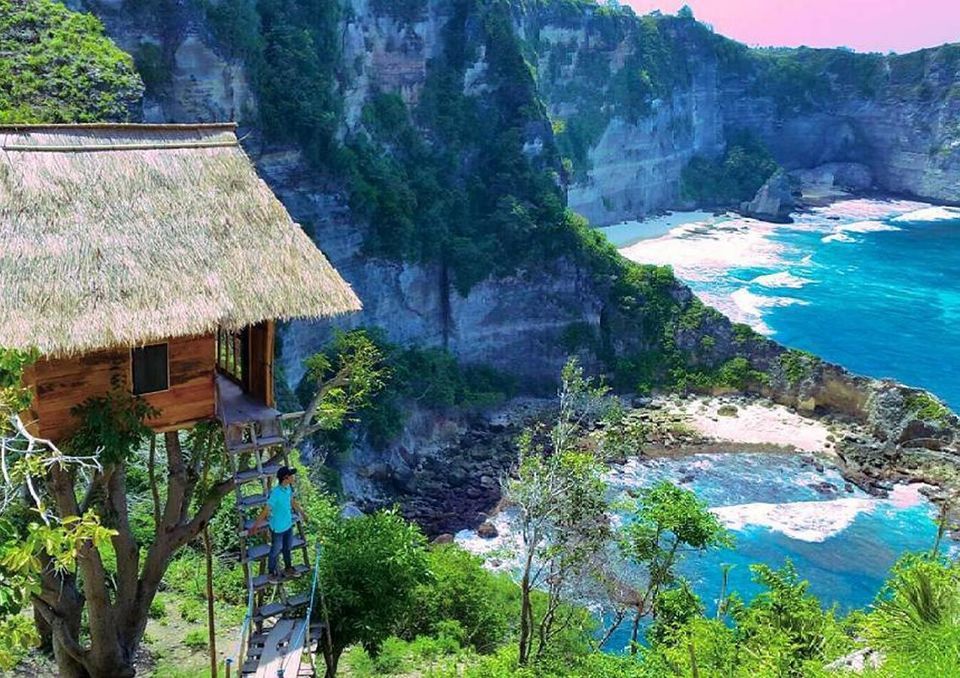 Though the room is very simple with a bed, a small balcony, a fan, and the shared toilet and bathroom are downstairs the spell-binding views compensate for it all. Brace yourself for the Tarzan experience!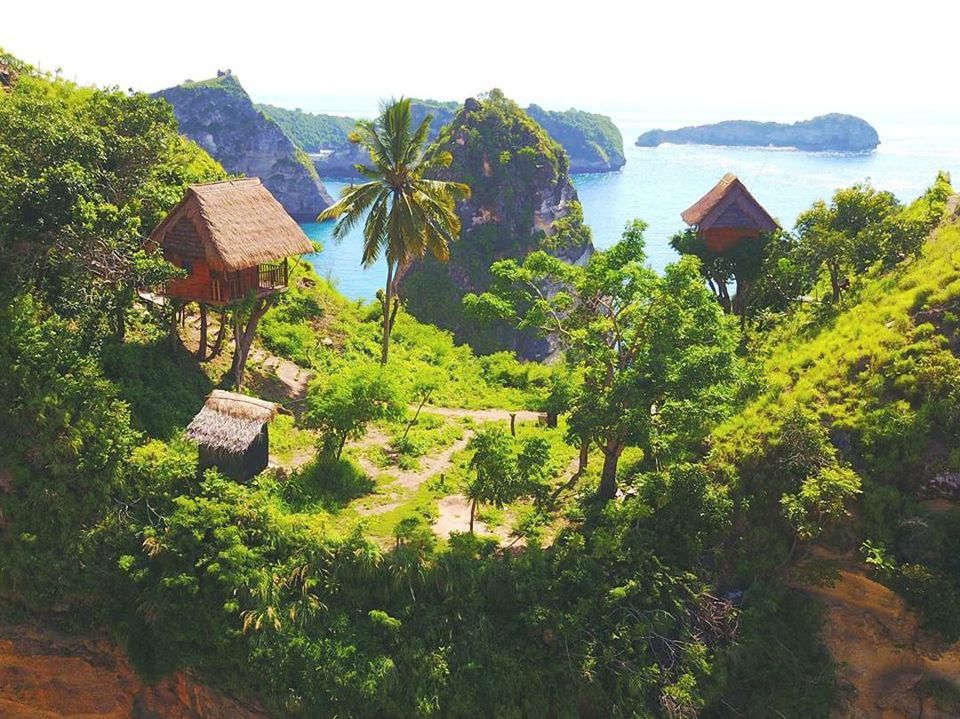 Ravishing bird-eye views of the ocean waves crashing below, the gorgeous sunset, Atuh and Diamond beaches at a walking distance, this will be an experience nothing like you before.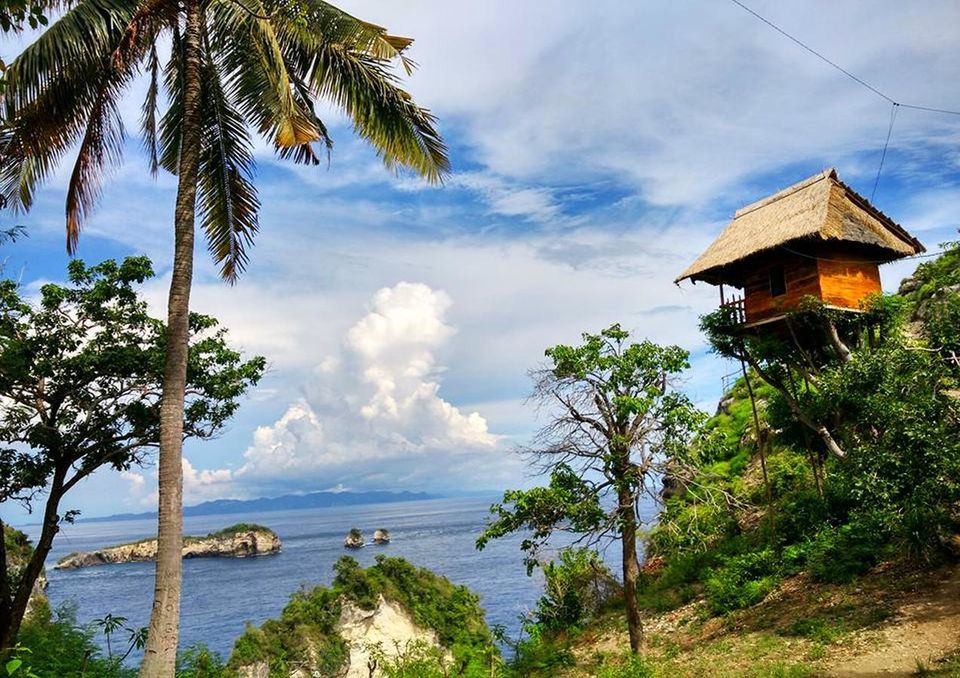 Definitely, a must tick off the bucket list.
Cost: Rs 2,720
Where: Pejukutan, Nusapenida, Klungkung Regency, Bali 80771, Indonesia.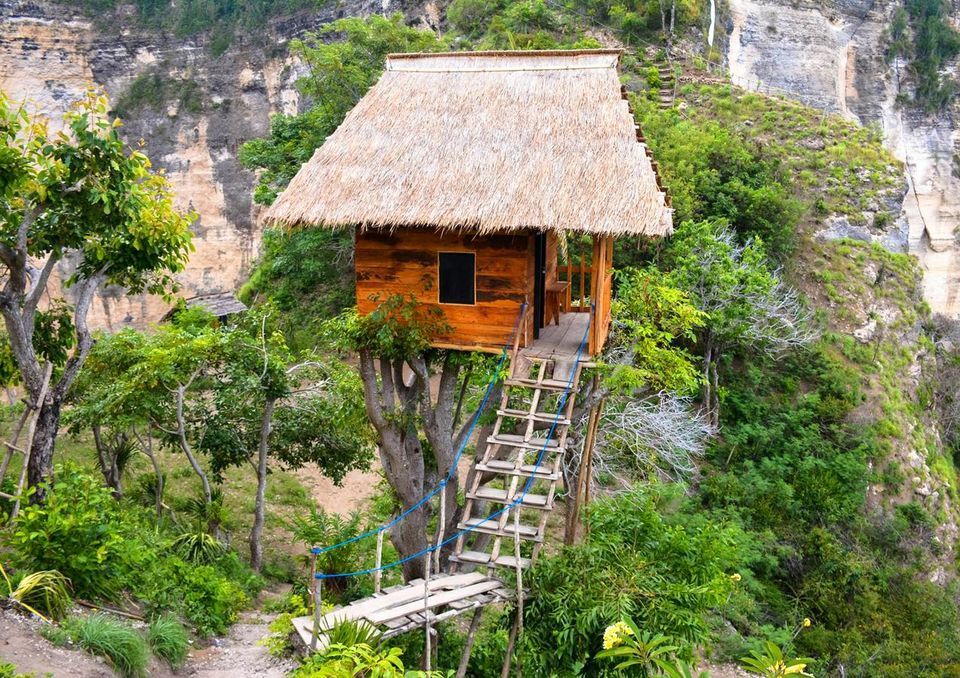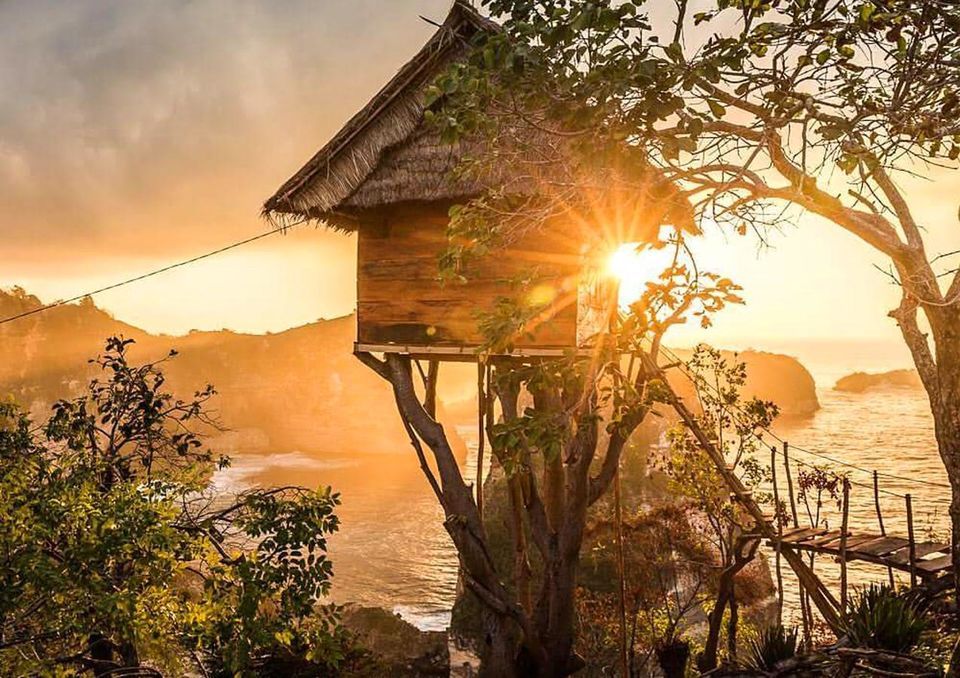 2. Bali Tree House By Pelangi
With cabins perched high and made out of bamboo and cane, this tree house is situated in a lush, farming area with very nice on-site landscaping. The balconies exude full-on jungle vibes and open up to misty mornings and a ravishing sunrise.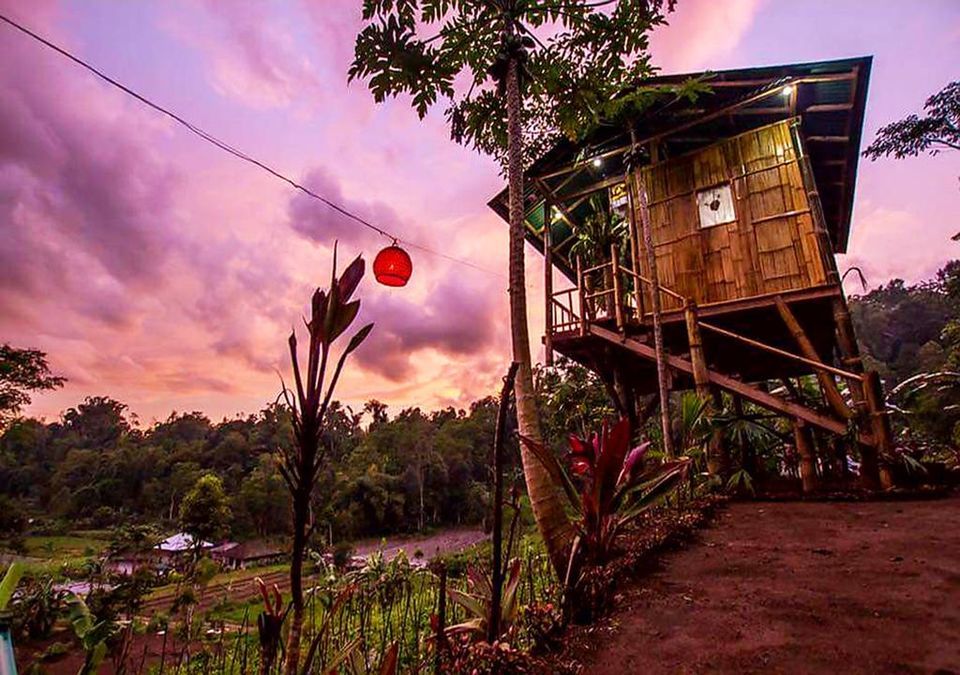 Most reviews suggest the staff is very friendly and they provide home-cooked food. The arrangement here is like camping atop trees and hence the bathrooms are shared.
Cost: Rs 1615
Where: Baturiti, Bali, Indonesia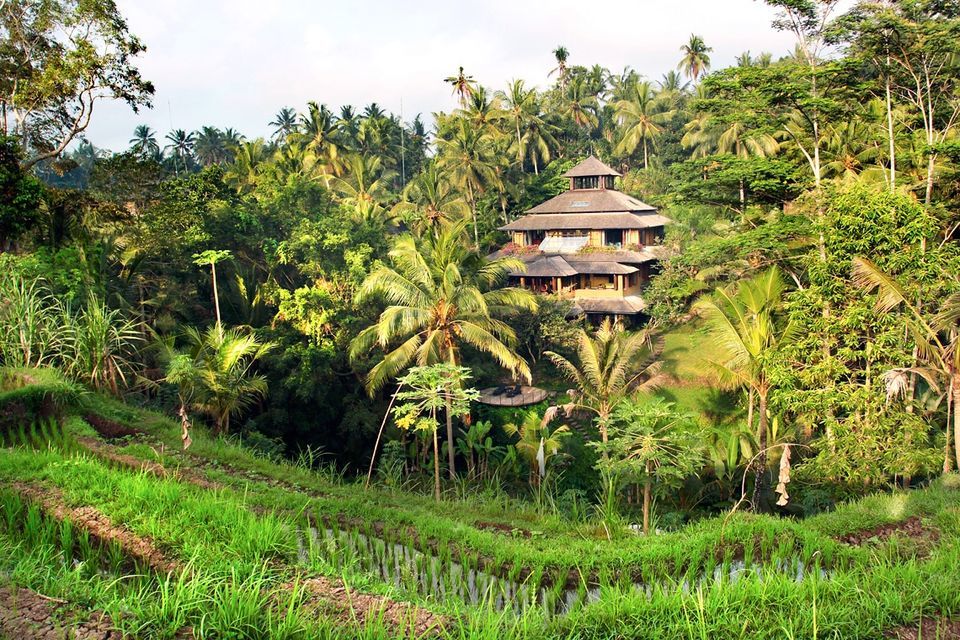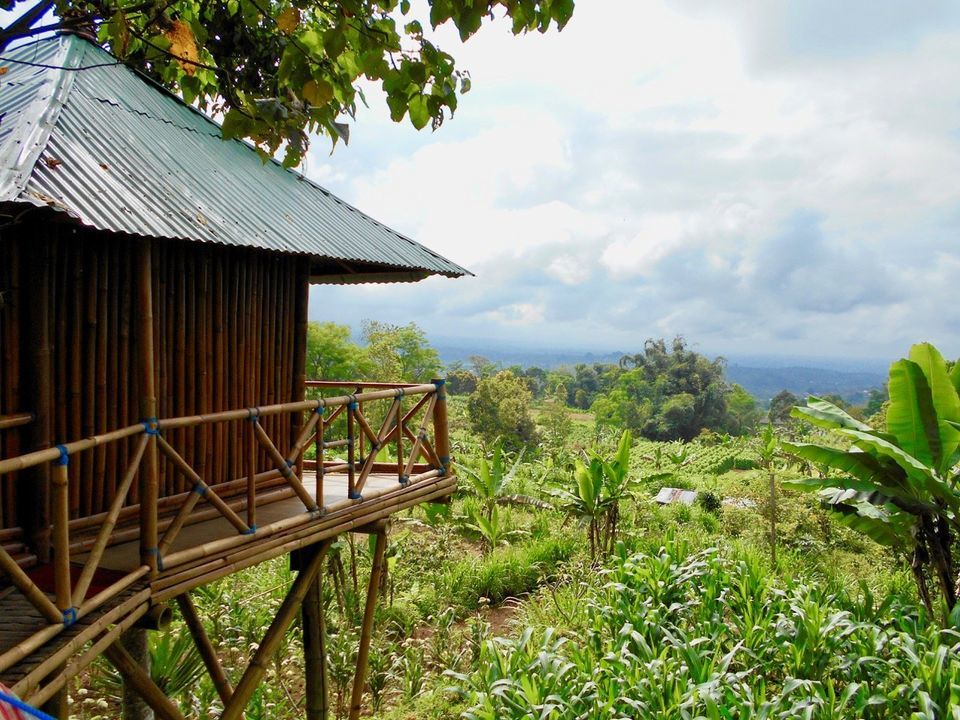 3. Ayu Tree-House
Remember those Instagram posts you see, of the thatched roof bamboo houses in the middle of a rice field, with a little stream flowing by straight out of a fairy-tale? This is it!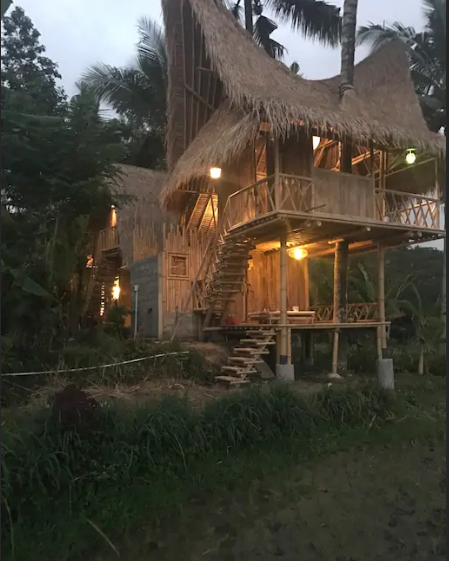 A traditional tree-house nestled in a picturesque countryside rice-field. With stunning 180-degree views from the balcony and all the modern amenities, there are two tree-houses on the property, a separate fully equipped kitchen, and a shared chilling zone.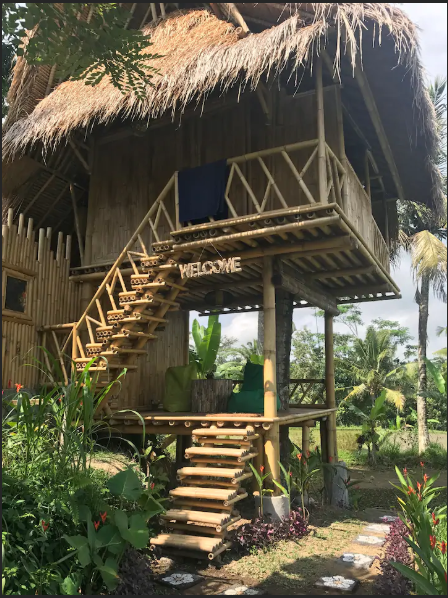 The chill-out common area has beanbags, and an open-roof a bathroom, so you can shower and gaze at the sky and overhanging coconut trees.
Cost: Rs 2,769
Where: Baturiti, Tabanan Regency, Bali.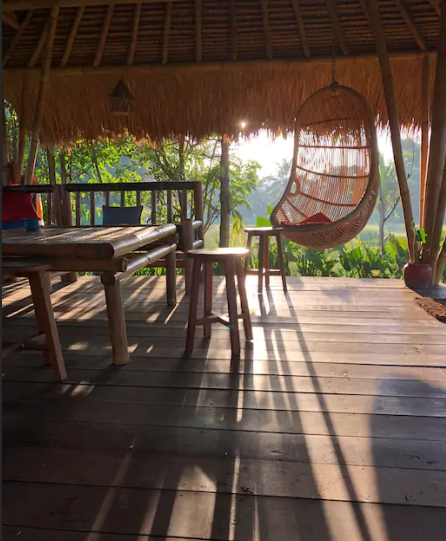 4. Balilayin Eco Bamboo-Misty Jungle and Waterfall
Imagine you've entered a Hollywood adventure movie, where after an adventurous trek through the jungle you chance upon a house that is an artwork in itself, on the top of a waterfall in a surreal woodland.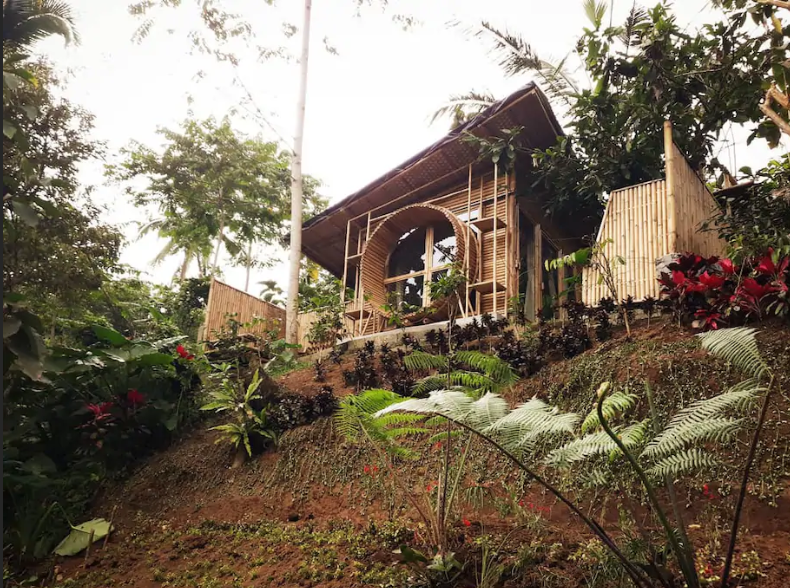 The owner of this place is an architect and so, undeniably this place is all sorts of #HomeGoals. One gets the entire house with a private garden. And, you can walk to the hidden waterfall where there isn't any tourist. I mean you literally get a private waterfall with this accommodation! The circle seating window has been featured on a lot of famous travel blogs.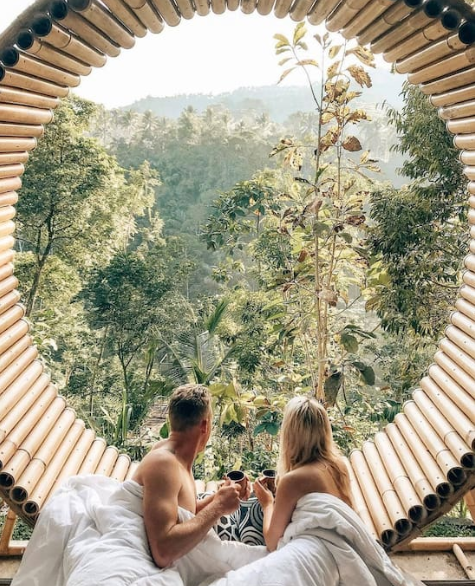 However, privacy may be an issue because the house has massive clear windows.
Where: Leke-Leke Area, at Mekarsari Village, Baturiti, Tabanan Regency, Bali.
Cost: Rs 2,631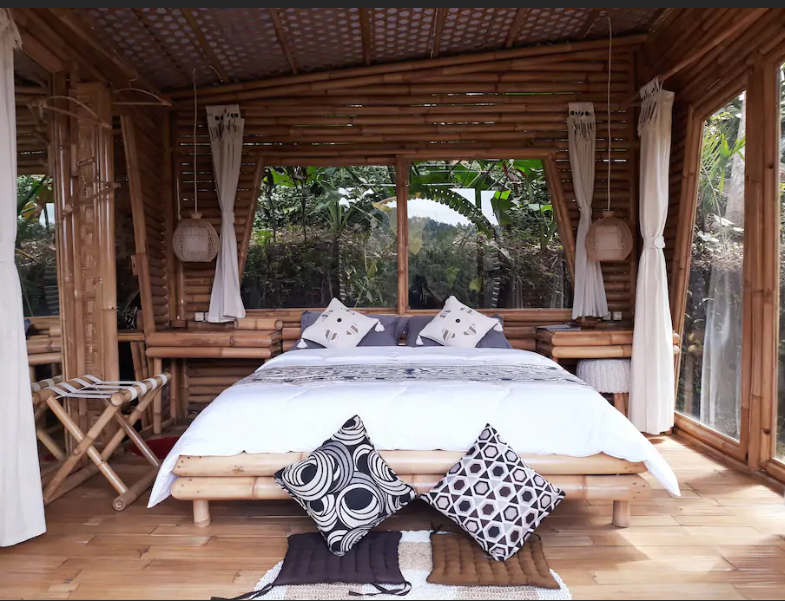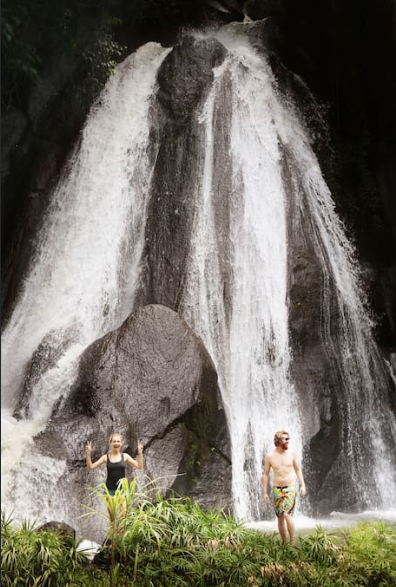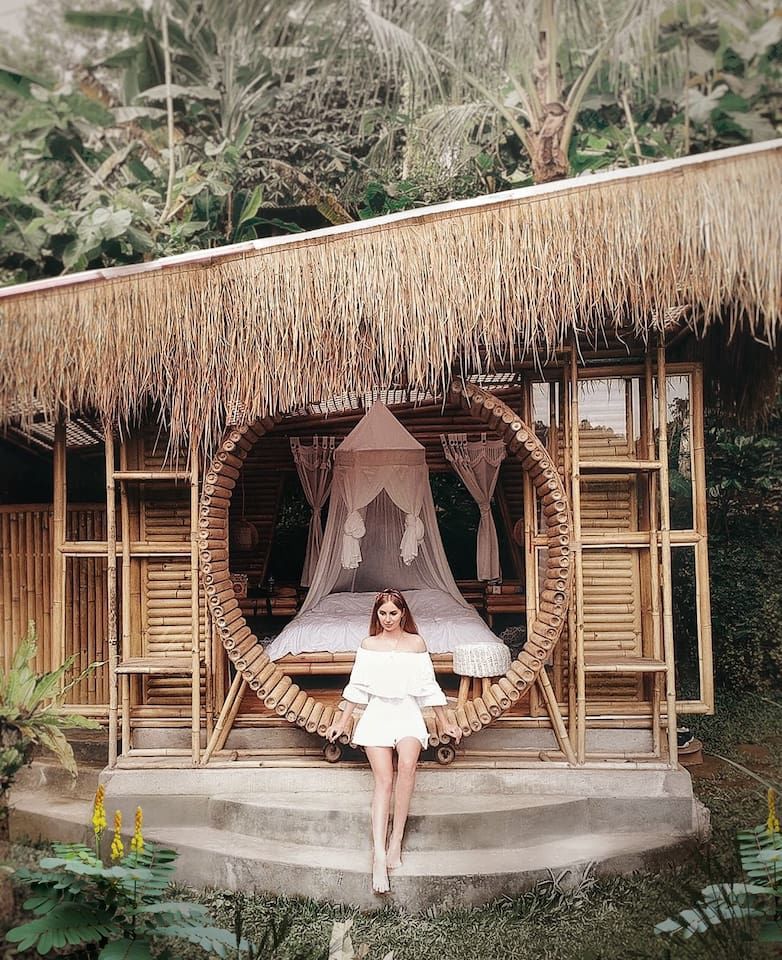 5. Organic Bamboo Bungalow
With roofs are made from the Balinese plants, Alang Alan, this house is constructed with Bamboo and wood. This tree-house bungalow is located near Ubud (about 10 minutes by car) and so it has many restaurants and shops nearby.
Most of the staff here is female and the hosts claim this property is extremely safe for solo female travellers. One can also learn traditional Balinese cooking and indulge in spas and massages.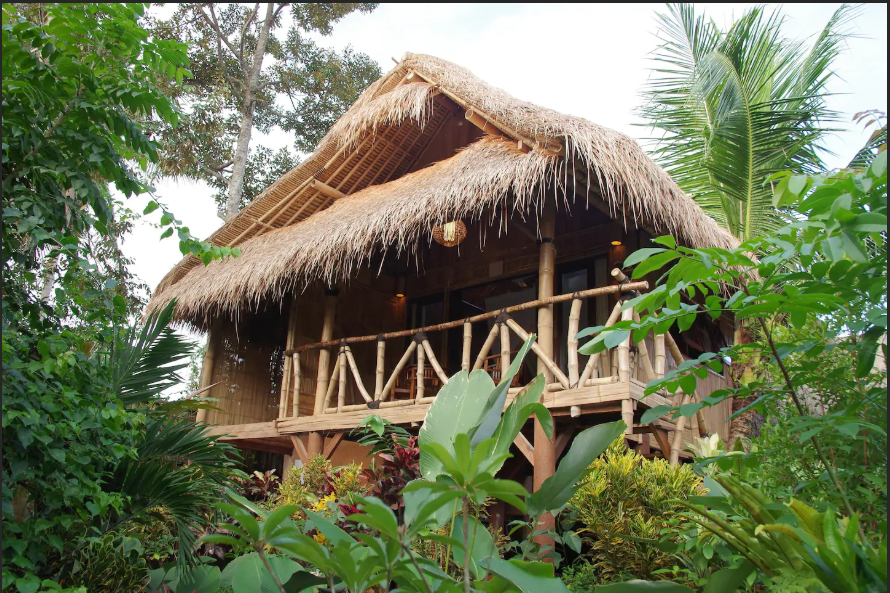 The rooms come with an air-conditioner, a kitchen, lip-smacking breakfast and a hot-tub!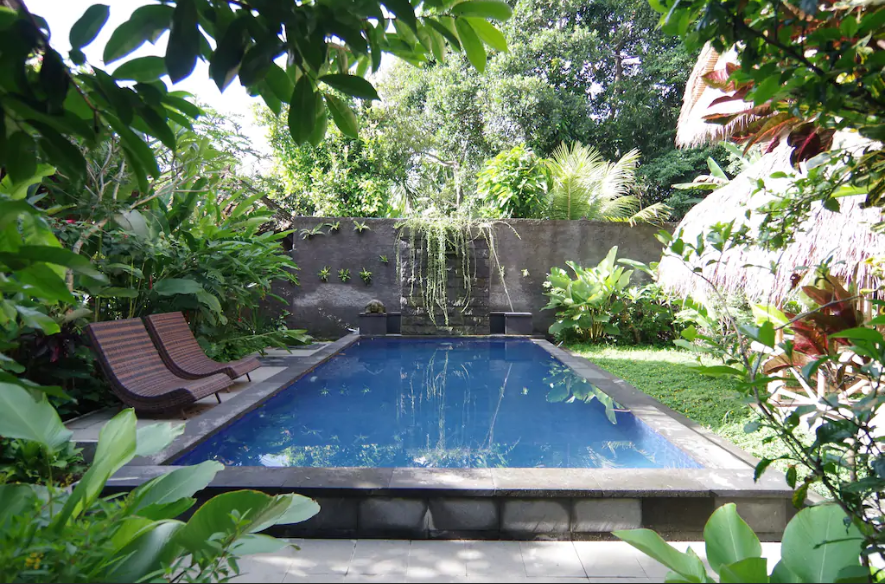 6. Hars Garden Tree Houses
Three kilometres away from the busy Ubud center, these tree-houses are like a soothing haven amidst nature. The sounds of the jungle surrounding the cottage are therapeutic and refreshing for city-dwellers.
The tree house has balconies with stunning views and an air conditioner, a shower room and a toilet. The interiors are tastefully done up and it almost feels like you've entered a Pixie's den.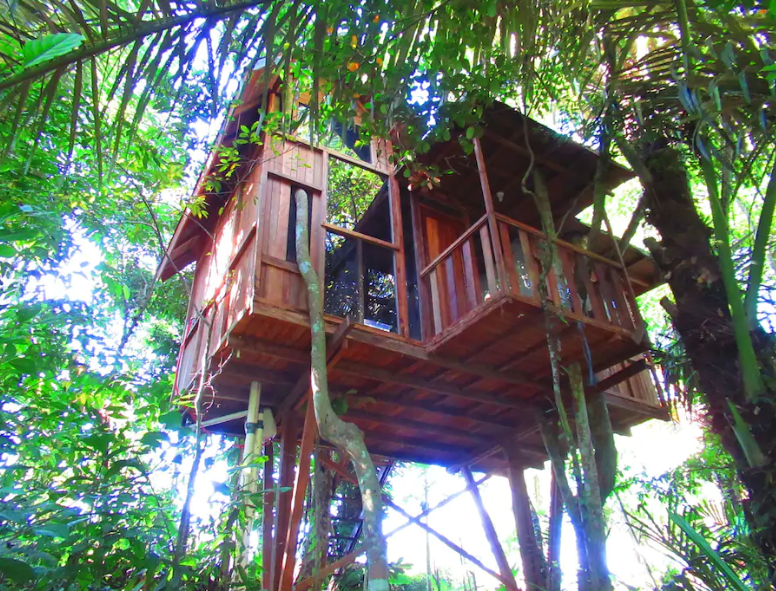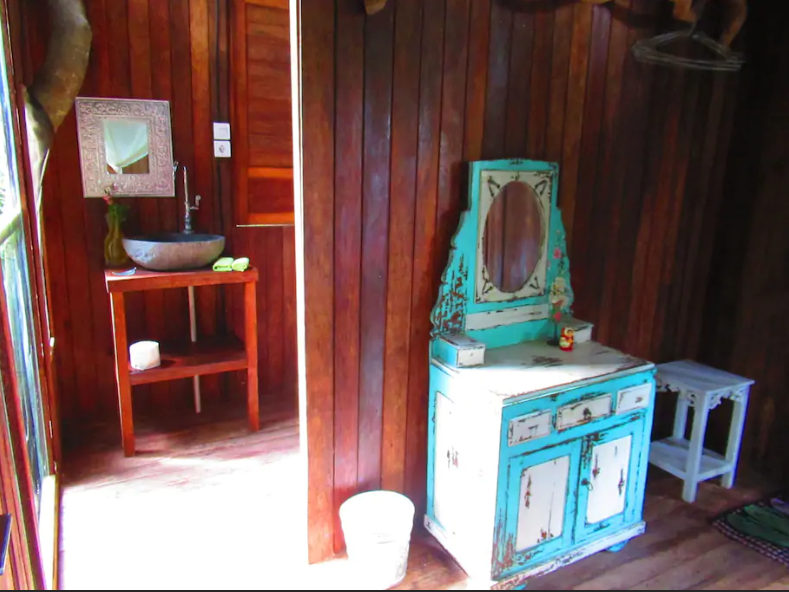 Is your phone full of pictures taken on your last trip? Post them here to earn Tripoto credits, which you can redeem for free holiday packages and travel vouchers.
Frequent searches leading to this page:-
Bali honeymoon package cost, Bali honeymoon packages from Chennai, Bali honeymoon packages from Kerala, Bali honeymoon package from pune, Bali honeymoon package cost from India, Bali honeymoon places