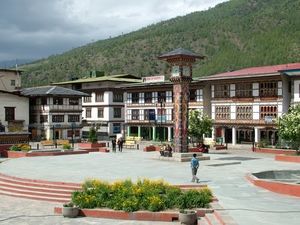 Traveller Types
Friends, Couples, Families, Solo
Rank
10 out of 46 attractions in Thimphu
Places to stay near
Clock Tower Square
Typical traditional house
Reviews of
Clock Tower Square
•
3
This is one of the most happening places in town, which is always bubbling with life. A huge amphitheater where concerts and performances take place , open for everyone to enjoy. You can simply sit here and watch the day turn into the night with your spouse. - Numerous pubs around the town like Mojo Park, Jimmy's Pub and The Zone are also must visit. Here you can enjoy good live music or Karaoke over drinks and food.
A place right at the heart of the city where one can relax and spend their leisure time. One can have their meal,coffee,etc anywhere around this place and is definitely a must not only for travelers but anyone who visits Thimphu!
A trip to Thimpu can't be complete without spending at least one evening at the Thimpu Square. Dotted by cafes and shops selling everything from trinkets and handicrafts to everyday household items, Thimpu Square is a haven for tourists, who compare notes and give each other knowing nods. Though nobody really seems to be in a rush, there is a clock-tower right in the centre of the square. Bhutanese stamps have always had a place of pride in our amateur philately albums, so a visit to the Bhutan General Post Office, which is a stone's throw from the Square, is also recommended.
Attractions near
Clock Tower Square