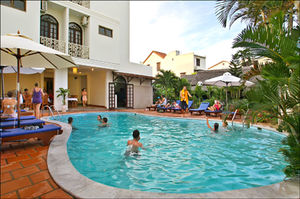 Places to stay near
Sunflower Hotel Hoi An
Pham Gia Boutique Homestay Villa
Friendly host, tranquil, cool.
Reviews of
Sunflower Hotel Hoi An
•
1
The most I paid for accommodation in Vietnam ($10/bed), the Sunflower Hotel is as lavish as it can get for the budget-minded. The dorms are decent-sized and the beds are comfortable, but it's the complimentary breakfast where you get your money's worth. Plant yourself next to the Pancake station and gorge away before back-flipping into the pool and pissing every sunbathing soul off. Recipe for disaster? Obviously. Boring? Hell no!
Attractions near
Sunflower Hotel Hoi An