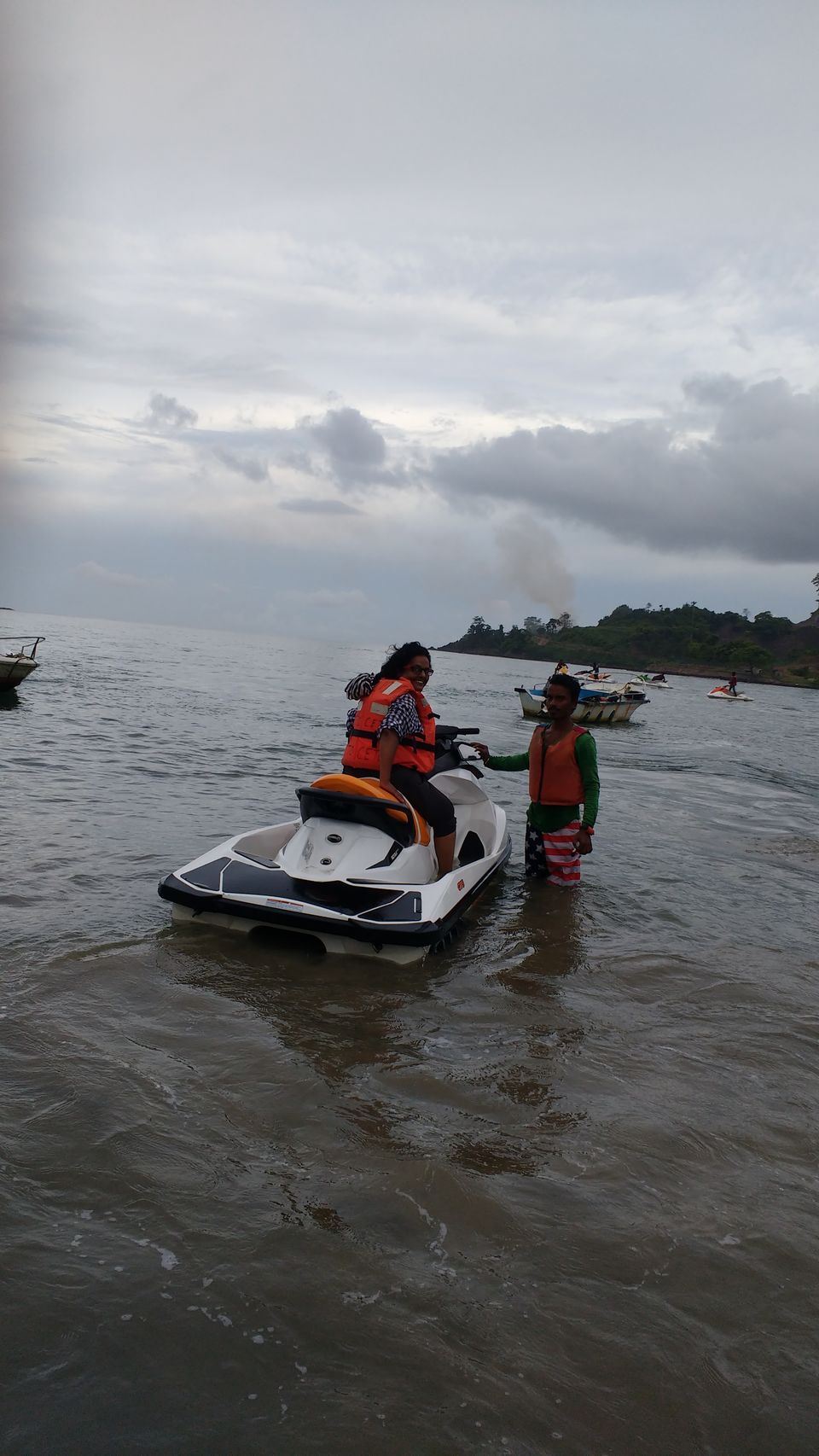 Since my childhood days, my parents have been planning an annual vacation . Now that I have grown up and life has been much busier this family tradition was on a halt. Last year when my mom proposed the idea of a trip, I jumped with excitement and the next minute we were booking tickets for Port Blair.
Now After we were all set with the planning phase, I panicked. In all excitement I forgot to consider the best time to visit Andamans. I had booked tickets in august and that was when the rainy season hits . I frantically read all the blogs and reviews and most of them were not recommending august as the best season. But few brave hearts had been there in off season and I decided to trust them and go along with the plan.
P.S - It rained every single day !!!!
But we came prepared. We had our umbrellas and rain coats.
Monsoons made everything more adventurous and beautiful.
We arrived around 7:30 at port blair airport.
TIP#1 :- Make sure to take window seat and don't sleep .. You will be seeing some of the best view of islands and you can't afford to miss it.
We didn't book hotel beforehand as it was the off season . We hired a taxi from airport who took us to a few hotels before we finalized one. The driver was really nice so we ended up hiring him for the entire trip.
After a quick nap we got ready . No intention of wasting even a single minute our first stop was "Cellular jail".
Cellular Jail - Also known as Kala pani was a place used by Britishers to exile freedom fighters . Kala means death and Pani means water. It was said that no one can escape this prison. It consisted of 7 wings and a total of 674 cells out of which only 3 wings are left. One of which is being used as city's prison. It has a museum , souvenir shop and guide's are available. Just being in those corridors give you shivers . Imagine the atrocities faced by our freedom fighters . All 7 towers are connected by a single tower. There was no escape from the prison.
From the rooftop, you can have a panoramic view of the island. You can also see the lighthouse on north bay island that appears in our 20 rupees note.
We bought tickets for the evening light and sound show and started for our second destination.
Corbyns cove beach :- Our first beach in Andamans and we were all ready to get into the water. Mom and my siblings enjoyed a jet ski ride !! There were some amazing coral stuff being sold so, mom and me got busy . There were kids learning judo at the beach. I wish I had a chance to learn judo with a view so divine.
Next stop :-
Chatham saw mill :-
Setup in 1883, this is Asia's largest and oldest saw mill.No, it's not like any other mill where you see the huge machines cutting the wood into symmetric pieces. This holds a museum where you can see the different artifacts made of wood by locals and buy souvenirs.
Make sure you see the bomb pit that is a result of Japanese attacks during World war II. The depth of pit shows the damage done at that time.
Also you can see how wood is cut and processed. There is a memorial called Pillar of the planet to commemorate 125 years of the mill.