When it comes to travel, my plans become in a jiffy and guess what, its always fun! And in the last few months it has been quite spontaneous. Trust me. Okay, so the people who follow me on Instagram know that how I crave for a trip to the mountains. Really, a mountain baby but this time due to less time and constraint budget, we rolled our plans and picked Rajasthan, the desert land. And when it comes to exploring Rajasthan, how can someone miss a trip to Jaipur.

This seemed to be the perfect plan for us because, first - it was just 4-5 hours away from Delhi and second- I get to see a new destination apart from the mountains and greenery.
*A Quick Peek To How We Ended Up Planning*
So it was the Good Friday coming up and I was literally craving for a travel break. So we googled the places which can be visited in less than 48 hours, because we had only the Saturday and Sunday in our hand. After much brainstorming, it was finally decided that we are going to visit Jaipur. So basically without taking a leave I enjoyed my vacation. Isn't that cool?
Now let's come back to where we left you guys. Still wondering what to do in Jaipur in less than 48 hours? Don't worry I have your back. Get along with me to enjoy a journey to the Rajputana city and know the best places to visit and things to do here in a budget.
Day 1 - Jaipur Welcomed Us
While going to Jaipur we decided to go by train because I was just missing the ride and it felt convenient. On Friday morning we boarded the Shatabdi Express which was scheduled at 6:50 AM. Quite early, but it is the perfect time for the people who are planning to come back on Sunday night. We reached the Pink City at 11AM. From there we headed to our hostel named "Moustache". Just in the middle of the city, it was just a few minutes drive from the station.
Places We Visited On The First Day
Get along and see some of the best places we explored on the first day around the city.
1. Nahargarh Fort
Rajasthan is known for its magnificent palaces and forts which were built in the era of Rajputs. Till date these forts never fail to mesmerize people with its grandeur and intricate architectures. One of these forts is the Nahargarh fort which is located around 3 kms away from the main city. We took an auto to reach the location and trust me, its beauty can't be defined with mere words. I felt like entering the sets of Padmavat because it was nothing less than that. Inside the fort there is a Baoli, Sheesh Mahal and a Wax Museum. And apart from that one can take a look of the entire Pink City standing at the rooftop of the fort.
Timings: 10 AM - 5:30 PM Entry Fee: INR 50 (Indians), INR 200 (Foreigners), INR 25 (Students)
2. Jal Mahal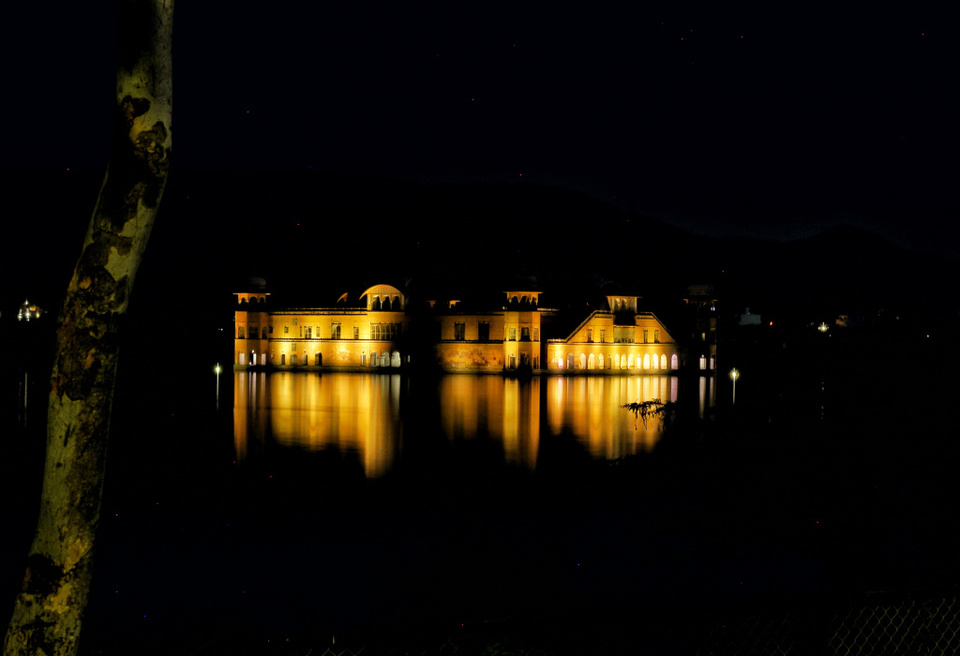 While coming down from Nahargarh Fort we halted to witness the beauty of the Jal Mahal which is built in the middle of the Sagar lake, thus the name. Glowing in the dark, it was a sight worth capturing. Around 15-30 minutes are enough to capture the pictures of this water palace and exploring the stalls while taking a camel ride.
3. Albert Hall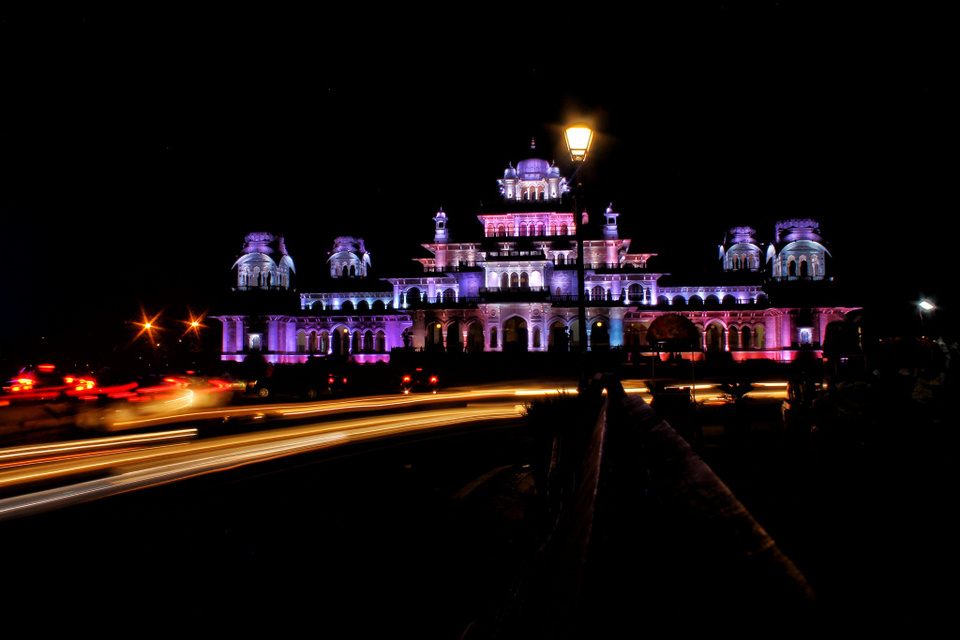 The last attraction of the day was the Albert hall which is actually the oldest museum in Rajasthan and stands amidst the Ram Niwas Garden. At first glance it looked more like the Victoria and Albert Hall museum in London, but that halt for 10 minutes was all worth it. We were quite late to go inside the museum, but the brightly lighten architecture was indeed a sight to catch.
Day 2: Explored The Shopper's Paradise
So after all the sightseeing on the first day, we geared up to explore the Pink City in the whole day we have in our hand. First we went to have lavish breakfast at Tattoo Cafe which is known for its exotic location. Settled just opposite the famous Hawa Mahal, this place was like one of the pretty chic cafes we see in Delhi. Quite expensive for the budget backpackers, this cafe was quite an Instagrammable place for us. I am sure the pictures are justifying it completely.
After that it was shopping time!!! Yayy!!
A trip to Jaipur is incomplete if you don't visit the lively markets. As per our own research, we got to know that there two major markets in the city, Johri Bazaar and Bapu Bazaar. While Johri Bazaar is basically known for its chunk jeweleries, Bapu Bazaar is a place where I went all crazy. There were Rajasthani juttis, block print kurtas, skirts, jhumkas (danglers) all around the lane. If you have that true shopping buzz inside you, this place will be your paradise. We spent more than what we had expected here and I was literally thinking that only if I had more money to spend.
Later as the day ended we finally went to see the gem of the city, Hawa Mahal. Quite a charm to witness, I feel this attraction is quite underrated because of its location. Basically we passed around 5-6 times in front of the place, but looking it closely was priceless and that too at 11 PM. Quite a thing it was!
And while going back home we halted at the Ramchand Kulfi Bhandar for some sweet treats. Not exaggerating for once, but this was the best Kulfi I had in my life. That creamy flavor and the appropriate sugar was just the right thing needed to end the last night in Jaipur.
Just like that it was time to bid goodbye to the city of Royalty. We took a bus next day at 3PM and reached Delhi at 8PM. And that is how our short trip to Jaipur came to an end. It was 48 hours of gazing at the majestic monuments, roaming around the streets, hogging on some delicious and authentic delicacies and of course taking amazing pictures along with unwarned dust storms.
Tips To Visit Jaipur
1. Though we had planned the trip in April, I would suggest to visit Jaipur between Jan-Mar when the weather is pleasant to explore the palaces.
2. We missed the Amber Fort due to less time, but if you're a two day trip make sure to manage your time to visit that.
3. Transportation is expensive in Jaipur, so bargain and stick to local auto rickshaws. Don't miss to taste the famous "Mirchi Vada" and "Pyaaz Kachori" at the Rawat's
4. If you're going to stay at a hostel then make an advance booking to avoid any last minute hassle.
Our Total Budget - INR 8000 - 10,000 per person
Breakout Of The Budget
Transportation - INR 2,000 approx.
Accommodation - INR 1,500- 2,000 per day
Food - INR 2,000 approx.
Sightseeing - INR 2,000 approx.
It may sound impossible, but we made it possible somehow. Jaipur is an amazing city which has so much to explore that even 4 days will seem less. But for the budget travelers like me, this might be a good way to enjoy and spend less.
Let me know in the comments about your Jaipur trip or if you're planning to visit. I hope I was able to justify the beauty of this city with my words. Taking adieu for this time, but stay tuned because there is more exciting things coming up!
So guys, this blog was in collaboration with TravelWithGappu. Check out his profile, because you will not be able to control yourself from drooling seeing this cute elephant.
Follow me on Instagram to have a chat with me or know more about my travel adventures and to read some fancy meaningful captions.
Until then,
Loads of love from the dusky girl ❤