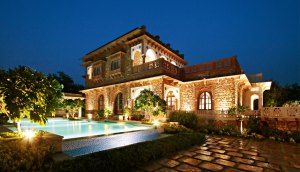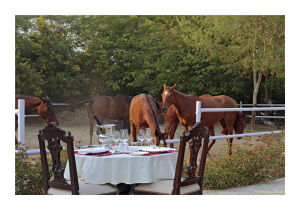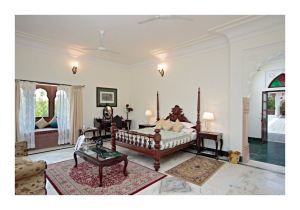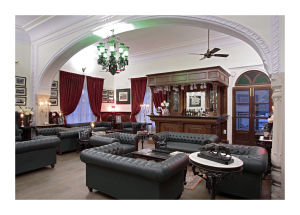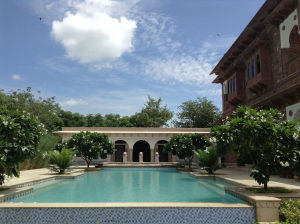 Who doesn't want a quick getaway from the chaotic city madness? And what if all one has to do is drive 3.5 – 4 hours to get there. About four hours from Gurgaon is one such special place to find that peace of mind. Here partridges and crickets scream for attention  not traffic.
A friend of mine recommended Khas Bagh . It's a beautiful homestay designed by Ransher a  Polo player whose equestrian love is beautifully used in the detailing of the Haveli. It's run by a fascinating family with an army lineage boasting of a Para Commando dad, elegant Mom and the lady of the house is a Journalist with her traditional Rajasthani suave well in place.
Khas Bagh  is a quaint farm retreat 30 minutes  outside Jaipur. It is close to Amer which was lush green in the monsoon rains  when I went there recently. We reached by 10 am and after taking in the beauty of the place,  jumped in the pool.  Just then it started to rain and it was beautiful.
We were treated to a nice home cooked meal before indulging ourselves to a nice afternoon siesta. In the evening we took a quiet walk in the village after which the night was spent talking to other guests and our hosts. The beautiful stone haveli is very tastefully done. It has antique furniture and a lovely courtyard, huge lawns in the 12000 sq yard property and not to forget the horses.
The polo bar nicely done up with pictures of Ransher playing Polo in various tournaments across the globe adds glamour with the comfortable leather couches to laze   and enjoy your drinks or read.
The hosts  charmed us with their graciousness and hospitality. I highly recommend it to for a quite break with just yourself or a group of friends to escape the rattle of city life. To check for details please login to khasbagh.com
This travelogue was first published by parulbalichopra .