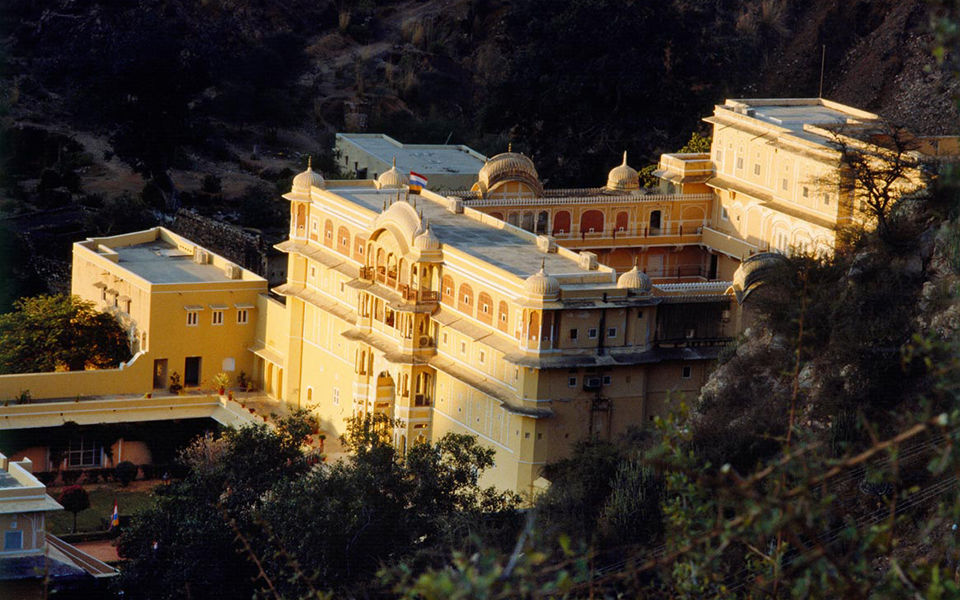 Weekend Getaways, places you go to get-away from your daily rut to come back refreshed with new energy. Add to this an enriching experience and a calm that shall stay with you for life – and you are sorted. Samode Palace does exactly the same thing to you, at a short distance away from Delhi. A pleasant drive of 4 hours ending in a quaint looking village gets you to Samode – a story book palace in yellow sand stone – oh so royal and perfectly understated!
Made for
First sight of it, and we knew we had to come to the right place for a weekend bonding, in a calm setting – mother daughter this time. It absolutely is ideal for Romantic Getaways and lazy holidays too, because of its captivating beauty and laid-back setting in the midst of Aravalis. Its Regal Indo-Saracenic architecture is one of its kind and has made it a favorite venue for high-profile weddings and low-profile celebrity visits and events – latest being Vogue India's Cover shoot with Kendall Jenner and Sushant Rajput.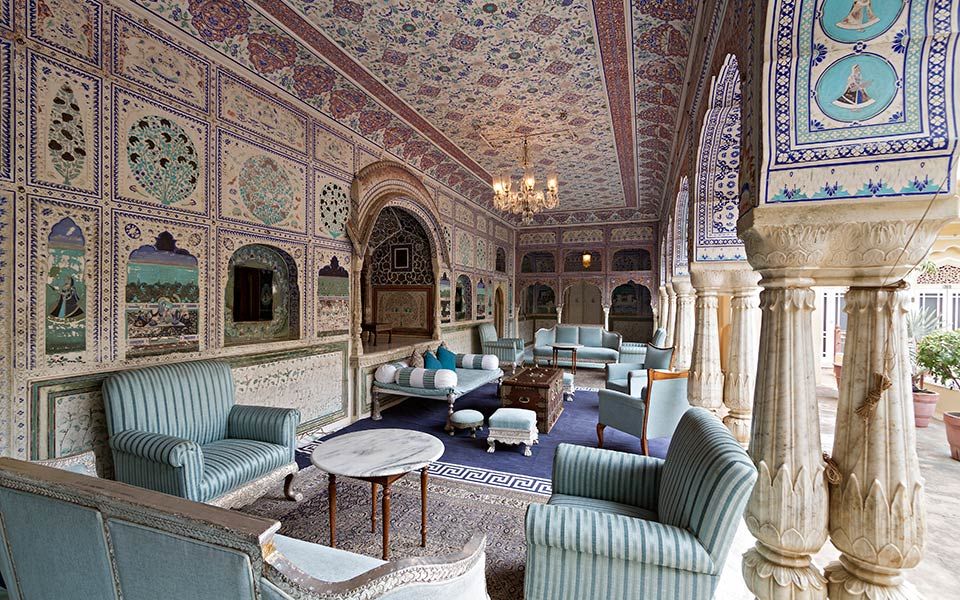 About Samode Palace
Samode Palace is a 16th century Palace, and has been live for 470 years and those years have only added to its charm. It was built by the noblemen of the court of the royal family in Jaipur. A splash of Champa and all possible hues of Bougainvillea along with beautifully manicured garden and the ever so lovely golden façade is the first glimpse of Samode Palace.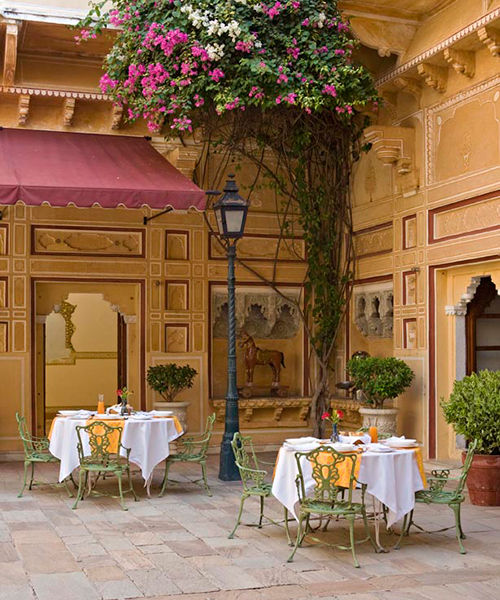 Insides are carefully detailed with cozy courtyards, nooks and corners decorated with the old world charm and an in-house Spa – you are well taken care of while at Samode. All rooms have four-poster beds draped with exquisitely done sheer fabric drapes, luxurious wood and marble furnishings, with en-suite bathrooms and dressing areas – complete with shower and bathtubs. The higher categories like Royal Suites also has a private courtyard, overlooking the Aravallis and a Jacuzzi.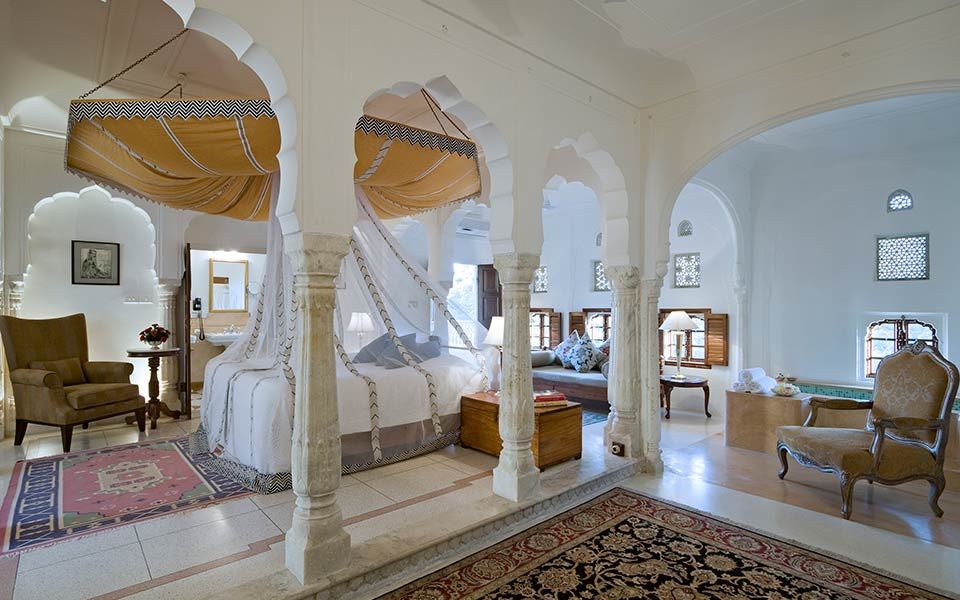 What differentiates a good property from a great one is the service that it offers and that is what makes Samode the gem in hospitality that it really is. Everybody at Samode knows exactly how to strike the perfect balance between privacy, hospitality and friendliness.
Cost of the stay
Starting October to March, the base category room starts from around INR 25000 per night inclusive of breakfast, with 2000 per person for lunch and 2500 per person for dinner. Few travel agents or websites shall have special rates.
Food
Breakfast is continental and served in the courtyard from October to March and indoors from April to September due to the heat. They also have two dining venues and a bar. One restaurant was closed for renovation when we were there and the one open was a feast – both for the Palette and for the eyes. We tasted select Italian and French recipes along with the most authentic Rajasthani food – cooked with traditional recipes. Must try 'Gatte ki sabzi' and 'Laal Maas'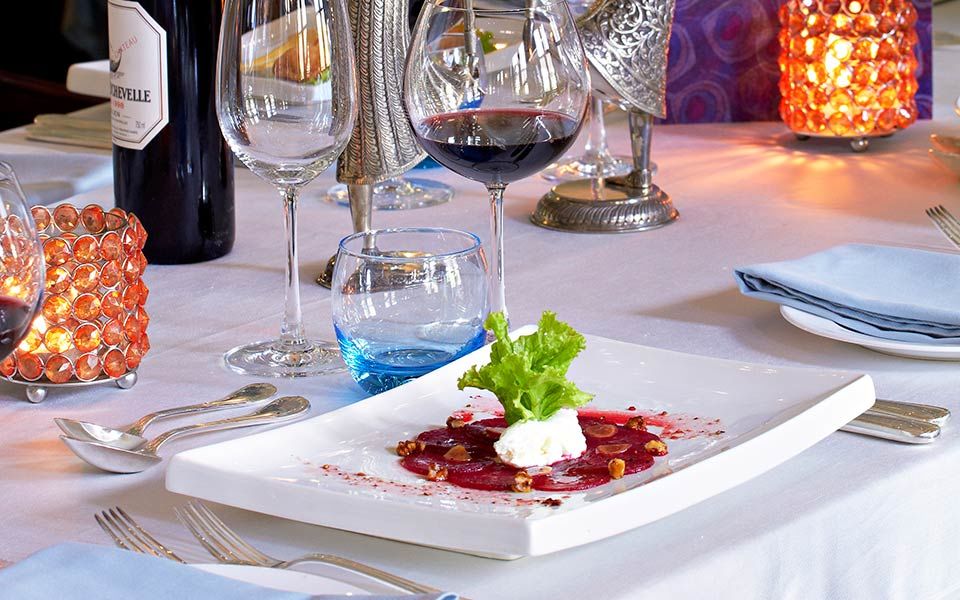 The palace also has its own wine cellar, with a selected variety of Indian and International varietals. Attending staff at every venue is signature Samode, very friendly and attentive.
Best time to go
October to March is the best season to visit as the weather is not so warm as it is for the rest of months.

How to get there
The nearest metro city is Delhi.
By air: Nearest airport is Jaipur – 1.5 hours
By road: 4 hour from Delhi
By train: Nearest train station is Jaipur – 1 hour
What to do here and around the property
First and foremost, visit the palace itself – built on three levels. Both Durbar Hall and Sheesh Mahal have breath-taking murals and a camera man's delight.
Visit the Mughal Garden at Samode Bagh – its sister property nearby.
Horse and Camel safaris are arranged along with trekking through the Aravallis. Visit the Samode village to see the local craftsmen at work - Lac bangles are made in front of your eyes, pottery and even meal a local house can be arranged. Shop with the locals in the village market, an amazing photographic opportunity at the same time.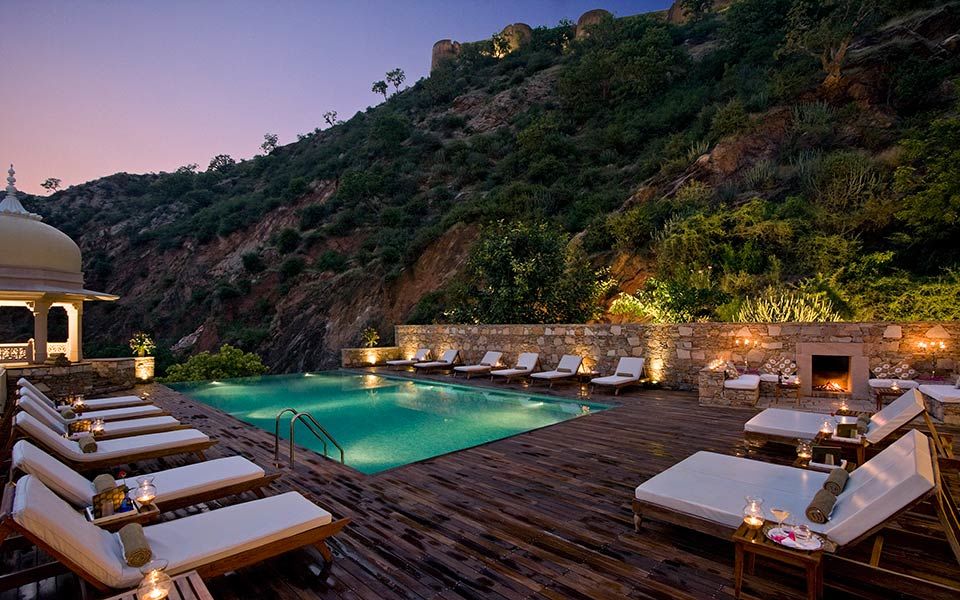 Not to forget the fully equipped Spa – with fitness center, a Sauna and Steam room and the most beautiful - mosaic pool – overlooking the mountains!
Oh! And the Pink City of Jaipur is just an hour's drive with all its famous attractions.