1. UMAID BHAWAN PALACE, JODHPUR
Residence: His Highness Maharaja Gaj Singh II, still lives in part of the 347-room Umaid Bhawan, built in the 1930s!
Highlights :Built over 26 acres of land, this grand and imposing yellow sandstone palace is one of the largest private and is topped by a 100ft-high dome. The terraces have gorgeous views of the old city of Jodhpur!
-This hilltop yellow sandstone structure, surrounded by gardens, blends the architectural styles of an English castle and a Rajputana palace!
-Half of this palace has been turned into a hotel, managed by the Taj group.
-You can also visit the palace museum (entry £15) and check out the antique furniture, arms, clocks and beautiful china vases, from the personal collection of the Maharajas of Jodhpur!
-Check out the swish subterranean spa and don't miss the hotel's legendary thali curries in the Risala restaurant!
Tariff- INR 30000 per night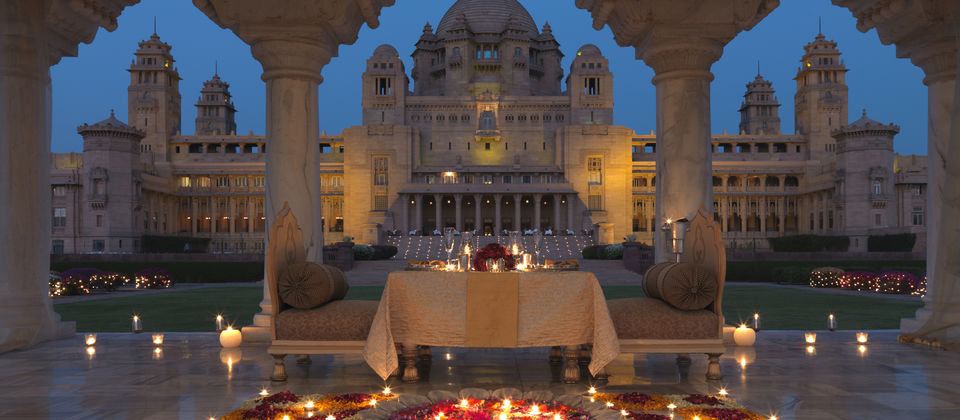 2. TAJ RAMBAGH PALACE HOTEL, JAIPUR
Residence: The Royal family of Jaipur stayed at Rambagh palace for 30 years, and used it as their hunting lodge until 1957!
Highlights: The Palace was built in 1835, then it was converted into an upscale palace hotel in 1957, and is managed successfully by the Taj group now.
-It's elegant rooms, majestic gardens and marbled corridors echo with history. For an extraordinary experience, request the Peacock suite, which overlooks the Mughal Terrace and the garden where the Maharaja used to celebrate Holi.
-Rambagh Palace, popularly known as the Jewel of Jaipur has seen the two week extravagant wedding of the only daughter of the Royal family, which has also made a place in the Guinness Book of Records as the World's Most Expensive Wedding.
Tariff-INR 28000 per night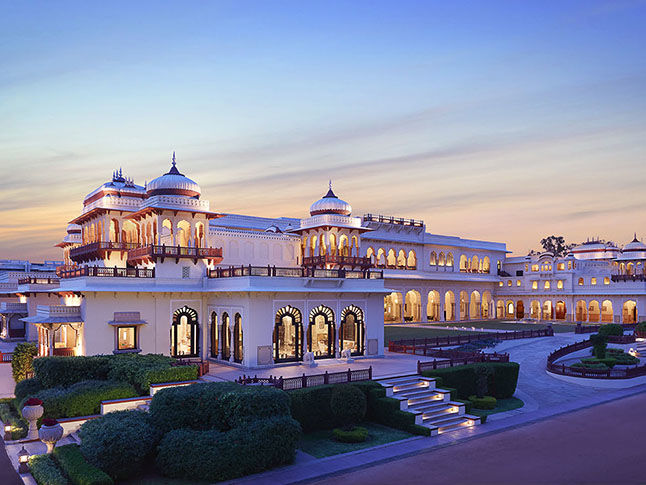 3. RAJ MAHAL PALACE, JAIPUR
Residence: Conceived by H.H Sawai Jai Singh in 1727 II as a private palace, Rajmahal Palace, one of the oldest and most treasured palaces in Jaipur, was built 250 years ago. Its breathtaking Durbar Mahal Suite was used by the Maharaja himself!
Highlights: Rajmata Padmini Devi got the palace restored in order to give a royal experience to the contemporary guests.
-The hotel is now managed by the Sujan group and has several tie-ups with safari camping and tour groups.
-The Swapna Mahal Restaurant with a majestic rare crystal chandelier has been royally decorated with real gold leaf work and is house to a crockery museum showcasing centuries old collections!
Tariff- INR 14000 per night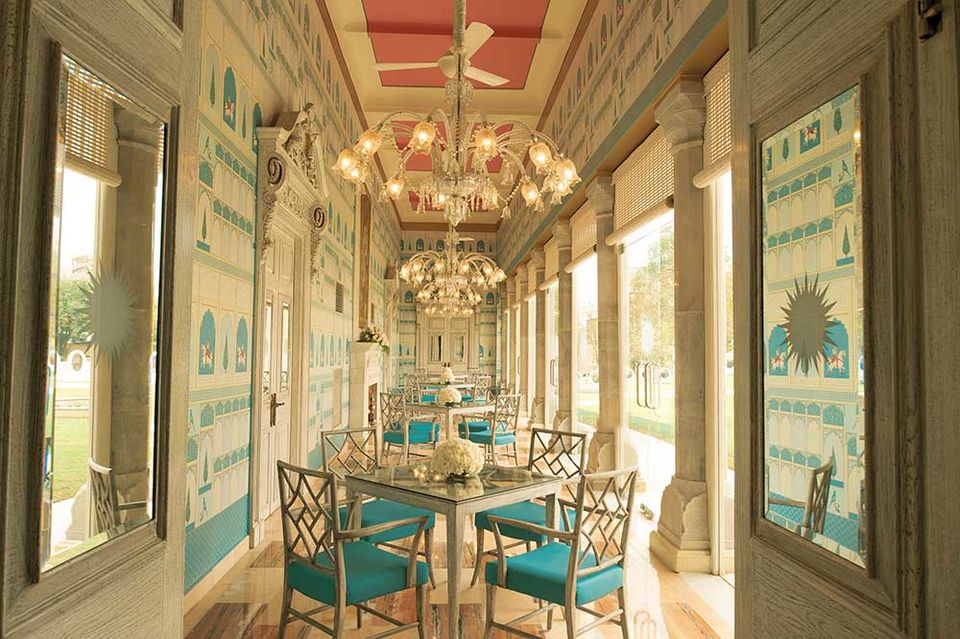 4. DEVIGARH PALACE, UDAIPUR
Residence: Nestled in the Aravali hills, the 18th Century Fort near Udaipur was the royal residence of the Delwara until the 20th century.
Highlights: The 18th century palace converted into luxury hotel, has opulent suites which are decorated with local marbles, semi-precious stones and a black marble swimming pool.
-The palace was empty and in ruins for about 20 years, later being acquired by an industrial family of Poddars from Shekhawati region of Rajasthan in 1984.
-The reconstruction of the palace started with a team of 750 people and took over 15 years for restoration. It is now managed by the Lebua Hotels and is a 39 rooms all-suite heritage hotel.
-The exteriors of the hill top palace look ancient but the interiors reflect a minimalist contemporary style.
Tariff- INR 15500 per night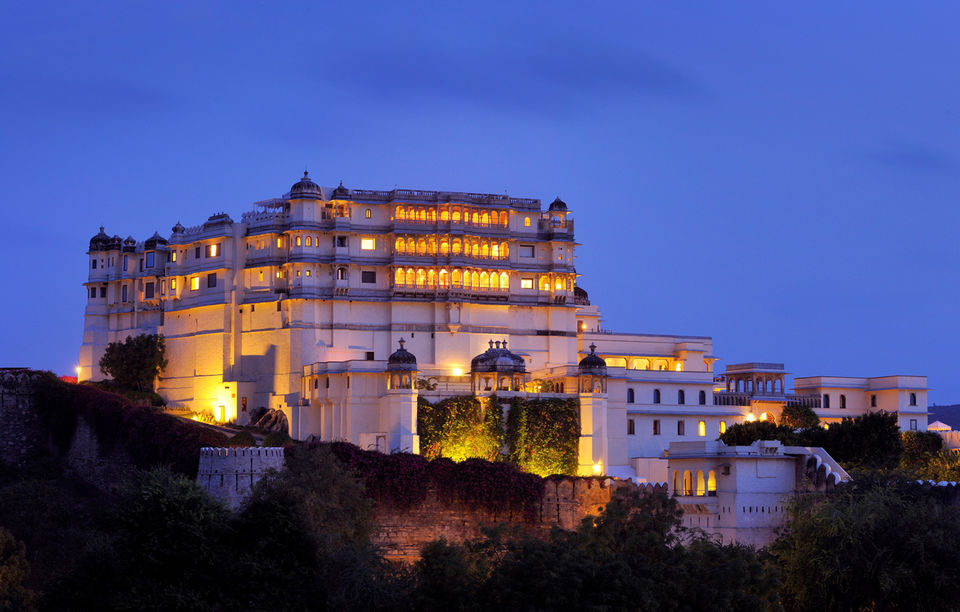 5. LAXMI NIVAS PALACE, BIKANER
Residence: His Highness Sir Ganga Singh Ji commissioned The Laxmi Niwas Palace in 1904.
Highlights: Built in 1904, the palace was host only to the most privileged people in the social order. Later it was converted into a luxury hotel inviting various guests to experience the opulence of the Bikaner Maharajas.
-Considered to be one of the most royal palaces of India, it boasts beautiful gold plated paintings and hand painted friezes.
-Stories have that architects like Lutyens and Baker were inspired by this mighty structure!
Tariff- INR 8,999 per night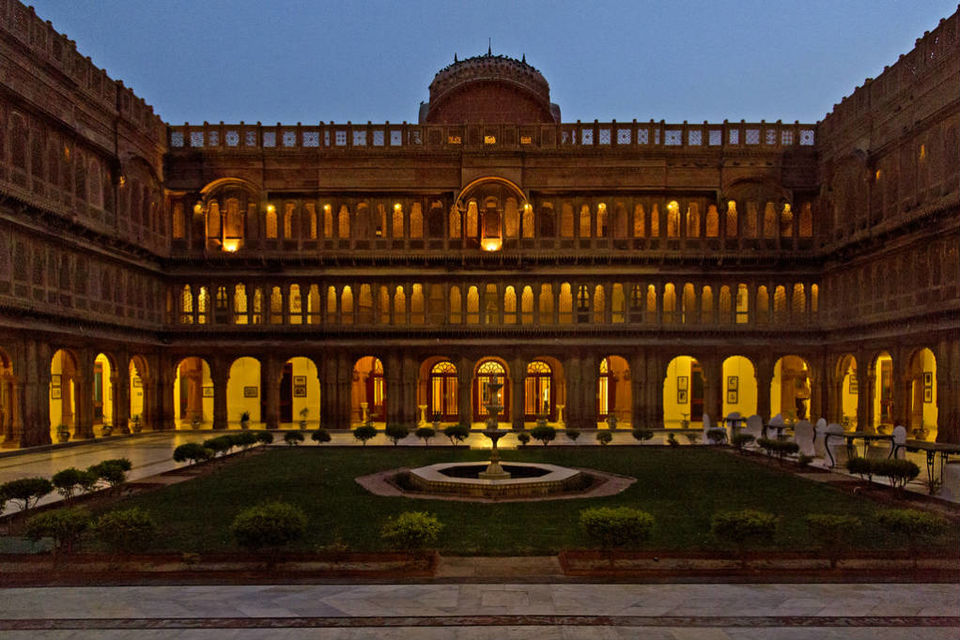 6. JAI MAHAL PALACE, JAIPUR
Residence: Set amidst 18 acres of landscaped Mughal gardens, this palace was built in the year 1745 A.D, and it previously served as the official residence of the Prime Minister of Jaipur.
Highlights: Jai Mahal Palace is an opulent 270-year-old Indo-Saracenic architectural masterpiece where you will experience unparalleled magnificence with extraordinary comforts!
-With a blend of elegance and heritage, the magnificent Jai Mahal Palace in Jaipur houses 94 luxury rooms and six distinct thematic suites.
-The miniature paintings, Rajasthani motifs and the opulent antique furniture will give you an experience of unmatchable regal lifestyle at this hotel!
Tariff- INR 12,600 per night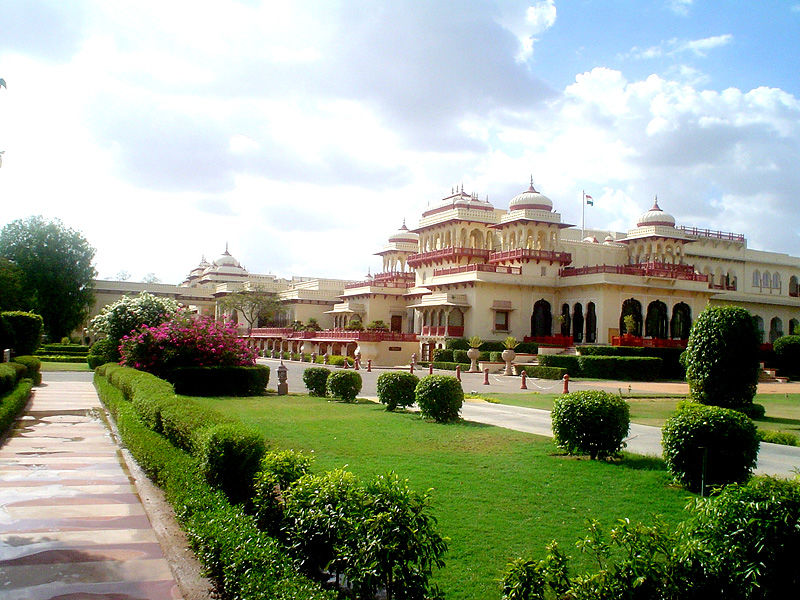 7. TAJ LAKE PALACE, UDAIPUR
Residence: Earlier known as Jag Niwas, on the name of Maharaja Jagat Singh II, The Lake Palace was built between 1743 and 1746 under his direction as a summer palace.
Highlights: In 1963, Maharaja Bhagwat Singh turned Jag Niwas into Udaipur's First Luxury Hotel and in 1971 transferred its management to the Taj Group of Hotels.
-This ultra-luxe white marble hotel has been repeatedly voted as the most romantic hotel in India and in the world!
-The famous James Bond Film "Octopussy" was filmed on the premises of this majestic Heritage Property.
-The 'Royal Butlers' working in the hotel today are descendants of the original palace retainers – who served the maharajas in their time!
Tariff- 20,079 per night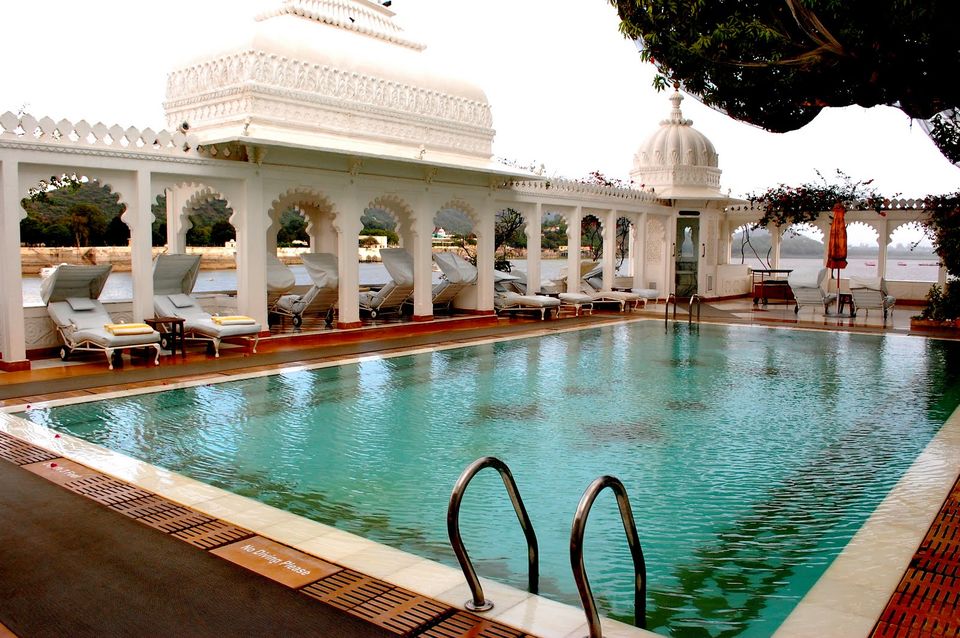 8. SAMODE PALACE, JAIPUR
Residence: Samode haveli was built by Rawal Sheo Singh more than 150 years ago as a resort for the royal family.
Highlights: In 1987, it was converted into the heritage "Samode Palace Hotel".
-Built along the Aravali ranges, Samode Palace combines the architectural styles of the Rajputs and Mughals.
-The 475 year old Samode Palace is known for its courtyards, intricately painted frescoes, marble tiled infinity pool, hand-painted walls, silver armchairs, chandeliers and lounges that boast exquisite mirror work.
-The royal suites have their own Jacuzzis and private gardens. Also, don't forget to check out the Sheesh Mahal!
Tariff- INR 6300 per night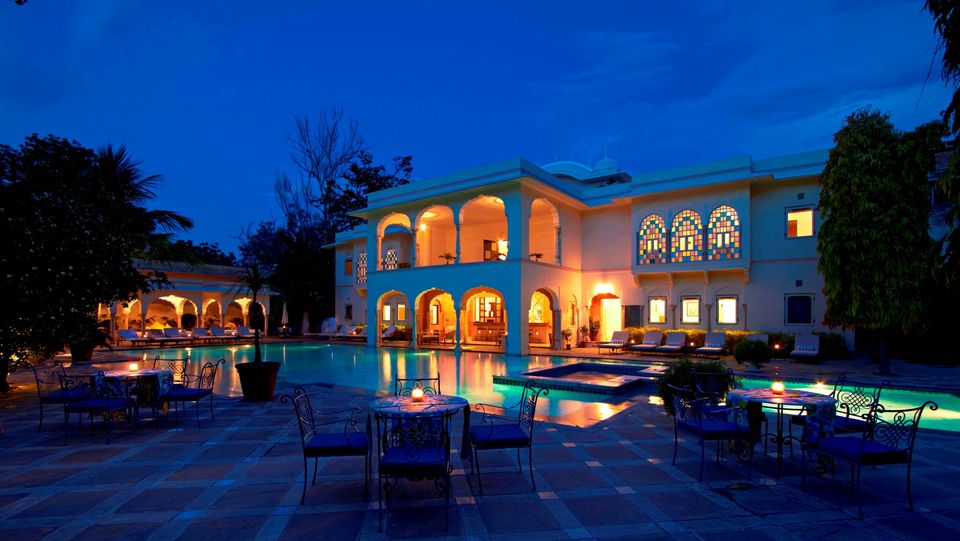 9. DEOGARH MAHAL, RAJASTHAN
Residence: Built by Dwarka Dasji in 1670 A.D, Deogarh Palace was transformed into a heritage hotel by the present owner Rawat Nahar Singh and a part of the Mahal is still occupied by the family members.
Highlights: Standing proudly on a hilltop in the Aravalli ranges, the luxurious Deogarh Mahal, surrounded by several lakes and landscapes, is an epitome of the heritage hospitality of Rajasthan!
-The property offers contemporary facilities with a touch of history. You will witness gun enclosures, huge domes, jharokhas and gigantic entrances!
-Each room reflects a different era, and the decor reflects the Rajput era with its domed ceiling, carved pillars, beautiful wall designs and intricate carvings!
Tariff- INR 9929 per night

10. NEEMRANA FORT, ALWAR, NEEMRANA
Residence: The site for Neemrana Fort was chosen by Raja Rajdeo and the fort is built since 1464 AD
Highlights: Located at a 3 hour drive from New Delhi, this Mahal is an exceptional work of architectural magnificence, complete with graying battlements, domes, jharokas and gun enclosures!
-You will witness Hanging gardens, beautiful swimming pools, an Ayurvedic spa, and India's first zip-line!
-It is built since 1464 AD but in 1947, the façade of the fort crumbled, forcing its ruler Raja Rajinder Singh to move away from the place. He tried selling off this property for forty years but all efforts went in vain.
-It was later spotted by Aman Nath & Francis Wacziarg in 1977, who established a company by the name of Neemrana Hotels which is now successfully managing the heritage property since then.
Tariff- INR 8,531 per night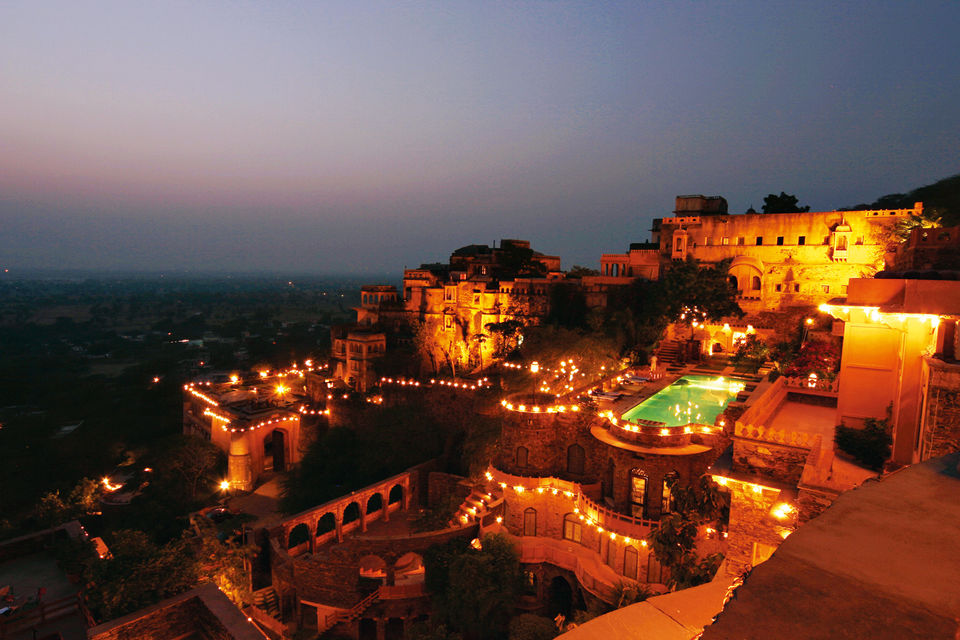 11. TAJ FALAKNUMA PALACE, HYDERABAD
Residence: Falaknuma Palace was the residence of the Nizam of Hyderabad and it brings a waft of the Venetian renaissance to Hyderabad.
Highlights: Taj Falaknuma Palace sits on a hill 2,000 feet above overlooking Hyderabad and is lauded as one of the most beautiful palaces in India.
-Venetian crystal chandeliers, rare furniture, Roman pillars, marble staircases, priceless interiors, majestic statues and art works are just some elements that describe the hotel.
-The library of the Nizam is said to house one of the rarest versions of the Quran.
-You will witness Mughal, Rajasthani and Japanese gardens personally conceived by the Nizam!
Tariff- INR 30000 per night
12. AHILYA FORT, MAHESHWAR
Residence: In the year 2000, Prince Richard Holkar, the son of last Maharaja of Indore and his American wife converted Ahilya Wada into a posh guest residence known as Ahilya Fort.
Highlights: Maharani Ahilya Bai Holkar ruled this place from 1765 to 1796 and built Ahilya Wada, now converted into Ahilya Fort.
-About 250 year old, the fort rests on the edge of a cliff, giving a wide view of the Ghats below and the mesmerising view of the sacred river Narmada.
-The fort houses shaded verandas and courtyards on separate levels that are linked by stone walkways, centuries old buildings, hidden terraces and numerous beautiful gardens with homegrown vegetables. Also, the prince still lives in a part of the Fort!
Tariff- INR 34,800 per night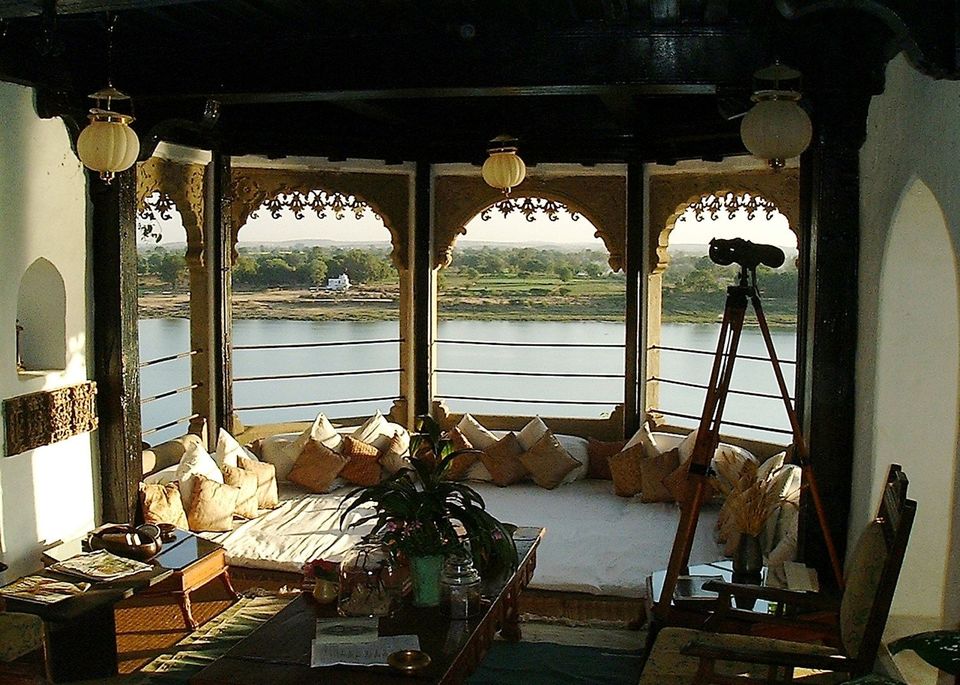 13. RATAN VILAS, JODHPUR
Residence: Built in 1920, one of the finest heritage hotels in the Jodhpur city, Ratan Vilas continues to be the home to the grandson of Late Ratan Singhji, Maharaja Bharat Singhji and his family.
Highlights: A grand villa converted into a hotel, which offers 15 well furnished and aesthetically decorated rooms, Ratan Vilas boasts of providing luxurious stay and traditional hospitality to its guests.
-Decorated with old photographs, paintings and authentic furniture, Ratan Vilas will offer you delicately carved exteriors and splendid interiors, taking you to the bygone era!
-At Ratan Vilas you will soon find yourself getting accustomed to the legendary Rajput hospitality; whether you are in the drawing room amongst fascinating old photographs and family portraits or whether you are relaxing in the garden under the soothing shade of a seasoned Neem tree!
Tariff- INR 5014 per night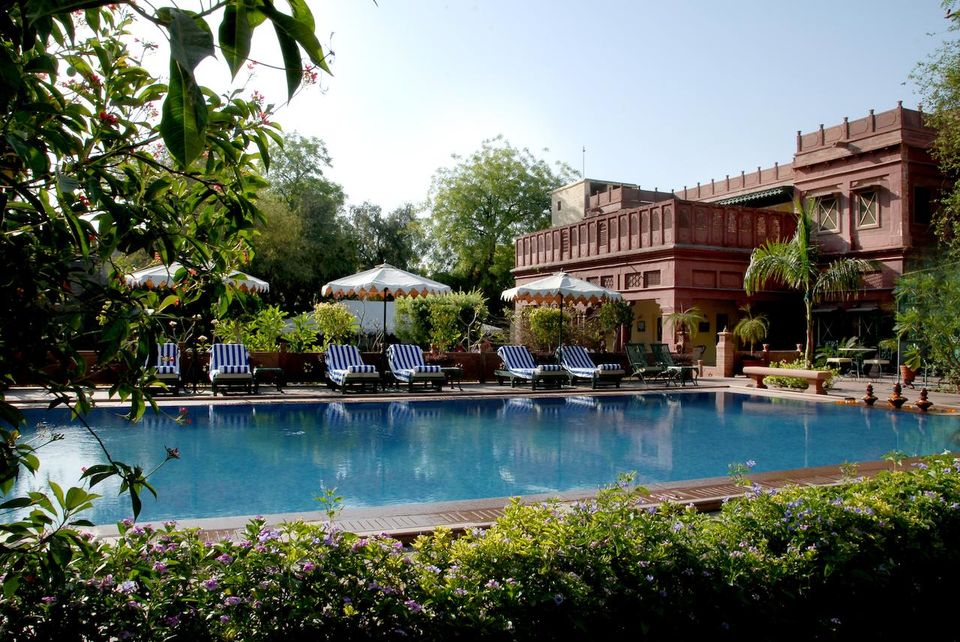 14. AJIT BHAWAN, JODHPUR
Residence: Ajit Bhawan was built in 1927 exclusively for the Maharadhiraj Sir Ajit Singhji, the younger brother of Maharaja Shri Umaid Singhji of erstwhile Jodhpur State.
Highlights: Ajit Bhawan decades later was re-opened as one of the leading Heritage Hotels of India by his Son and daughter-in-law- late Maharaja Swaroop Singhji and Rani Usha Devi respectively.
-A beautiful blend of regal lifestyle and royal elegance, it is located near the popular Umaid Bhawan, and it offers well-equipped luxurious accommodation including rooms, suites and tents.
-It is now well fitted with world-class luxuries to match the taste of contemporary guests from all across the world!
Tariff- INR 9800 per night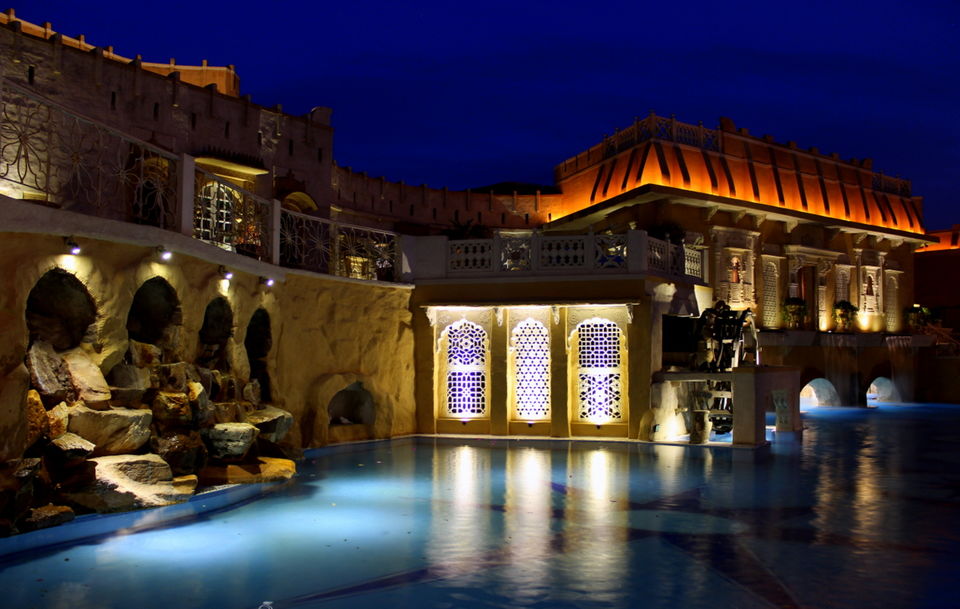 15. ALSISAR HOTEL, JHUNJHUNU
Residence: Earlier Alsisar Mahal was the residence of the Thakur of Alsisar.
Highlights: Alsisar Mahal, spread over a lush 10 acre plot, has now become an ideal base to explore the old historic capital of Jhunjhunu and also the entire region of Shekhawati.
-Set in the pristine heritage village of Alsisar in Rajasthan, Alsisar Mahal is a battle hardened palace that has been aesthetically redesigned
and refurbished into a luxurious hotel in the year 1994.
-Antique furniture, expansive paved courtyards, quaint lawns, medieval delicate Rajasthani motifs on the fabric and intricately carved poster beds all blend together and create a flavour of luxurious living!
-All those time aged trees will enchant you in their spells, taking you back to the royal era!
Tariff- INR 8500 per night