He: I need a break! Let's go somewhere
She: (super excited) How many days? (the mind saying --do not waste time, grab the opportunity and plan)
This is a typical scenario that is so relatable to working people :) and this is also how it all began.
This time around I wanted to travel to some less or unexplored places. With a little bit of research (read forts & palaces being the selection criteria) I narrowed down to Bundi and Jhalawar! A few may have heard about Bundi but Jhalawar is least known. Once you read my posts on them you will understand why I chose them :)
About Bundi
The city is part of the Hadoti region of Rajasthan. The Hadoti region comprises of Kota, Bundi, Jhalawar and Baran. In earlier days this was known as the Bundi Kingdom. Geographically this region is well placed with the Marwar & Malwa plateau and Aravallis hills surrounding it. River Chambal and many of its tributaries flow into this region making the soil fertile, making it the green region of Rajasthan.
In ancient times Bundi and its surrounding places was inhabited by many local tribes, of which the Meena tribe was the most prominent. In fact the city was named after the Meena tribal king Bunda Meena. Later on, in mid 1300s Rao Deva Hada of the Hada Rajput took Bundi from Jaita Meena and renamed the area as Haravati or Haroti.
Coming back to our trip, we had reached Bundi in the wee hours of morning and found the place safe to commute. Tuk Tuks are easily available and you will find stationed policemen at regular distance.
Below is a brief peak into what all one can do in Bundi. An individual post on most of them shall follow soon, one by one, so remain glued.
Explore Bundi
The city retains its old world charm, simplicity and slow pace. Narrow lanes, blue houses, colorful turbans and bright attires of women adding splashes of colors here and there. It is a less visited place by the domestic tourists (unlike to a few predictable places of Rajasthan) though quite popular with the foreign tourists.
The place has some fantastic architectural as well as artistic delights like the Garh or Bundi Palace; Chitrashala; Taragarh Fort; over 50 baoris or step well among which Rani ji ki baori is the most well maintained and visited; Dabhai ka Kund. Other attractions are the Nawal & Jait sagar; Sukh Mahal & Museum; 84 pillared centopah and some other monuments like Phool Sagar, Kshar Bagh & Shikhar Burj which are personal property of the descendants of the royal family thus out of touristy domain.
Garh or Bundi Palace, is built over a side of the hill. If you see it from the fort (higher above) it seems like it is hanging. Rudyard Kipling described it as 'the work of goblins rather than of men'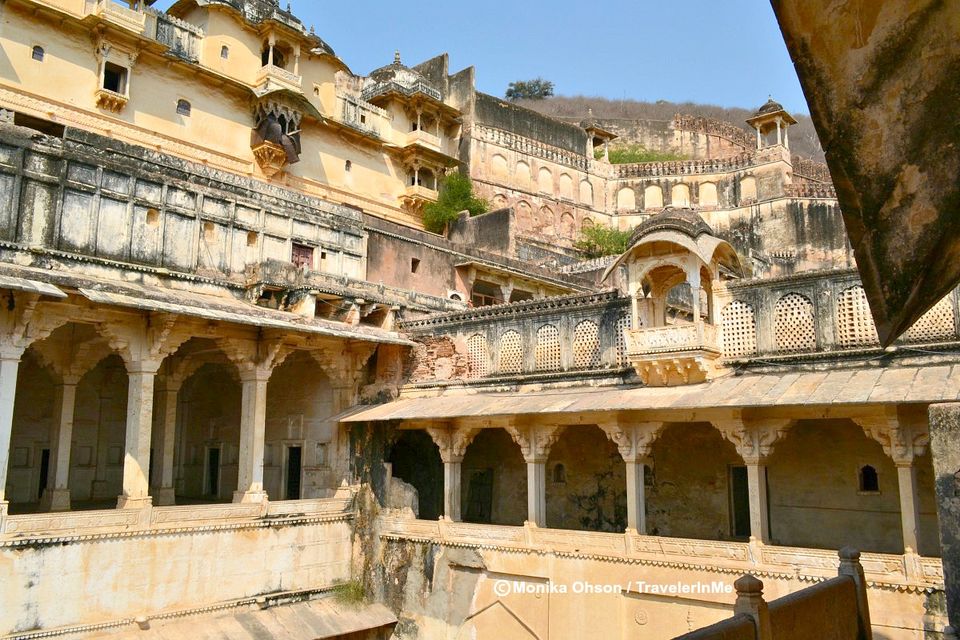 Chitrashila or Ummed Mahal of Bundi is a beautiful gallery of Rajasthani miniature murals. The walls and the ceiling are covered with murals. This is the only monument under ASI in the fort and palace complex. Seen here L-R Gajendra, the king of the elephants being rescued by Lord Vishnu & the layout map of Nathdwara temple with Shrinath ji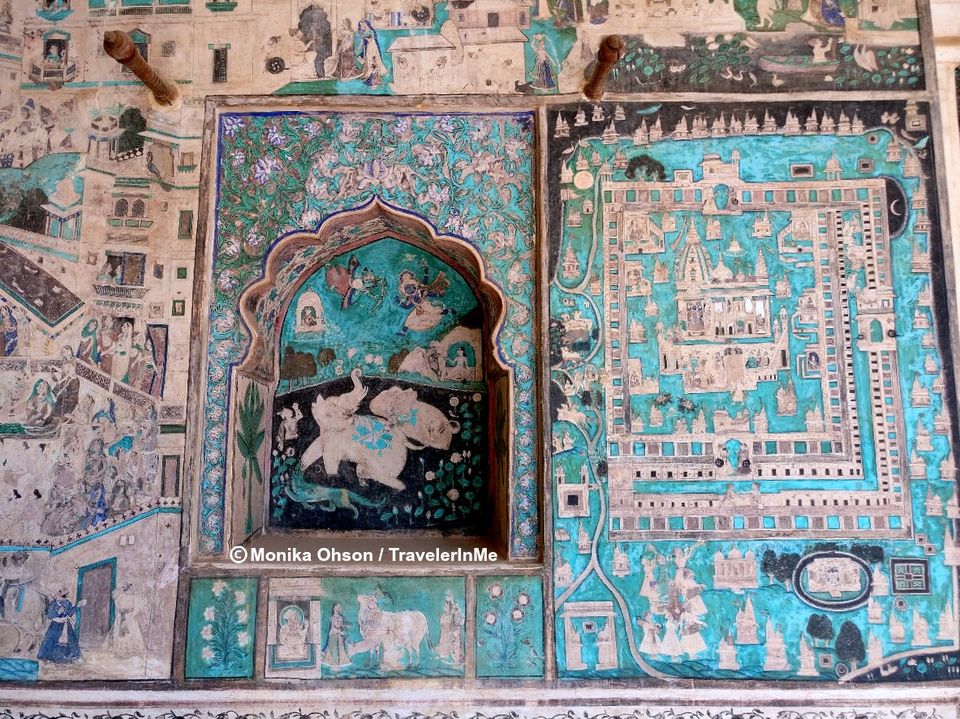 Taragarh Fort is built on top of a steep hill overlooking the city. Also refereed to as the 'star' fort. The trek uphill to the fort can be taxing for those not physically fit. Read more about it here
Dabhai Ka Kund is also known as the 'jail kund' and resembles an inverted Egyptian Pyramid. 'Kund' means "tank or small reservoir in which rainwater is collected"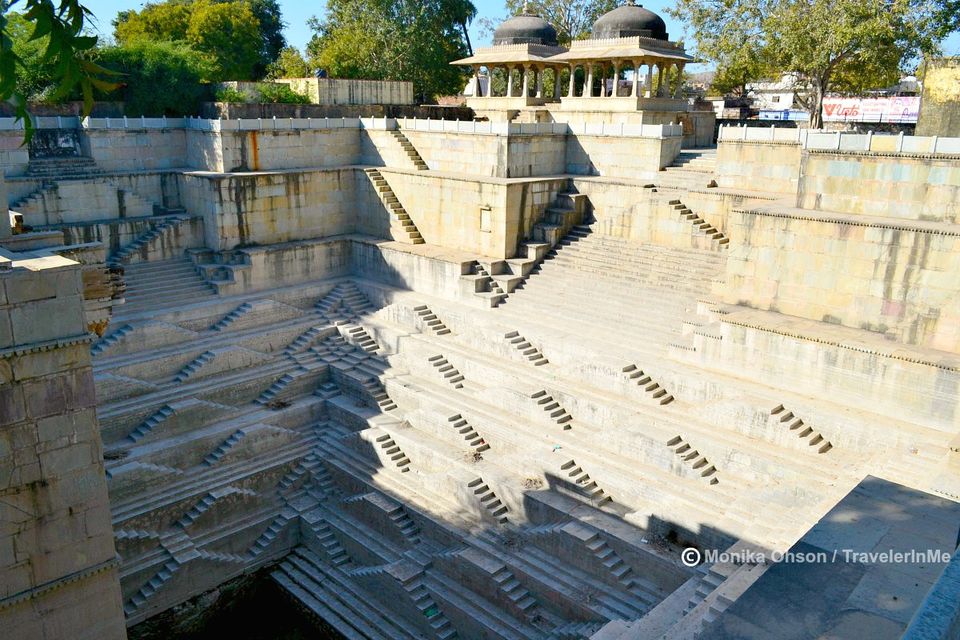 Explore Bhimlat
Bhimlat is ~35 kms from Bundi and lies in the Bhilwara District of Rajasthan. The place is steadily finding its way up as an attraction around Bundi for its wetlands, canyons, water falls and cave rock paintings.
Its interesting to note that Hadoti is a second home for the migratory birds from China, Russia, Ladakh and other European countries. During monsoon the Bhimlat Wetlands is fully submerged in water. The migratory birds are seen both during monsoon and winter. We saw pelicans, storks, drongo, Indian Roller and cranes.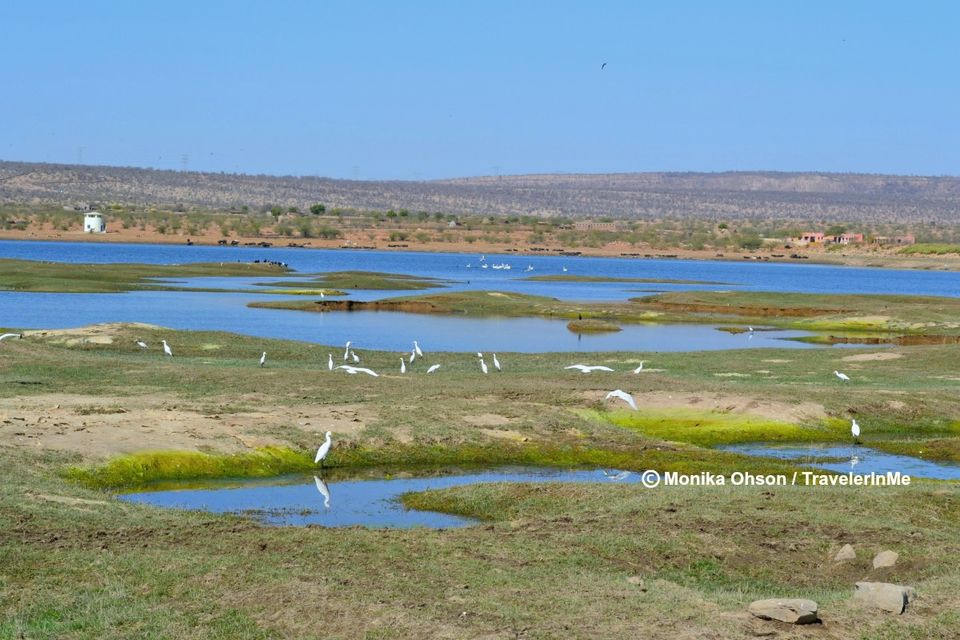 Bhimlat Canyons, is a long stretch of rugged and rocky terrain surrounded by dry plateau forest. We had a long walk along it to the cave & fall - a good mix of information & adventure.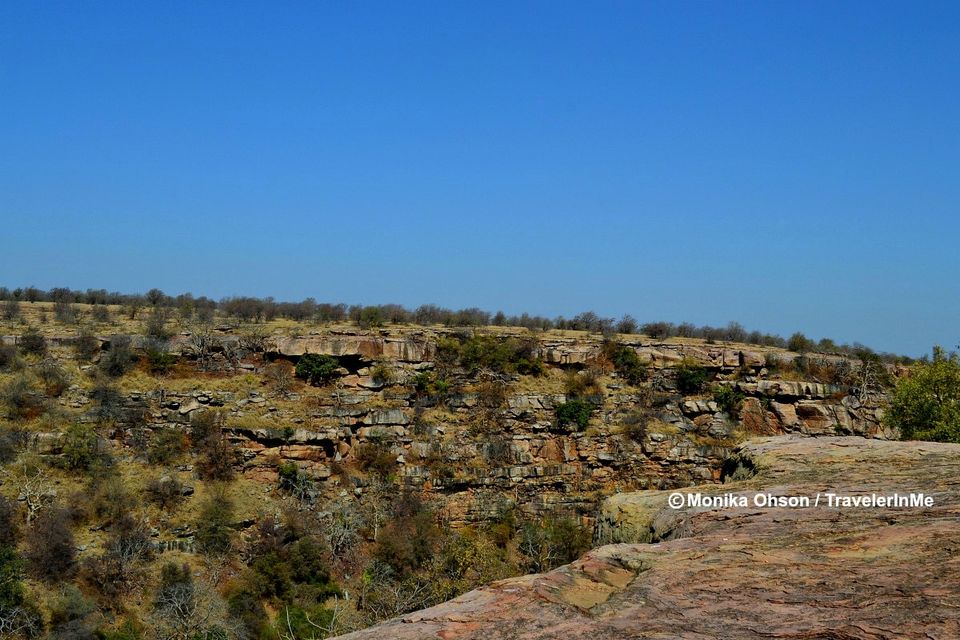 Bhimlat Cave Rock Painting (Kukki's site) was an exclusive experience! We saw one of the cave rock paintings site with its 'discoverer'. Archaeological Survey of India (ASI) is said to have given him the status of an 'honorary archaeologist' Read more about it here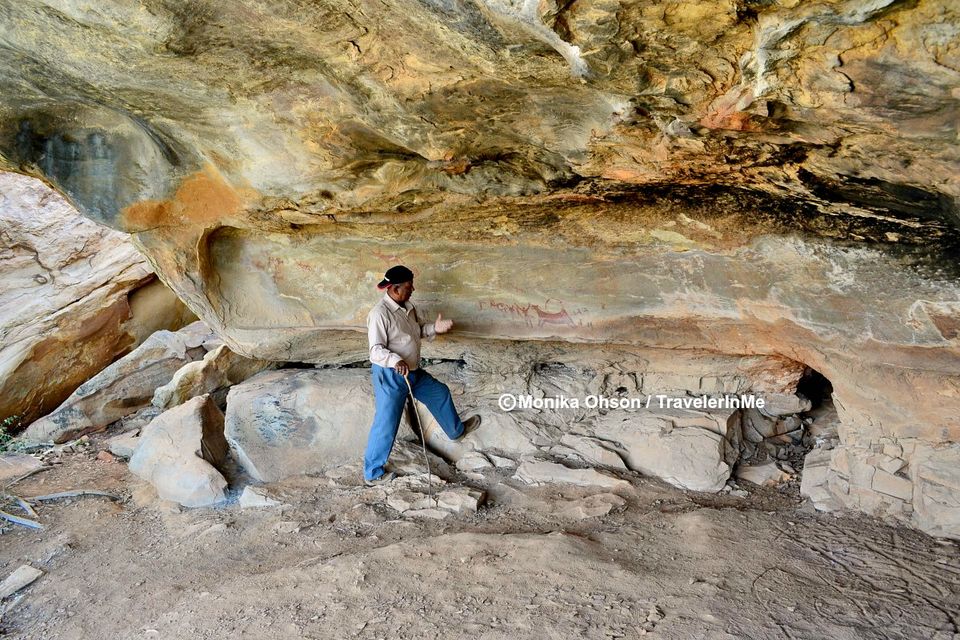 Bhimlat Waterfalls, is a sight to behold in the monsoon. The water to the falls reaches from a dam near a lake. By the time its winter the falls reduce (ref pic: you can see only a small portion of it now)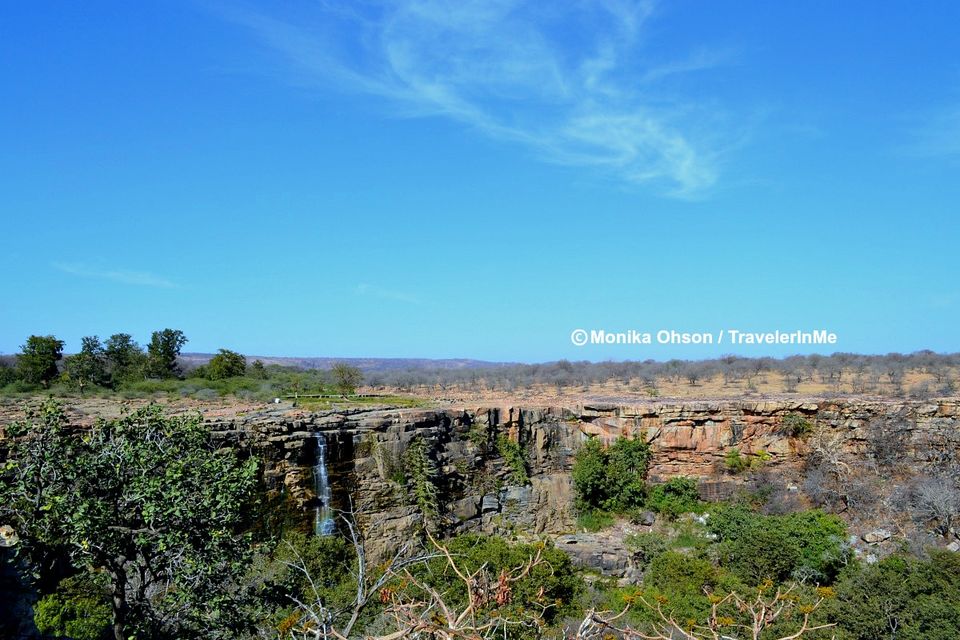 Bijolia Group of Hindu Temples namely Mahakaal, Hazareshwar and Undeshwar Temples. These temples dedicated to Lord Shiva are ~800 yrs old (12th century). Bijolia is located ~55 kms from Bundi and comes in the Bhilwara District.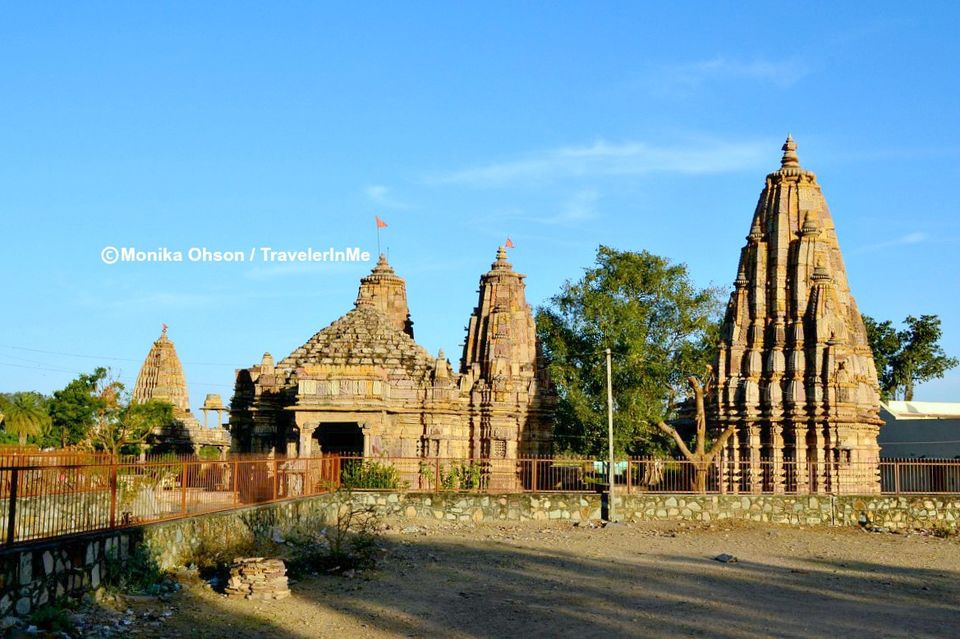 We stayed at Bundi Haveli, a well kept heritage property with close proximity to most of the monuments and impeccable service. (One of the rooms as shared in the picture)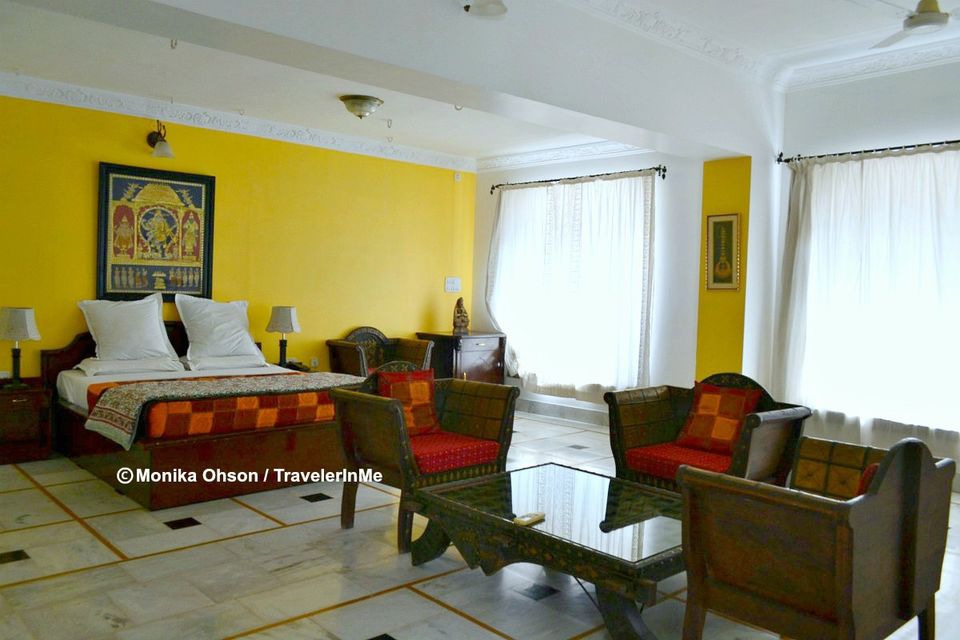 Others
Nawal Sagar, is an artificial lake that can be seen from the Taragarh Fort. There is a half-submerged temple of Lord Varun Dev in its centre. One can relax at one of the eating joints around it and soak in the view of the city, fort and palace along with their reflection in the sagar. (In the pic: A view of the Nawal Sagar....do you see some garbage floating in the water... its shameful we cannot keep our surroundings clean. Even the less visited places have litter!!)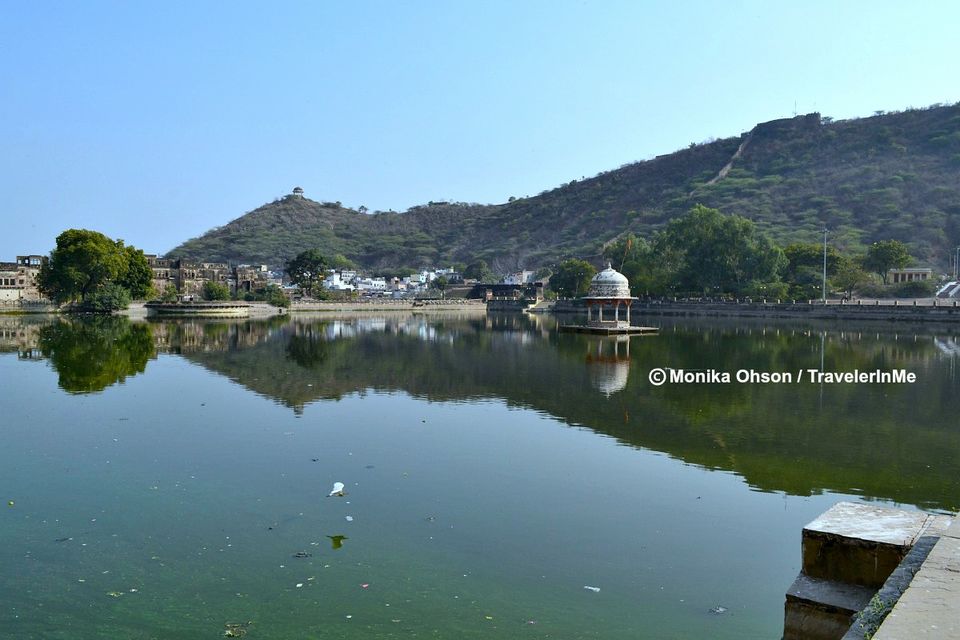 Sukh Mahal is located on the periphery of Jait or Sukh Sagar (Lake) and was built by Umed Singh. There is a folklore that states that the old palace and Sukh Mahal are connected through an underground tunnel. It is said that this palace was built for princes' "indulgences". Somehow this place did not appeal to me and I guess one can give it a miss if there are better options to utilize time.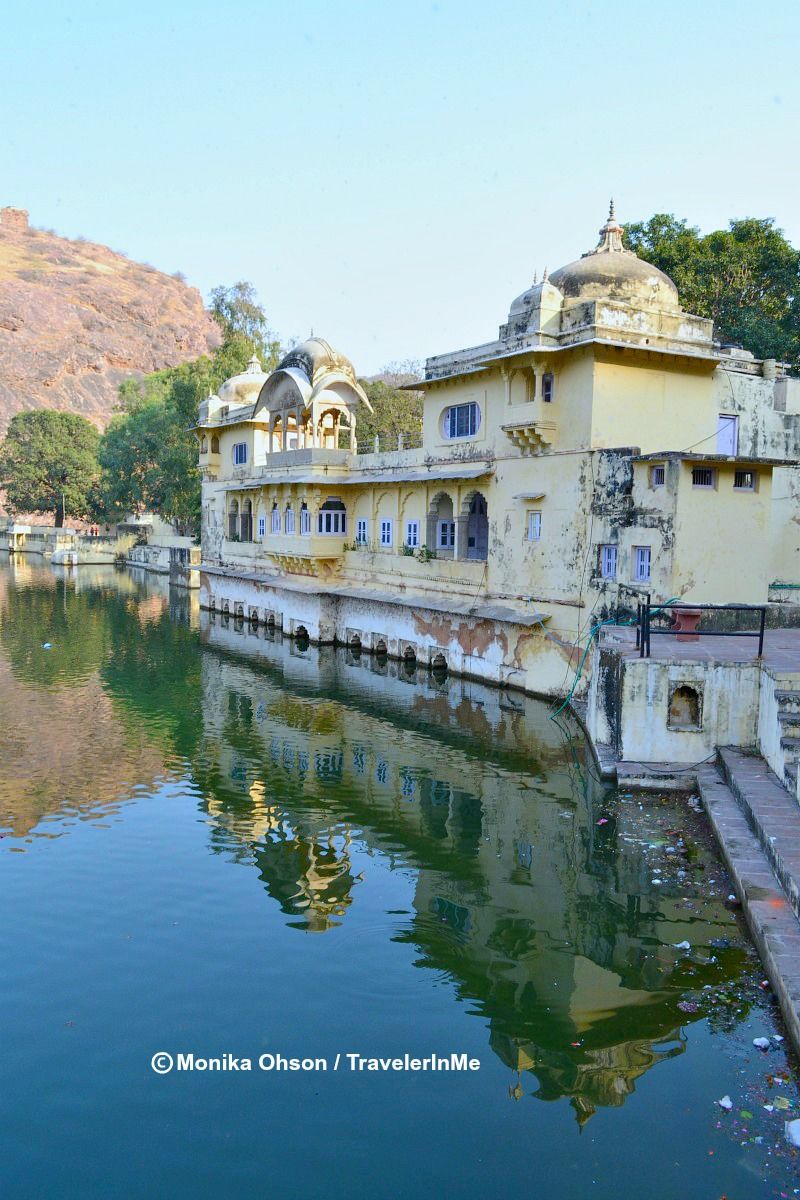 We were unfortunate and highly disappointed to have missed Rani ji ki Baori which was under renovation hence tourists were not allowed. I wish they had planned it in such a way so as to avoid the tourist season. On a positive note, maybe another trip to Bundi is slated haha haha!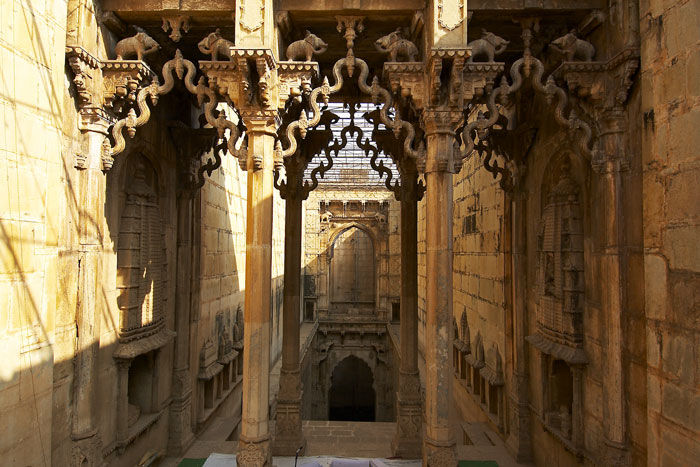 Now I will let some photos speak: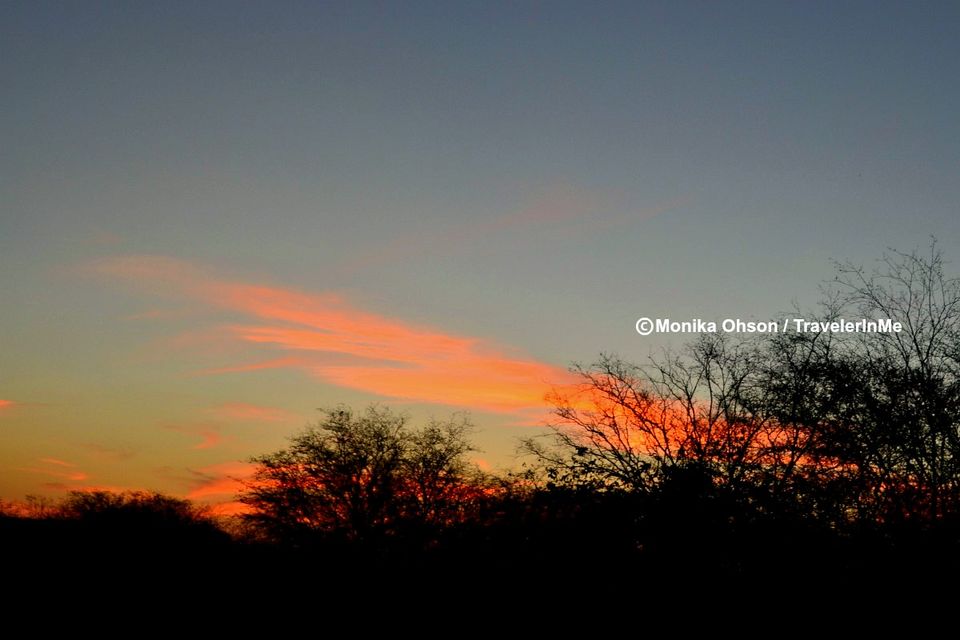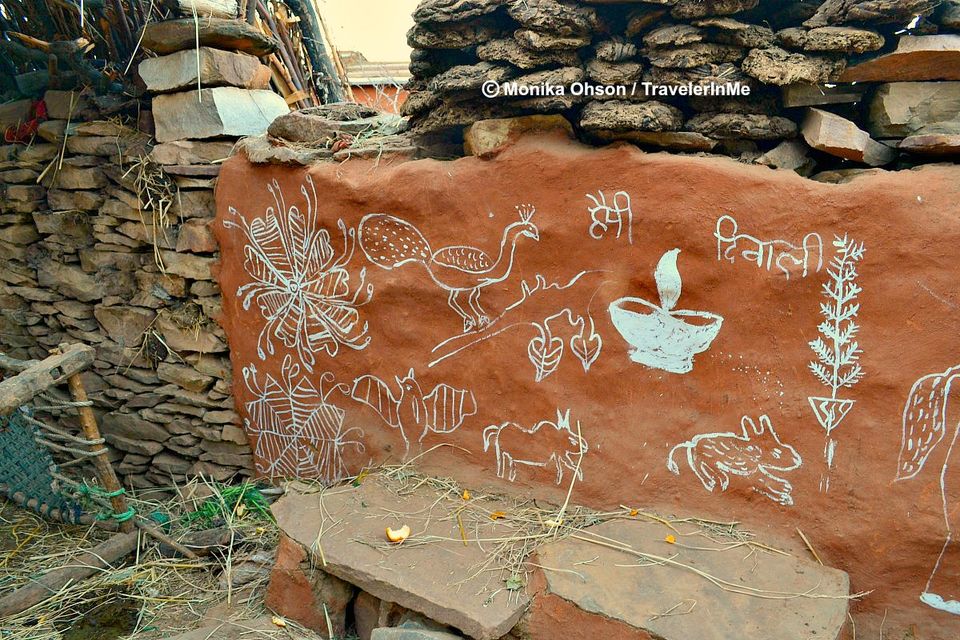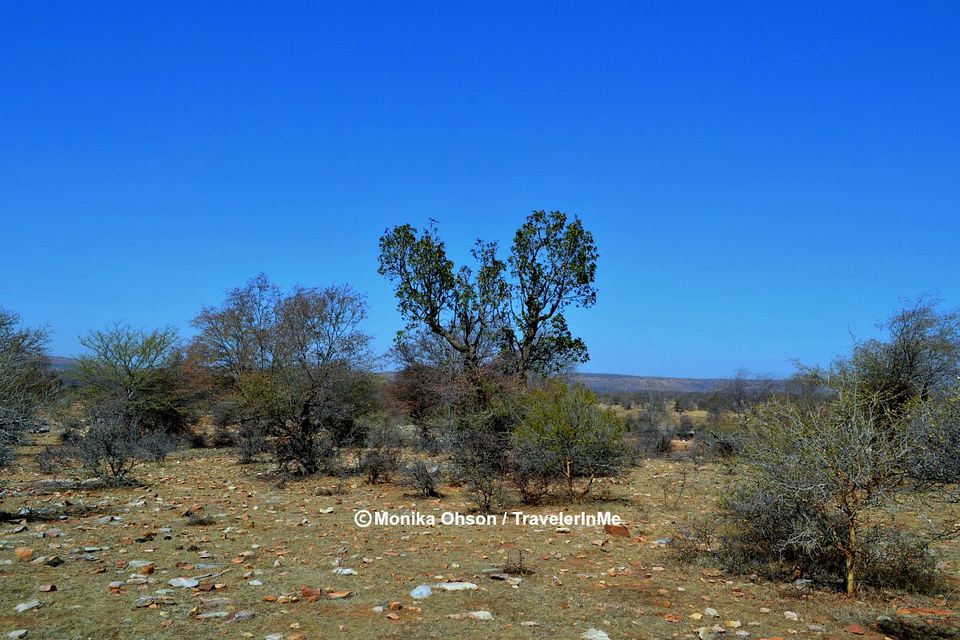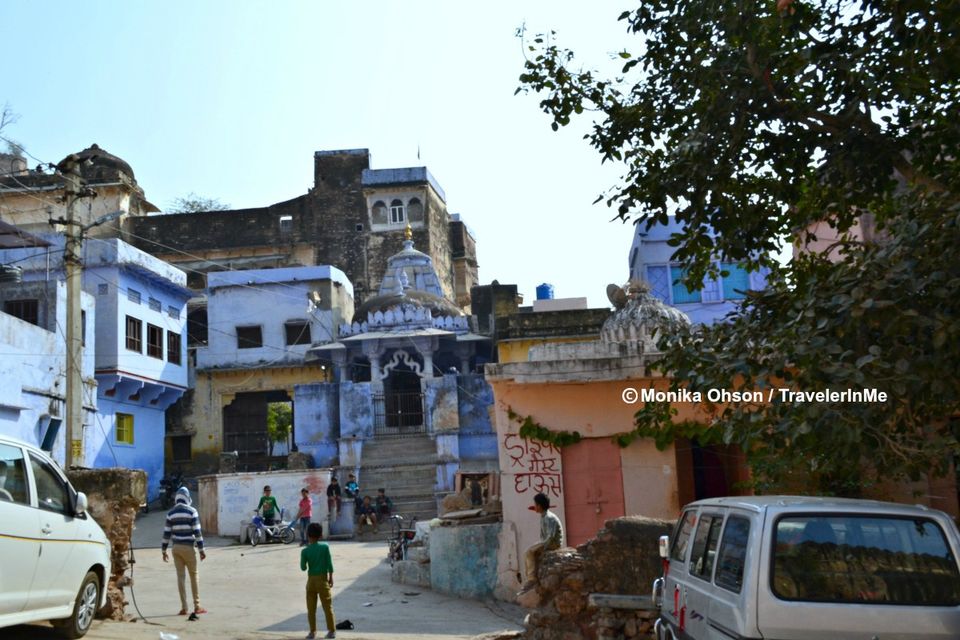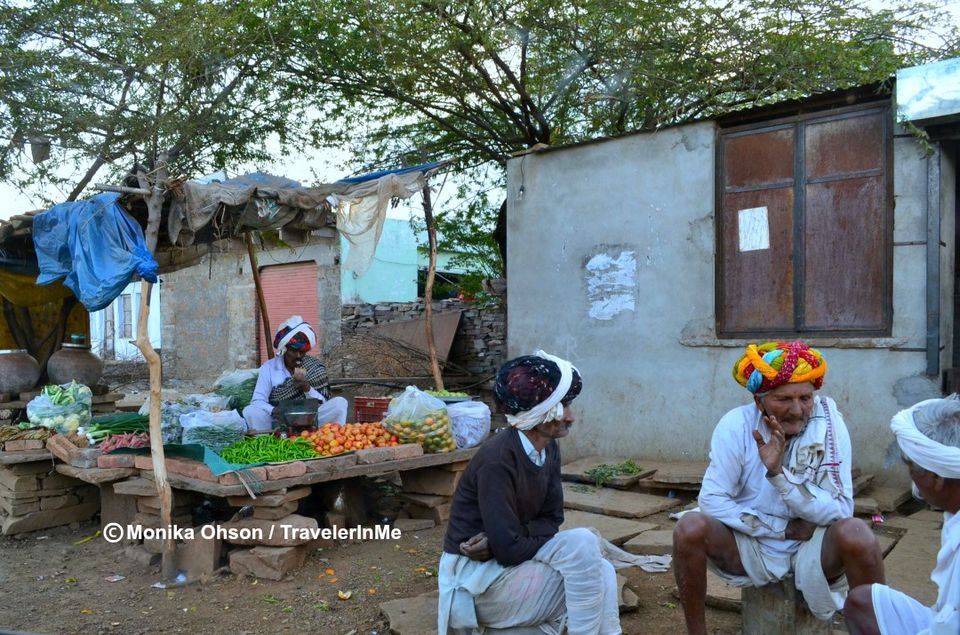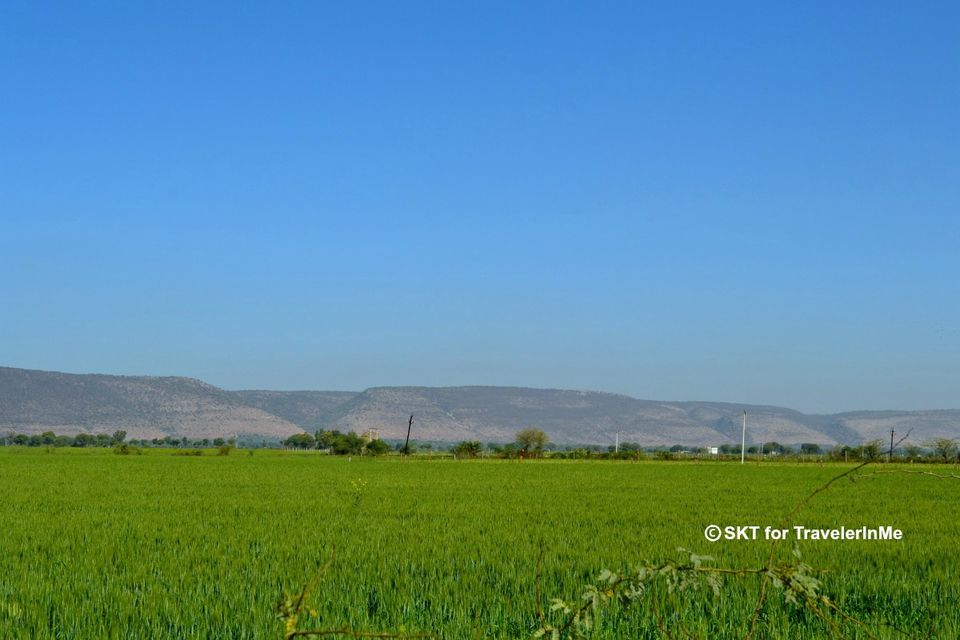 HAPPY TRAVELLING!
Monika Ohson | TravelerInMe
This post was first published on my blog TravelerInMe
Frequent Searches Leading To This Page:-
rajasthan tour packages price, rajasthan packages, rajasthan travel package, rajasthan honeymoon package, rajasthan package tours, rajasthan tours packages