Incredible, extraordinary, mind-boggling - these are the adjectives that comes to my mind every time I think of Lake Tahoe, which effortlessly surpasses any attempt to describe its sheer beauty.
Resting on the California-Nevada border, this mesmerizing destination attracts around 15 million visitors annually. With its stunning granite cliffs, towering mountains, and pristine waters, Lake Tahoe has rightfully earned its reputation as one of the most breathtaking bodies of water in the United States.
Why should you visit Lake Tahoe?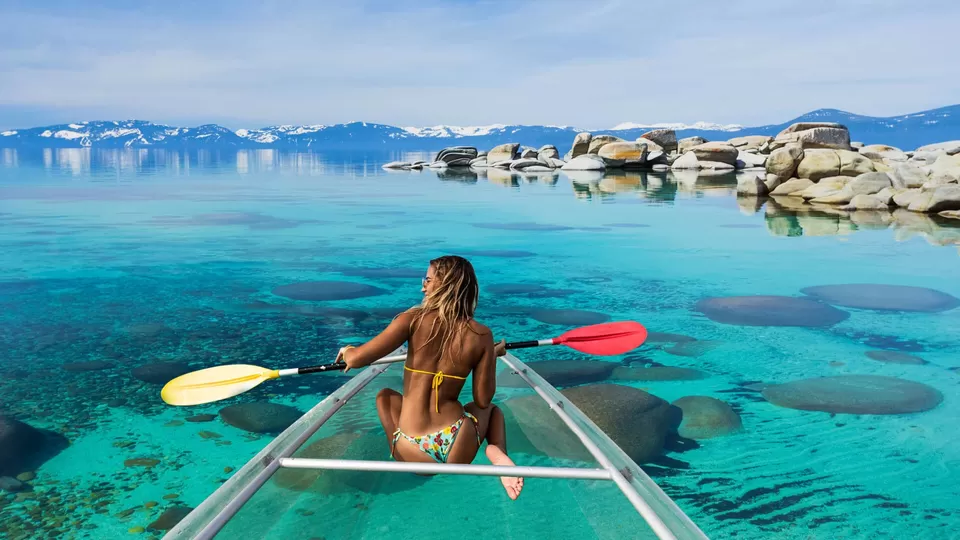 Nature's Masterpiece:
The primary allure of Lake Tahoe is, undoubtedly, its unrivaled natural beauty. The crystal-clear waters, reflecting shades of mesmerizing blue, create a sense of serenity and awe.
The steep granite cliffs that encircle the lake and the majestic mountaintops provide a dramatic backdrop, leaving visitors spellbound. Whether you're gazing across the vast expanse of the lake or standing atop one of the surrounding peaks, Lake Tahoe never fails to leave a lasting impression.
Endless Outdoor Adventure:
Lake Tahoe is a playground for outdoor enthusiasts. The region boasts an extensive network of hiking trails that cater to all skill levels. From leisurely strolls to challenging summit hikes, there's something for everyone. Be prepared to discover hidden waterfalls, alpine meadows bursting with wildflowers, and breathtaking panoramic vistas that will take your breath away.
For winter enthusiasts, Lake Tahoe is a paradise. The area is home to several world-class ski resorts offering impeccable slopes for skiers and snowboarders of all levels. Picture yourself gliding down powdery trails with the stunning lake as your backdrop, and you'll understand why Lake Tahoe is renowned for its exceptional skiing and snowboarding opportunities.
A Tapestry of Experiences:
Lake Tahoe is not just about natural beauty; it's a destination that effortlessly blends city-style amenities with mountain charm. On the north shore, you'll discover upscale shopping and dining experiences reminiscent of San Francisco. Treat yourself to a day of indulgence, exploring boutique stores and savoring delectable cuisine in picturesque lakeside settings.
Meanwhile, on the south shore, you'll encounter a vibrant and lively atmosphere reminiscent of Reno's famous casinos. Test your luck at the gaming tables or enjoy the energetic entertainment options that Lake Tahoe has to offer.
How to reach Lake Tahoe?
Lake Tahoe is easily accessible from various locations.
If you're arriving by air, the closest major airports are Reno-Tahoe International Airport (RNO) in Nevada and Sacramento International Airport (SMF) in California. From there, you can rent a car or take a shuttle service to Lake Tahoe, which is approximately a 1.5 to 2-hour drive.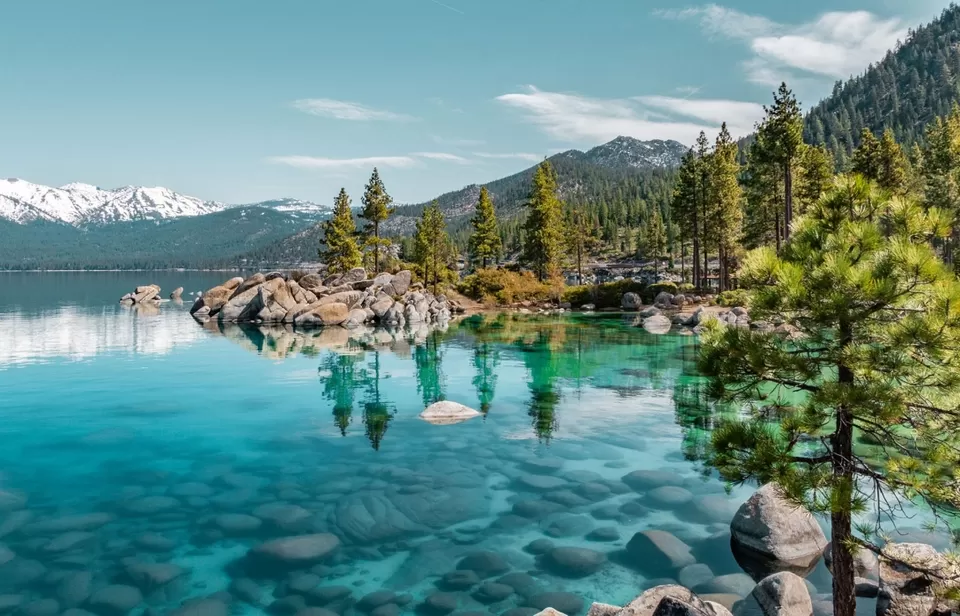 Check out this 48 Hour Guide to explore the best of Lake Tahoe:
Day 1: Embracing Nature's Playground
Morning: Start your day with a hearty breakfast at a local favorite, like The Red Hut Café in South Lake Tahoe. Fuel up with a mouthwatering stack of pancakes or a classic eggs benedict, and don't forget to sip on a steaming cup of coffee to kick-start your adventure.
Mid-Morning: Begin your exploration by heading to the heavenly Emerald Bay State Park. Take a leisurely hike along the Rubicon Trail, a picturesque path offering panoramic views of the bay and the iconic Fannette Island. Explore the historic Vikingsholm Castle, a Scandinavian masterpiece tucked amidst the pristine surroundings. Be sure to capture plenty of Instagram-worthy shots to share with friends and family.
Lunch: Recharge with a picnic at Sand Harbor Beach, known for its glistening sands and turquoise waters. Pick up some delectable sandwiches, fruits, and snacks from a local deli or market, and bask in the sun while enjoying a leisurely feast. Take a refreshing dip in the lake or simply relax and soak up the serene atmosphere.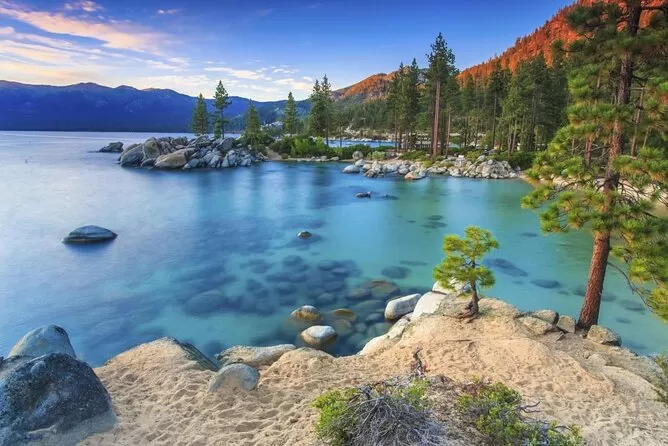 Afternoon: Gear up for an adventure on the water! Rent a kayak or paddleboard from one of the local outfitters and explore the shimmering depths of Lake Tahoe. Paddle along the scenic shoreline, discovering hidden coves and pristine beaches. Dive into the cool waters for a swim or simply float on the tranquil surface, savoring the unparalleled beauty that surrounds you.
Evening: As the sun begins to descend, head to Tahoe City and board a sunset cruise. Drift along the mirror-like lake, witnessing the breathtaking colors of the sky as they reflect on the water. Sip on a glass of wine or a refreshing cocktail, and let the serene ambiance soothe your soul. Be sure to keep an eye out for wildlife, as the lake is home to various bird species and occasional glimpses of playful dolphins.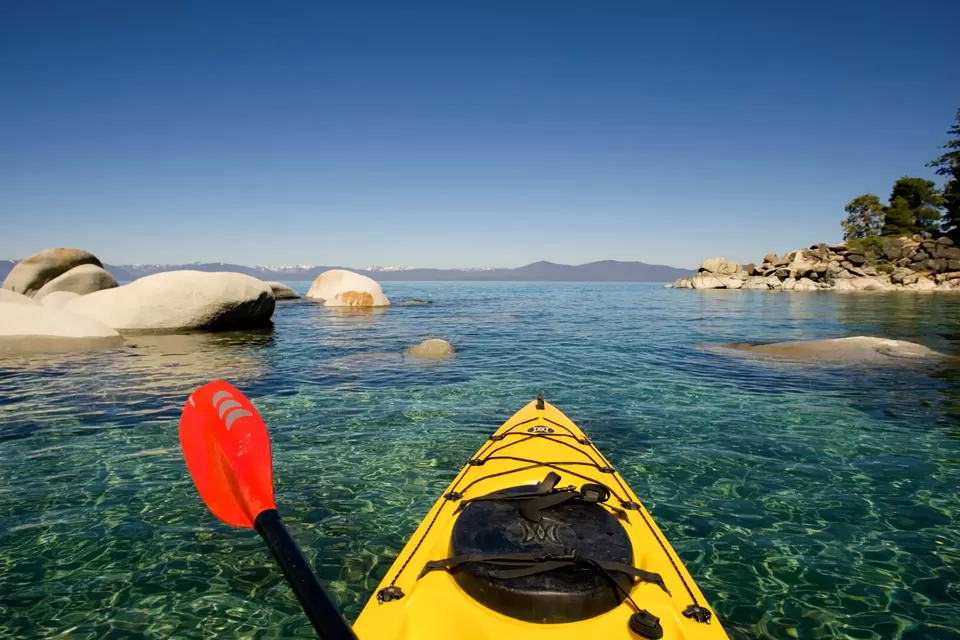 Day 2: Adventure and Bliss
Morning: Rise and shine early to witness the spectacular sunrise over Lake Tahoe. Venture to Cave Rock on the eastern shore, a mesmerizing spot to watch the sky come alive with vibrant hues. Breathe in the crisp mountain air and embrace the tranquility that blankets the lake in the early hours.
Mid-Morning: Embark on a scenic drive around the lake, taking in the awe-inspiring vistas that Lake Tahoe has to offer. Stop at popular viewpoints like Inspiration Point, where the panoramic scenery will leave you in awe. Capture these breathtaking moments through the lens of your camera or simply soak in the grandeur of nature.
Lunch: Head to Sunnyside Restaurant & Lodge in Tahoe City, a lakeside gem renowned for its delicious cuisine and stunning views. Indulge in a leisurely lunch on their outdoor deck, feasting on fresh seafood, juicy burgers, and delectable salads. Pair your meal with a refreshing craft beer or a signature cocktail, and savor the flavors while gazing out at the serene waters.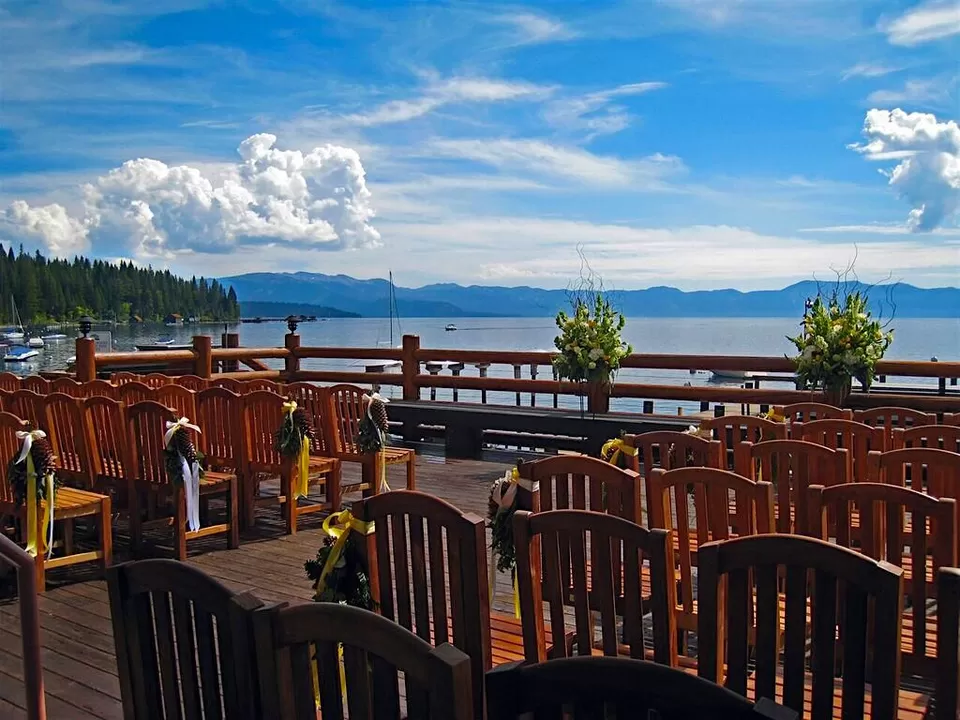 Afternoon: Embrace your adventurous side with a thrilling gondola ride at Heavenly Mountain Resort. Ascend to the mountaintop, where panoramic vistas of Lake Tahoe and the surrounding peaks await. Enjoy breathtaking views as you take a leisurely stroll along the trails or engage in exciting activities like zip-lining or tubingdown the slopes, depending on the season. Capture the incredible scenery and create unforgettable memories.
Evening: As the sun sets on your Lake Tahoe adventure, treat yourself to a delightful dinner at one of the lakefront restaurants in Incline Village. Choose from a variety of cuisines, ranging from fresh seafood to gourmet pizzas. Indulge in a delectable dessert while savoring the last moments of your journey, relishing the captivating views of the lake.
Nighttime Fun: Before bidding farewell to Lake Tahoe, immerse yourself in the vibrant nightlife of the region. If you're feeling lucky, head to one of the famous casinos on the south shore, where you can try your hand at gaming tables or enjoy live entertainment.
Alternatively, cozy up with a drink at a lakeside bar, where you can unwind and reflect on the unforgettable experiences of the past 48 hours.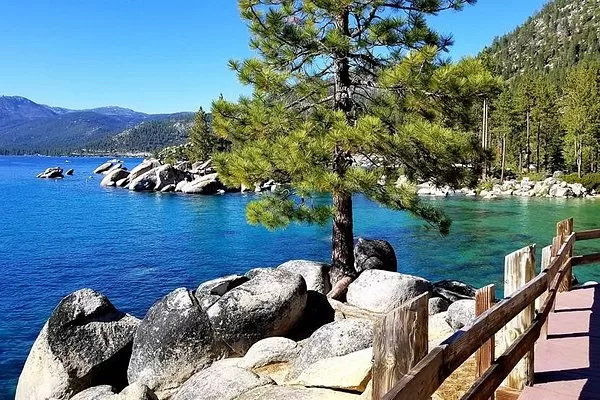 Where to stay?
Lake Tahoe offers a range of accommodations to suit every budget and preference. In South Lake Tahoe, you'll find a mix of hotels, resorts, vacation rentals, and cozy cabins.
The Stateline area, near the Nevada-California border, is known for its vibrant casino hotels and entertainment options. On the North Shore, Tahoe City and Incline Village offer charming lodges, boutique hotels, and lakefront resorts.
Here are some of the best hotels in Lake Tahoe:
The Ritz-Carlton, Lake Tahoe: Luxurious mountain retreat with upscale amenities.
Hyatt Regency Lake Tahoe Resort, Spa and Casino: Stunning lake views, private beach, and lively casino.
Resort at Squaw Creek: Picturesque setting near Squaw Valley Ski Resort, with golf, dining, and outdoor activities.
The Landing Lake Tahoe Resort & Spa: Boutique hotel with modern luxury, rooftop deck, and lake views.
Edgewood Tahoe Resort: Serene lakeside resort with golf, spa, private beach, and upscale amenities.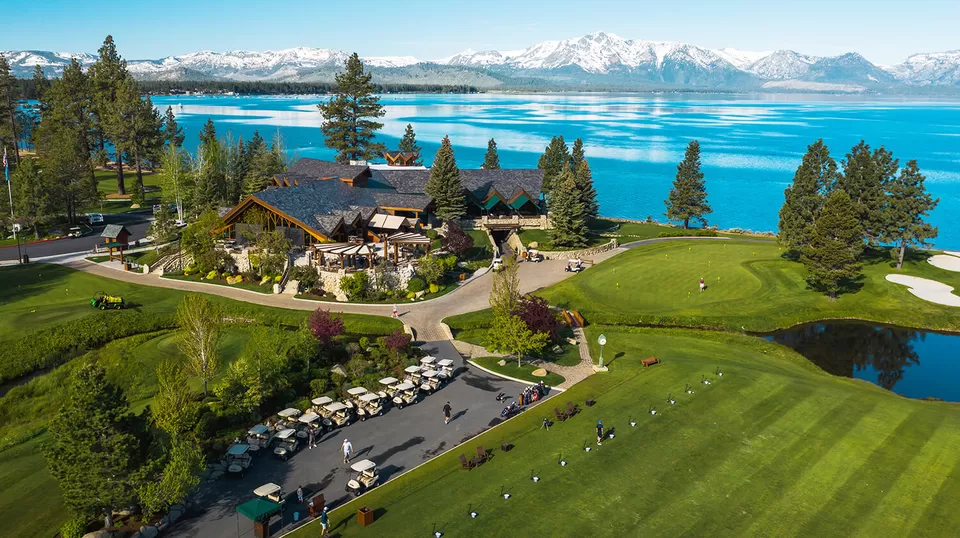 Where to eat?
Lake Tahoe is a culinary delight, offering a diverse range of dining options. Here are a few recommendations for memorable dining experiences during your 48-hour adventure:
Basecamp Pizza Co. (South Lake Tahoe): Savor delicious wood-fired pizzas, hearty pasta dishes, and craft beers in a cozy mountain lodge setting. Don't miss their famous garlic fries!
Edgewood Restaurant (Stateline): Indulge in a fine dining experience overlooking the lake. Feast on delectable seasonal dishes crafted with locally sourced ingredients, accompanied by an extensive wine selection.
Sunnyside Restaurant & Lodge (Tahoe City): Enjoy a leisurely lakeside meal on their expansive deck. Delight in fresh seafood, grilled specialties, and their renowned Hula Pie for dessert.
Lone Eagle Grille (Incline Village): Experience lakeside dining at its best. Relish creative American cuisine with a focus on fresh seafood, while enjoying breathtaking views of the lake and surrounding mountains.
Driftwood Café (South Lake Tahoe): Start your day with a hearty breakfast at this popular local spot. Try their fluffy pancakes, tasty omelets, and signature breakfast burritos.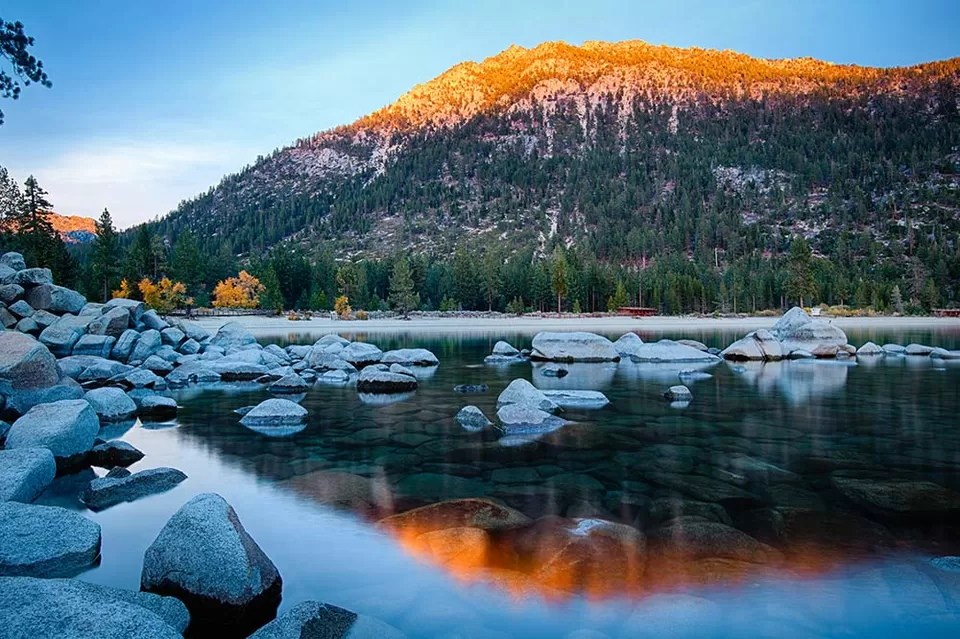 Lake Tahoe is a natural wonderland that offers an abundance of outdoor activities, awe-inspiring scenery, and moments of pure bliss. With its pristine waters, majestic mountains, and charming towns, Lake Tahoe is an ideal destination for a 48-hour adventure.
Whether you're kayaking on the turquoise lake, hiking along scenic trails, or simply relaxing on the beach, Lake Tahoe is sure to leave you with memories to last a lifetime. So, pack your bags, embrace the beauty of nature's playground, and let Lake Tahoe captivate your heart.
Think we missed out on something? Tell us about it in the comments below. Or write about it here on Tripoto and don't forget to check out our USA Travel Guide.