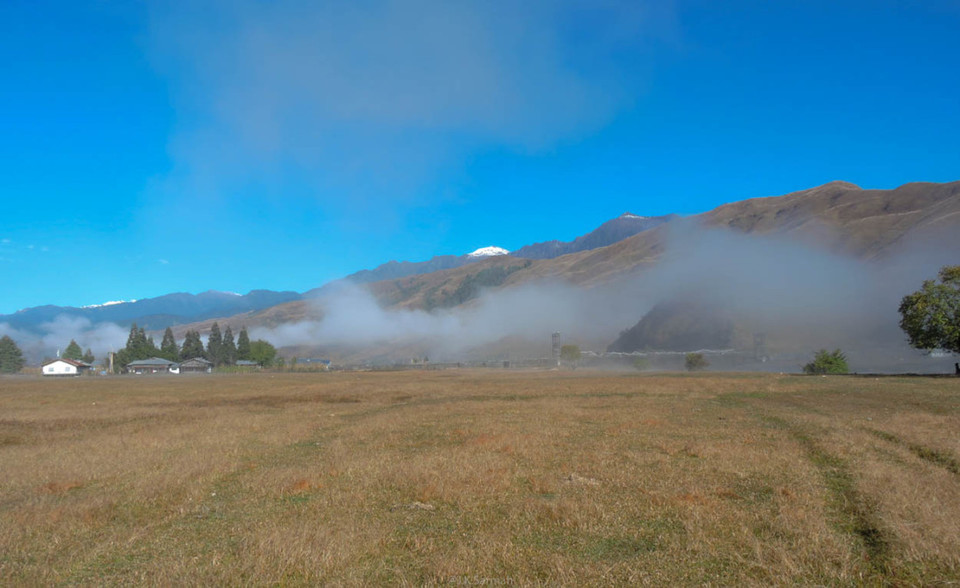 Mechuka Village in a foggy morning
It was October begining and the wind has just started carrying the fragrance of autumn. In one of such mornings while sipping tea sitting in varandah, the urge of going wild started hunting me. I was wondering where to go. Right at that moment my young nephew Bhargab called me over phone asking me to fix a destination for this year's road trip. Al though we together made few road trips to Sikkim as well, Arunachal Pradesh was always our favourate. I have a long nourished wish of visiting the furthest town/village of Arunachal Pradesh bordering China on the three valleys gifted by the three magnificent Rivers, Lohit, Dibang and Siang. These three Rivers are the main source of Brahmaputra in Assam valley.
With Bhargab and a third partner, I, had already visited Walong and Anini , two beautiful places of Arunachal Pradesh situated at the furthest part of Lohit valley and Dibang valley respectively. So when I received the call from Bhargab, naturally a place in Siang Valley would to my mind. In Siang valley Mechuka Village (Menchuka) and Tuting were the two destinations in my wish list.Finally after discussion with Bhargab, I, selected Mechuka village for this year's trip. Tuting was left out for next year's trip.
It is always advisableto travel in a tough SUV type vehicle for a long distance road trip in Arunachal Pradesh. But, to keep the budget low, so far, we have been travelling in our hatch-back car only. Last year, we travelled in Bhargab's Ford Figo. This time my Santro car was chosen for the trip. One can avail public transport like Tata Sumo services also. Pawan Hans Helicopter services are also available from Itanagr and Pasighat of Arunachal Pradesh. But, to see the en-route places we always prefer a road trip and to have the freedom of stopping at places of our like during the trip we always prefer to have our own vehicle.
This year NabaChoudhury one of my young friends became the third member of the three man group. I am a Senior Citizen and both Bhargab and Naba are young man of thirty plus years. Driving in long distance hilly tracks of remote places is Bhargab's passion. Being a nature lover I always prefer road trip to remote places. In addition, from last three years Birding has become another passion of mine. Naba is also a nature lover and a good artist too. Apart from art works he is also a good photographer particularly in landscape photography. Like me Naba too is a Birder.
Bhargab proposed 27/10/18 as the starting date of our journey and I agreed to it. The trip was scheduled to be completed by 02/11/18. Route finalised was Guwahati-Pasighat-Along-Mechuka Village.
Day-1 (27/10/18)
Sticking to our plan,I left my house in my Santro car at about 6-00 am on 27/10/18. Picking upBhargab from his residence I handed over the car steering to him. Then picking up Naba from a point on G. S. Road, near his residence and filling our car petrol tank full on the way at Jorabat (Meghalaya. Petrol is cheaper by aboutRs. 5/litre in Meghalaya) we headed to our Day-1 destination - Pasighat town ofArunachal Pradesh.
After travelling almost nonstop (Save brief stop to attend nature's call.) for about three hours we reached the point at Koliabor (Nagaon District, Assam) from where one road bifurcates to left leading to Tezpur town crossing Kolia-Bhomora bridge over river Brahmaputra. Taking this road by turning left we stopped for our break-fast. We chose a small stall housed in a road side shack. One young local boy was the owner of the shop. We ordered for Roti-Sabji and tea. The young boy served us with hot roti , sabji and tea. The food was wonderful and the tea was so good that we did not forget to compare it whenever any opportunity arised in our entire journey.
Our break-fast took about half an hour. Crossing Kolia-Bhomora bridge we reached Misson Chariali of Tezpur town. We took right and followed N.H-15. Stopping at Biswanath Charali for about ten minutes for a Cup of tea we crossed North Lakhimpur town of Assam at about 3-00 PM. Condition of road at several stretches between Tezpur and North Lakhimpur was bad. So there was delay of about one hour to reach North Lakhimpur. Moving few more kilometers we stopped at a road side Dhaba to have our Lunch. After lunch we resumed our journey at about 3-45 pm.
By the time wereached Dhemaji town in Dhemaji distrct of Assam it was dark. So, we changed our plan. Instead of Pasighat we decided to halt at Silapathar town of Assam for the night. NH-15 does not touch Silapathar directly. There is one road which bifurcates from NH-15 and passes through Silapathar town to reach N.H.-15 again little ahead.
At about 6-00 PM we reached Silapathar and after enquiry with some people in the market we headed to Hotel Brahmaputra Regency. Room was available in the hotel and we took a room with one single size bed and one double size bed. Disadvantage in this Hotel was that food was not available as renewal of their food license was pending.
After keeping our bags in order we came out from the hotel room to have a cup of tea and to place order for our dinner in advance at a nearby restaurant. We also enquired with the hotel manager if the direct road from Silapathar to Along was operational now. But, we came to know that road traffic in this road had not resumed yet after a massive land slide in last monsoon season. Going through this route would have rewarded us with a saving of 100 KM distance.
We took our tea in a restaurant near the Hotel. The restaurant was run by an aged Nepali man with his young daughter. We also placed order for our dinner here. The restaurant owner reminded us to come before nine for the dinner. Leaving the restaurant I headed to hotel room to relax for some time. Bhargab and Naba went to make a round of Silapathar. After Bhargab and Naba had come back we headed to the Restaurant for dinner. Our dinner with plain rice, plain dal, Assamese style Alu-Gobi curry, omelet and papd was good and cheap too. We found the weather at Silapathar almost same as other towns in plains of Assam. One light blanket at night was sufficient at that point of time.
As we are to start early in the morning after dinner without wasting time we went back to hotel room and retired on our bed.
Day-2 (28/10/18)
Being birders both me and Naba can rise early morning without any difficulty. But, after day long driving , it is natural that Bhargab would like to remain in bed for little more time. So, Naba and me first finished our morning duties and then only Bhargab rose from his bed.
By the time we left the hotel it was 6-30 am. As we could not find any place near our hotel for morning tea, we decided to move on. It was a sunny morning. Mild early morning cold of October, early morning warmth of Sun and the road side views made us nostalgic. The road here was very good. We were crossing one after another vast light golden color paddy fields full with almost ready paddy crop. We also crossed several bridges over rivers having wide dry stone beds. Distant blue mountains also gradually started standing behind the lush green-gold paddy fields. Freed from all hastles of daily life Bhargab and Naba could not control their joy and started singing a popular Assamese song in chorus.
After moving ahead for more than one hour crossing places like Likabali, Simen Chapori we stopped at a small road side village market place to have our break-fast. It was a small stall run by a Bihari lady. With large size hot Puri, hot ChanaDal-Potato curry and tea prepared with local cow milk we had an excellent break-fast at very cheap price.
We reached Jonai townof Assam in Assam-Arunachal Pradesh border at about 9-00 am. Crossing Jonai we are in Arunachal Pradesh land. After crossing some distance house built with raised wooden floor and thatch roofs started appearing. Selecting one good house we stopped our car. Naba was very keen in taking some good photographs of a traditional Arunachal House of Adi tribe. We spent about 20-30 minutes here and then resumed our journey.
Reaching Pasighat town of Arunachal Pradesh at about 9-45 am we filled our car petrol tank full. In Arunachal Pradesh too petrol price is cheaper by about Rs. 5/- than that from Assam. Pasighat, situated in a plain at an altitude of 155 m above msl is known as the oldest town of Arunachal Pradesh. It is head quarter of East Siang district with a population of about 25 K. The Siang River, main source of Brhamaputra, after crossing Pasighat, meets the main Brahmaputra in the plains of Assam.
Lohit river coming down thorugh Lohit valley of Arunachal Pradesh confluence with Dibang Rivar (Dibang river comes down to the plains of Assam passing through Dibang Valley of Arunachal Pradesh) at Sadiya, Assam. It is now known as Brahmaputra. Further moving down Brahmaputra meets its main source Siang near Pasighat.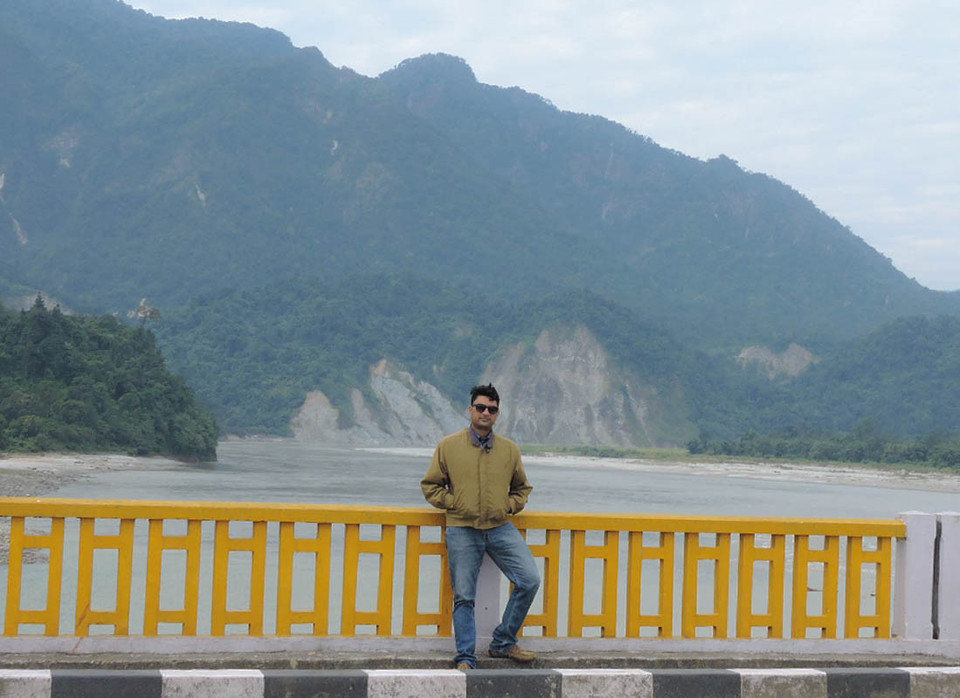 Above Bhargab is standing on Siang bridge at Pasighat, Arunachal Pradesh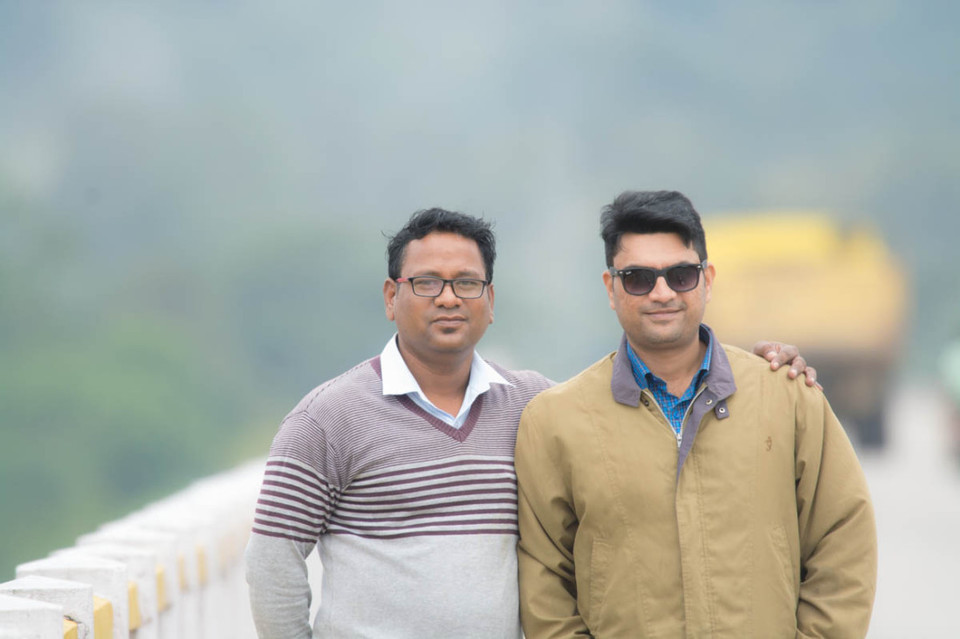 Above Naba (Left) and Bhargab standing on Siang bridge at Pasighat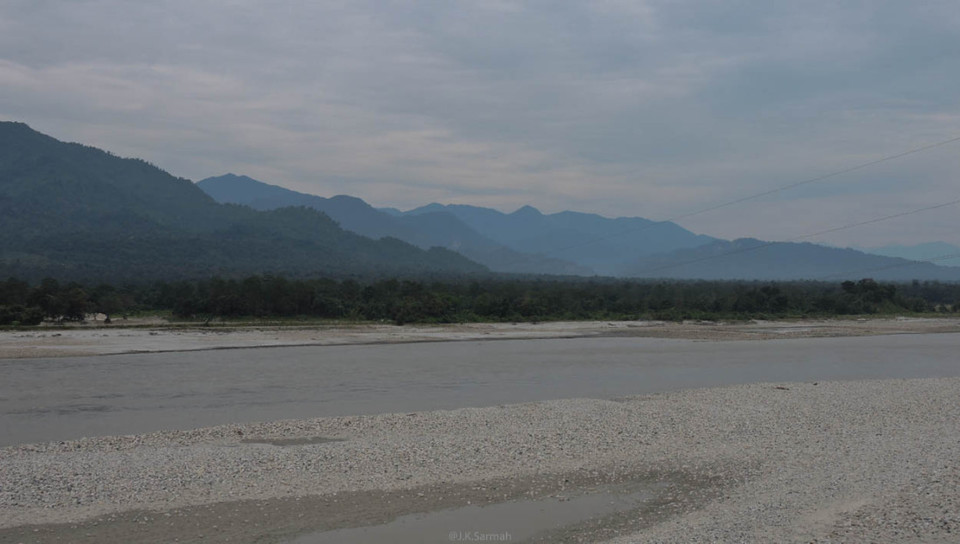 Siang river at Pasighat
Crossing mainPasighat town we reached the point from where one road bifurcates to right from the Pasighat-Along road and leads to Roing town in lower Dibang valley, Arunachal Pradesh via another town of lower Dibang valley named Dambuk. Earlier it was necessary to cross a portion over ferry to reach Dambuk from Roing. After completion of a bridge here very recently, now it has become very convenient to come to Dambuk from Roing. However between Dambuk and Pasighat there is still a small stretch in the road where one has to cross a river bed. As far as I know this stretch almost remain dry during winter season and Tata Sumo, Bolero type vehicle can cross it without any difficulty. I had a wish to return back to Guwahati from Mechuka via Pasighat-Dambuk-Roing-Tinsukia-Guwahati. This would have made our route a circle around Brahmaputra. But, as I could not gather any reliable information about the condition of this stretch, I had to abandon that idea.
To see the bridge over river Siang we turned right towards the bridge. Memory of crossing raging Siang in a wreck ferry full with passenger and four wheeler many years ago was still alive in my mind. At that time I could see the abandoned construction of Siang bridge. I saw one of its piers missing. Local people told me that swelling Siang washed away that pier.
We parked our Car ata point near the bridge and then walked over the bridge with cameras, stands inour hand. We could see the Siang River running down from here to the plains in several channels. The wind on the bridge was so high that it became difficult for us to keep our body straight to take a good picture holding the Camera in hand. Spending about 20-30 minutes good time here we came back to our car to resumed our journey to Along.
After crossing Pasighat, hilly tertian starts. From Pasighat to a distance of about 30-40 KM the road was good. Like all hilly places there were sharp bends, but, it was a recently built two lane road (Except some intermittent small stretches, where,construction was in progress). After moving ahead little distance from Pasighat we started noticing some bird activities. Keeping in mind that we are to reach Along before it becomes dark, we, could not afford to attend all Bird activities. Still, we could not resist our temptation to stop at two three places to observe and take photographs of Birds. Among others we could see Chestnut Bellied Rock Thrush and Wallcreeper here. At about 12-30 PM we crossed a place called Pangin (Pangin is about 21 KM from Pasighat).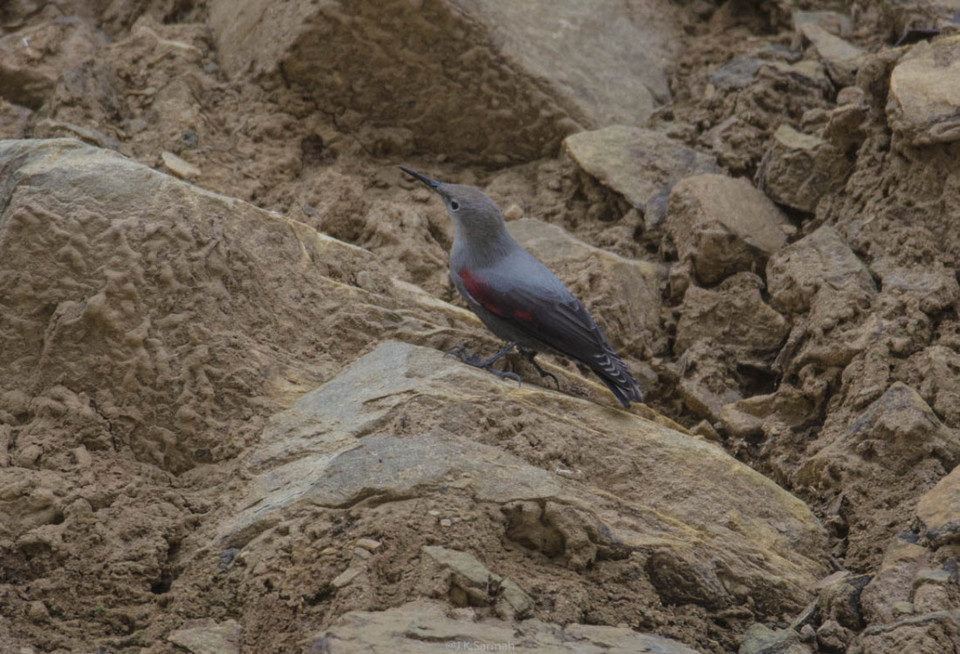 A Bird called Wallcreeper we saw on our way to Along from Pasighat
We were moving ahead crossing hills after hills negotiating sharp curves. The road was running parallel to Siang River. At some places we could see raging Siang in gorge several hundred foots down and again at some places the road was only at an elevation of few foots above Siang. We enjoyed seeing mighty Siang originating from China taking a long serpentine look flowing in a deep gorge between two magnificent rows of mountain.
At about 1-30 pm we noticed one eatery in a road side village. Without second thought we stopped our car there. With plain rice, plain dal, vegetable curry we finished our lunch. Seeing some bird activities near the eatery we spent another few minutes here and then resumed our journey.
Bad road starts few KM ahead of a place called Komsing. Pasighat to Komsing distance is about 80 KM. From a point near Komsimng one road bifurcates from the Pasighat-Along road. This road leads to Tuting via Boleng . Tuting is another town of Arunachal Pradesh situated at the furthest point of Siang valley near Indo-China border. Some years ago Tuting was a difficult place to visit by road. Present road condition to Tuting is not known to me. Komsing is also a place near which the Siyom River flowing down from Mechuka/Along side meets the main Siang River flowing down from Tuting side.
The road has now turned very bad. Single lane and full of pot holes. It was very difficult here for Bhargab in moving the Santro car forward. Here we were moving at an average speed of about 10 km/hr. We reached a place called beging at about 4-00 PM. We are to cross another 12-13 KM from here to reach Along. At a point few KM from Beging one road bifurcates to Boleng. Inspite of extremely bad road condition, seeing one spot with Yellow-Green colored paddy field spreading over undulating hill slope we could not resist our temptation to stop our car. Naba did not miss the opportunity to capture this beautiful landscape in his Camera.
Continuing our journey just for few minutes in a horrible road, observing some Bird activities we stopped at a place for few minutes. The Bird we saw could not be located as it went hiding under bush, but, we could see a Dollar Bird perched on electric wire. Myself and Naba would have taken few more minutes here to locate the Bird. But, Bhargab warned us that if loose more time here it would be dark and if something goes wrong with our car due to bad road condition it would be difficult to get any help. Heeding to Bhargab's warning we immediately boarded the car and resumed our journey. Bhargab was absolutely right. The road was very bad and it was very difficult for him to notice each and every pot holes on the road. Inspite of so much care it was not possible to avoid contact of car body with ground. Some time the contact was mild and some time it was hard.
We reached Along at about 5-30 PM and it was almost dark. Entering Along town we could see a Hotel (Hotel OK) by the side of the road. The hotel was just in front of Along Airstrip. Stopping our car we went inside the hotel for enquiry. Ground floor of the building housed rows of shops. Reception counter was in the first floor. There were some rooms as well in first floor. Owner of the Hotel also resides in first floor. We saw one old man and a young lady sitting on a sofa on a large varandah in front of the reception counter. Enquiring with the lady we came to know that room was available. We choose one room with two double size beds. There was also a good parking place on the back yard of the Hotel. One Nepali man originally hailing from Assam took us to the room in 2 nd floor. The room with attached toilet and TV set was ok for us. Chating with the Napali man we came to know that he was the caretaker of the hotel. He also shared with us that the old man we saw was the owner of the Hotel and the young lady was his daughter married out to a man, who, was also residing here in Father in-law's house. The care taker is working in civil supply department of Arunachal Govt. as a casual employee. He has to attend duty only when food supplies under various Govt. schemes reaches Along. Once supplies comes to Along he gets engagement for distribution of the supplies to the far way remote places. In such situation he remains out of Along for several days. The caretaker himself prepares food for hotel guests. We ordered for vegetable thali with egg curry for our dinner. Dinner will be served at 8-30 pm.
After getting fresh and taking a hot cup of tea in the hotel we went out to make a round of Along town. With a population of about 17000 Along is the Head quarter of West Siang district of Arunachal Pradesh situated on the Bank of Siyom River. In and around Along there are several beautiful spots on the bank of beautiful Siyom river.
As it may not be possible for us to take bath at Mechuka, coming back to hotel we first took bath one by one with warm water made in the kettle we carried with us. We found Along colder than Silapathar. Taking our dinner around nine we immediately retired in our beds. Lying on bed before closing our eyes we fixed the time of departing Along at 7-00 AM. Possibly, the information we got from the hotel caretaker that road from Along to Mechuka was good, made us little relaxed in fixing the time.
Day-3 (29/10/18)
As previous morning me and Naba woked up at 4-30 am. It was still partly dark out side. We could see the lights of Along Airstrip still on. After finishing our morning deeds me and Naba holding cameras in our hand came out of the hotel room at about 5-30 am.There was one path by the side of the hotel. Following that path we went down through a basti to Siyom river bank. We could see the common winter birds like Shrikes, Chats , Wagtails etc. on the river bank. The view was beautiful, but, like most other human inhabited areas of India we saw the plastic menace here too.
Then we went to the vegetable market of Along to see if local Orange was available. Orange is grown in many places of Arunachal Pradesh. We found some Oranges in the local market. But, the fruits were not fully ripen. Still we bought few pieces. We also bought some Bananas. Finally sipping two cups of tea in a road side stall we came back to hotel. We could see Bhargab ready for our today's journey. As we had already finished everything before leaving the hotel, packing our bags fast we came out from the hotel paying our dues.
We started our journey following the Along-Mechuka road, which, passes through main market area of Along. Moving little ahead we stopped in front of a road side eatery. Here, the Bihari stall owner was preparing dalpuri. We took sit on a wood bench under open sky by the side of the stall enjoying the morning warmth of Sun. We had our break-fast with hot dalpuri, potato curry and hot cup of tea. The breakfast was wonderful. I always enjoy taking puri-sabji under open sky taking warmth of winter morning. Without this experience in road trip I feel something missing.
Finishing our break-fast immediately we began journey to our final destination - the magical Mechuka Valley. While passing by the side of a fuel outlet in Along town I advised Bhargab to get our car tank full. Bhargab did not heed to my advice and we moved ahead. It was about 7-45 am then. As previous day, the road was running parallel to Siyom river. We were moving ahead enjoying the beauty of wonderful Siang valley in an early winter sunny morning. We reached Kaying H.Q., the head quarter of Kaying circle of west Siang district at about 9-30 am. So far the road was two lane and good too. The famous Mouling National Park of Arunachal Pradesh is situated here.
After moving for some more kilometers, single lane road starts. Noticing lots of butterflies at a place we stopped our car. Me and Naba started running after the species of Butterflies.There were some Bird activities too. Spending about 20-30 minutes here running after the Butterflies we resumed our journey.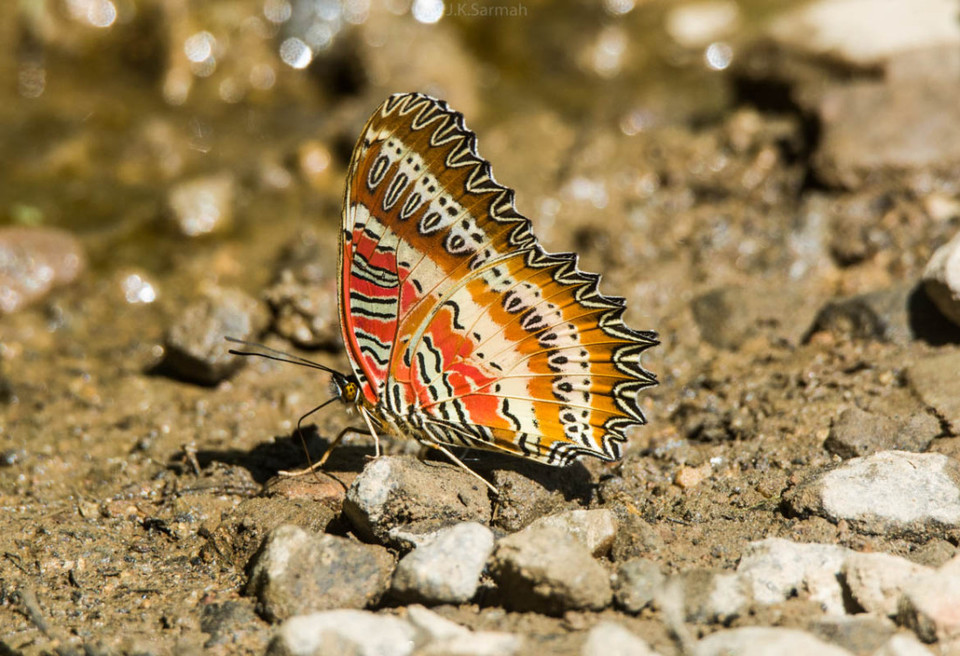 Butterfly we saw on the way to Mechuka Village from Along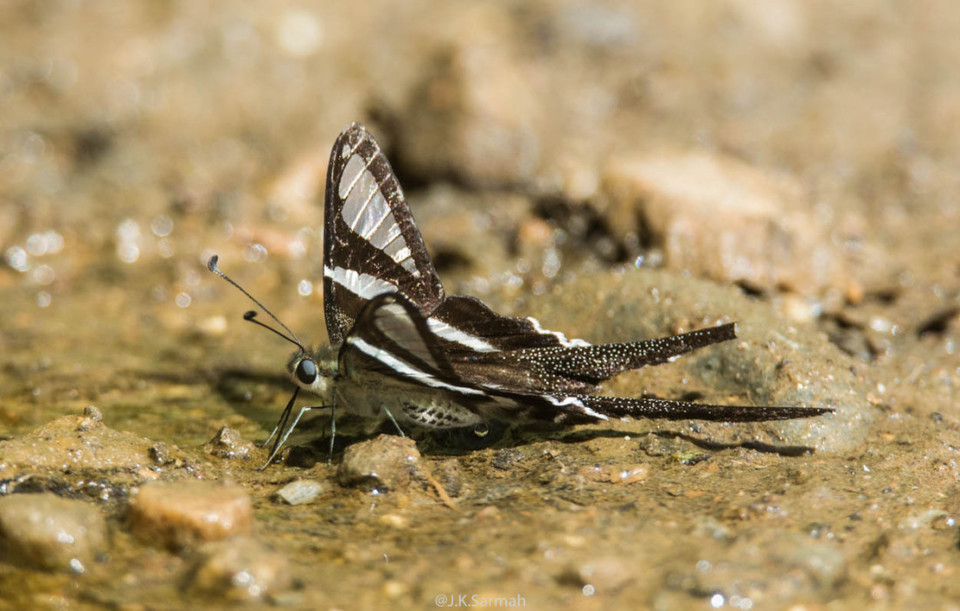 Butterfly we saw on the way to Mechuka Village from Along
Few kilometer before we reached Tato village, at a place near a village called Hirong the Yargapchu river coming down from Mechuka side meets the Siyom river coming down from another side. Tato is at a distance of about 140 KM from Along. To reach Mechuka we are to cross another 45 KM. Now we will move by the side of Yargyapchu River. Yargyapchu River can be called the heart line of Mechuka Village. After crossing three four KM distance from Tato we could see a beautiful waterfalls and were forced to stop our car. Noticing a line hotel (Hiba Line Hotel) near the falls we parked our car in front of it. Ordering our lunch in the line hotel we went somewhat close to the waterfalls. Standing over a pool in front of the falls we watched it. The falls kept us mesmerized for several minutes. This falls has been named as 'Siko-Dido'. I tried to guess the height of the falling water and could guess that if not more it should not be less than 50-70 M. It was surprising that such a magnificent waterfalls was lying here and very few people knew about it.We finished our lunch with Rice, dal, vegetable curry and fish curry.
Few minutes before 4-00 PM we left this place. After travelling 20-25 km the road turned bad. Seeing some Bird activity we stopped at place and could see Minivet , Black Throated Tit and Green-Backed Tit. Gradually the weather started turning colder. I was wearing a half sleeve sweater. Feeling cold I pulled out a Jacket from my bag and wore it. Before we reached Mechuka Village it became fully dark. Seeing some distant electric lamps amidst light fog we could understand that finally we have arrived at Mechuka village completing almost 900 KM road journey. As it was evening hour we could hardly find any people near the road before entering Mechuka for help to guide us to our night stay location - Yargyapchu Homestay. From the time we left Along till this point I was trying to contact Mr. Lakpa Sona, owner of Yargyapchu Homestay over his cell phone to book a room for us. But, each time response was 'out of reach'. Arriving in front of a homestay type house and seeing one gentleman near the gate we asked him about the location of Yargyapchu Homestay. The gentleman very nicely explained us the location. Arriving at the main entrance to Mechuka village we turned right. But, as it was dark we failed to locate the homestay. Meanwhile, I was successful in contacting Mr. Lakpa Sona over phone. As directed by him moving little ahead from the spot, where, our car was standing we could see the sign board of Yargyapchu Homestay. Mr.Sona was standing near the homestay gate. Getting confirmation from Mr. Sona that room was available, we, took our car inside. One room with two double size beds was chosen. It was an Assam type building with raised wooden floor. The room was large and its interior walls were esthetically built using fine quality pine wood. The toilet too was very good. Overall we were very happy with the room.
Mr. Sona was a very energetic and jolly young man. From the time we arrived at the homestay he was trying to keep us happy through all of his hospitable actions. One hot cup of tea or coffee was very much necessary for us at that moment. When, we requested Mr. Sona for a cup of tea,he invited us to the Kitchen of the homestay. The kitchen was a separate building approx. 20-30 foot away from our room. We went there and took sit on low wooden stool around a firewood pan. The kitchen was very large in size and very clean too. Shining Kitchen appliances and utensils were kept inside the Kitchen very beautifully. The firewood and the overall atmosphere made each sip of the tea much more enjoyable.
As we learnt from Mr.Sona he hails from a village little away from the homestay. After the homestay was built few years ago, he along with his wife started staying in the homestay. Mr. Sona shared with us that that he is married for many years and his eldest son is studying at Along living in a boarding school. After tea, we came out from the Kitchen. At the moment we reached the homestay the sky was not clear. Now, seeing a reasonably clear sky Naba fetch the camera from our room and then started looking for a good spot from where he can try Star Trail. Leaving Naba and Bhargab outside I went inside the room to take some rest. Gradually it was becoming colder and colder and lying in bed I covered my body with two blankets.
Here too network connectivity was a problem. Only BSNL network was working here. But, signal was not strong. My phone was with one Vodafone and one BSNL Sim. In the absence of any BSNL sim in their phones Bhargab and Naba had to use my phone only to establish contact with home. In our entire route we observed that after crossing Pasighat it is very difficult to get mobile phone signal unless you are in a town or in a big village. In such places too BSNL is the only reliable network. Vodafone too was observed working at some places.
At about 8-30 pm Mr.Sona knocked on the door and invited me to the Kitchen as the dinner was almost ready. I went to the kitchen. Bhargab and Naba, who, were still outside, soon came to the kitchen. Till the time dinner is served by Mrs. Sona, sitting around the fire pan we discussed about our tomorrow's plan. Me. Sona informed that till about nine-ten in the morning it would be very foggy and there is no point in venturing out for sightseeing before weather becomes clear. It was decided that we would go out for sightseeing at 10-00 am and Mr. Sona's young brother (Mr. Rinjin Khandu Sona) who had come back home only few days ago completing his B.E. in civil engineering at Bangaluru would accompany us as our guide. We will have our break-fast and lunch out side.
Plain Rice, Dal,vegetable curry and Chicken curry were the items today in our dinner menu. As Ido not take any meat omelet was prepared for me. It was also discussed that Mr.Sona would arrange local red meat for tomorrow's dinner. Further, he would try to arrange the local bear prepared from millet called 'Sang' for us tomorrow. One more program was fixed. Mr. Sona informed us that they had harvested their millet crops recently and tomorrow morning after serving bed tea he would leave the homestay to take part in treading millet in their traditional way in an open yard at a distance of few minute walk from the homestay. The program fixed was that Naba would take some good pictures of this event.
Soon Mrs. Sona served us dinner and sitting around the fire pan we finished our dinner. The food was homely and we liked it very much. After taking dinner saying good night to Mr. & Mrs. Sona I came back to our room. Inside kitchen we were sitting near fire. After coming out from there I felt the pinch of cold. Entering room without losing time I changed my clothes and immediately lied down on the bed under two thick blankets. After few minutes Bahrgab and Naba too entered the room and like me got hidden under blankets.
Day-4 (30/10/18)
I woke up at about 4-30 in the morning. Bhargab and Naba were asleep in their bed. Without disturbing them I went to toilet to attend nature's first call of the morning. The water in the toilet tap was so cold that I was afraid of touching it for second time. With the hot water supplied by Mr. Sona last night in two flasks, I washed my mouth and drank two glasses of warm water. Finishing my morning duties I dressing myself up with warm clothes. By this time Naba has also woken up. Bahargab was steel under blanket. By the time Naba is ready I went out for a stroll on the road in front of homestay. There were dense fog all around and it was difficult to make out what was lying around our homestay. As I was walking on the road, one large group of army man in their morning war-up drill crossed me on the road.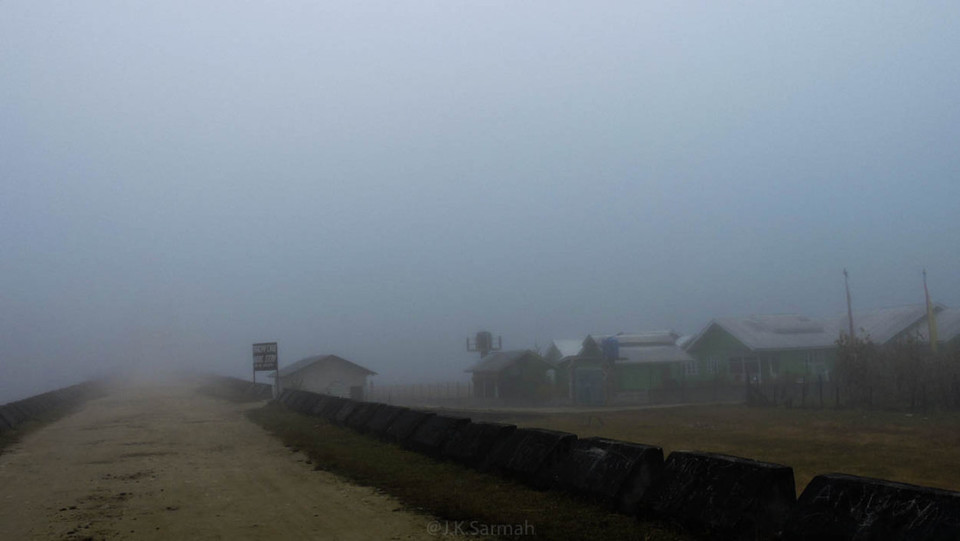 Yargyapchu Homestay as it appeared before our eyes on the foggy morning of 30/10/18
Y
Yargyapchu Homestay as it appeared before our eyes on the foggy morning of 30/10/18
Y
Standing on the road at a little distance I tried to make out how our homestay looks under morning dense fog. The view was amazing. I took few photographs and then came back to our room. It was around six in the morning. Naba was ready by this time and we came out from the room together holding camera in our hand. Coming out we saw Mr. Sona in the open yard. Seeing us going out Mr. Sona asked us wheather we would like a cup of tea now. For me there could be no other lucrative offer than this in a cold early morning. Finishing our tea we came out and started walking on the road towards the Yargapchu river bank. Due to dense fog the beauty of Mechuka village with beautiful valley circled by magnificent mountain, as we had seen its images in net, so far remained a suspense to us.
Walking ahead about 50-60 yards we could figure out a bridge at little distance. We could understand it was the much heard rope-way bridge over Yargyapchu river connecting eastern and western part of Mechuka village. We went ahead some distance walking over the bridge. New comer like us should be careful in walking on this single lane bridge, as except two tracks for movement of vehicles remaining part of the bridge floor is not fully covered. Now, intensity of fog has eased out little and we could observe one pair of bird making frequent movement on the dry river bed under bush cover little distance below. We took few photographs and could understand that it was Hodgson's Redstart. We came back and found a way just few steps before the bridge starts, which would lead us to river bed down below. we went down to the River bed.
Though, hazy atmosphere was not conducive for good photographs, we took a good position on the river bed and took few photographs of both the male and female Birds. Then,we started walking over the vast golden-Green meadow on the bank of Yargapchu river. We reached middle portion of this valley and tried to figure out the distant snow capped mountain peaks of Mechuka valley. But, they were still elusive to us. After few minutes a small portion of cloud covering a distant snow capped peak gradually started fading away and its sight made us electrified. Thereafter, we remained speech less for several minutes watching the magnificent view nature was unfolding before us. We could understand that now it was right time for us to remain ready to capture some of these views to the extent possible.
Within few minutes top portion of all distant mountain peaks circling the valley on which we were standing started appearing before us. Keeping us electrified. Gradually dazzling snow capped peaks started appearing before us clear with their base still covered with patches of fog and cloud curtains.
It was at about 8-30am I found my Camera memory card full. In a hurry I forgot to carry my spare memory card with me. It was also the time for Naba to go to watch the millet treading program. Storing this morning's electrifying moments well within the most secured place of my memory I came back to our room to fetch the memory card. Naba went to attend the pre-fixed millet treading event.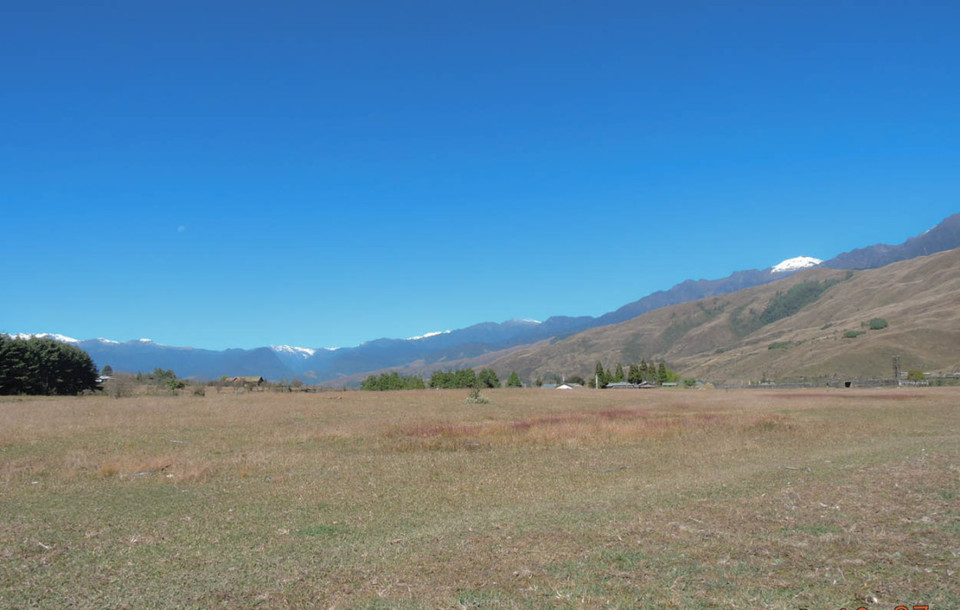 Mechuka Valley
M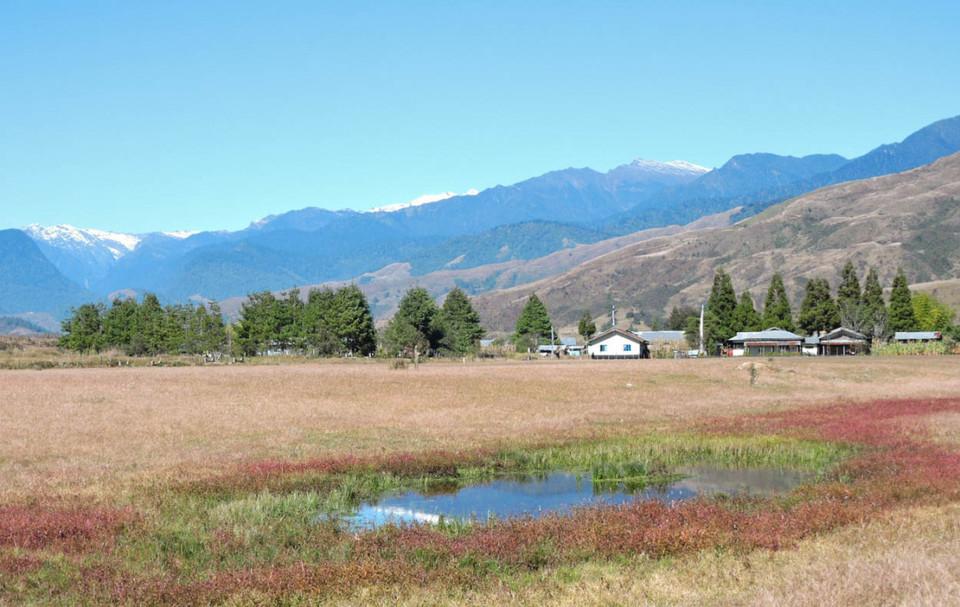 Mechuka Valley
M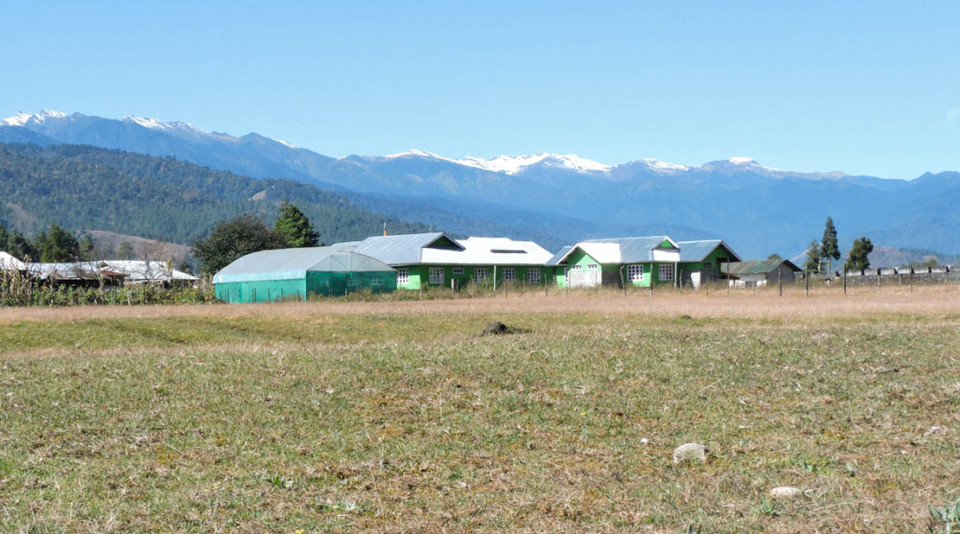 Mechuka Valley
M
By the time I was returning from my revisit to the morning's spot it was about 11-00 am. From the valley I saw our car parked on the road near the bridge and a young man standing near the bridge waving at me. I guessed the young man could be Mr.Sona's younger brother. I was right. He was Mr. Rinjin, Mr. Sona's young brother. Shaking hand with Mr. Rinjin I boarded the car. Bhargab and Naba werea lready inside the car. Turning our car back we headed to the main market area of Mechuka to begin our daylong local sightseeing program. First thing we were to do was to have had a good break-fast in a Restaurant. Mr. Rinjin took us to a restaurant in the market. It was a restaurant run by a Memba lady.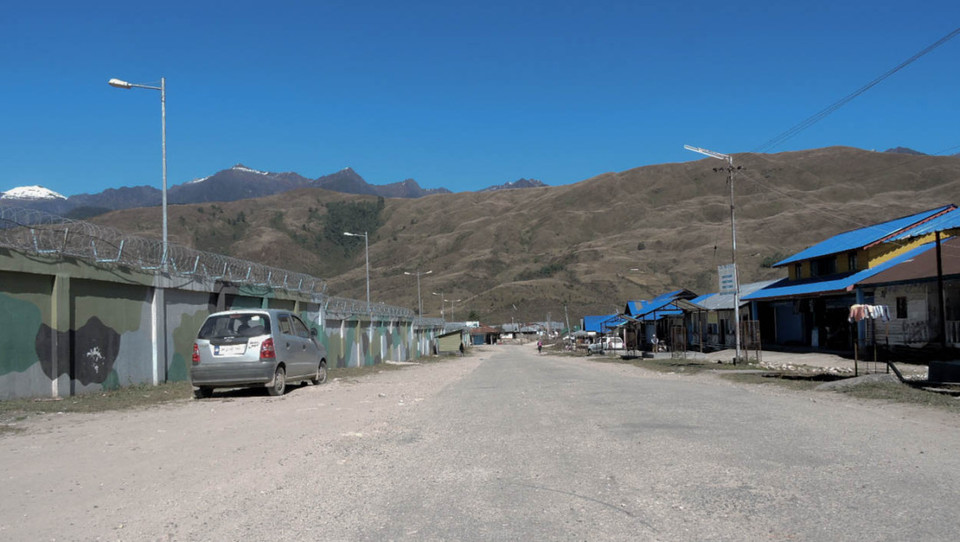 Mechuka Village Market. On left side of the road it is compound wall of Mechuka Village Air Strip
M
We finished ourbreak-fast with a tasty Thukpa prepared with traditional home made noodles. For me it was egg thukpa and for other three it was Chicken thukpa. Finishing our break-fast we headed to the beautiful wooden hanging foot bridge of Mechuka over Yargyapchu river. This bridge is located by the side of a road passing parallel to the wall of Mechuka Airstrip on eastern side. The beautiful hanging bridge combined with the yargyapchu river flowing in east-west direction covering the entire length of Mechuka valley and the distant snow capped mountain peaks presented a wonderful view to us.
Our next destination was a place atop a hill on the way to Yourlung army camp. This is a holy place for both Sikh and Budhist community. Presence of one Gurudwara, one cave , one river spot for holy dip and one hanuman temple are the attractions of this place. The Sikhs believe that Guru Nank on his way to Tibett stopped here and meditated inside the cave. On the other hand the Budhists believe that their Guru Rinponche meditated here. Added to holiness of this place there is one small, but, beautiful waterfalls here. Solders from sixth regiment of Indian army camp at Yourlung built a Gurudwara in eighties at a little distance from the cave.
After crossing two-three kilometer distance in plain we reached foot of this mountain. Here we stopped our car to enjoy the view composed by the narrow road running to a distance in moderate slope and the distant greenish brown dry mountains of Mechuka.
Now we are climbing ahill following a curvy road. Like a slide show the ancient holy Samten Yongcha Gompha on the top of a distant mountain peak kept appearing before our eyes on our journey to Gurudwara. This Gompha was a must visit place and could be accessed by tracking a mountainous track ten kilometer. But to do that one more day at Mechuka was necessary. Therefore we had to curtail this visit from our tour schedule. This Monastery is older than the famous Monastery of Tawang, Arunachal Pradesh.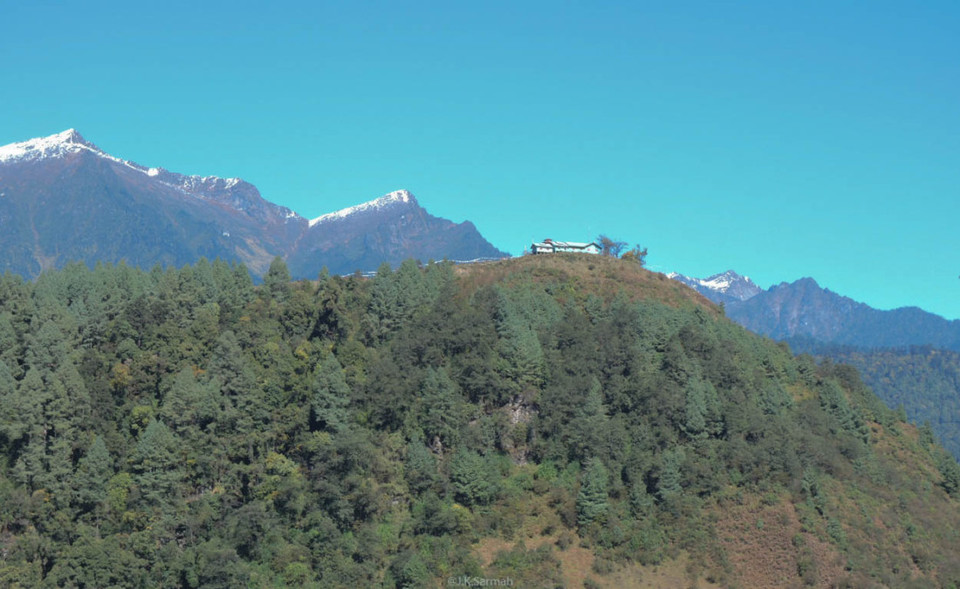 Samsen Yongchu Monastery on the top of a mountain peak
S
While moving up to the Gurudwara we observed Bird activities, but, did not stop, keeping the bird watching business for our return journey. Reaching the spot from where a walking path goes down to the Gurudwara, we, stopped our car. But, before going down to Gurudwara, we, walked up to the cave. On the way to the cave we also visited the Hanuman Temple. The reason behind presence of a Hanuman temple is that atop a rugged mountain cliff here, there is a naturally carved Hanuman face. Then we walked up to a spot through the main track, from where one narrow wooden stair goes down to the cave and the spot of holy dip further down. After going down little in a corner of the stair we stopped to take photographs of the beautiful small waterfalls there. From here we could see two paths going down. Our guide Mr. Rinjin told us that one has to go down through the left hand side path. After passing through the small and narrow cave in this path one should go further down for holy dip in the river. While returning, one should follow the right hand side path. There are also two tiny pools of water on the river side by side. From here devotees picks up stones keeping eyes close. If white stone is picked up it indicates success ahead. Grey stone indicates initial struggle, but, success at the end. Black stone indicates bad luck.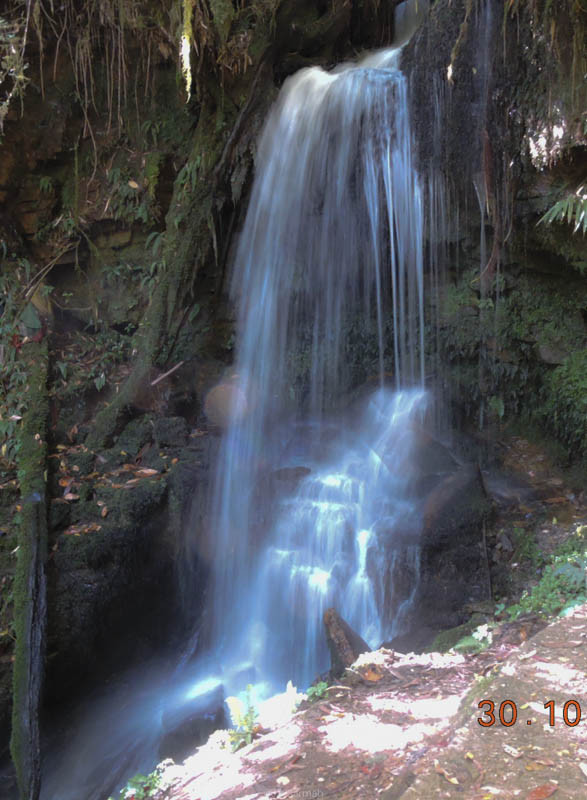 Small Waterfalls near the Gurudwara / Cave
S
Walking up from the cave and the pools we arrived at the place where our car was packed. Now we walked down through a walking path to the Gurudwara. After offering prayer at Gurudwara we came to the Langar room and took holy roti and dal served by army man.
We left the Gurudwaraat about 3-00 pm. While coming down to Mechuka valley from the Gurudwara we stopped at two three places on our way seeing Bird activities. Here, among others we saw a pair of Yellow-Billed Blue Magpie. Naba was successful in taking photograph of the pair. On our way back we also visited another new monastery.From here we could get a good view of the massive 'MECHUKA' engraved on the front face of a distant mount on other side of Yargyapchu river. View of Mechuka valley below under bright afternoon sunlight too was very beautiful.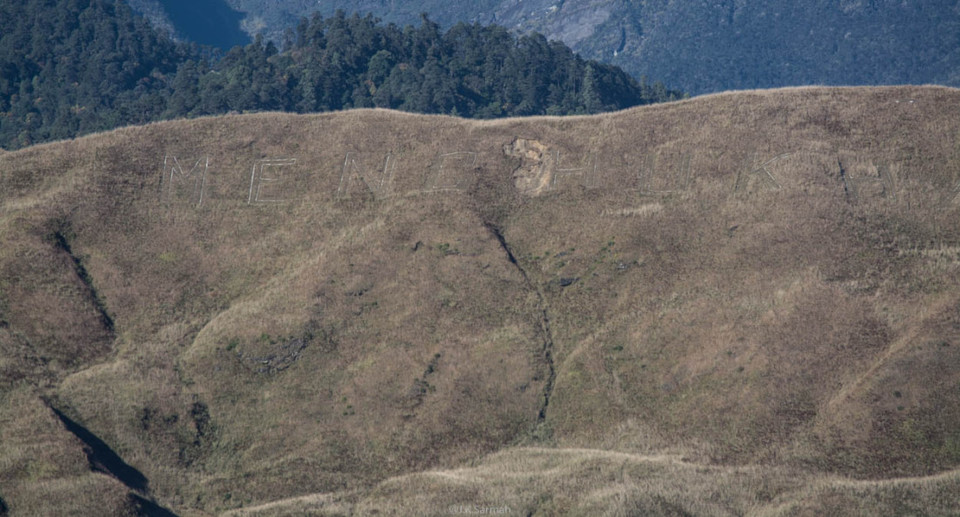 The massive 'MENCHUKA' engraved on a mountain face
T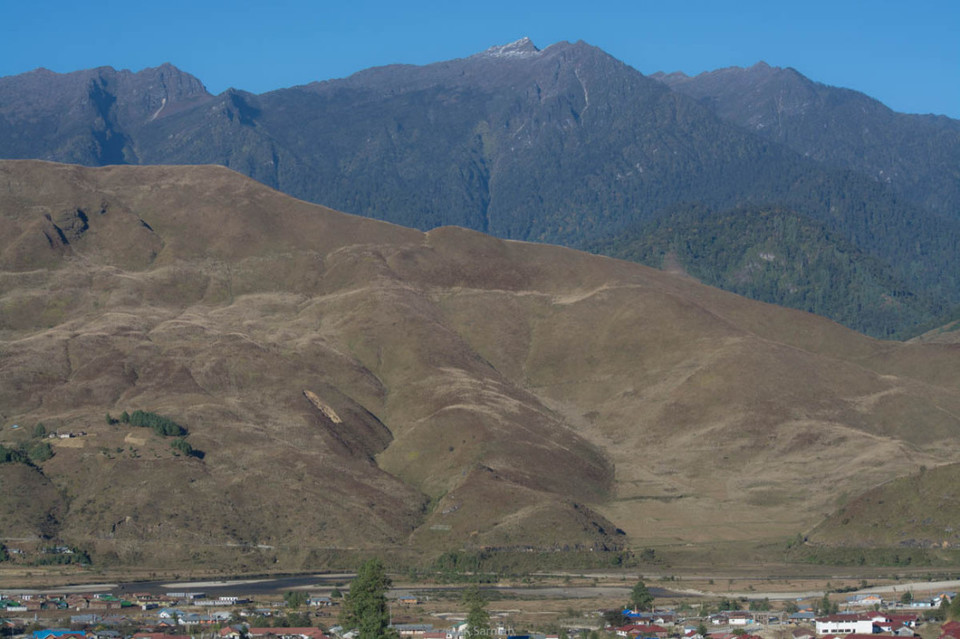 Mechuka Valley as viewed from a point near New Monastery
M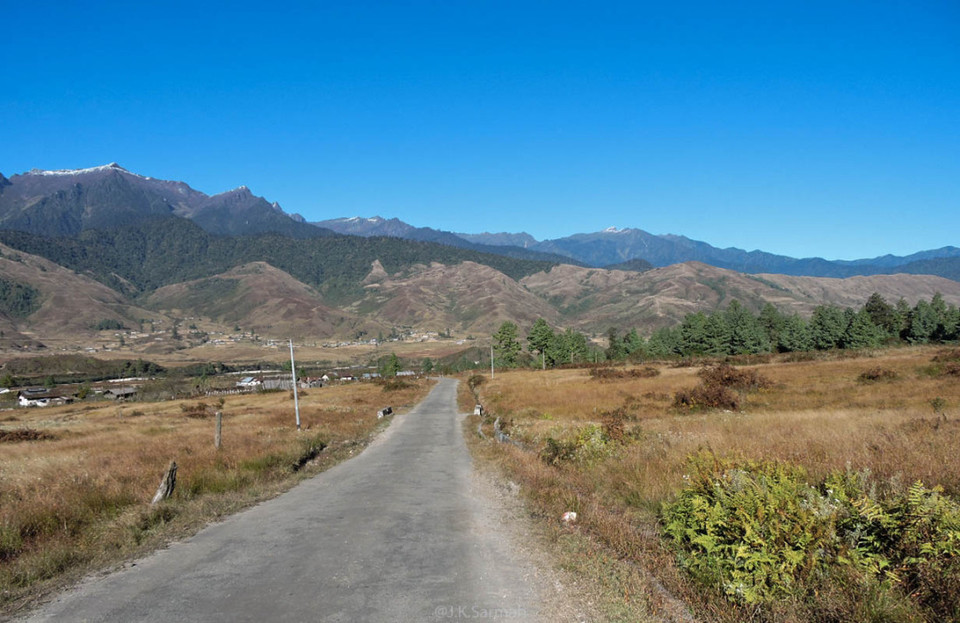 Mechuka Valley as viewed from a point on the foot of the mountain range where Gurudwara is located
M
Now, we are heading to other side of Mechuka village following the route through which we came here. On the way to other part of Mechuka valley we stopped near the hanging bridge again. Now light has started getting fade. Under the late afternoon sun light we watched the magnificent Yargyapchu river flowing through the beautiful valley dividing it in to east and west. As some school returned children were crossing the bridge making all childhood merry the bridge over the raging river started swaying. Passing some wonderful minutes here, we headed to our last destination of a daylong local tour - other part of Mechuka Valley. Passing through the main market and then crossing our homestay we crossed the rope-way bridge. After crossing the bridge we started moving through a single lane but black topped road across the mountain and the Yargyapchu river enjoying the beauty of nature all throughout. From a viewpoint we watched the view and let ourselves get lost in the wilderness. The mountain in front of us was wearing a different look now. Its peak was glowing under late afternoon golden Sun and its foot was covered with a veil of Shadow. The green valley across the mountain and the river too was covered by the veil of shadow. Some horses were seen grazing on the shadowed green meadow guarded by the majestic mountain with its glowing peak. Bowing our head down to the nature in Mechuka we returned to main market.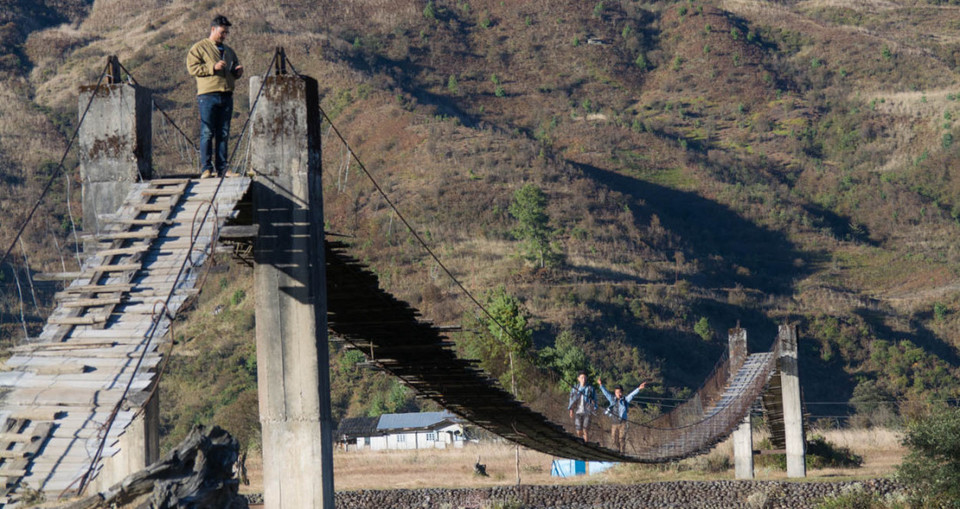 The Hanging Bridge of Mechuka Village from close
T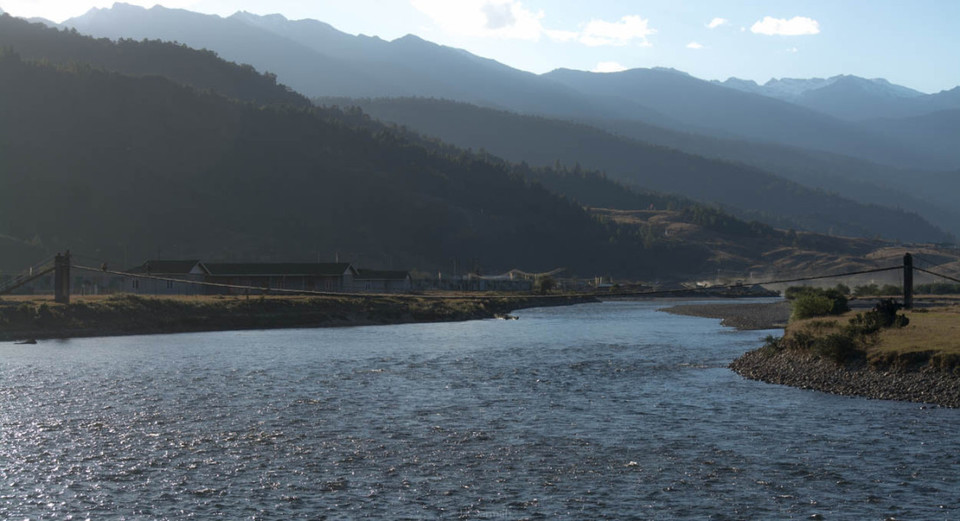 The Hanging Bridge of Mechuka Village over Yargyapchu River
T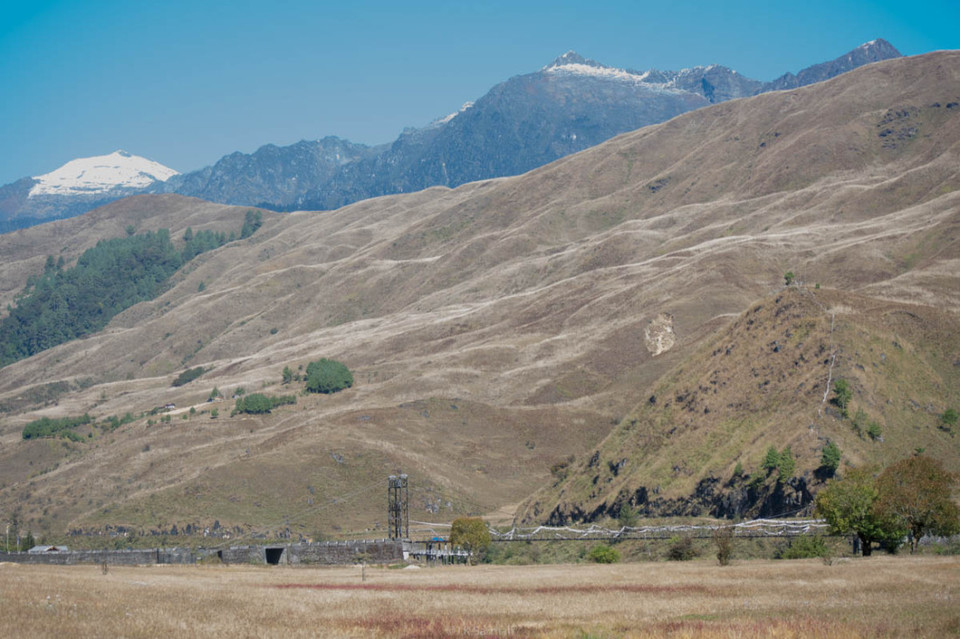 Mechuka Valley
M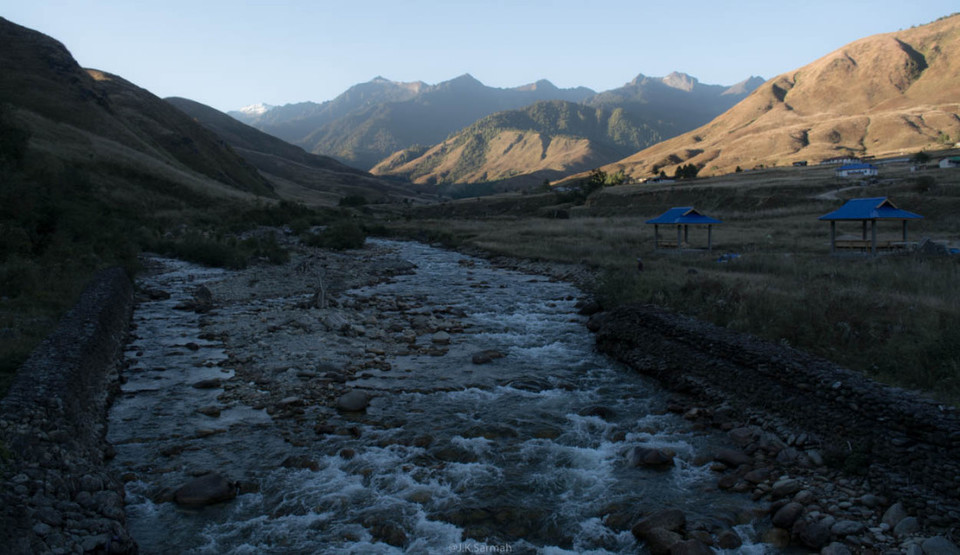 Mechuka Valley
M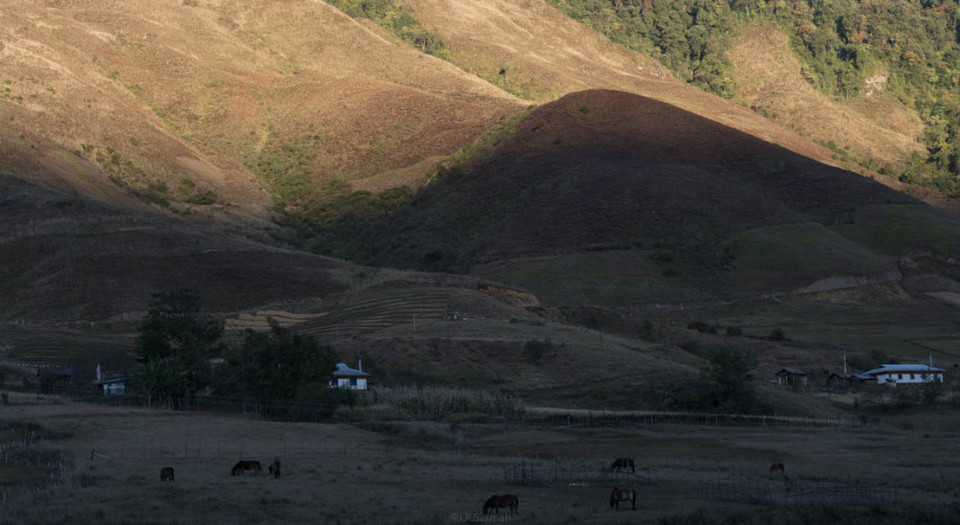 Mechuka Valley
M
Last time we had our tea was at about 11-30 am. After this long interval a cup of tea or coffee was very much necessary, at least for me. Mr. Rinjin took us to a restaurant in the market. I was delighted to know that Chamosa and Jellebi were available here.With Chamosa, jellebi and hot coffee we finished our afternoon tea.
Realising the fact that our car needs refueling, as Mr. Rinjin had lead us to, from a shop we filled 15 litre petrol in our car at a price of Rs. 100/litre. This was the penalty we paid for Bhargab not heeding to my advice to fill petrol at Along during our onward journey. The fact that a fuel refueling centre is not yet available in Mechuka indicates the remoteness of this valley. However, good news was that we saw a petrol pump with almost completed construction at Mechuka market area. By the time we started coming back to homestay it became dark and cold.
Gradually weather was becoming colder and colder. When we reached our homestay Mr. Sona extended warm welcome to us. He was happy that he could arrange both local red meat and Sang. Saying goodbye to Mr. Rinjin we went to our room. Spending some time in the room reviewing the photographs we had taken throughout the day we went to Kitchen. Today one of Mr. Sona's friends was also present in the kitchen. Sitting before the fire pan we could see the bottles of Sang in front of us. Mrs. Sona was preparing the Dinner. Mr. Sona wanted to know whether we would like a general curry or something else with the red meat. I have no business with meat. So it was Bhargab & Naba's turn. They preferred a preparation using lai patta. However, for taking with Sang they made a request for another dry fry type dish. With his smiling and jolly face Mr. Sona along with his wife soon engaged themselves in preparing the dinner.Mr. Sona's friend was also sitting with us. Sipping Sang and taking scrumbled egg fry, vegetable salad we started chatting about Mechuka, Mechuka's tribes, their food habits, their marriage customs...... everything. Mr. Sona belongs to Memba tribe. Mechuka valley is home to people of Memba, Reno (Adi), Bokar and Libo tribes. Membas, one of the tibetto mongoloid communities practicing Budhist is in majority here. Next big tribe is Rano. Ranos, once nomadic, are also believed to have migrated from Tibett long ago. But, they practice Dony-Polo (Worshiper of nature).
During our chat infront of fire pan we came to a conclusion that as the weather would be extremely foggy, considering the hilly road tomorrow morning we should not start our journey before eight-nine in the morning. We will have our break-fast with thukpa and tea in the homestay and then begin our return journey.
Finishing our dinner before ten at night we came back to our room saying good night to Mr. & Mrs. Sona and their friend. Soon Mr. Sona came to our room and keeping two large size flask filled with hot water on our table left the room again saying good night to us.
Day-5 (31/10/18)
Like previous morning me and Naba woked up at 5-00 am in the morning and after getting fresh first packed-up our belongings and then headed to the magical meadow of Mechuka valley to have a glimpse of hide and seek game of Mountain, fog and river of Mechuka valley. Like previous morning nature of Mechuka favoured us with all her magic.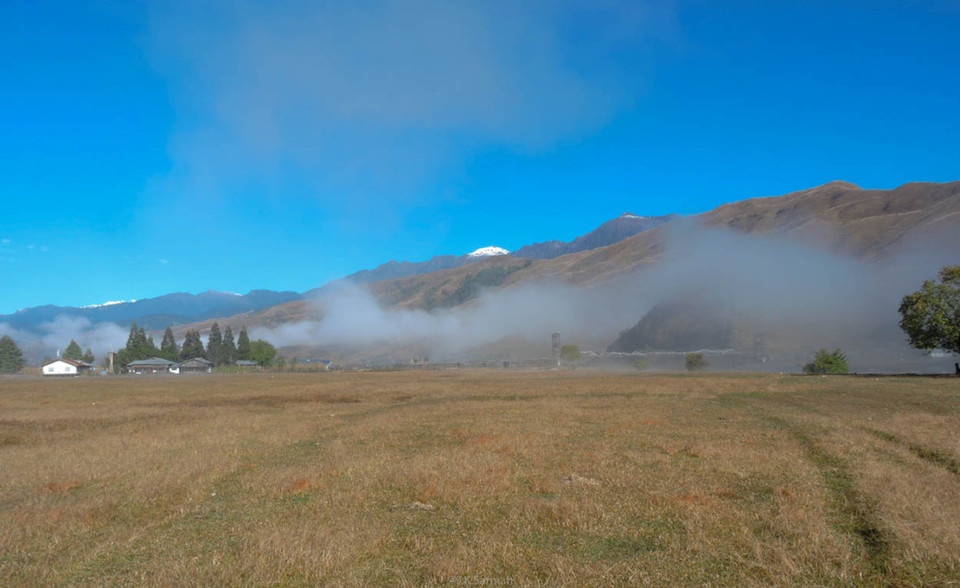 Mechuka Valley on the morning of 31/10/18
M
Coming back to our room we saw Bhargab fully ready for our return journey. We also saw a Bolero car parked in the front yard of homestay and two young man taking breakfast standing on the yard under sun. Chatting with them we came to know that they had come from Dibrugarh, Assam. As shared by them they were a large group and headed to Mechuka in two SUVs. While they have reached Mechuka other group members in a Scorpio car went back before reaching Along as the driver of their vehicle declined to continue the journey seeing bad road condition.
We consumed the tasty thukpa prepared for us sitting under sun in open. Then paying our dues and shaking hand with Mr. Sona and we left the homestay. On our way back from Mechuka before reaching Tato we stopped two times for very short duration for watching Birds (Munia and Minivet), and then stopped at Hiba Line Hotel near Siko-Dido waterfalls for about thirty minutes. Here we took some photographs of the waterfalls and then took tea with omelet in the line hotel. Thereafter, moving almost nonstop (Save one brief halt to attend nature's call) for about three hours we reached Kaying head Quarter in late afternoon hours.We checked in two small restaurants if rice or roti was available. Not getting them we settled with Chowmin in our lunch. From Kaying to Along road was good. We could manage to reach Along before it becomes dark. After leaving Kaying I booked a room over phone in the same hotel where we stayed during our onward journey. Reaching Along we filled petrol in our car and then straightway went to the Hotel. Interestingly same room where we stayed on 28/10/18 night was offered to us this time as well. As we were without bath for two days first thing we did here was to take a bath with warm water.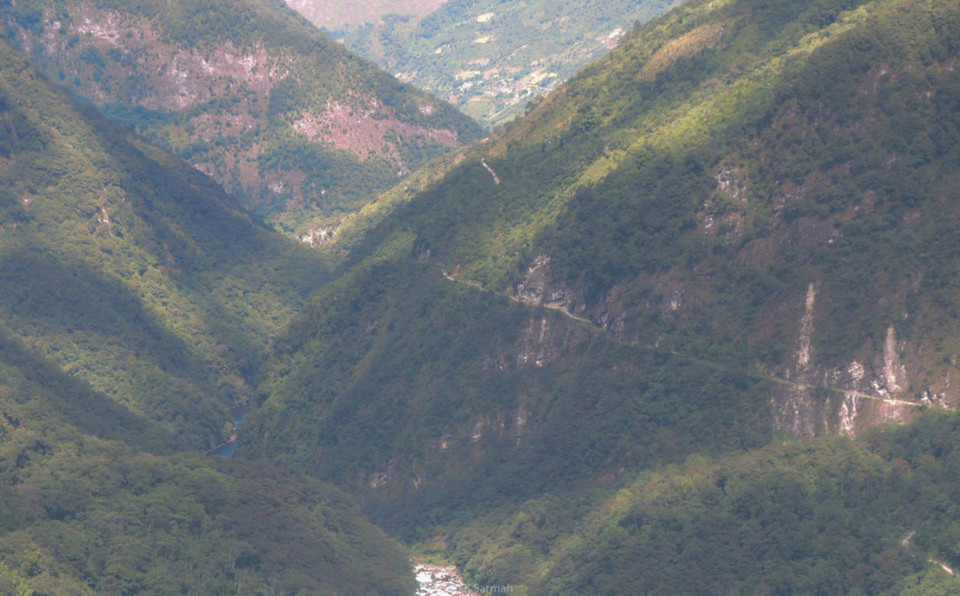 The road at a place between Mechuka Village and Along
T
The magnificent Siko-Dido Waterfalls
T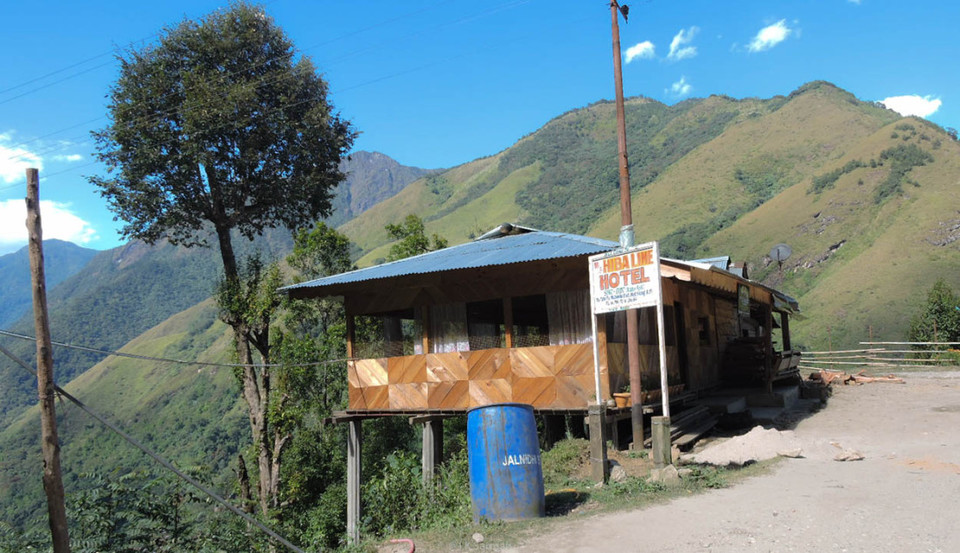 Hiba Line Hotel close to Siko-Dido Waterfalls
H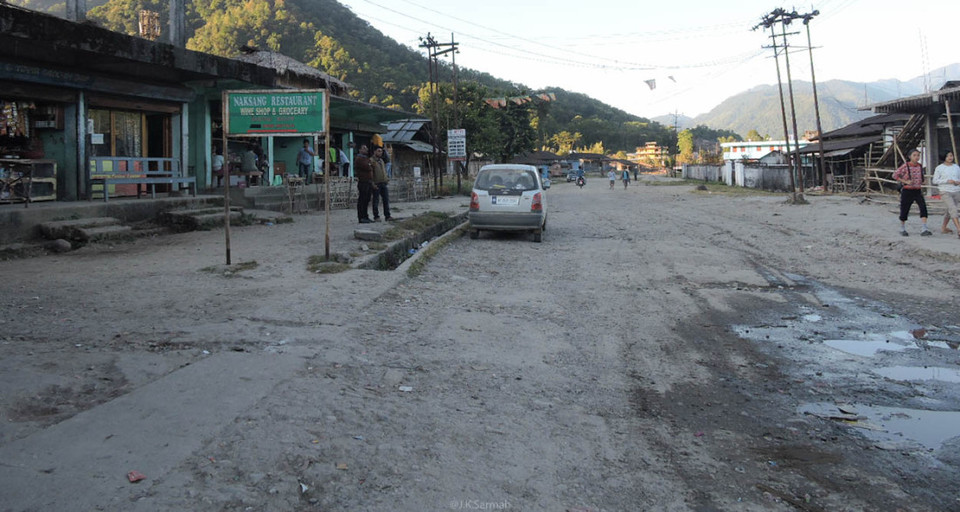 Kaying Head Quarter, where, we stopped for our lunch on our return journey to Along from Mechuka Village
K
Day-6 (01/11/18)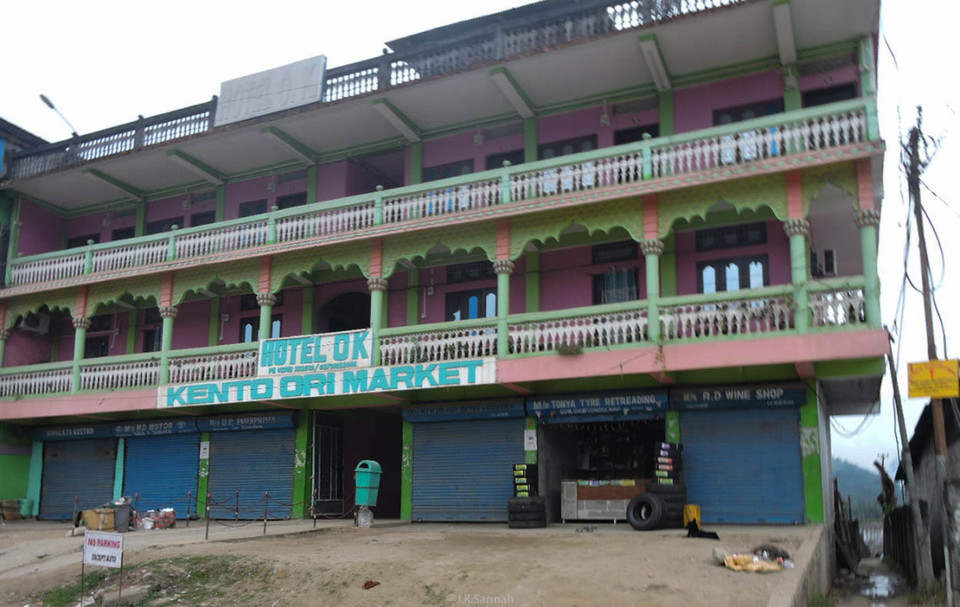 Hotel OK at Along where we stayed for one night both on our on ward and return journey
H
On 01/11/18 we left hotel near six in the morning and first went to the road side stall, where we took breakfast on our onward journey. Today dal-puri was not available. We took plain puri and sabji and then a hot cup of tea. Finishing our break-fast we headed to a not yet fixed destination in the plains of Assam.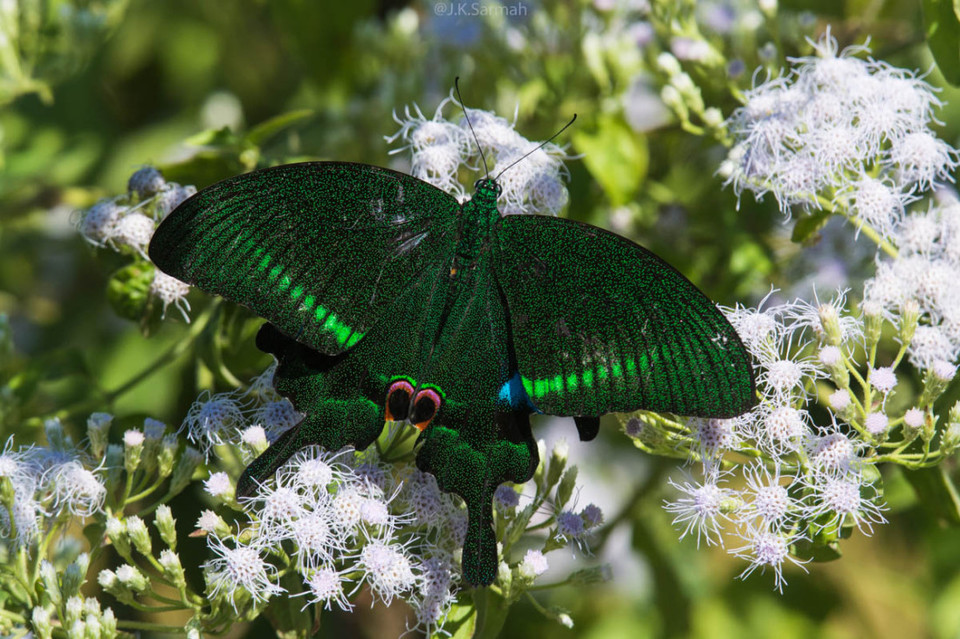 The Butterfly, which, kept us running after it both during our onward and return journey
B
At Pasighat we filled our car petrol tank full. As the road from Pasighat to Silapathar was good we could move fast. As we were moving ahead one idea came to mind. Why not we go to see the newly constructed Bogibeel bridge, which, is expected to be commissioned on 25 th December. I shared my idea with Bhargab and Naba and they too voted my idea. Bogibeel bridge as it is popularly called so far, once inaugurated will bring remarkable improvement in road communication network of Assam and Arunachal Pradesh. This bridge will connect Bogibeel a place near Dibrugarh on southern Bank of Brahmaputra and Dhemaji district on northern bank of Brahmaputra. So far people from Dhemaji district of Assam and the adjoining places of Arunachal Pradesh are travelling to Dibrugarh town for business, medical treatment etc. by crossing Brahmaputra in Ferry.
After crossing Silapathat and moving little ahead we reached the junction from where the road to Bogibeel bridge bifurcates. At this junction we could see a newly built Dhaba. Taking our Lunch we headed to the bridge site.
After seeing Bogibeel bridge, continuing our journey, we reached North Lakhimpur town of Assam at about 6-00 pm. We decided to halt at North Lakhimpur town for the night.
Day-7 (02/11/18)
On 02/11/18 starting from North Lakhimpur early morning and taking our lunch in a Dhaba near Amoni we reached Guwahati back at about 4-00 pm ending our dreamed journey to MechukaVillage of Arunachal Pradesh.