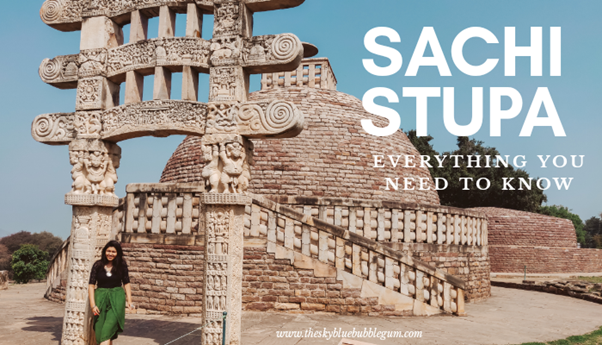 Crowning the hill-top of Sanchi nearly 91 meters in height, this group of monuments present a spectacular view from a distance too. Built by the Mauryan Emperor Ashoka, Sanchi Stupa houses the relics and edifices of Lord Buddha. Thereby making it an important pilgrimage site for people practicing Buddhism all over the world.
The relics are present only at a few places globally including Nepal, SriLanka, Cambodia, Vietnam, etc and Sanchi is one of those rare places!
This blog is your ultimate guide for your Sanchi Stupa visit. It covers everything you need to know – how much the trip cost you, internal travel, ticket costs, history about the Sanchi and the Stupas, do you need a guide? etc.
A peek inside Sanchi Stupa
Dotted with Stupas, monasteries, and temples in an area with stupendous amount of peach and tranquility, Sanchi is the most popular Buddhist pilgrimage sites in India.
Although not sanctified by visit from the Lord Buddha himself, Sanchi is a place where the Buddhist devotees expressed their devotion in stone since the 3rd century BC, including King Asoka himself!
The construction of Stupa 1 began in the 3rd century BC which was the reigning period of King Asoka. Countless kings, monks, worshippers added more temples, stupas, and monasteries till the 12th century AD.
There are 4 pillars in each direction depicting stories of Lord Buddha's life.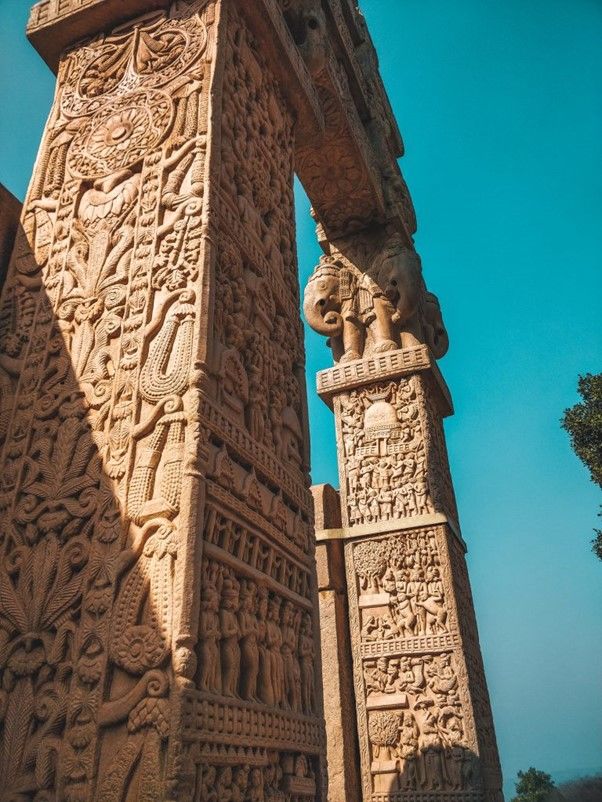 Stories of the entrance pillar :
• This pillar has a depiction of Lord Buddha himself. The shadowed inscriptions show the court welcoming Lord Buddha.
• The pillar with the sunlight tells a story of Lord Buddha traveling where he gets thirsty on the way and the monkeys gathered to offer him honey which helps him ease for the journey ahead.
• The second story talks of celebration.
• The elephants (on top) had ivory tusks customized to the sculpture's size.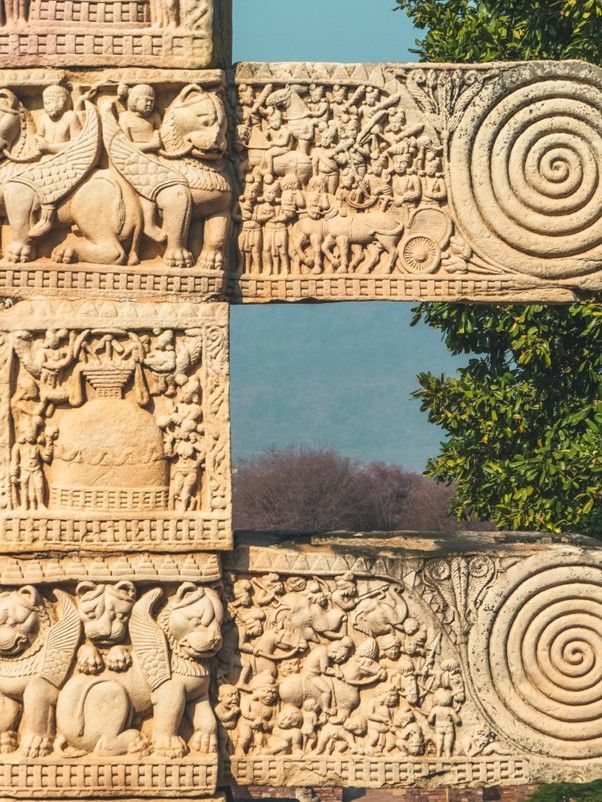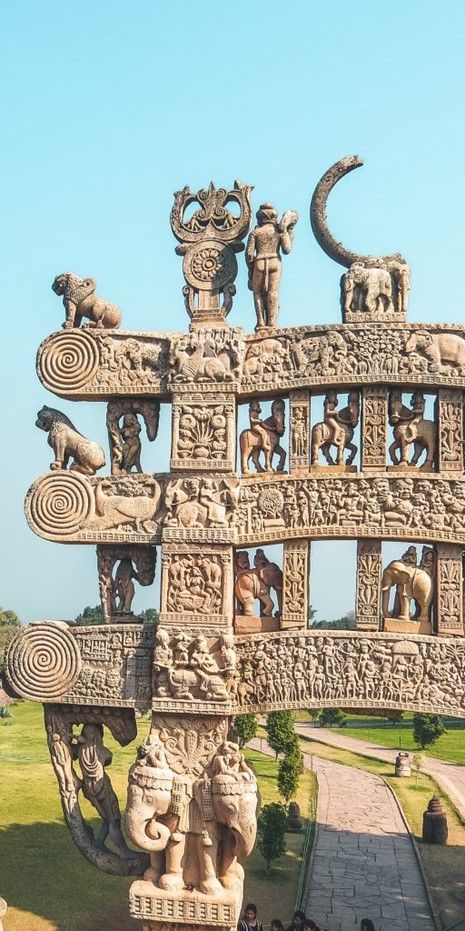 Photo Op: Since there is a pillar in each direction, there will not be a single against-the-light photo!
Is a guide essential to explore Sanchi Stupa?
If you would love to time travel with the help of guide's stories then a guide is always recommended. Also, a meager amount of INR 600 also helps pumping money in the local economy.
Unless you are visiting only to click pictures, then a guide isn't required.
I have mentioned only a handful of stories since it will be impossible to write all the stories that a guide has covered in 2 hours of our visit.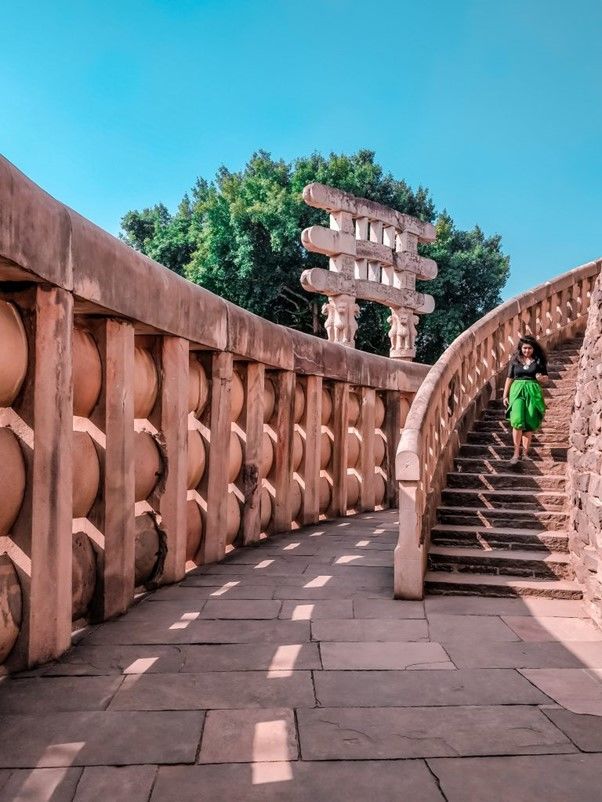 How to reach?
Bhopal is the nearest junction to reach Sanchi. Bhopal railway station is km away and the airport is a 55km drive. A cab is the best option for both these places to reach Sanchi.
From Bhopal
However, you can also consider traveling by train from Bhopal railway station to Sanchi station. The stupas are only 1.3km away from Sanchi Railway Station – you can take an auto or walk it up.
Private cabs are a good option too since you do not have to worry about anything. We traveled with Savaari Car Rentals since we had Udaygiri Caves and Bhopal to explore next in the same day.
Check Bhopal: A 2 days itinerary of The City of Lake
.
What to expect?
• This place is heaven for history and/or architect lover. Expect Buddhist devotees all over the place and expect a lot of time travel thanks to the guide's stories and information.
• Carry sunglasses/scarves if you are visiting after 11am till 4pm since there is no shade.
• I love how it has a water refilling station and a canteen on the edge of the mountains – sip a tea with a view of infinite Vindhyachal Mountains ?
• The stupas are open from 8:30 am – 5:30 pm on all the days apart from public holidays.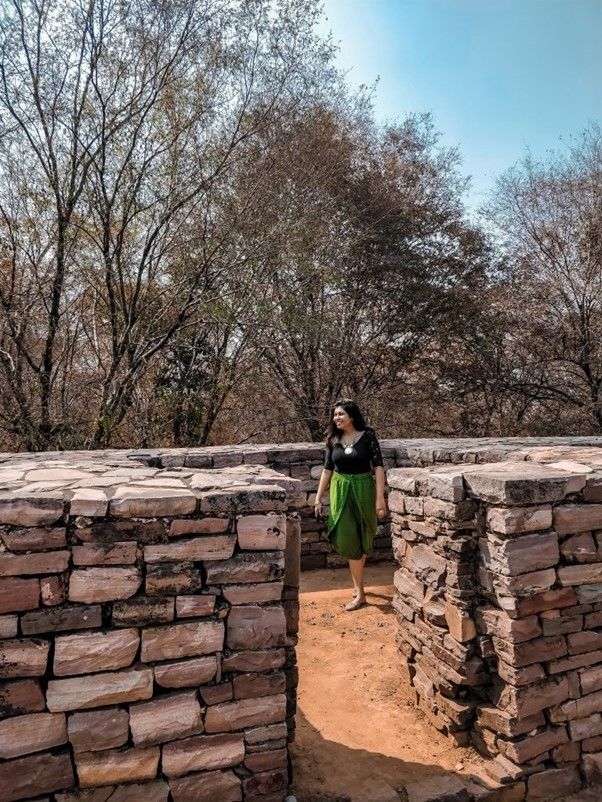 Can you stay in Sanchi?
There a few MP tourism run hotels viz. Buddhist Guest House 266739, Traveller's Lodge 266723, Circuit house 266722 etc. available in Sanchi to stay.
We, however, stayed in Bhopal since it is a center point for Sanchi and Bhimbetka and also is a place where we had to catch our train/flight back home.
.
Costs for exploring Sanchi Stupa
• The train would not cost more than INR 100-300 per person for a return journey to Sanchi and back to Bhopal.
• Autos would cost around INR 100 from Sanchi railway station
• Savaari Car Rentals / Private cabs cost ~INR 2000 for an entire day ( Refer 'Day 1' on '2 days in Bhopal')
Entry fees ~INR 100 per person. They accept cards too! Keep some cash handy for food and buying any souvenirs.
This blog is in collaboration with Savaari Car Rentals. However, views, experiences, and photos are mine as always
Stalk me on