Travel Guides and trips for taormina
Trips and Itineraries for Taormina
16 Days

10 Must See Places in Sicily
As an additional extra 18km north of Taormina likes Forza D'Agro the filming location of the Godfather....
21 Days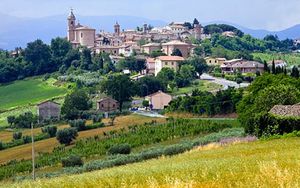 ~~What's that they call it, the Butterfly effect?...
---
About Taormina
June 15th 2014. My train to Taormina was scheduled to depart at 1.45 pm and Sheila's to Rome an hour later, allowing us a free morning. We had one last Neapolitan activity to cross off our list (Sheila's list actually) – eat pizza at the best pizza restaurant in the world. We checked out of the hostel and rode the metro to Napoli Centrale where we bought tickets for our later journeys. Sheila then led the way to 'Da Michelle' of the 'Eat, Pray, Love' book and movie fame, a brisk 20 minute walk away. I haven't read the book but Sheila assured me it was the script of every travelling girl's dream. (Note to self: never read the book) It was still early hours but the moderately sized pizzeria, its walls decorated with framed quotes from the book and still pictures from the movie, was already full with the two of us taking the last available table. There is no menu at Da Michelle, it's just margherita pizza, and the only exercisable option is single or double mozzarella. We ordered two doubles and the oddly shaped, generously sized pizza was bloody delicious- the base thin and chewy, almost with the consistency of a double folded rumali roti, and the salty tomato sauce delightfully tangy. To be honest though, it wasn't the best pizza I've ever tasted, having had better at Toit. I was surprised to learn how inexpensive the meal was considering Da Michelle's iconic status, and even more surprised to see such a large crowd outside waiting their turn for a table. Sheila and I said goodbye at the station. I wished her good fortune in the pursuit of her dreams and she wished me the same, promising to remain in contact. Good luck brave woman. Now I was solo dolo. The Regional to Syracuse via Taormina departed Napoli Centrale on schedule and for the next five hours until the train reached Villa San Giovanni I wrote my travelogue uninterrupted, occasionally copping glances ('putting cun' as they say in namma uru) at the modish young woman in cheetah tights and big red lips seated across from me. Remember our adolescent days when train travel necessarily entailed a cursory scan of the dot matrix printed reservation chart pasted by the compartment door to ascertain the age and sex of the travellers in the vicinity of our assigned seat? Has anything ever come out of that? Have you ever had a good looker near you? No. No. Not ever. Come to Italy, travel by train and claim your redemption. Travelling south along the coast, the locomotive unwavered in its commitment to the sea, always by the water as it pierced the hills and glided over the valleys that stood in its way. At Villa San Giovanni they put the whole damn train in the belly of a ferry and sailed it across the strait to Messina, its counterpart on the Sicilian shore. On the ferry, I disembarked from the carriage and climbed to the top deck to take in the magnificent views of the famous crossing and was delighted to note that one of the many vessels negotiating the strait that evening was the Nieuw Amsterdam as it sailed past the toes of mainland Italy north into the Tyrrhenian Sea. Oh you've forgotten the Nieuw Amsterdam? Remember the cruise bound couple from Surrey who lent me their phone in Venice? I hoped they were having the time of their lives on board. At 8.50 pm the train slowed as I heard the guard announce through the public address speakers that Taormina was the upcoming station. I was the only passenger to alight from the empty train and waited outside the boutique station by the blue 'Fermata' sign for a bus to transport me the last stretch of the journey. While the railway station that serves Taormina sits by the waterfront, the ancient town itself rests atop a sheer cliff that leaps out of the Ionian Sea, accessed by a steep, single carriageway of successive hair pin bends. I walked uphill from the bus terminal at the entrance of the small town to Hostel Taormina on its far side, following the directions on the booking confirmation email that I was mindful not to have erased. The compact, quirky hostel was a converted first floor residence where pretty Ilea, the friendly manager, showed me to my bed in a six bed, mixed gender dorm. Barring two blokes, the lodgers at the hostel that day were wedding guests from Catania (a major city south of Taormina) and Messina who were out celebrating at the wedding party. The two who weren't part of the nuptial contingent were permanent hostel resident Marco, a cook employed at 'The Empire' hotel next door, and Ricardo, a hotel management graduate from Puglia on the southeast coast of the mainland who had a job interview at the same hotel the next day. This was Ricardo's second evaluation with the luxury pensione; on the first attempt he was advised to improve his English communication skills and denied employment. Ricardo was eager for an assignment in Taormina to be close to his girlfriend who lived in Giardini-Naxos, the town immediately south, and when he realized I could string a sentence or two in English, asked if we could spend a few hours together to practise English conversation. In return he offered me a guided tour and a drink. I accepted. Immaculately manicured Taormina, where the tourist is central, not incidental, wasn't entirely my kind of town though its strategic disposition on the massive crag, lording over the coast and enveloped in the aura of mighty Mount Etna to its south was compelling enough reason to stay. The town centre straddles the primary pedestrian thoroughfare, Via Corso Umberto, roughly confined between two archways-Porta Messina and Porta Catania- at its north and south ends respectively, within which lie a succession of boutique hotels, fine dining restaurants, art galleries, designer clothing stores and a piazza and duomo or two. We walked downhill from our hostel to the main drag and traversed from one arch to the other and back, Ricardo recommending I visit the Greek Theatre, the public gardens and L'Isola Bella during my stay over the next two days. He made a concerted, sincere attempt at English conversation and studiously referenced his grammatical errors against the correct syntax, vocally recalling the rules of usage of adverbs and past participle and present continuous and what have you before correcting himself. 'O'seven', the mandatory Irish pub, had a live gig that evening and was abuzz as all Irish pubs the world over are abuzz. The two of us posted up at the bar and took our drinks while the talented band sang popular tunes and a group of American girls on a bachelorette shindig created a raucous. Taormina was clearly an approved wedding destination. Ricardo had mentioned during the course of our conversation that he played the harmonica in a Blues Band and unbeknownst to me had the instrument on his person. To my lekker and right surprise, he approached the band after the last song for the night was performed and requested them to provide a 12 bar Blues rhythm at tempo. They obliged and he improvised a wicked honky-tonk melody over the familiar harmonic progression, getting every patron's motor up and running. The talented boy shouldn't be in the hospitality business. Dinner was pistachio gelato with pistachio nuts and chocolate sauce stuffed in a cream topped crepe at a small establishment serving late night stragglers, 6 Euros of decadence. My first Sicilian sleep followed presently. * I awoke a little after 6 the next morning with an irresistible urge to write. For the next four hours as the sun steadily rose out of the azure Ionian Sea, I worked on my journal sat on a recliner on the terrace overlooking Taormina and the sea beyond, stopping only when the heat got too oppressive. Back at the dorm Ricardo was prancing about with nervous energy dressed in slacks and a formal shirt and the wedding guests had checked out. I showered and set out to explore Taormina by day, wishing Ricardo luck. I walked back and forth between the arches and explored the sloping by-lanes of Via Corso Umberto and in such a manner came upon the highly recommended public gardens to its east by the precipice. I support the recommendation- the well groomed, shady and sizeable giardino by the cliff edge with stupendous views was an oasis of non-commercialism in, well, a commercial town. I walked to the ancient, beautifully situated and extremely well preserved Greek Amphitheatre (entrance 12 Euro) with imposing Etna in the backdrop that was being prepped for the weeklong Taormina Film Festival beginning two days later on the 14th. I reckoned it was too hot to visit the beach at L'Isola Bella and returned to the hostel to write some more, deciding to venture out again when the sun was kinder. Italy, and for that matter the whole of Europe I presume, is incredibly equipped for the quick and affordable movement of people. Vast distances can be covered in relatively small periods of time on a moment's notice on account of the fantastic land, water and air transport infrastructure. You could decide to travel from the far south of the country to its northern borders and further into Europe and find yourself on comfortable, appropriate transportation headed for your destination within the hour. Asia, and particularly India, for that matter lags in this respect even as I declare that considering the circumstances of our Nation, there is no greater human endeavour than the Indian Railways. In my opinion, Europe is handicapped regarding the instant availability of accommodation, especially affecting the take-it-as-it-comes, anti-itinerary variety of travellers who do not have unlimited quantities of time and tend to move from one location to another on a whim. Unlike in Asia, there just isn't a proliferation of cheap digs to indulge this impromptu style. It's injudicious to expect hostel availability on demand in these parts, especially at the popular destinations in high season; at best, you'll pay through your nose for a crummy bed and at worst, be left stranded. The result? On a two or three week vacation where every day counts, you succumb to reserving in advance, which in effect surrenders you to a schedule. Ricardo and Marco spoke highly of Palermo when I asked for destination recommendations and deciding to take them up on their suggestion, thought it wise to use the resources of the hostel to secure reservations in the Sicilian Capital for my final three nights. The manager that afternoon was Andrea- a slim, short young woman with cropped black hair and a compact, cute face. Also noticeably, her breasts were abnormally large for her body and it helped that she wore a singlet two sizes too small. From the moment we saw each other we wouldn't stop smiling. "Ciao, I'm Kuri" "Ciao, I know. I'm Andrea" she said as we enthusiastically shook hands and I sat on the couch by the reception desk. "Are you having a nice day so far?" she enquired as she leaned forward, facing me, seated higher on a swivel chair. God almighty, where was I to look, she was spilling everywhere. "I was all hot and sweaty from the sun so I returned to the hostel. But the gardens and theatre were great" I replied, trying to keep my chin up. Damn they were a sweet pair. "I'm hot and sweaty too" she proclaimed as she mockingly fanned herself with a Taormina tourist map. Wondering if there was a double entendre there I asked, "I'd like to make hostel reservations in Palermo for the 14th, 15th and 16th. Can you sort me out?" "It would be my pleasure" she said as went about looking in a diary for a phone number and made a call. She had a brief conversation in Italian before disconnecting. "That hostel is full; they only have a bed available in an all female dorm. Do you want to go as a female?" she asked, giggling as she continued, "You can have my hair. And you can have my body" "Holy hormones woman! I'm fragile. It's been three weeks since my lieutenants left the building", I said under my breath. I doused the sexual cinders with a very idiotic laugh, fearing the innuendo would climax to an immediate carnal resolution, for which the front door wasn't the appropriate venue. I had to canal it for later. Andrea made another call and reserved a bed at 'A casa di ami' for 20 Euro a night, the same tariff as Hostel Taormina, and gave me great tips on day trips from out of Palermo. She was an extremely helpful person, going out of her way to provide bus schedules and directions. "I'm hungry, it's lunch time. Have you eaten?" she asked after the booking was made. "Yes I have" I said, telling her about the pizza slice I just walloped. Wrong answer fool. Wrong answer. Predictably, she got up and left and I never saw her again. I justified my gormless performance by assigning liability to her peculiar body odour and slight resemblance to Messi, both of which were excuses. It was time to turn in my player wings and re-train. I wrote for a couple of hours until 4 pm when the sun was less harsh before setting out again. L' Isola Bella, or The Beautiful Island, is a rocky but verdant islet under Taormina's nose, loosely connected to the beach on the mainland by a narrow pebbly isthmus, centred in a sweeping bay of transparent blue water. I rode a cable car down to the coast (3 Euro one way) and walked the short distance from the cable car station to the popular beach and islet, settling down on the uncomfortable pebbles in a shady spot away from the crowds. I read a little, swam a little, slept a little and rode the cable car back up to Taormina at 7 pm. Ricardo was at the hostel and seemed in good spirits after the interview. He would know the hotel's decision in a week. We sat talking on the terrace and were momentarily joined by Daphne and Kiko, two guests who were assigned beds in the dorm next to mine. Daphne was an American doing her PhD in England and was in Taormina to attend a weeklong Neuroscientists Convention starting Monday, the 16th. I noticed it was a while since she had seen the insides of a salon and was as geeky as geeky got in her black frame spectacles, ill fitted university sweatshirt and pyjama's. But she was fun and had an exuberant innocence about her. Kiko of Mexican and Japanese parentage was from Mexico, attending university in Germany and in Sicily on a 10 day vacation. Even though posh in appearance, her bony frame would have done well with a few additional pounds and her interesting but not conventionally pretty face (in my opinion of-course) was an in-cohesive, almost awkward, amalgamation of Native American and Japanese features. Daphne left after yawning twice and announcing it was her bed time. Kiko left for a shower after stubbing out her cigarette and soon it was time for Ricardo to leave as well. He was headed to Giardini-Naxos and from there on an overnight bus to Puglia. We exchanged contact information and he invited me to stay with him on my next visit to Italy. In return I invited him and his girlfriend to stay with me in Bangalore if they ever decided to travel to India. Arrividerci. The inaugural World Cup match between Brazil and Croatia was at 10 pm. My plan was to watch the game at O'seven and had an hour before kickoff. I showered and changed and just as I was about to leave the dorm, in walked in its newest boarder-let's call her Wendy Wu from Beijing, studying Architecture in Munich and fair, slim and pretty in the typical modern Chinese way. "Hi, how are you?" I greeted. She had just arrived from Palermo in a short black dress and heels. "I'm fine thank you" she said with an almost incomprehensible Chinese accent as she lugged her gigantic pink suitcase to her bed. "Where are you from?" she asked as I strapped on my watch and applied scent under my arms. "India" I said proudly. "India? Not possible!" she exclaimed dismissively. "I have a friend from India and you look nothing like him." "I have a friend from China and you look exactly like him" I replied, my caustic remark not entirely registering as she blinked at me befuddled and proceeded to type something in Chinese (presumably) on her Iphone. "See you later" I said and left for O'seven. I felt a little silly for being unnecessarily mean but I'm at war with Chinese women I could be attracted too. It's a long story that goes back to last year in Laos. The Irish pub was busy as expected. I found an empty stool by the bar and among noisy football fans watched as Brazil trumped Croatia, even if slightly unconvincingly. I saw Kiko and Wendy walk past O'seven at one point and considered waving them in but decided against it; I wouldn't have been able to hold a conversation with the football game in progress. Tired by the time the match ended I returned to the hostel and slept.
Book Taormina Tour Package