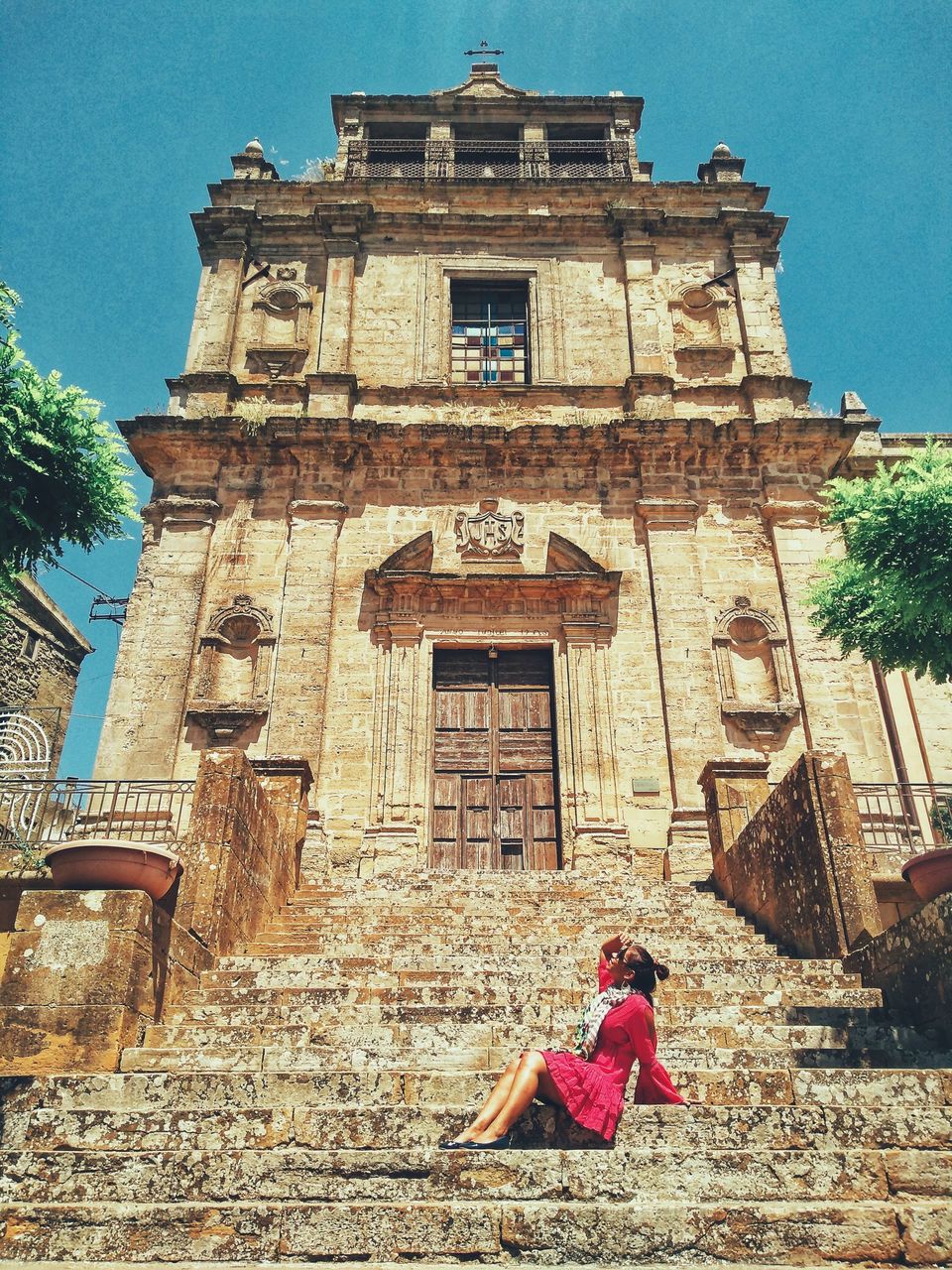 Sicily was full of adventure! Everything about the Sicilian trip was extreme. Extreme fun, extremely gorgeous nature, extremely hot weather, extremely amazing people, extremely interesting culture, extremely delicious food, extremely pleasant water, extremely mind-blowing architecture and the list goes on. A small island with so much to offer that you will never fall short of things to do in Sicily.
I was visiting my friend in his hometown Enna, located in the center of Sicily. I had absolutely no plans and decided to go with the flow as usual. What works the best with this approach is that you always tend to stumble upon the unexplored corners of the country which in my opinion is the fuel to truly enjoying any place in the world!
Arrive in Catania
I love Enna!
You could either fly to Catania or Palermo, the two biggest airports in Sicily! There are buses running from Airport to Catania Station from where you can catch a train or another bus to go where ever you wish to depending on what's your final destination. You can checkout this website for more details on public transportation from the airport.
Experience true Sicilian culture in Enna
The beautiful streets of Enna!
In my opinion if you want to truly enjoy Sicily, escape the touristy places and drive to the mountain villages, Enna being one of them. The people, the culture, food, festivals all of it is a delightful surprise. You won't find people speaking English here for the most parts! So google translator is mandatory, luckily I had a local with me. You can catch a bus from Catania airport or city to get to Enna. The last bus leaves around 6:30 PM. You can find the bus schedule here to plan your trip accordingly.
The amazing watch tower in Enna, Castello Di Lombardia!
Enna is a small village located in the centre of Sicily making it a good stop for your stay as Catania is only an hour bus ride away and so is Palermo or Syracuse. Except for you need to get to Catania to go anywhere around if you are using public transport.
There are ample of things to do in Enna from devouring local food, mingling with the locals, to enjoying their festival, and the vibe! Some of my favorite places to try food would be Ariston for delicious pizzas, Cafe Roma for breakfast with their amazing variety of small bites with shekerato, the best gelato at Geba and mouth watering pasta in Liola. You can checkout the watch tower Federico, Castello Di Lombardia, the engaging night life, a game of Foosball on the streets and much more!
Take me back to Enna <3
Immerse in the festivities in Enna
The Virgin Mary Festival!
I was really looking forward to attending the Madonna Della Visitazione. If you are in Enna on 2nd of July, on the occasion of the Madonna della Visitazione procession, expect to wake up at 7 am at the sound of the 101 gunfire in honour of the patron saint of the city. The statue of the Madonna, which during the year is kept in its multicolored marble niche inside the Cathedral, is carried in procession along the town. It is entirely covered with gold and precious stones and is kept inside a large sixteenth century Vara (reliquary casket), carried on the shoulders of 118 barefoot confreres, gli ignudi (naked ones).
Madonna della
The procession starts in the cathedral and along the way there is the firing called the sarbiate, a gun salute. Near the hermitage of Montesalvo, the statues of St. Zachary and St. Elizabeth, which will meet the Madonna, come out from the church. Immediately after the entry into the Church of the Madonna, the artistic fireworks start. Here, you'll see the explosions of joy that characterise all the religious celebrations in Sicily! And the festival ends with a live concert!
A day in Taormina
Taormina beauty!
After the festival we decided to explore Isola Bella in Taormina. It is a UNESCO natural reserve. I would definitely suggest getting here in the evening, sit back and enjoy good food right in front of the reserve in Pizzichella. Take the stairs down to Isola bella and you'll see the restaurant to your left. After around 8:00 PM the crowd dies down and you'll find the whole place to your self. The sight is magnificent at night!
Night out in Letojanni
A night in heavenly Sicily
After spending some time in Isola bella we decided to go star gazing in Letojianni which was the best decision ever. We were ready to sleep on the beach, we had our drinks, speaker, throw to sleep on and to cover ourselves. There are no public restrooms around if you are planning to stay on the beach. However, you could brush and change up in Niny bar right in the Piazza 2 minutes walk away from the beach. In the morning the gorgeous blue water is perfect to take a dip in for a morning shower.
I miss a filling brioche and a granita!
Niny bar is perfect for a morning breakfast of Granita ai Gelsi with Brioche! It opens at 6:00 am and you can easily sit here, read a book or work.
Loose your heart in Castelmola!
The view from Bar turissi
Our next stop was one of the wonders of Sicily, Castelmola! Located just above Taormina on the top is one of the most beautiful villages of Sicily. If you plan on visiting Taormina, after enjoying a few splashes in the water I would suggest staying in Castelmola for the night and you are for sure to fall in love with it yourself. You can take a bus from Taormina to Castelmola or drive there if you are daring enough. The drive is uphill and not for faint hearted especially if you are not familiar with driving in Italy.
Get a culture shock in Bar turissi
Bar Turissi times!
This is one of the most famous and the oldest bars in Castelmola. From outside you see a tightly squeezed beautiful restaurant with red umbrellas, once you enter the restaurant is when you start noticing the uniqueness of it. The bar is filled with furniture depicting private male parts. From chairs, ash trays to their menu and the floor mat. Even the staff wear a penis broach! The vibe here is insanely refreshing and eclectic.
Go Star Gazing by the Castle in Castelmola
A night in Castelmola
The Castle is definitely one of the most famous spots in Castelmola. We went here at night after around 11:00PM when the crowd had completely died down, so we could sit and star gaze. Star gazing is one of my most favorite things to do and Catello di castelmola is a perfect place for it when in Castelmola!
A refreshing bath in Syracuse
Syracuse <3
Syracuse is to the south of Catania. After a two hour bus ride we walked for another half an hour to get to Isola Di Ortigia a small island connected by a walk able bridge from Syracuse. We were just looking for a place to get into water. At Forte Di Vigiliene we found our spot! There are no changing rooms here, so we found a quiet place to change behind our towels and jumped into the warm open water.
Street food in Catania
Complain Complain!
Catania is known for its street food and is definitely a must try in Sicily. On the day we got back from Syracuse, we saw a panninera food stall right outside the bus stop. The aroma and the vibe of the place instantly tempted our hungry stomachs!
A Panineria is a kebab shop where a thin-sliced horse meat is flash-grilled, while chicken or veal involtini and horse burgers are cooked more slowly. You'll see a cart on the streets, choose your meat, bread, salad etc with mayonnaise or ketchup. It's pure deliciousness! I had some fries with my sandwich topped with mayonnaise and ketchup, which was the most satisfying thing I found after pasta and pizza!
Enjoy the coffee culture
My favorite coffee!
Italy is a coffee haven for coffee lovers! Don't be a weirdo asking for double espresso shot, just visit the cafe often to get your caffeine dose, everyone does that in Italy. You will find a lot of bars (Al Banco) that serve coffee. Some of my favorite coffee styles were espresso, cafe shakerato (ice, sugar, coffee) , cafe granita - granita is an ice alternative in Italy and is much better, cafe corretto (espresso with a splash of grappa) and cafe freddo (ice coffee).
As soon as I landed in Catania, at the airport my friend greeted me with coffee cream (crema caffe) and that was the beginning of exploring this coffee world that I was unaware of and which changed my idea about a coffee completely!
Enjoy an Italian breakfast
A breakfast like this!
Italian breakfast concept was new to me. They generally prefer a small bite with their coffee. Some mornings we would have brioche and Granita ai Gelsi and some would be about Cigno alla panna, Bigné fritto alla ricotta soaked in honey with Caffé shakerato. Start your morning with these sweet delights and you are sure to have a great rest of the day! I use to look forward to mornings to devour these delights, making it one of my favorite things to do in Sicily!
Ending the Sicilian adventure until next time!
A sunset in Sicily!
The quirky country is sure to tempt you into paying another visit. The country offers a variety of things to do, be it cycling in the panoramic province of Tuscany, learning about the rich culture in Sicily, be it architectural wonderland of Rome, the food extravaganza in Naples or enjoying the magnanimous and beautiful coastline of the country, you'll never get bored on your getaway to Italy!
Have you been to Sicily? What are exciting things you did and experienced?