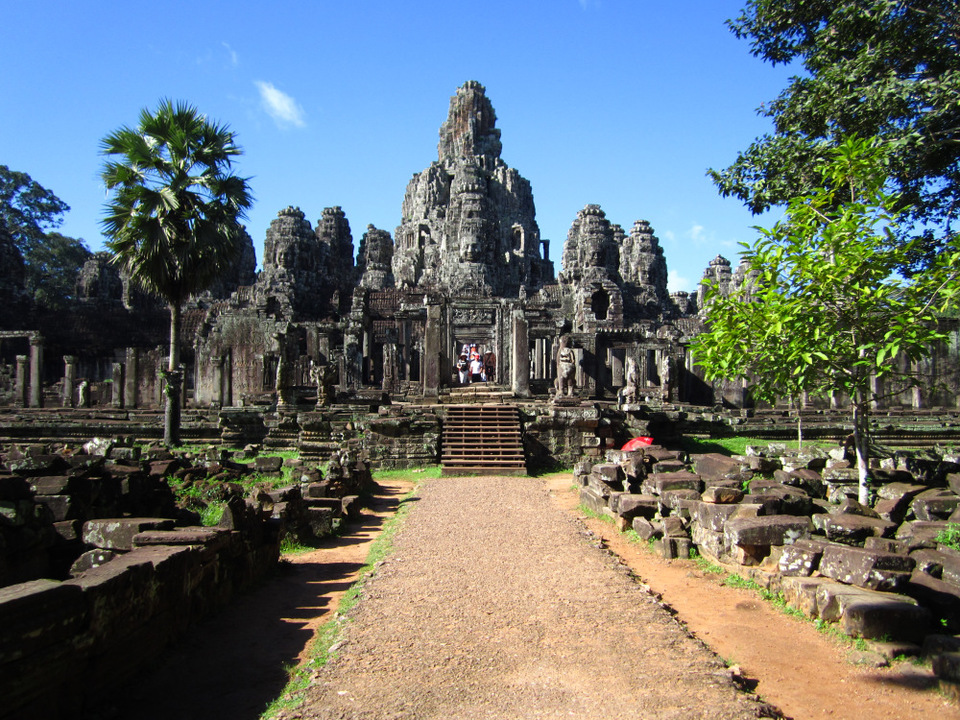 After a very long and wet bus journey from Ho Chi Minh in Vietnam, we arrived in Phnom Penh. The bus stopped on a huge motorway going straight through the city and we could see on our iPhone map that we weren't far from the hostels, so we managed to cross the road without being pestered by tuk tuk drivers! The first thing that hit us when we stepped off the bus was the heat. It was baking! As we made our way to the hostel area, unfortunately most were either booked or a little too expensive (for Cambodia), finally after strolling around for a while we found a massive purple building aptly named Purple Hostel that had vacancies. It was a nice place and the staff were very friendly. The only thing was that our room was on the top floor and they didn't have an elevator. Our room had no air-con but it did have a huge fan that we had on throughout our stay and a TV that had a few English channels.
We had been told by travellers we'd met that Phnom Penh is a pretty boring city that didn't have much to offer but we loved it! We did something interesting every day. One of our first visits was to a famous prison called Tuol Sleng, which was just 15 minutes walk away. As we neared the entrance there were elderly people without limbs begging for money and from that moment I knew that Cambodia was going to be quite an eye opener. I didn't know what to expect at the prison as I hadn't done any research beforehand, all I knew was that it was formally a school. This former school had been turned into a torture prison where people who were against Pol Pots Khmer Rouge regime or just random people where locked up and tortured for many years. There was no sign of this place ever being a school. The entire place had a cold chilling feel about it. Class rooms had been turned into cells and each room had photos of what was found in them. Some photos showed the remains of corpses that had been chained to beds and left to rot. Many of the cells where no bigger than 2 foot wide and 6 foot long. Many of the prisoners never left these cells for the entire duration of their imprisonment. In some of the rooms there where torture devises that had been used on the prisoners, such as water boarding tables, swords, chains, barrels that would have been full of water and prisoners would have been lowered into them and a chair that was used to take photos of all the prisoners. Other rooms had photos of many of the victims some that were no older than 3 or 4. In one room they had pictures and information on 3 of the last remaining guards that where in charge of the prison. Their trial only started in 2009 for the atrocities that occurred at the prison. All 3 are now in their late 80s early 90s and are only now being brought to justice.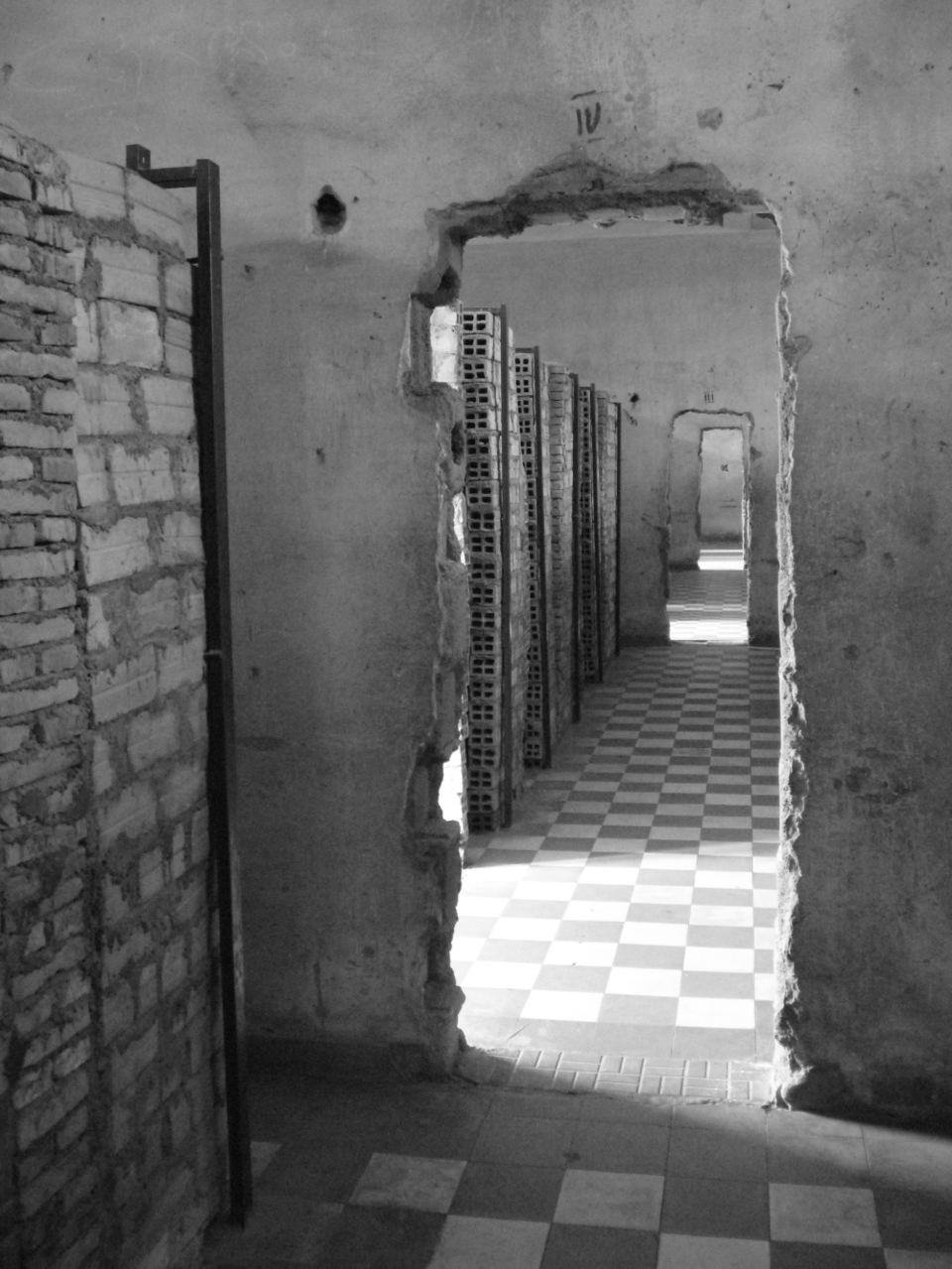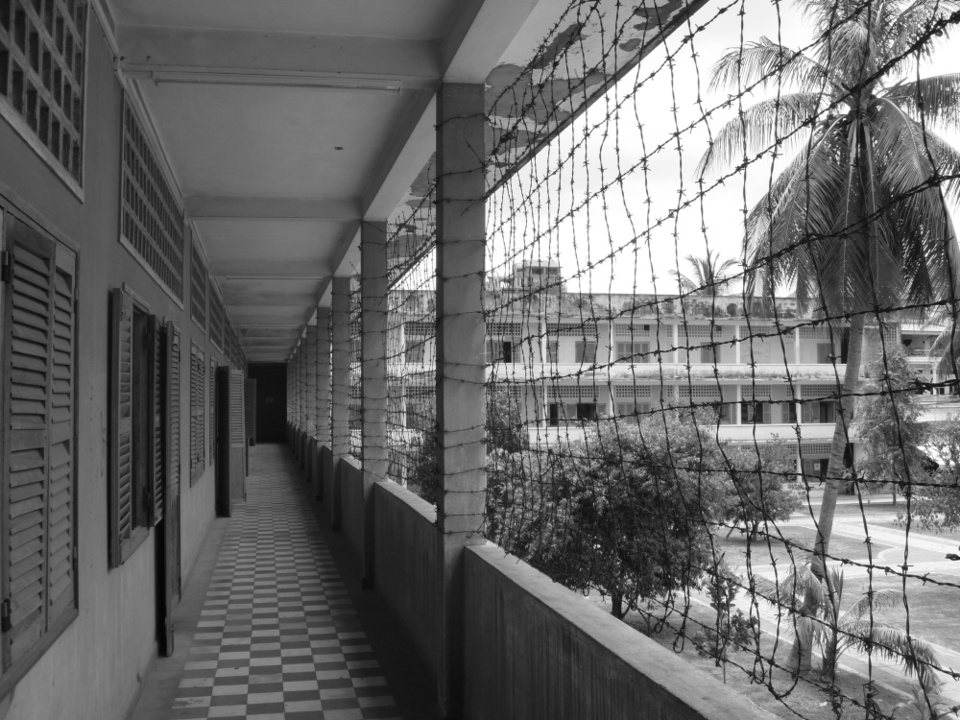 After this horrifying insight into the history of Cambodia we decided to visit this huge shopping dome called Central Market, which we thought would be selling lots of interesting crafts and textiles but in fact it was filled in every direction with stalls selling watches. After a few minutes we were bored so decided to do some food shopping instead, best decision we made as we stocked up on donuts and pastry's to take back to the hostel and indulged in some ice-cream which we hadn't had in ages!
Later that evening we headed out in search of some good street food and came across this make shift shack, only 2 minutes from our hostel. For $2 we got soup, rice and a meat dish, it was so delicious and it was great not to be surrounded by other travellers and experience eating with all the friendly locals. As we were eating the heavens opened and there was the most incredible thunderstorm. One man started to dance in the pouring rain and all the locals where laughing and kept shouting "Crazy Man!" It was such a fun evening.
The next day we decided to go and see S21 and the Killing Fields, another harrowing place. Outside our hostel were a number of tuk tuk drivers waiting for business, shouting and waving their arms like we hadn't noticed them. We walked over to them asking for prices and knew what we should pay, of course they stated twice the price and refused to budge so we ended up finding another person further down the street who gave us the usual price.
The ride in the tuk tuk was amazing. It was the first time we had been in one since being in Asia. The killing fields were about 40 minutes away and the driver took us to parts of the city that were tourist free and they looked so much more interesting.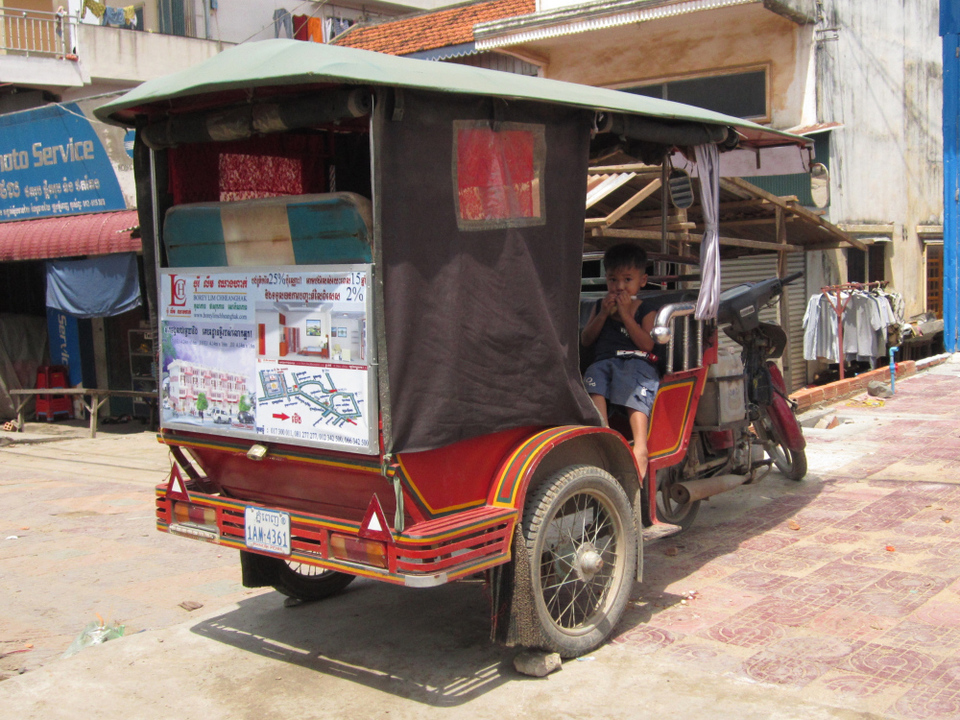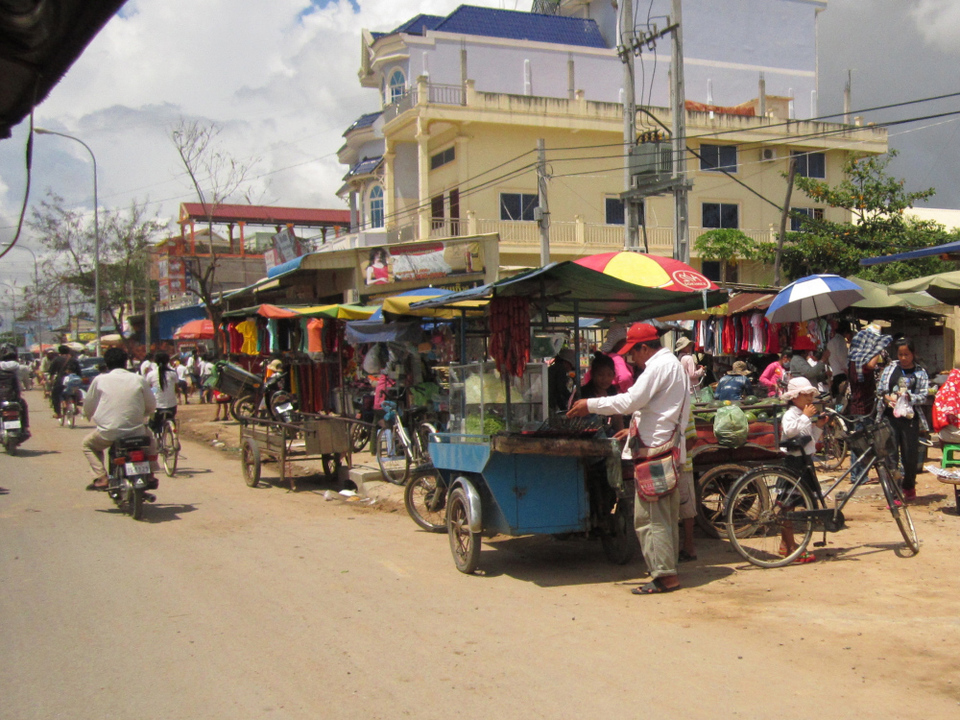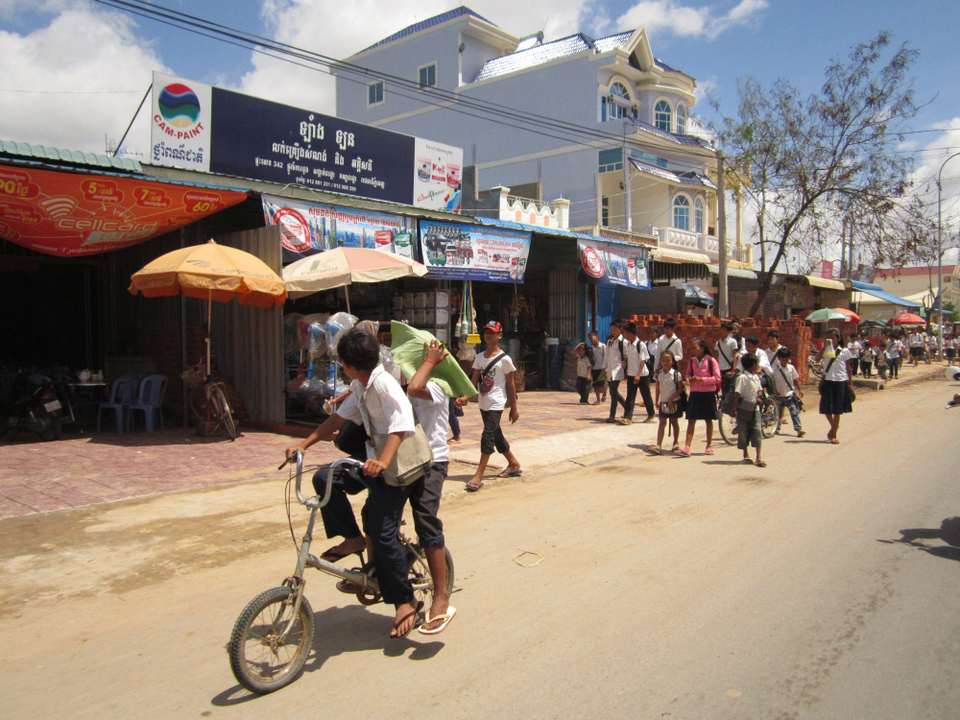 The Killing fields is a horrific place, we hired audio guides which really helped explain the history of the place and it was so shocking. There were mass graves everywhere and as so many bodies had been buried all over the place, whenever it rains more bones and rags are brought to the surface and they had been placed in a transparent box. The Killing Fields was a place where people who were imprisoned at Tuol Sleng (S21) were brought to be executed. There was a tree that the guards used to hang speakers from that played this music so that it would muffle the sounds of the people being killed but the most awful thing was the Killing Tree. This was a tree that guards used to kill children and babies by holding them by their ankles and smashing them into the trunk of the tree. The youngest victim was only 3 months old.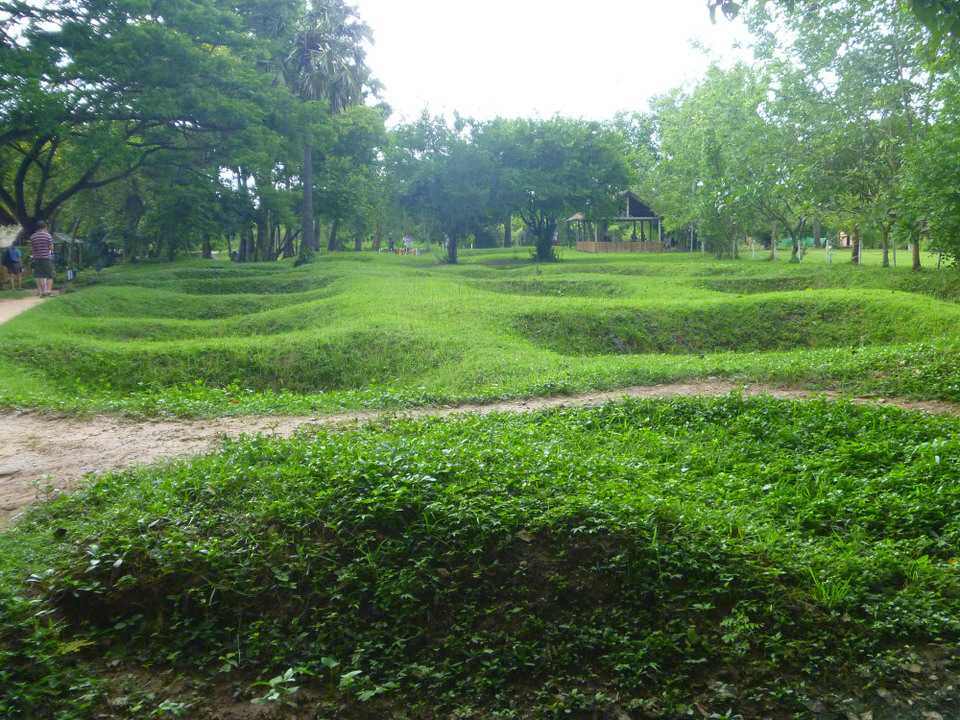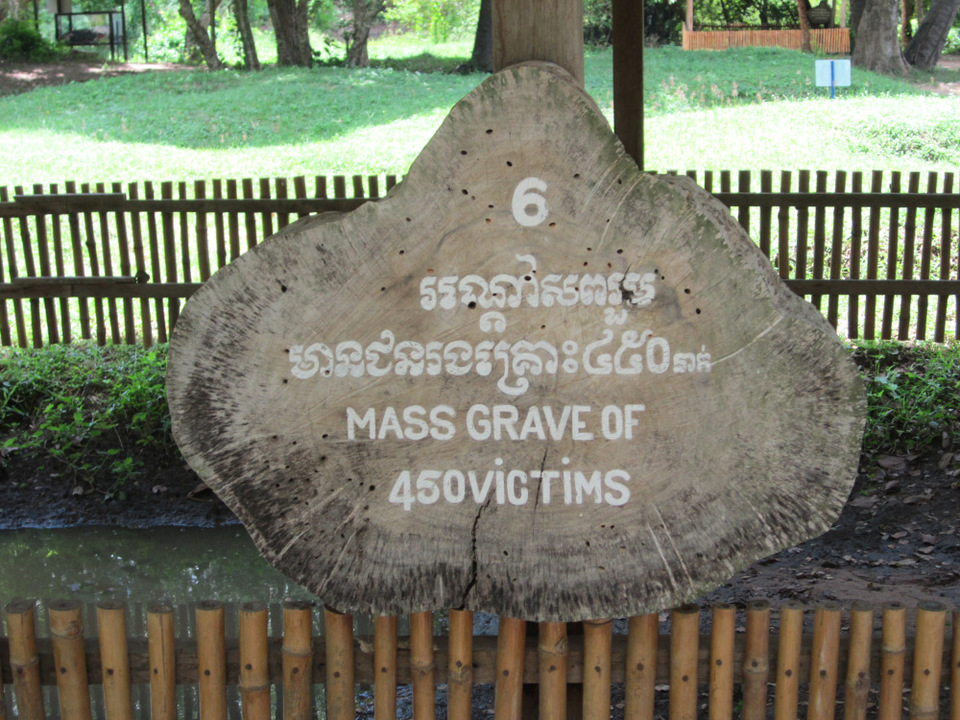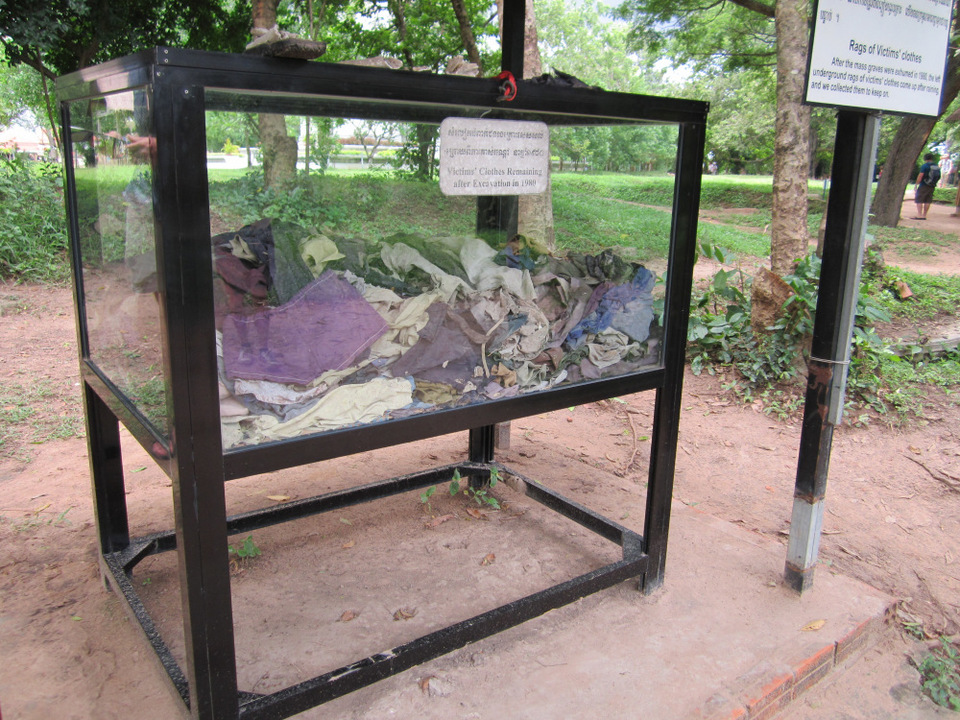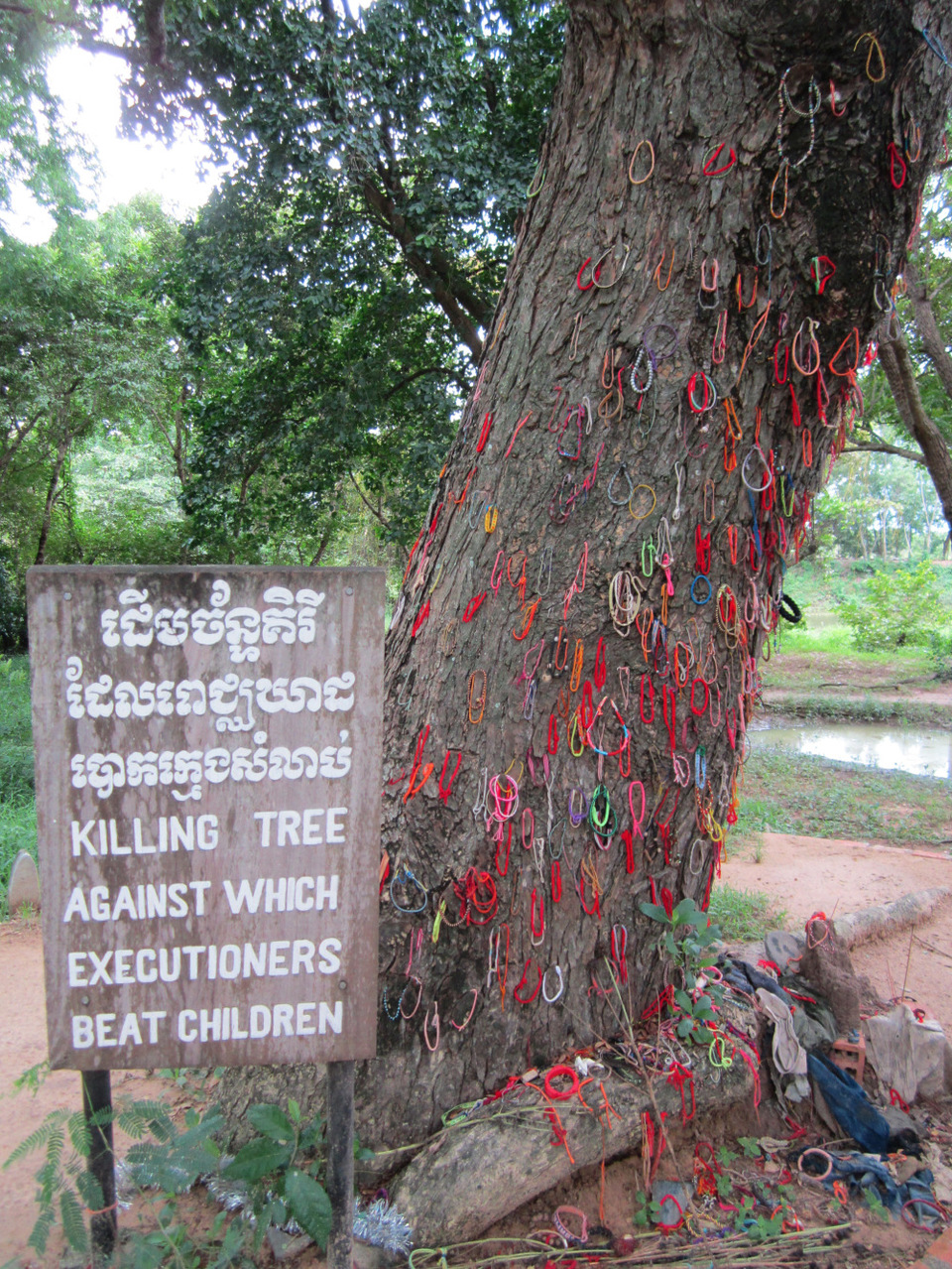 On the audio guide they spoke about Pol Pot and how he was such a ruthless, evil person and was never even brought to justice and lived to a ripe old age and had children and grandchildren. In the centre of the Killing Fields there was a memorial full of the victims skulls.
Towards the end of our exploration it suddenly chucked it down and we made a dash to our tuk tuk but we were already soaked. As we drove away there was a sign across from the killing fields saying "GUN RANGE!" I thought this was in really bad taste being located opposite such a place. Apparently they allow you to shoot at live targets such as cows which is just terrible, all for the fun of killing?! I wouldn't call killing fun.
The next place we visited was the Royal Palace and Silver Pagoda, before we could get into the palace I had to buy a t-shirt that covered my shoulders. Not all the palace was open to the public, understandably, and it wasn't the biggest but it was certainly very beautiful. The throne room was lovely as were the gardens. There was a building that showed all sorts of things such as different uniforms for different seasons, wedding cutlery, ceremony swords and many other things but the main attraction at the palace was the Silver Pagoda. Now when I read about this I thought it was going to be a 'Silver Pagoda' but in fact it's the floor that is silver and the floor is covered in carpet to protect it so you can't actually see anything silver which is a shame.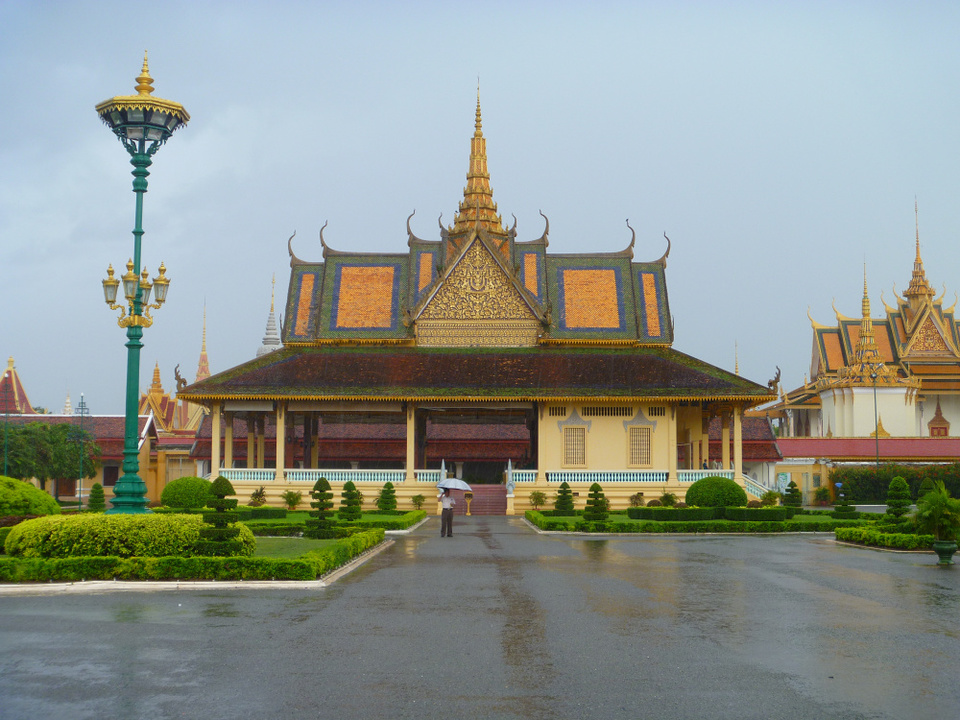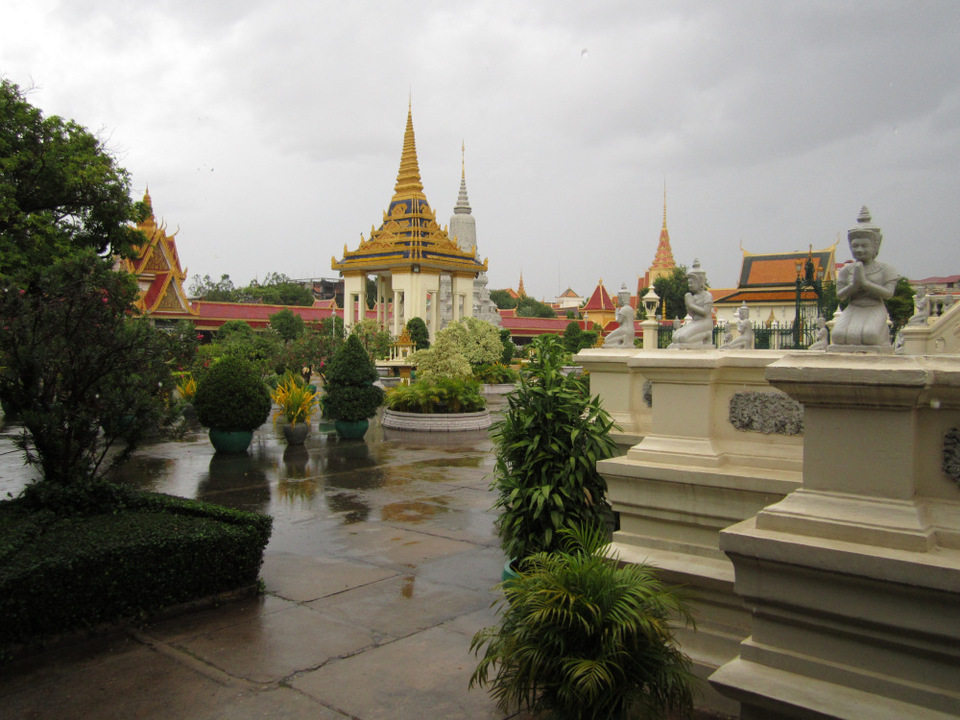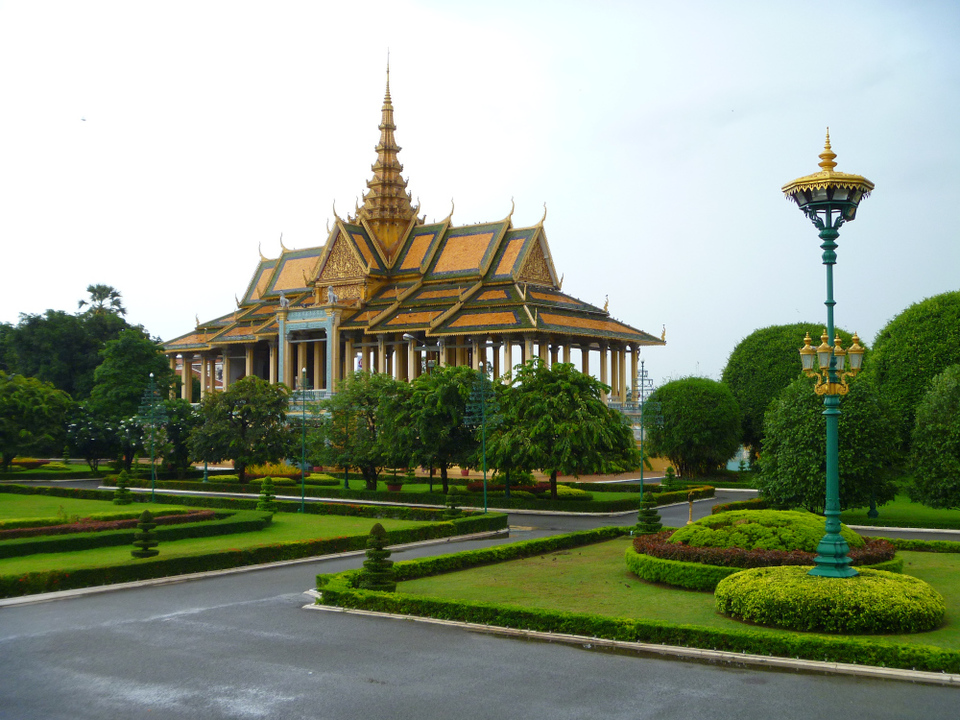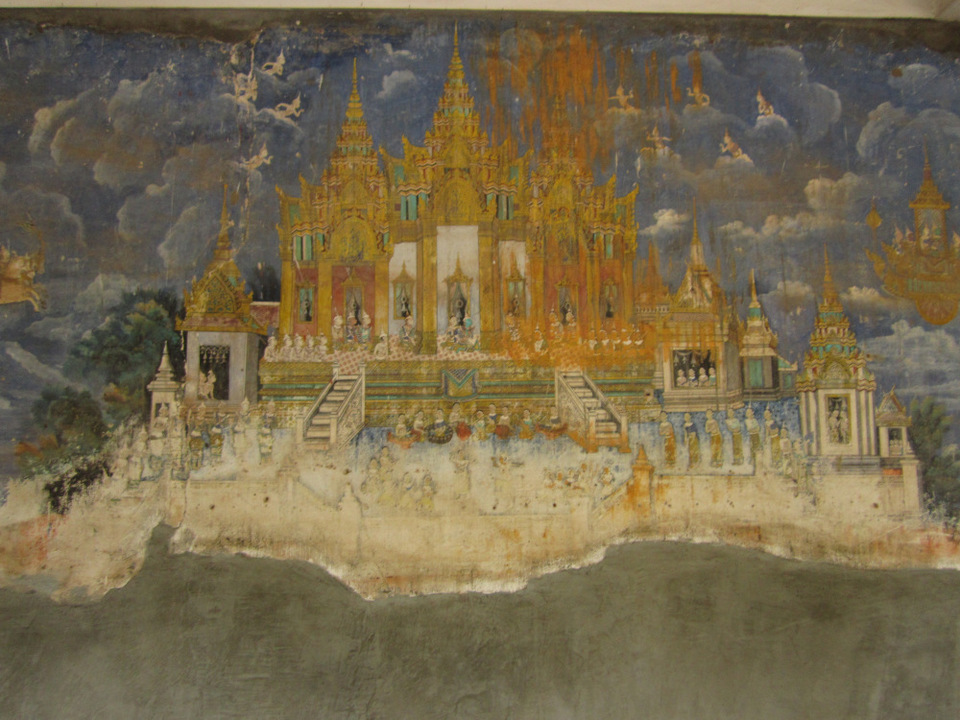 After we had looked around we went for a walk around the city. We stopped off at various art shops along the way until we needed some food. We came across this little restaurant and thought why not. Now when the place is empty and directly across the road a restaurant is packed with people it's probably not the best place to eat but did we think of that at the time. No. The food was pretty poor! After our delightful meal we made our way back to the hostel. Along the way booked our bus ticket to Siam Reap. We think we got a good deal as it was 12USD each to get from one side of the country to the other, including pick up from our hostel. The next day was our last full day in the city and Liam's last chance to buy a James Bond replica watch. We went back to the dome and I left Liam to haggle. He managed to get the price down from 30USD to 12USD which is pretty good going! We soon discovered why its 12USD as we put some insect repellent on which melted all the black paint which was on the face of the watch. Doh!
The next day we were collected from our hostel and got on a bus which was nothing like the picture they'd showed us but we didn't care, as long as it survived the journey! We arrived in Siam Reap with no idea where we were and the bus just went down a dead end road and stopped. We instantly had tuk tuk drivers trying to take our bags to their ride and as Google maps couldn't find our location we ended up taking one with no idea how far away we were or what we should pay. Thankfully our driver seamed ok and gave us a decent price and in fact our hostel was miles away. The bus hadn't even stopped in the city but on the outskirts. Our driver then did his usual speech about how he could give us a ride to Angkor Wat for a really good price and we said maybe and took his number. The hostel had a price guide for tours and there price was exactly the same so we decided to go with our tuk tuk driver as he seemed quite nice. The hostel was rather strange, it was full of travellers which when you've stayed in an area seeing hardly any, it's quite a different experience. The "dormitories" were just mattresses on the floor separated by mosquito nets, and everyone could see you as you had to walk past them to get to the bar and other rooms. We took a private room instead which was only a bit better, they had built MDF shacks with garden shed bolts but most importantly there were mosquito nets! It was suffocatingly hot in the room and the fan just blew hot air around. We asked the hotel reception to contact our tuk tuk driver so that we could go and do the temples of Angkor at sunrise the next day.
At 6:30am we were waiting for him to arrive not knowing that they hadn't actually contacted him. We started to get a bit worried as most people had been collected as sunrise was only 40 minutes away and it takes 30 minutes to get to the temples. We asked the hotel to call the driver, he was on the other side of town but said he would race over here as fast as he could. Within 6 minutes he was with us and we got in the back of the tuk tuk and headed off to the temples. He was extremely apologetic as he had not collected us earlier but it wasn't his fault. To make up time he was racing as if there was no tomorrow. We began to overtake people who had left before us and we got to the temple with just a few minutes to spare. Although it was heaving with tourists, it was worth it and beautiful to see in the morning light. It is always worth making the effort to see beginning of the day at dawn. We walked around the temple for about an hour.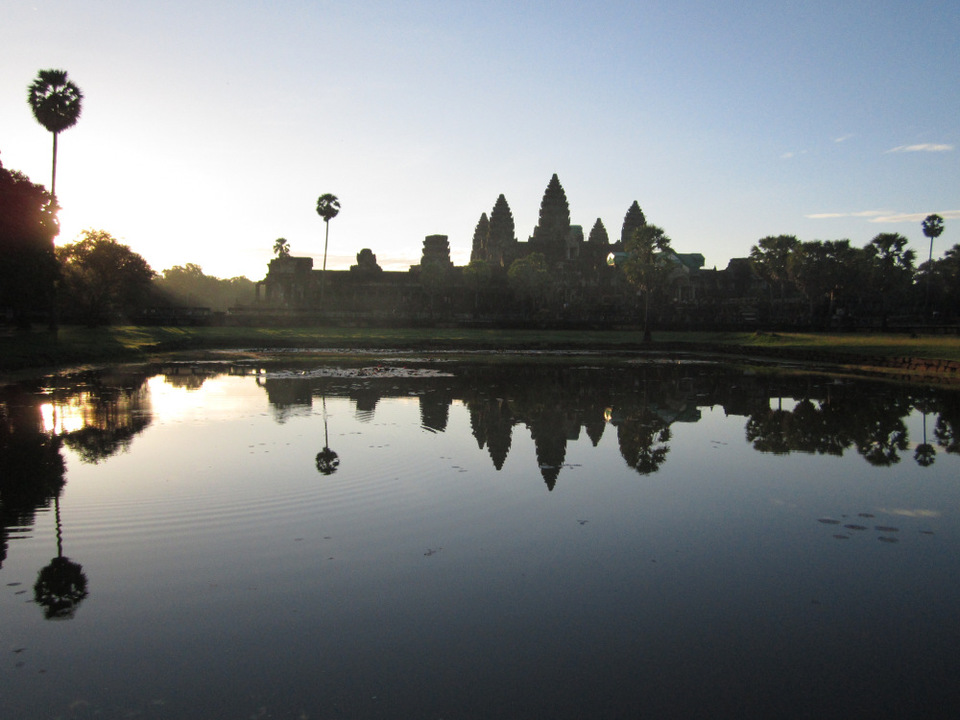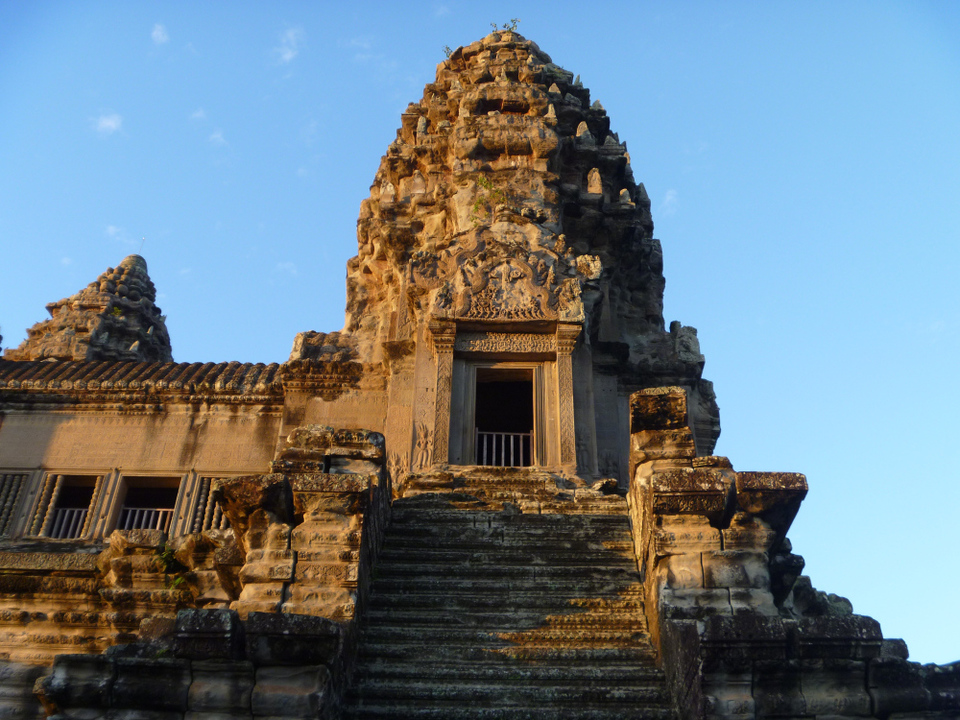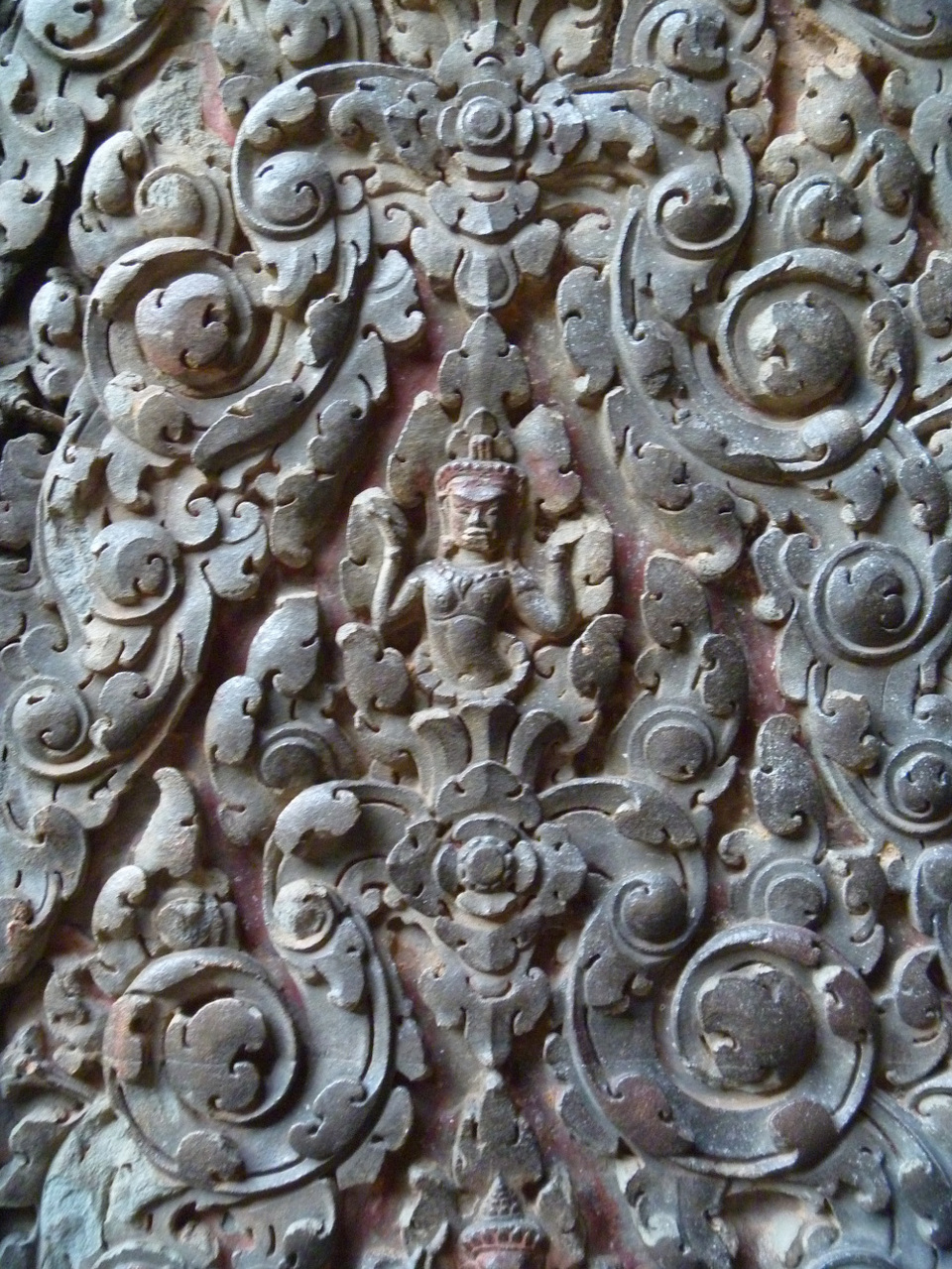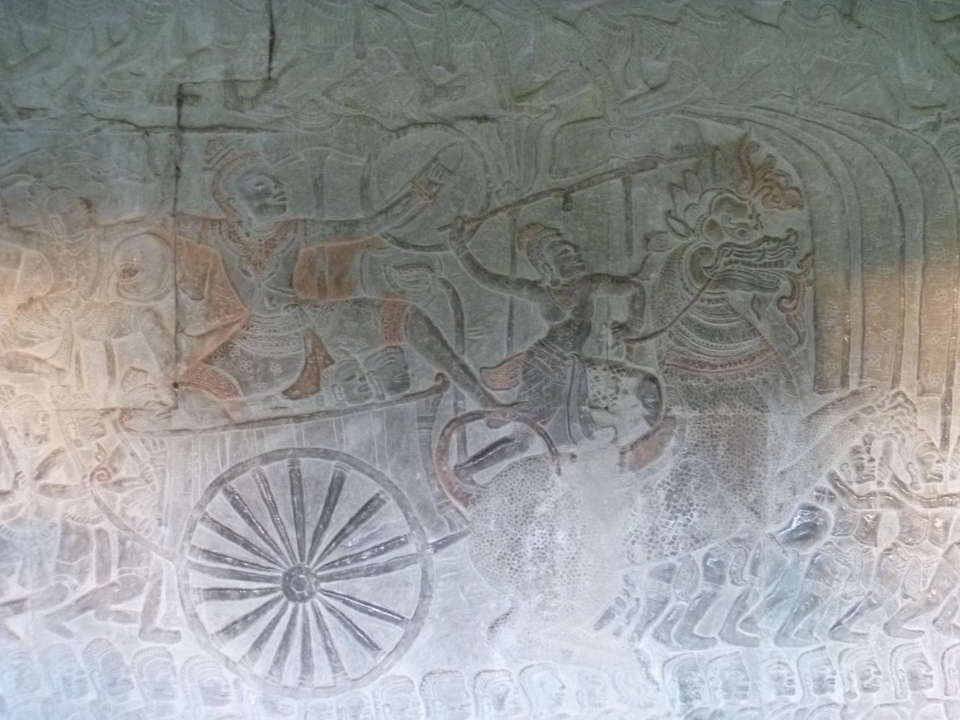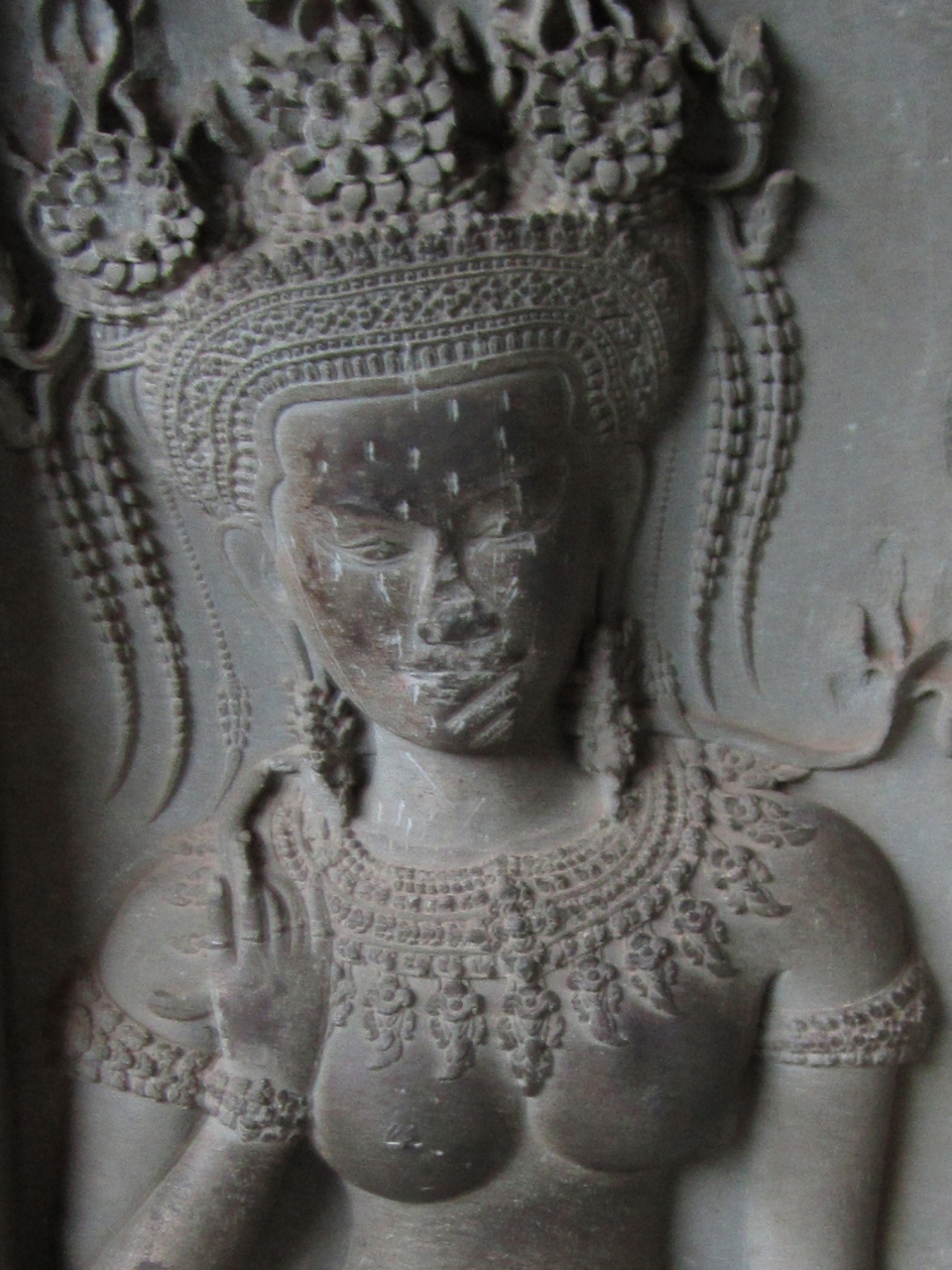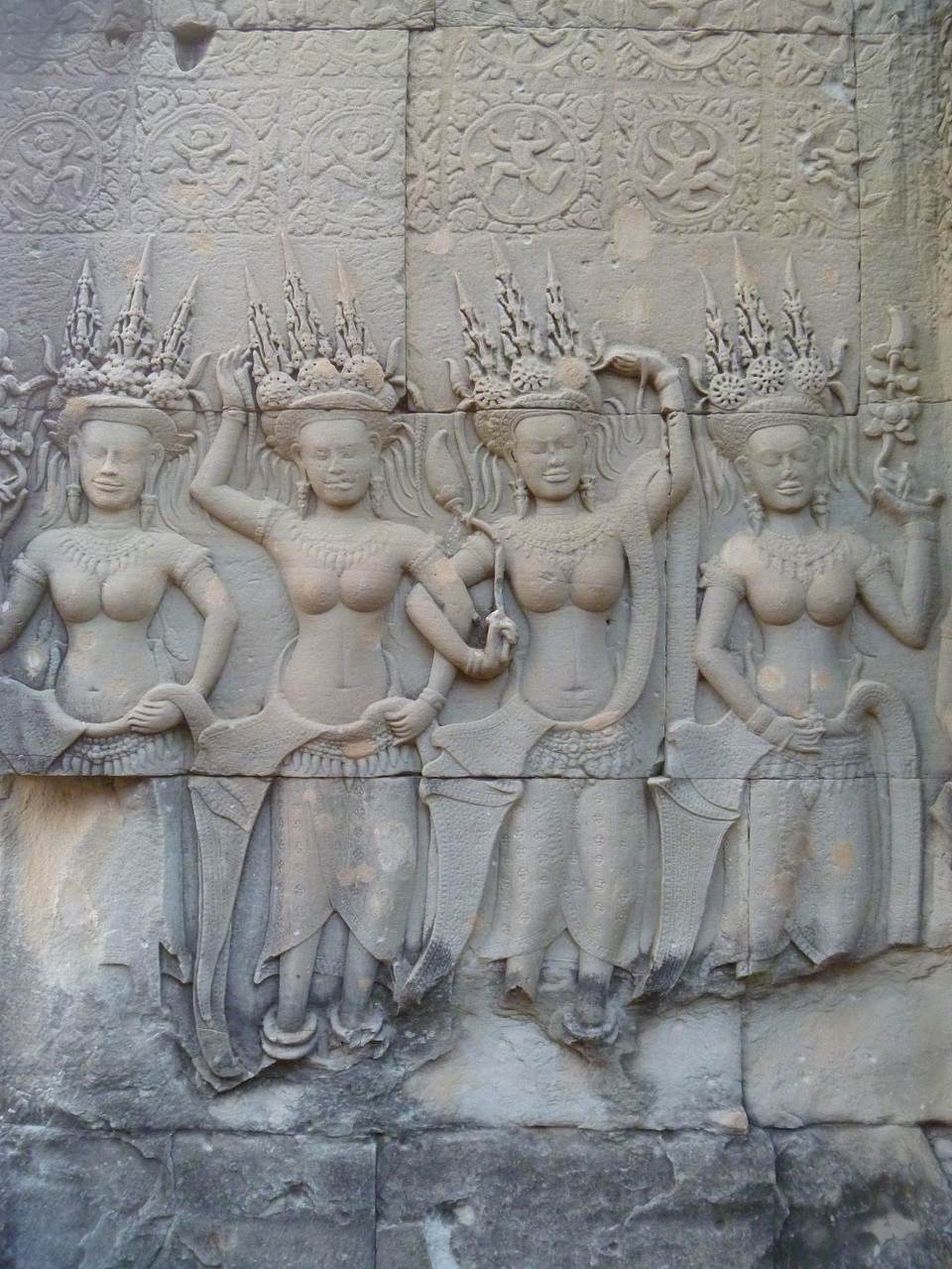 Our drive the took us to numerous temples across a vast area, the first of which was Angkor Thom. This temple is absolutely incredible, with faces carved from the stone and we spent a good while looking around.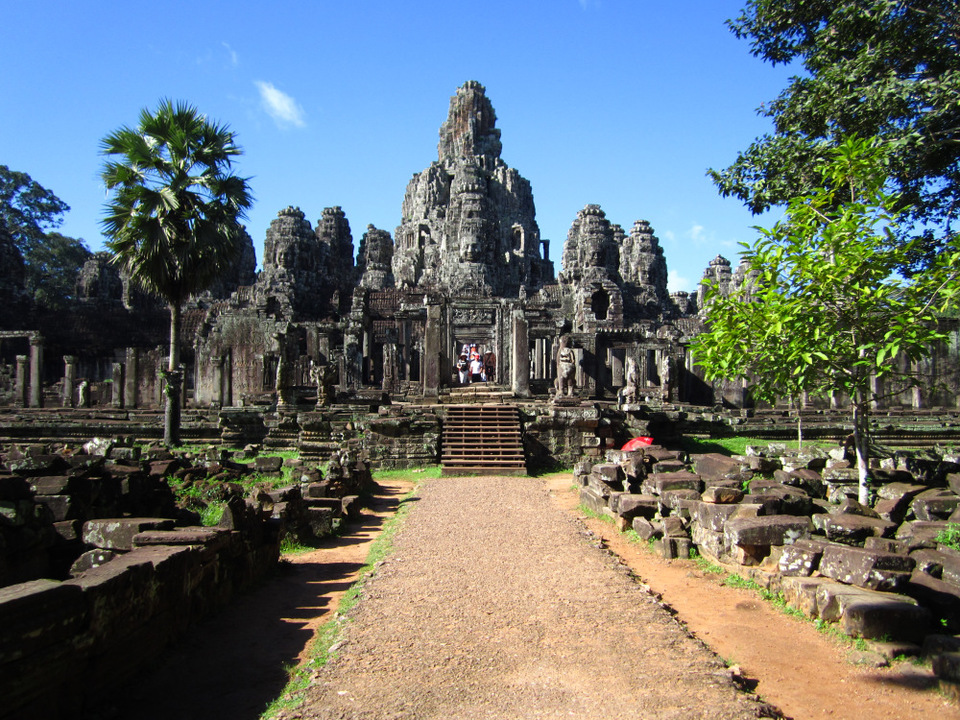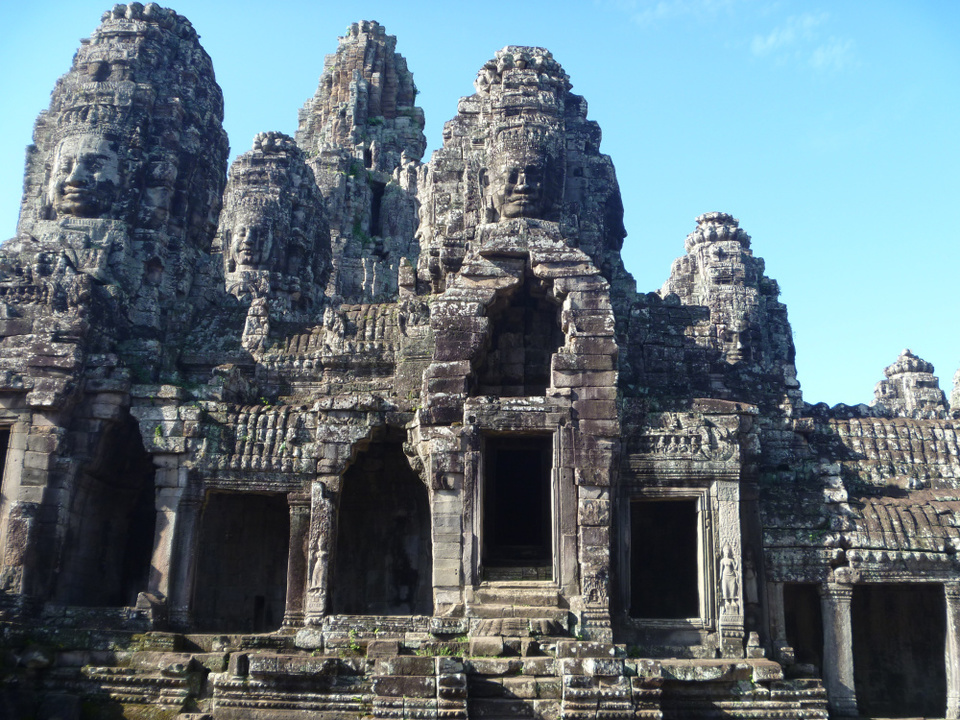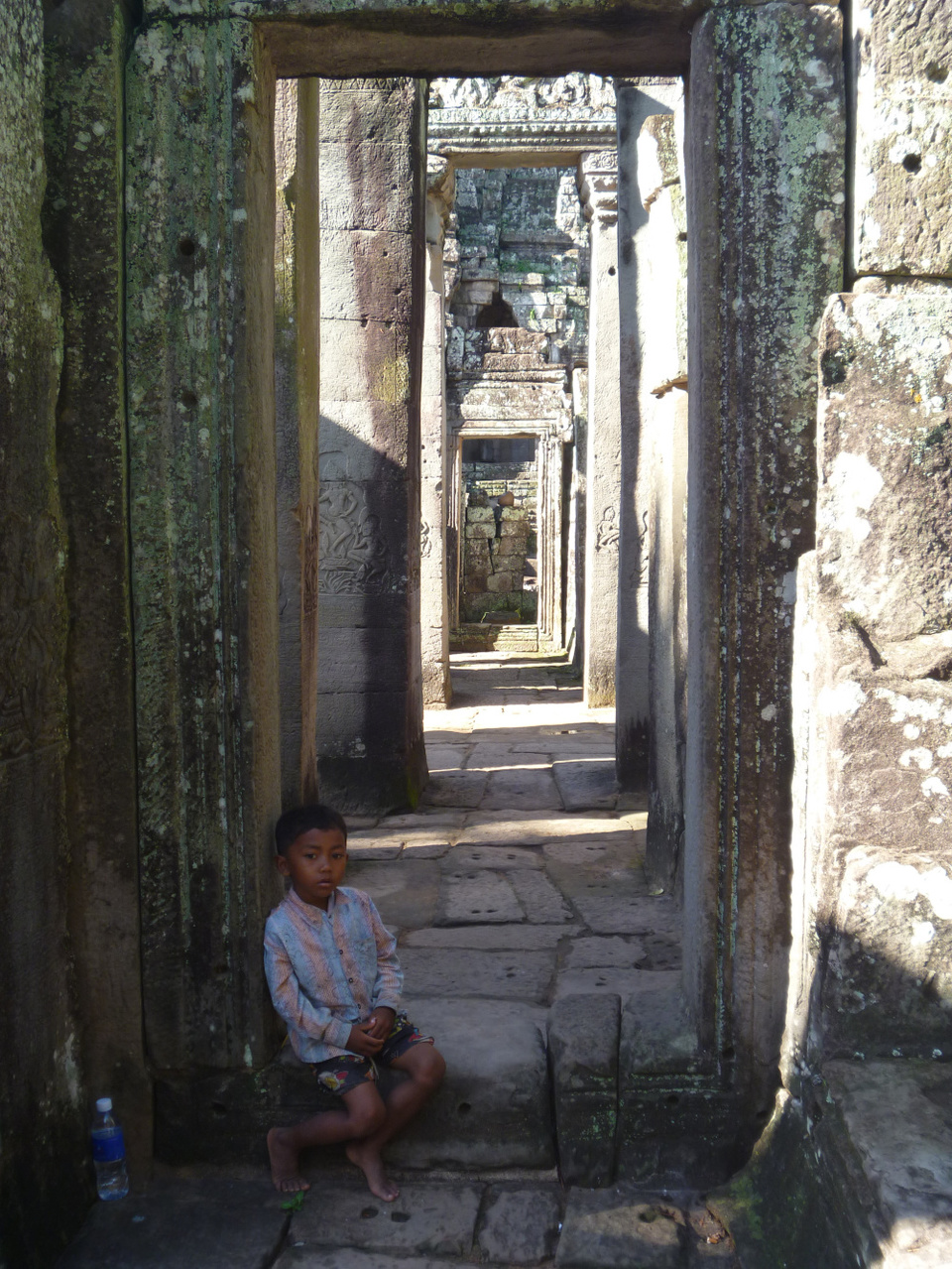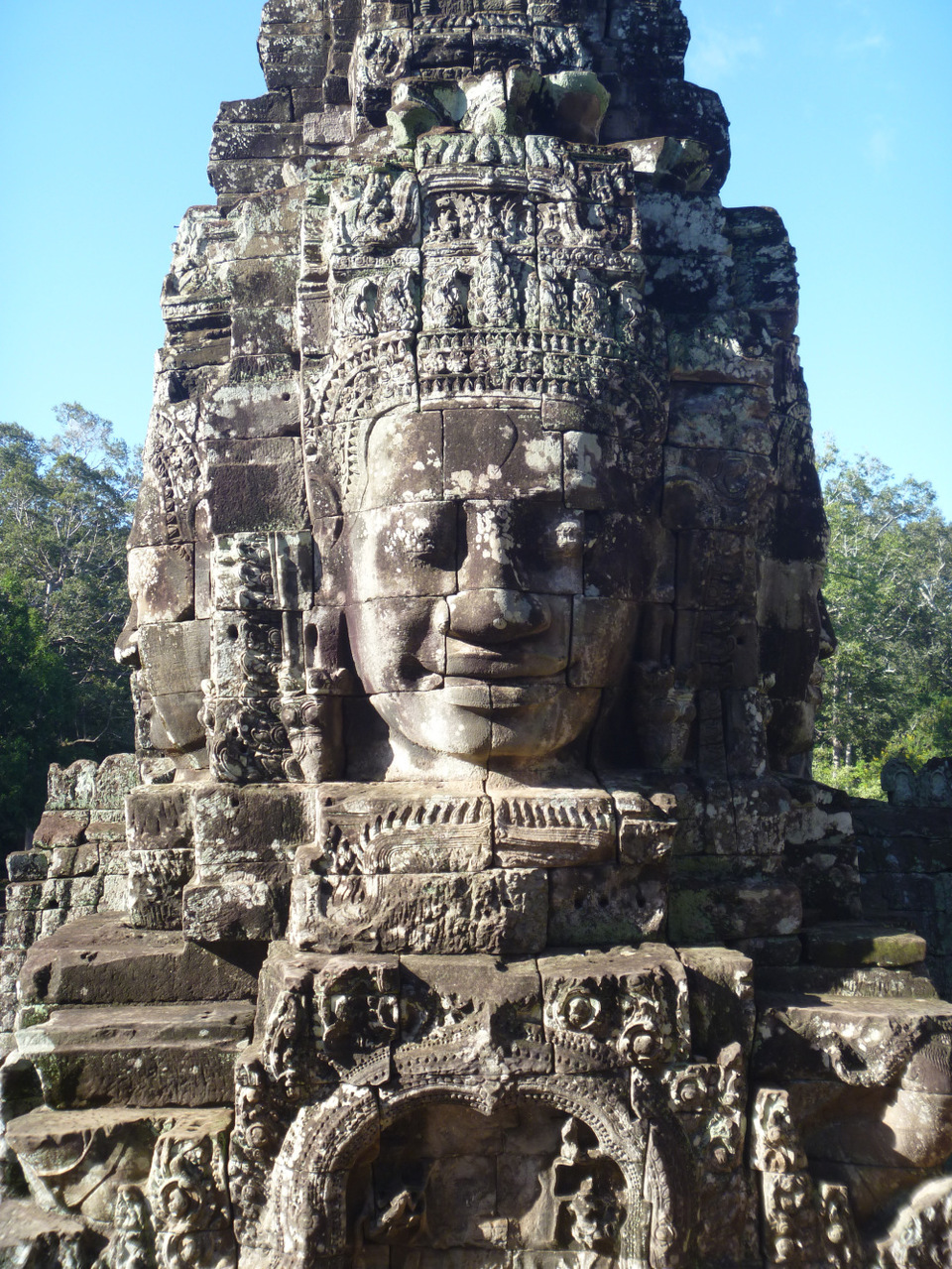 In its day the buildings would have been incredible to see and the vast area it covered is mind-blowing. We saw so many large and small temples.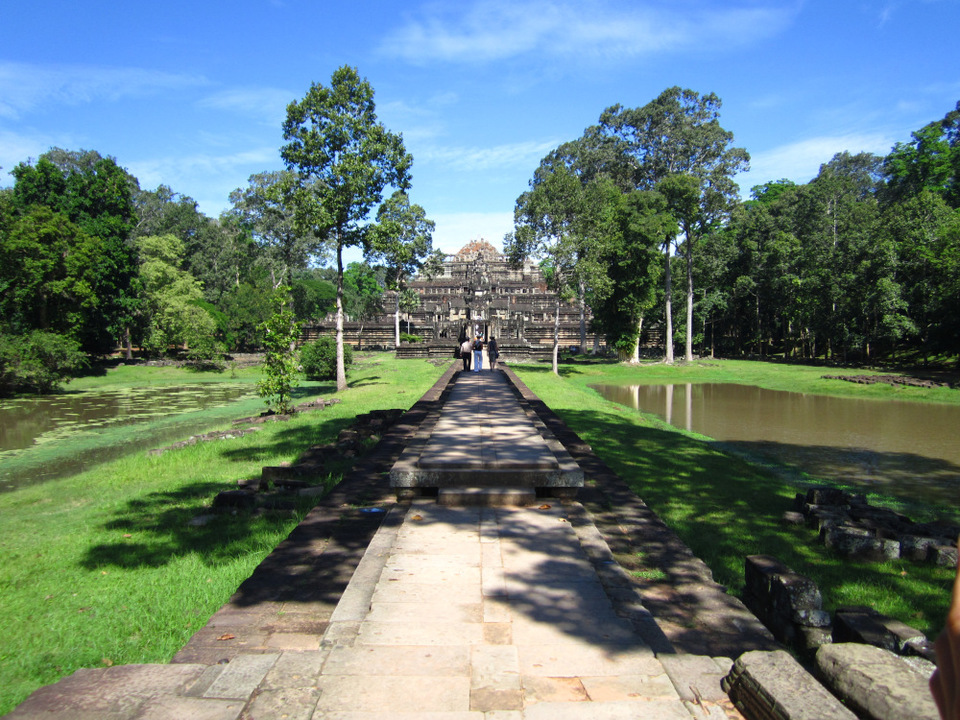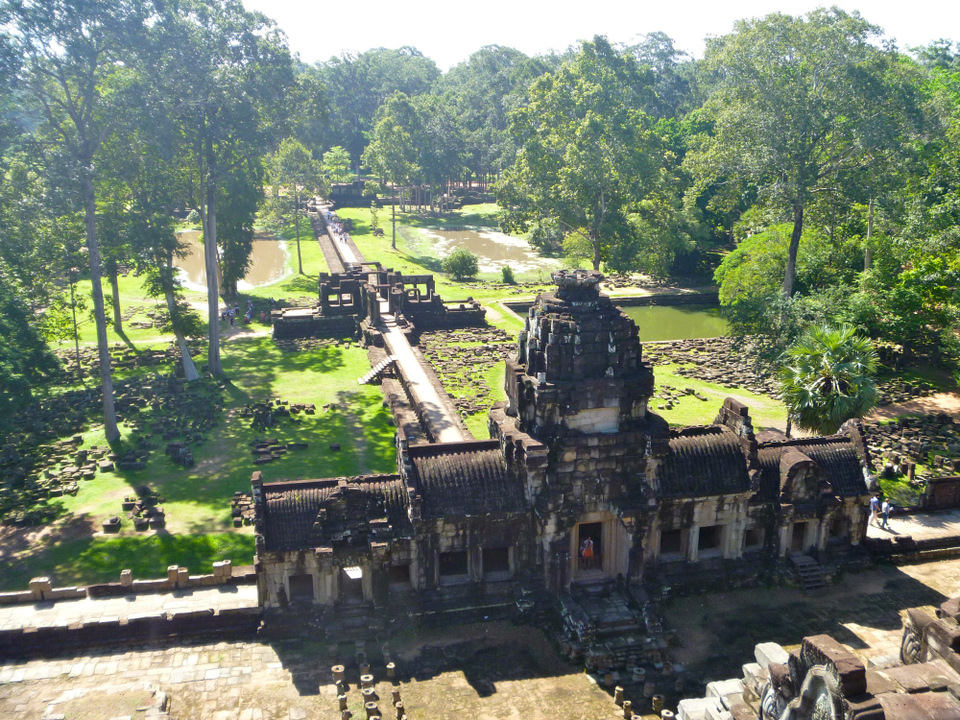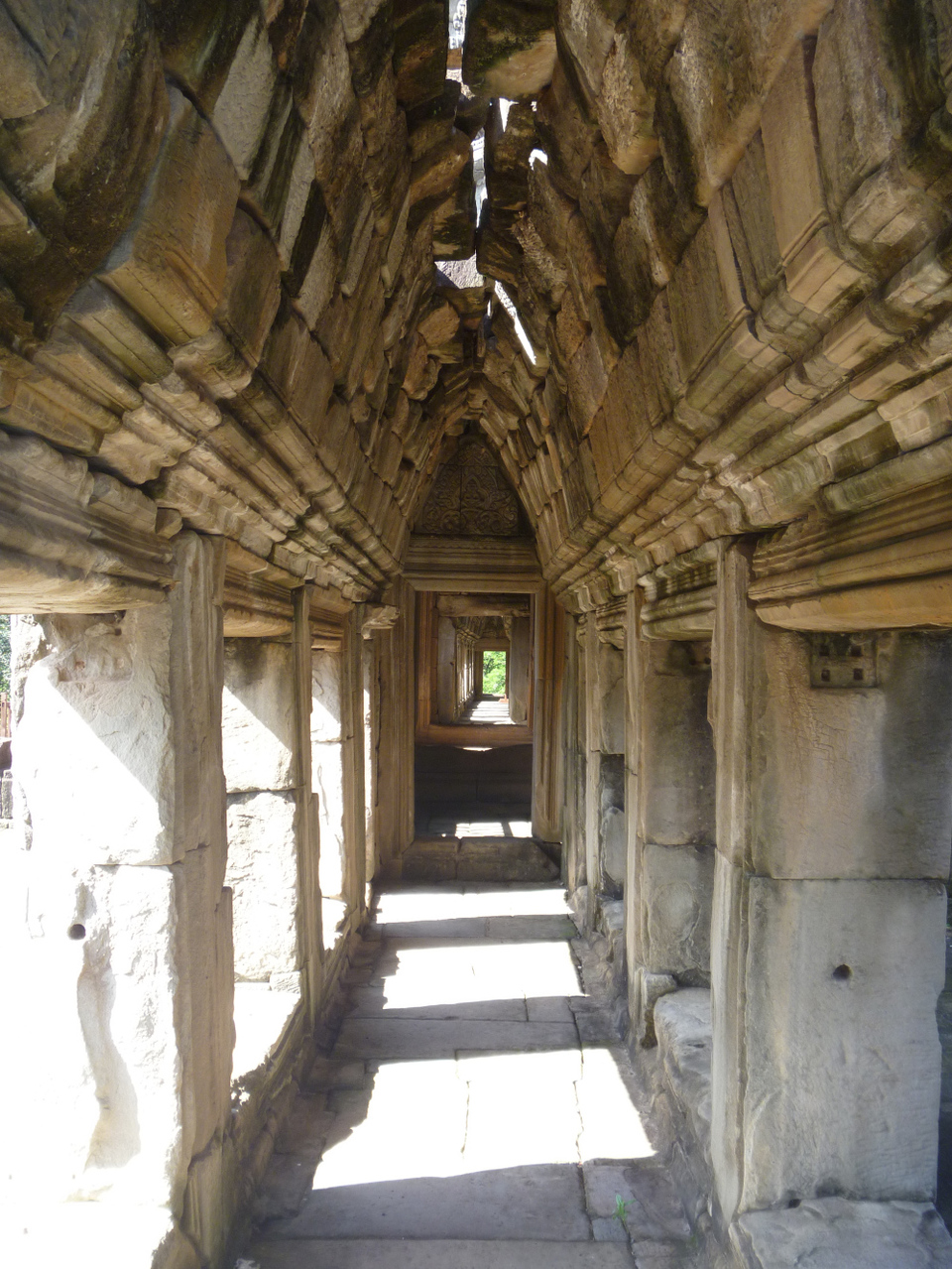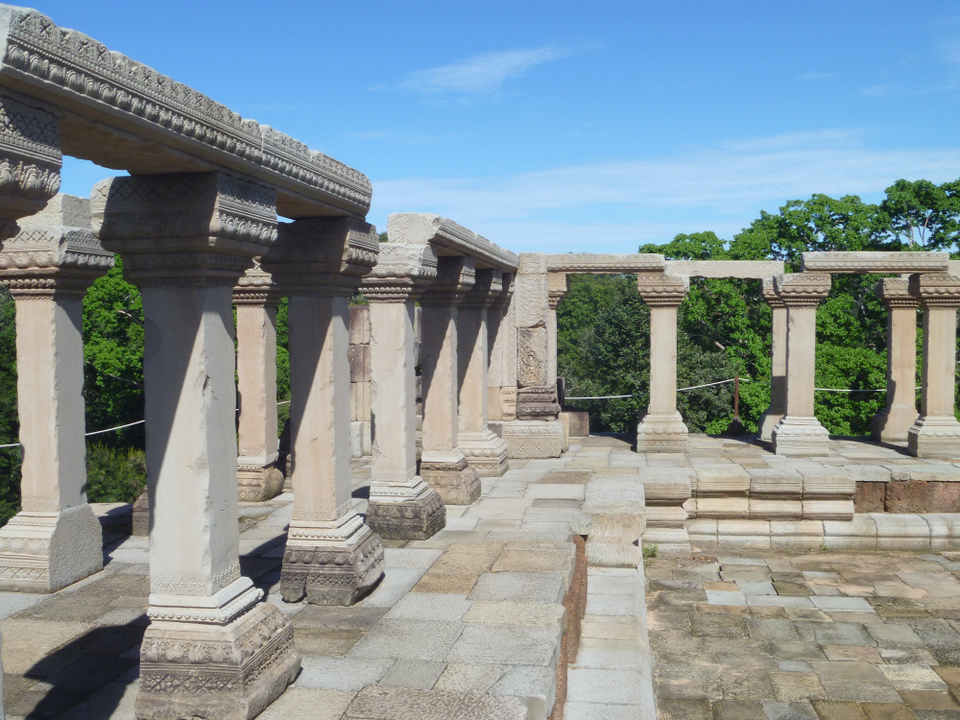 There was so much amazing detail dotted around the place such as a bridge with statues holding a long snake on either side and a gateway.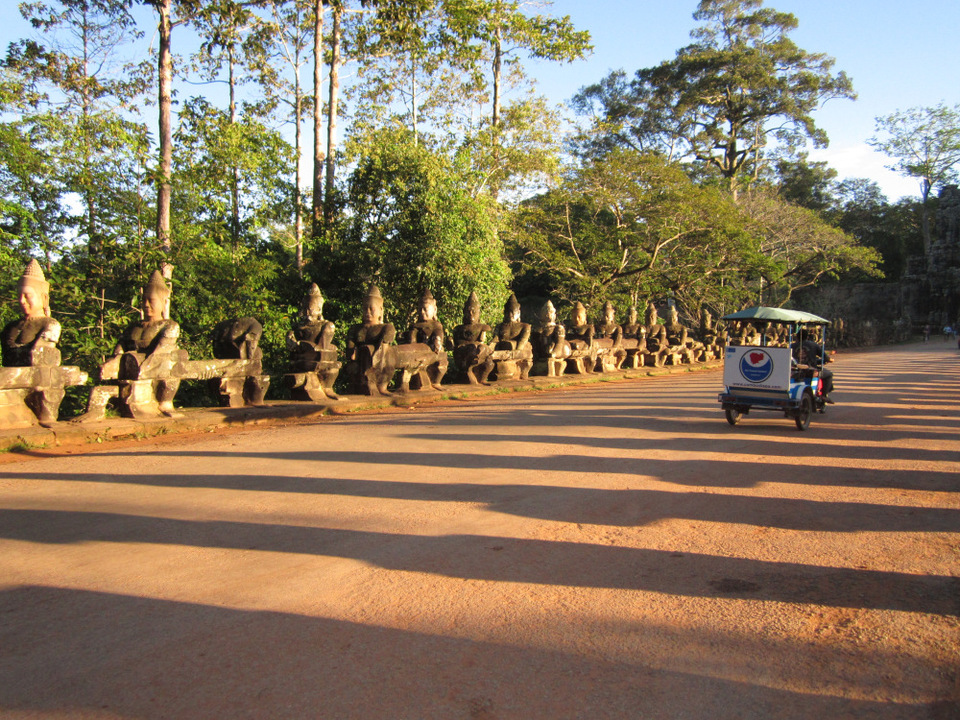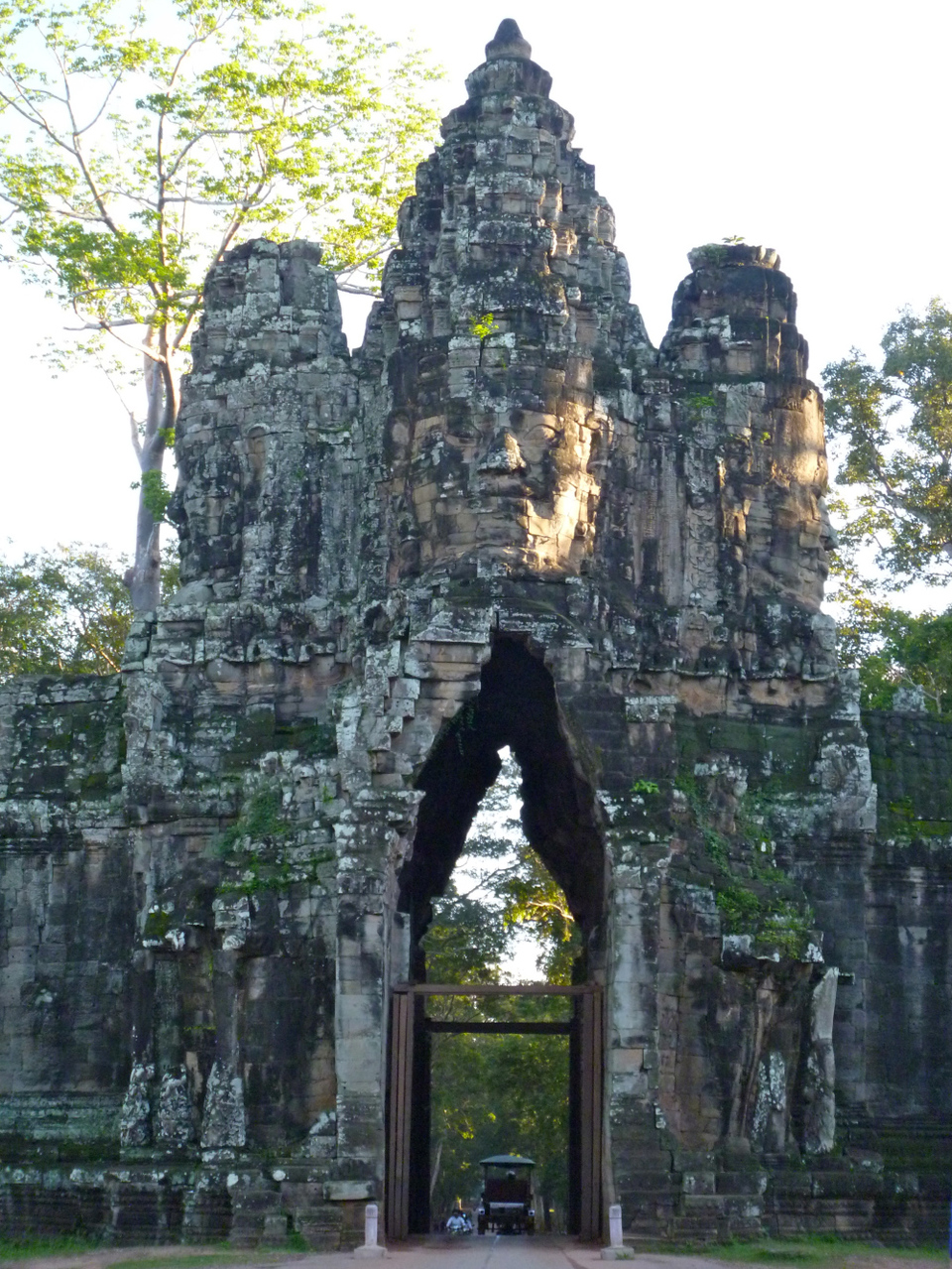 After we went through the arch we then came to a place known as the elephant wall which is about 1000 metres long. The whole wall has carved elephants and people on it. The wall was made so that elephants could walk up to it and the people riding them could just step onto the wall without having to be lowered down.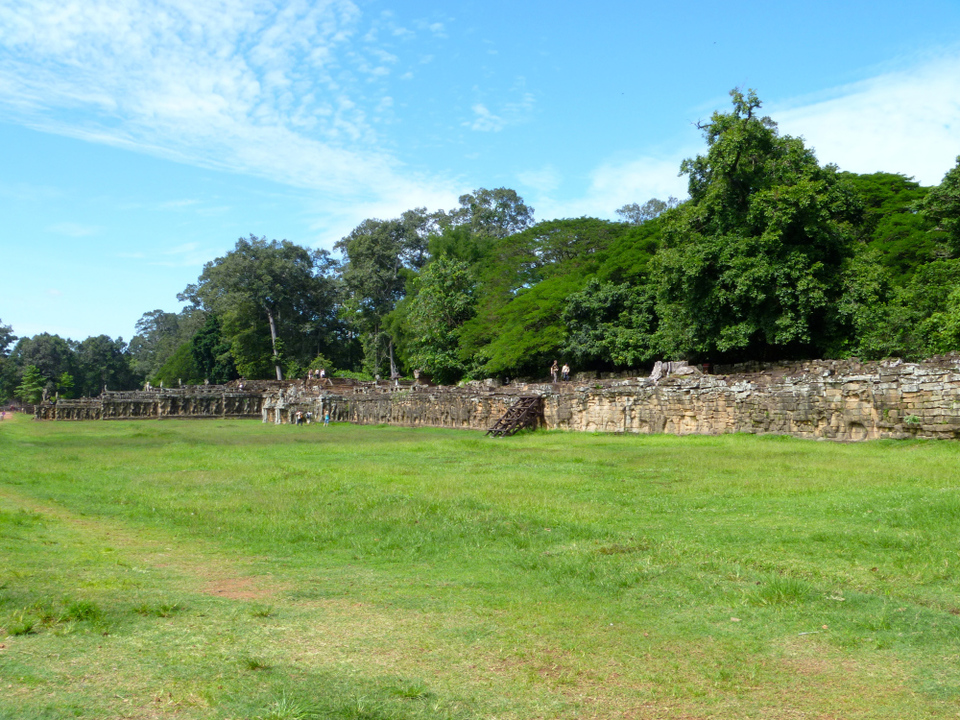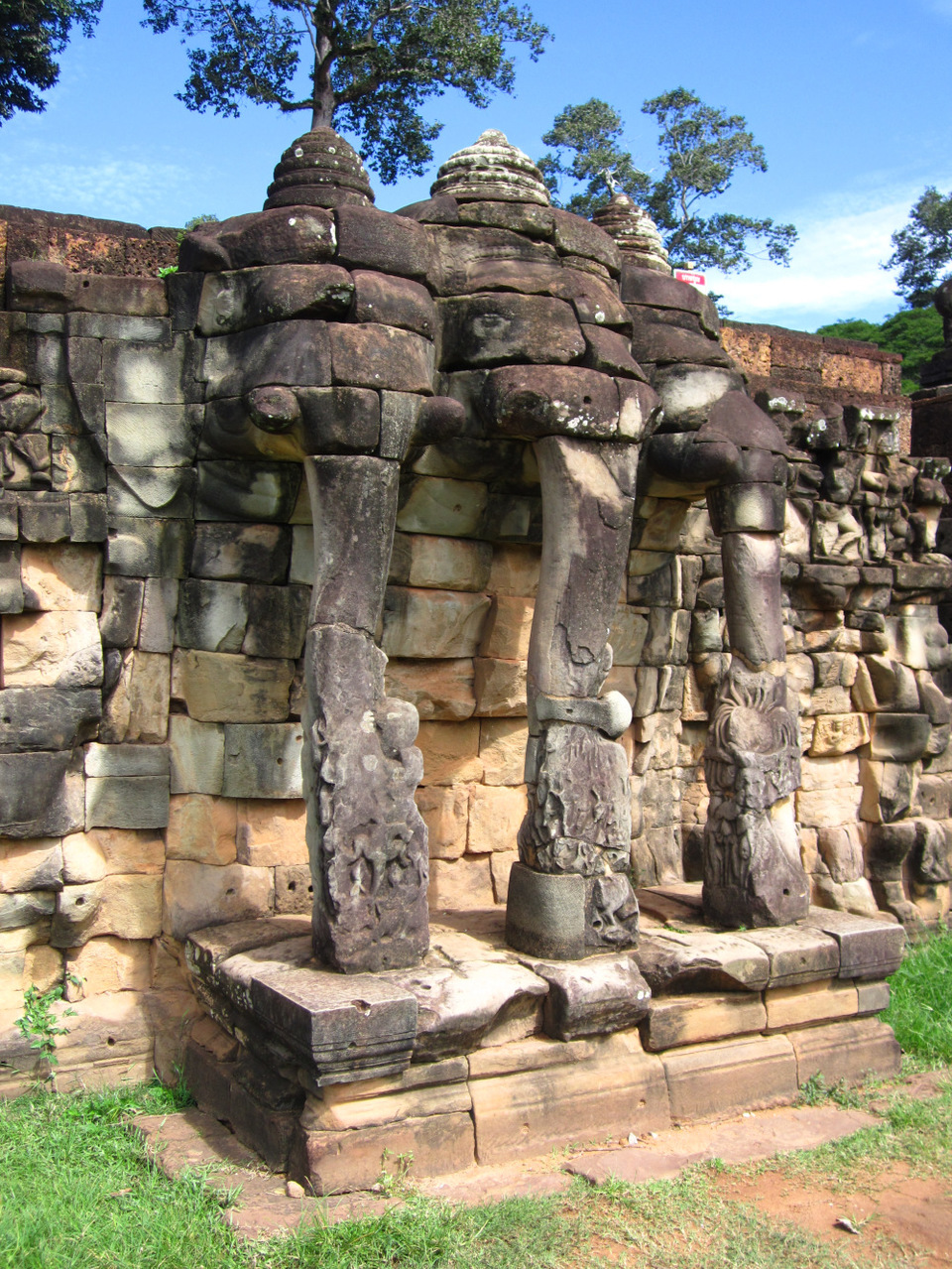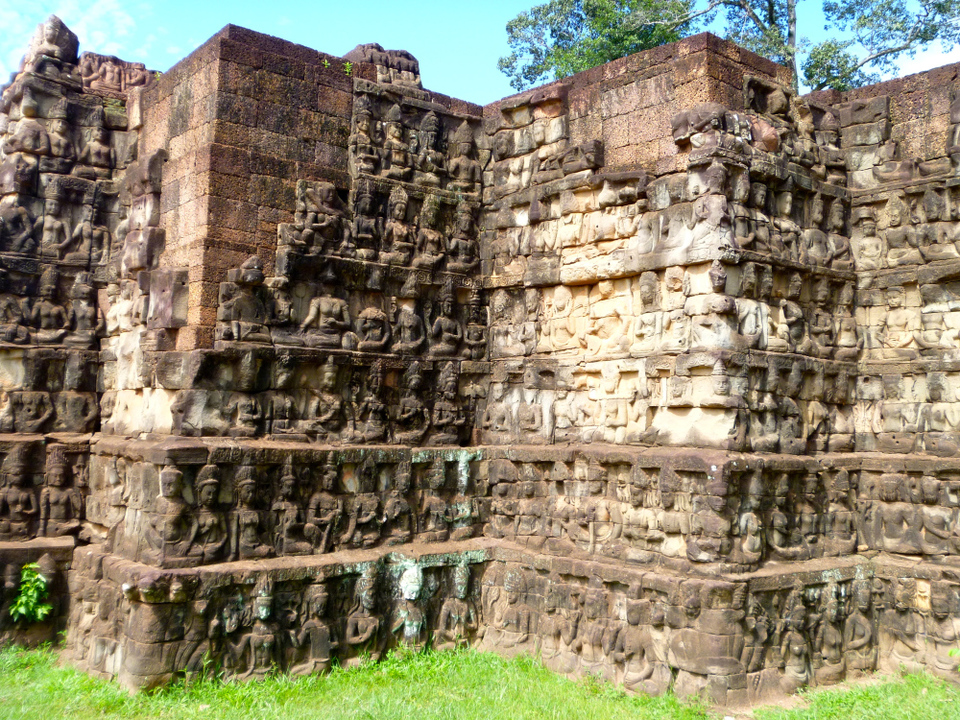 We when had lunch at a tourist priced restaurant but as there was no where else we had no option so had a bowl of fried rice for 10USD. Thankfully the portion was fairly big which is usually the biggest worry, that you'll only get about two mouthfuls!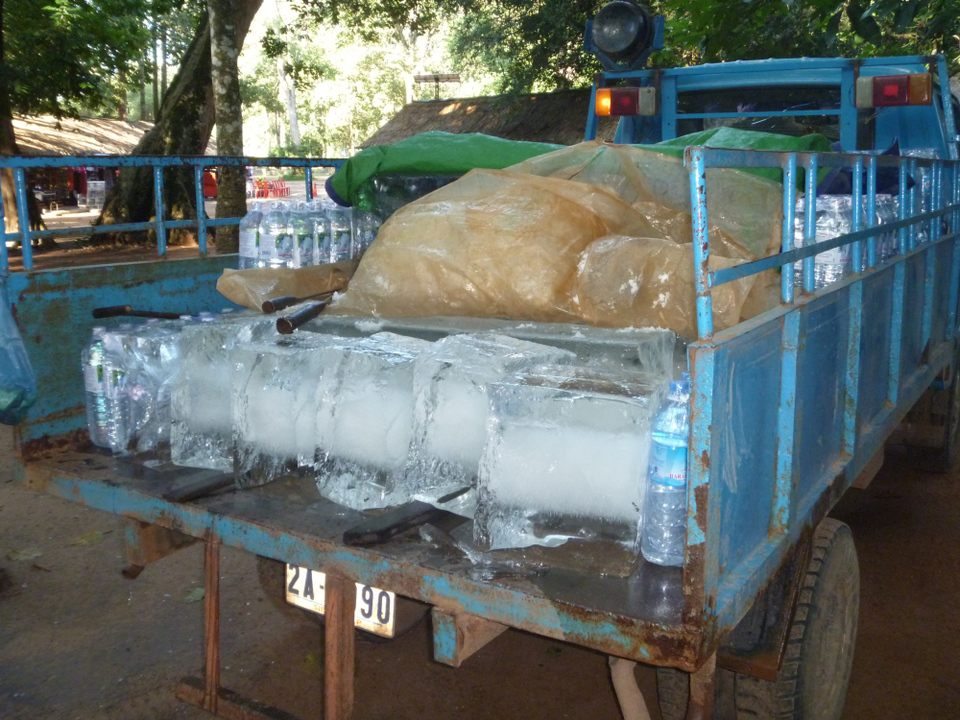 After lunch we went to numerous other temples dotted about and also the famous Bayon Temple aka Tomb Raider temple! The way the trees have all taken over the temples is quite amazing, the roots are huge.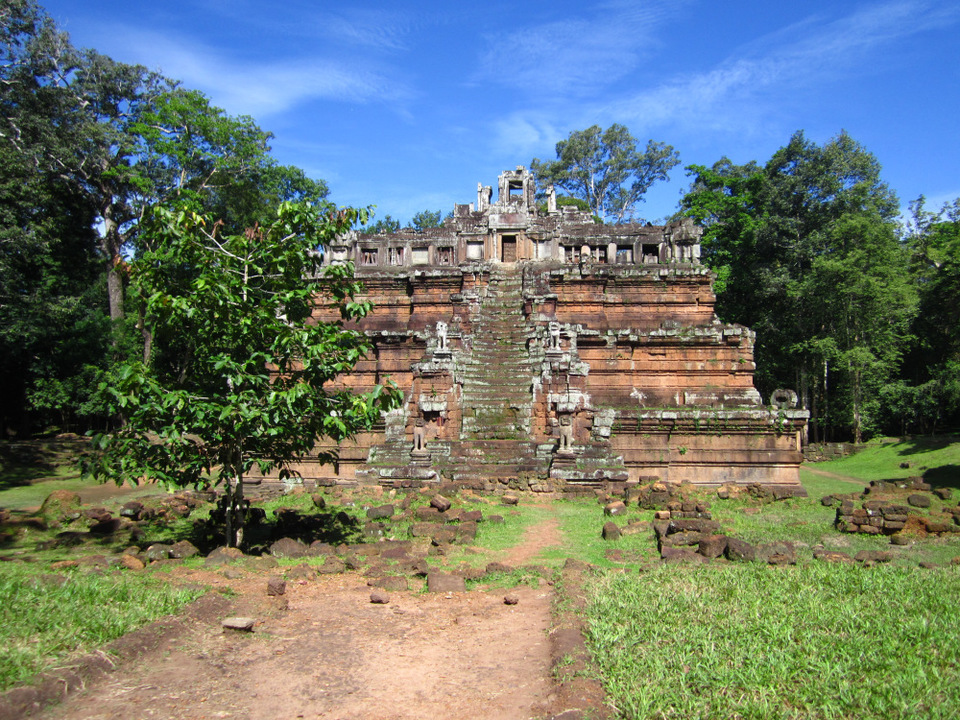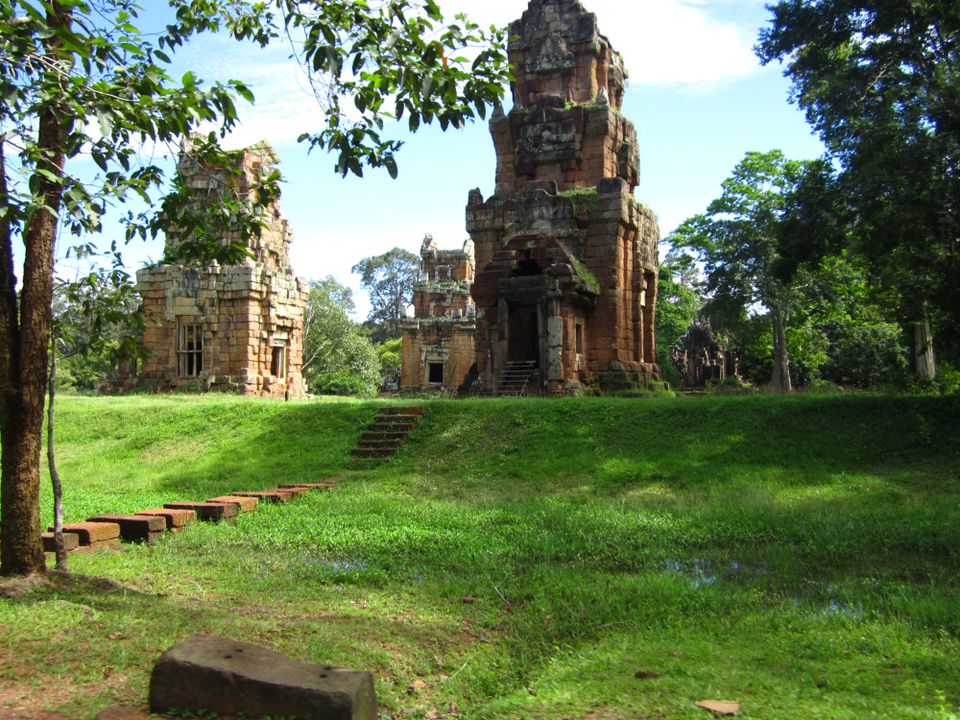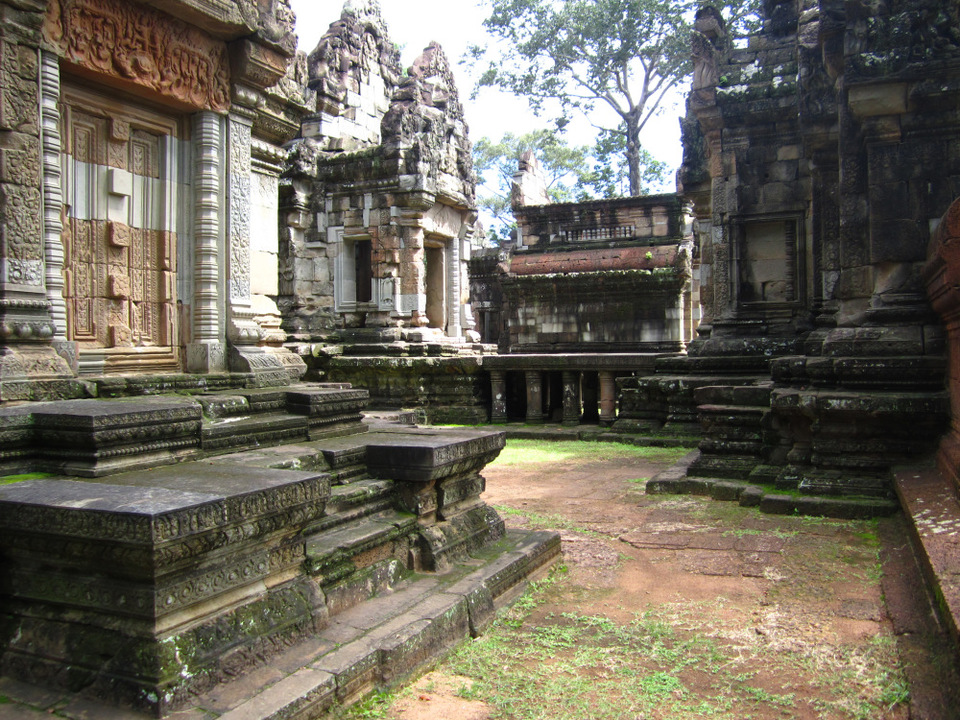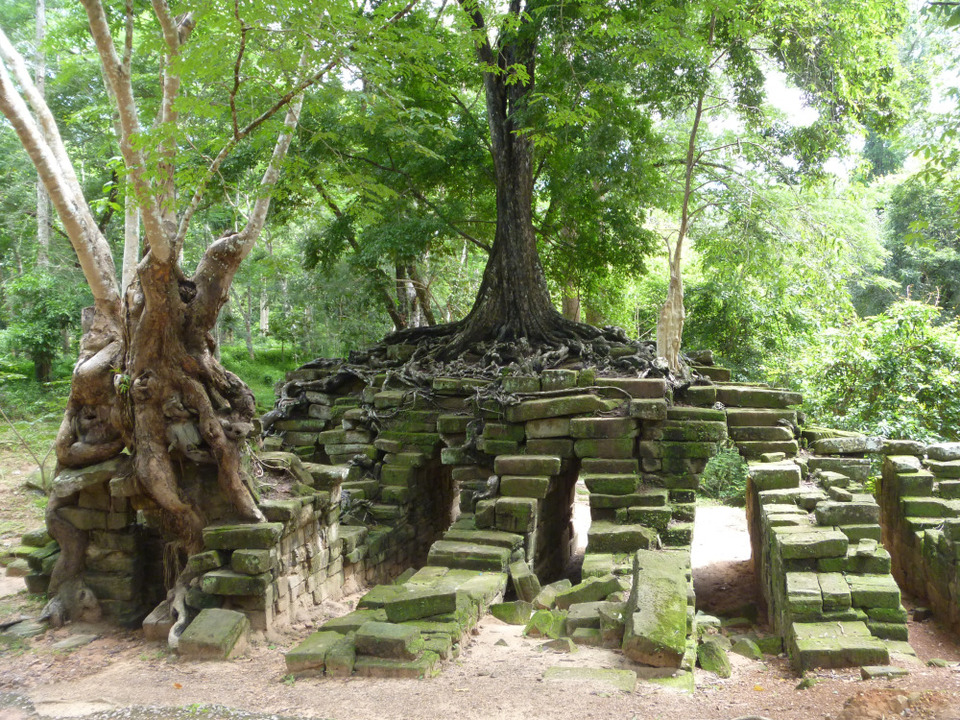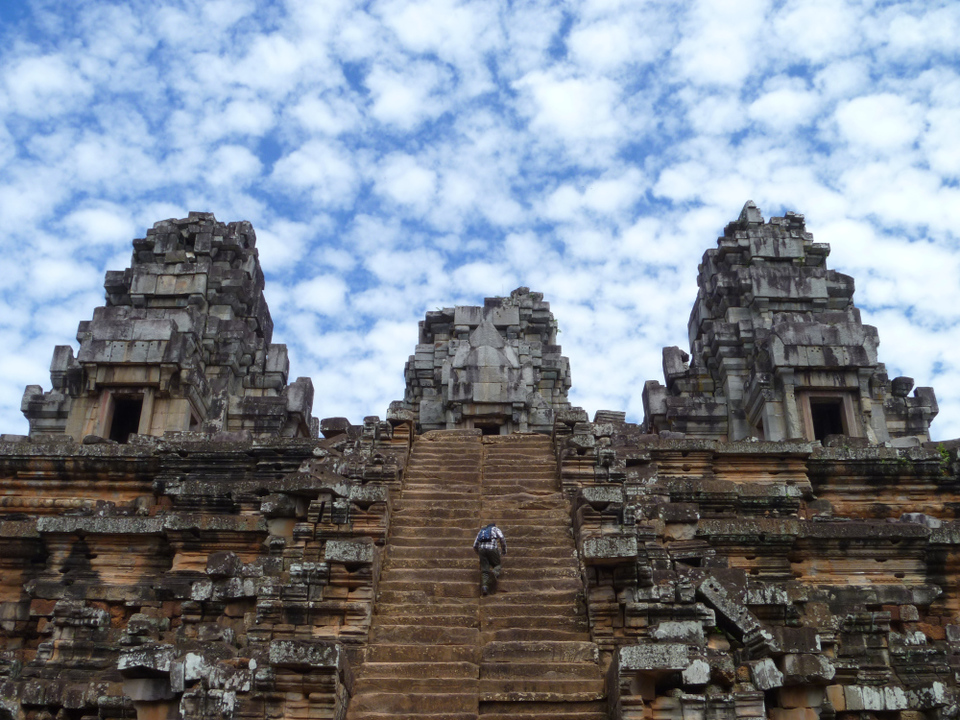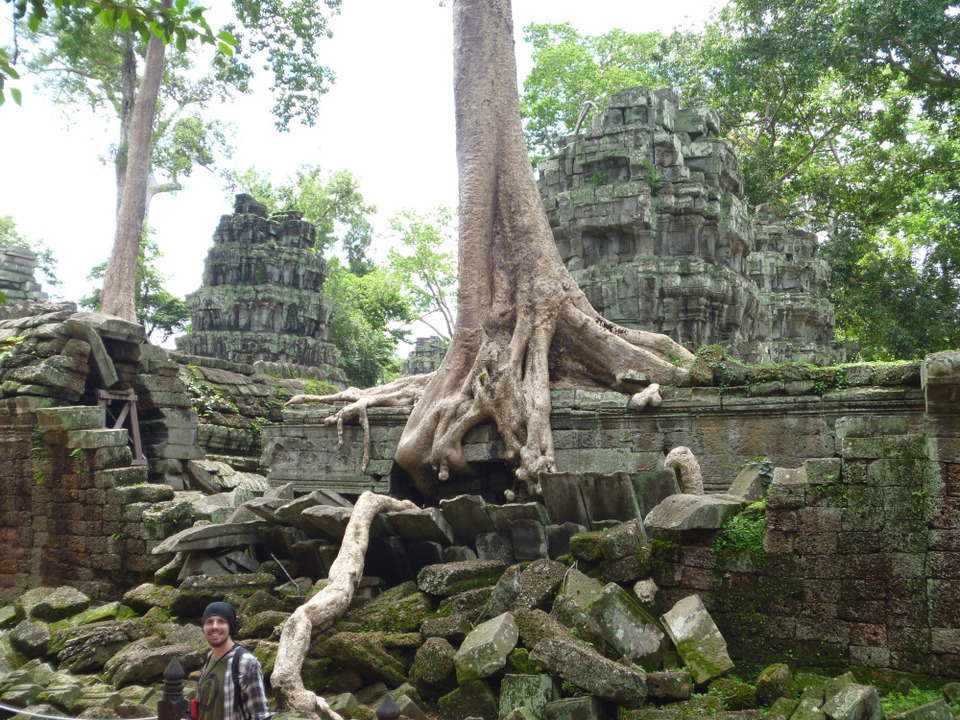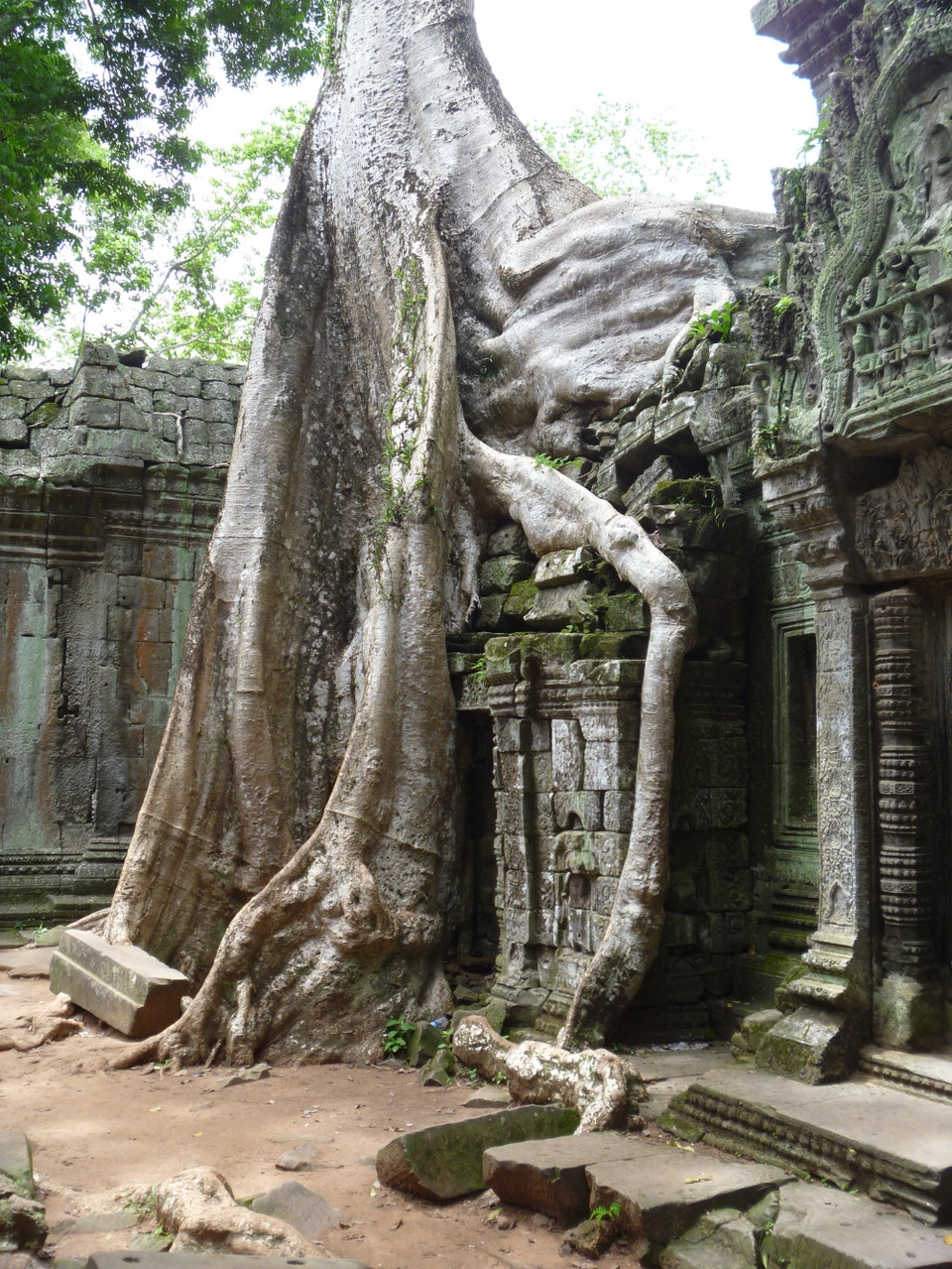 After seeing many of the most impressive temples our driver said he would take us to the back entrance to Angkor Watt and we could walk all the way through and then meet him at the front entrance. It was really nice of him to take us as he didn't necessarily have to but he clearly wanted us to have a good time. There was no one else around which was perfect and we saw so much of the place and lots of monkeys!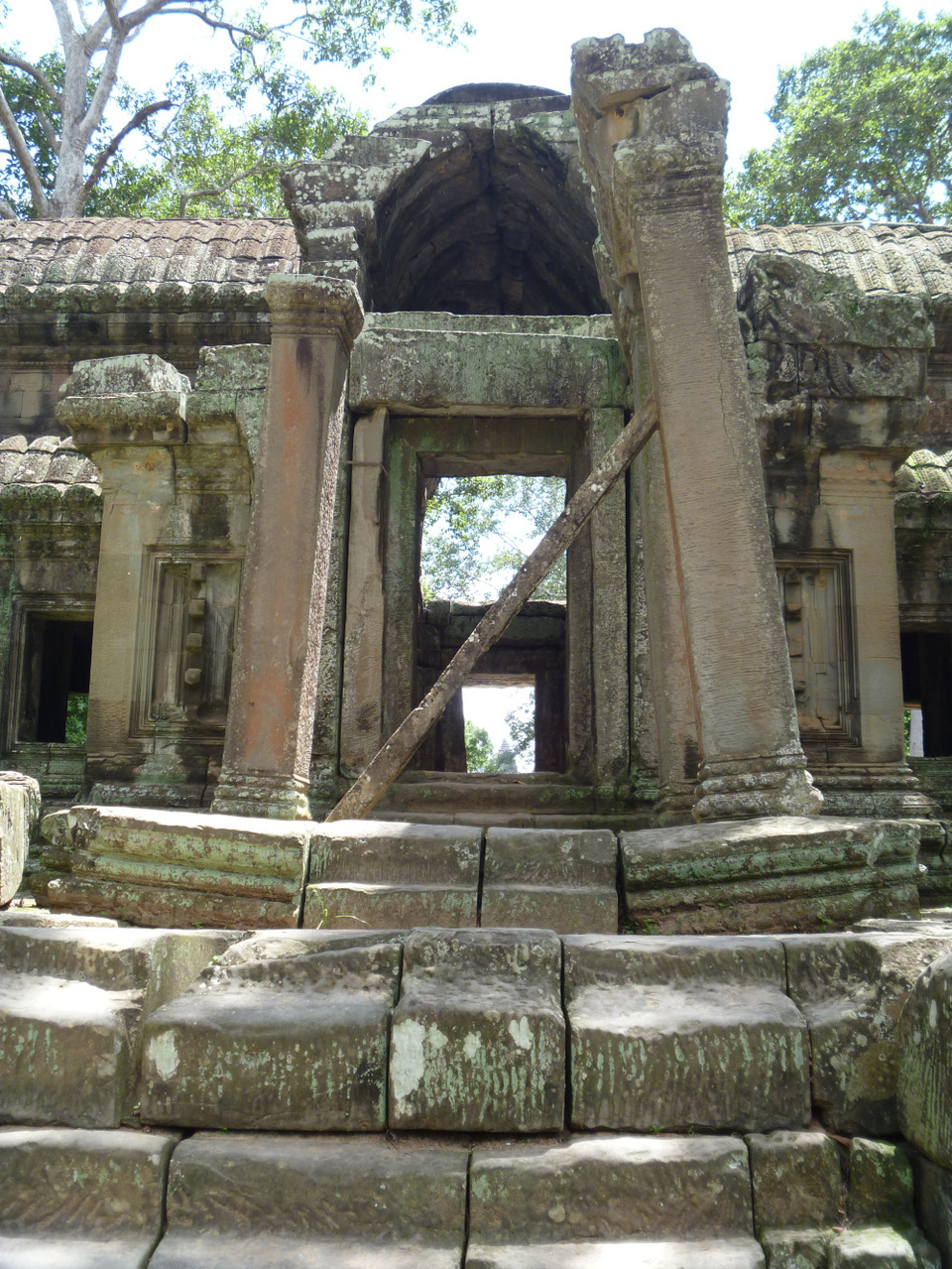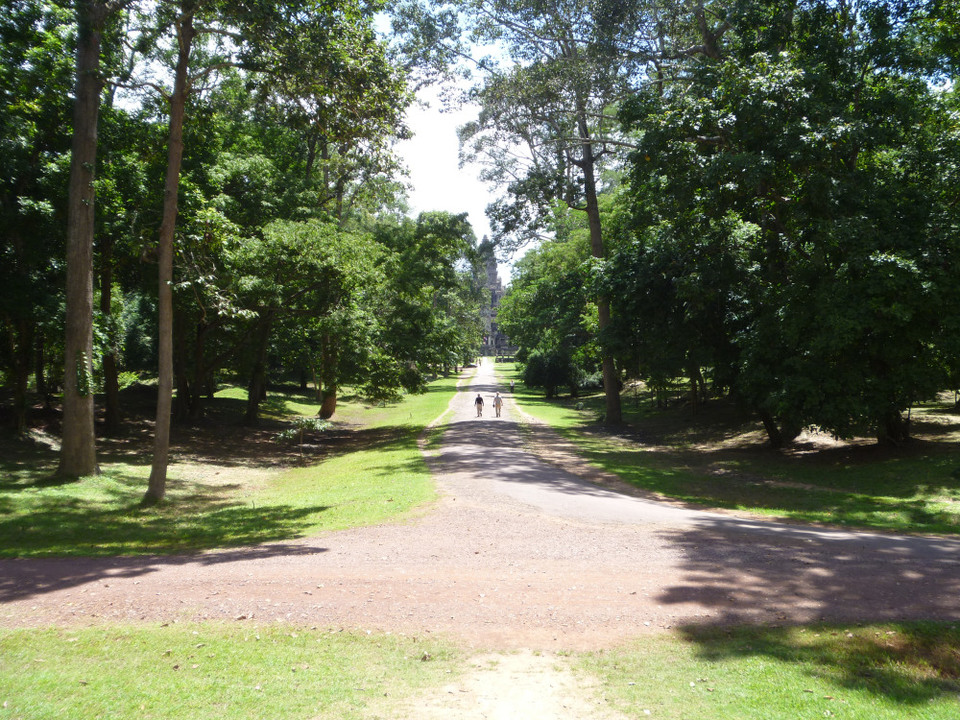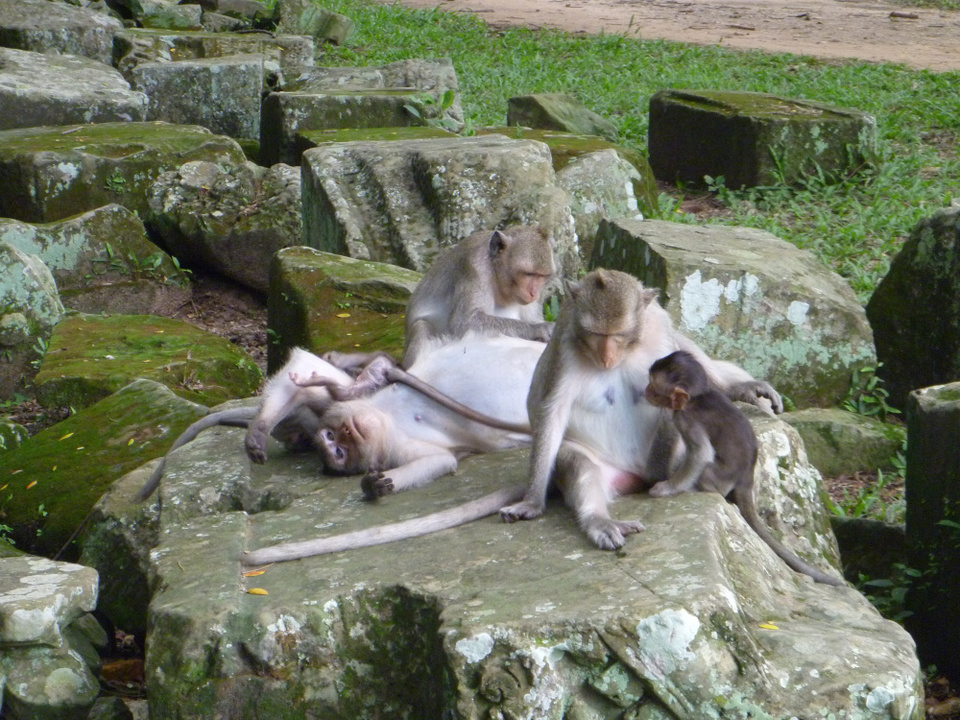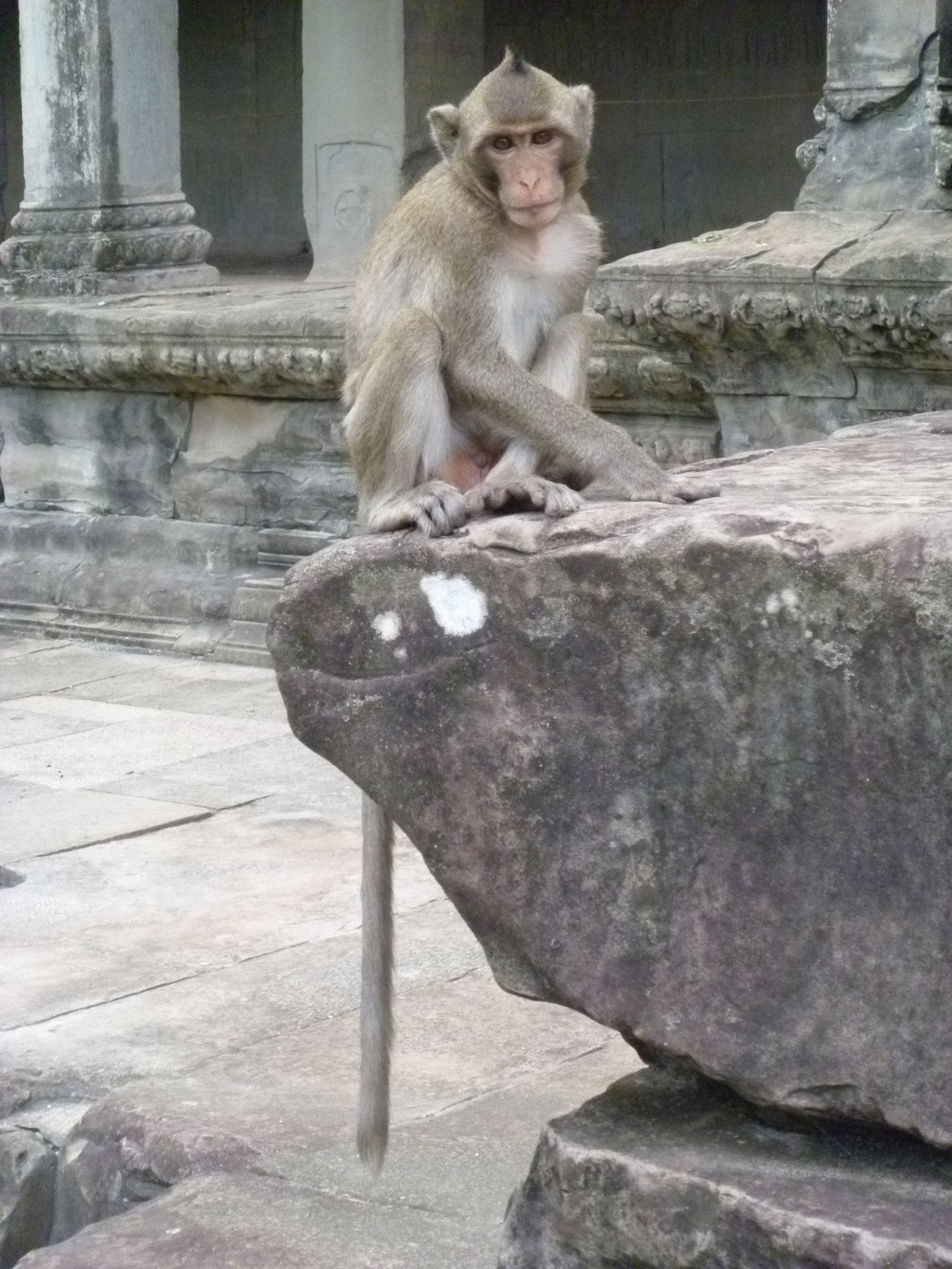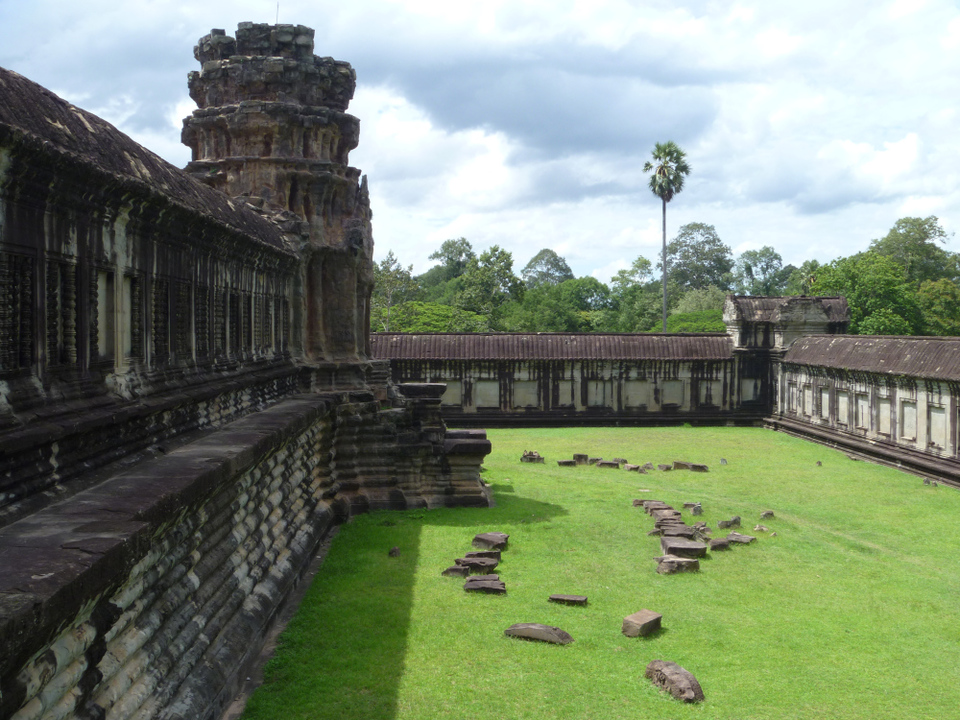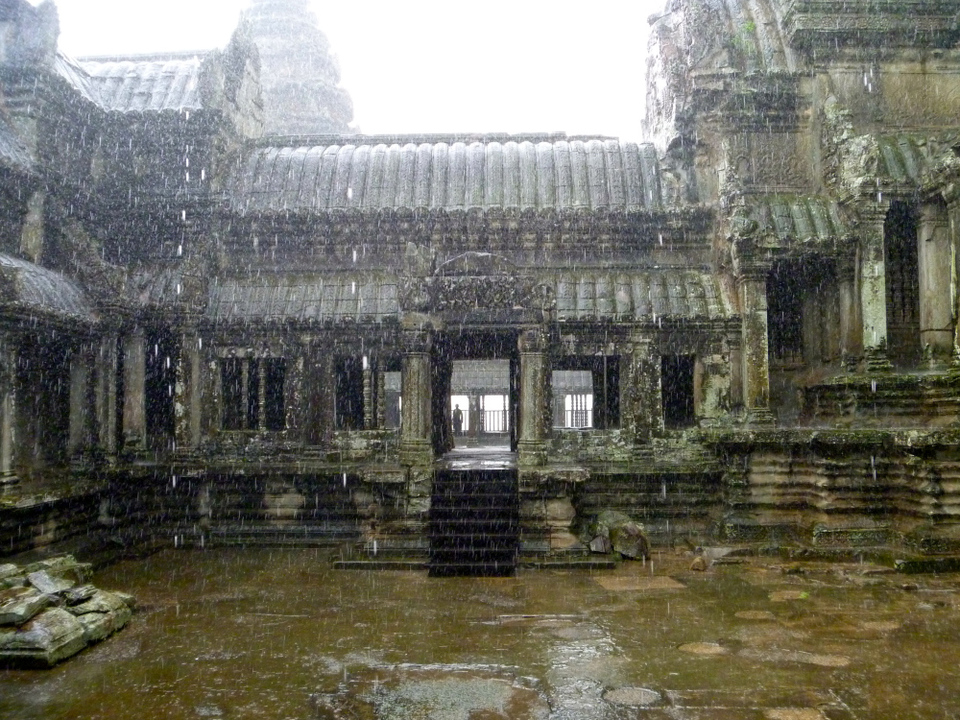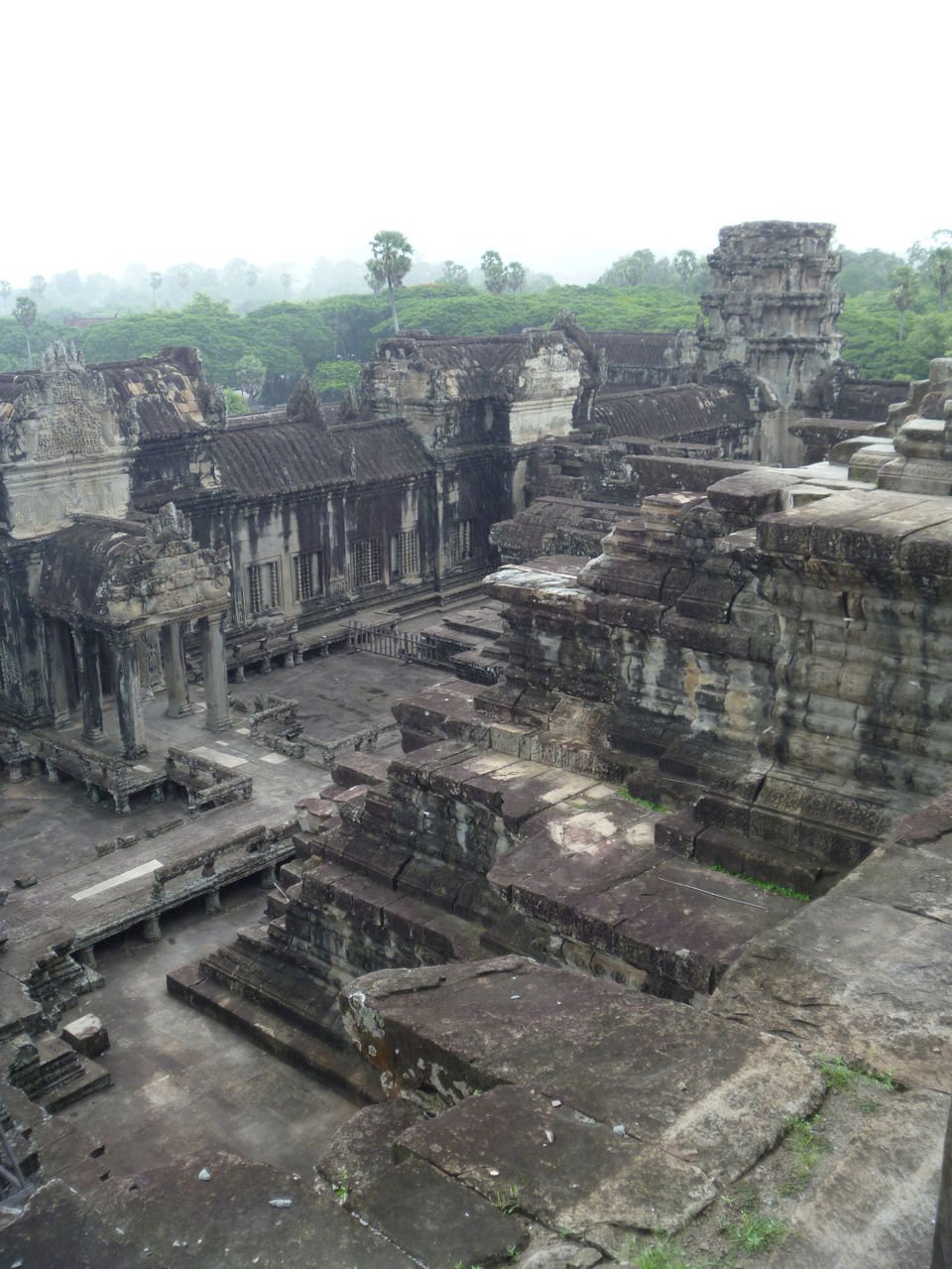 The next day we decided to go market shopping and found this lovely market with lots of beautiful items to buy. Liam tried out the ear candle treatment and after that we had a massage which involved getting into all sorts of positions. We also put our feet into the fish tank where they eat dead skin off your feet, it was seriously tickly but I got used to it after a while.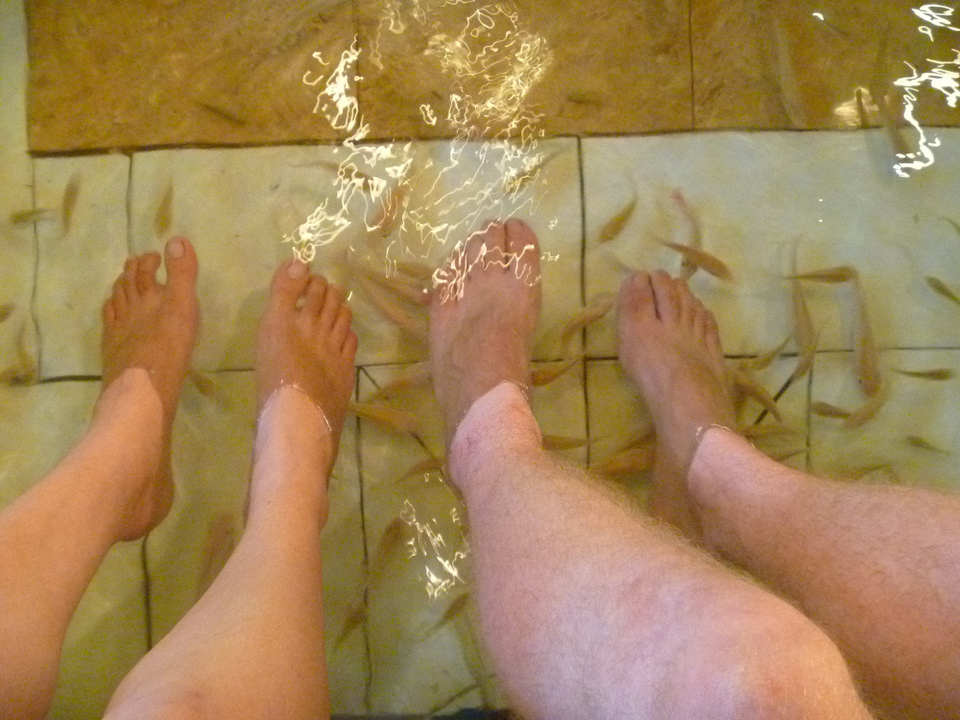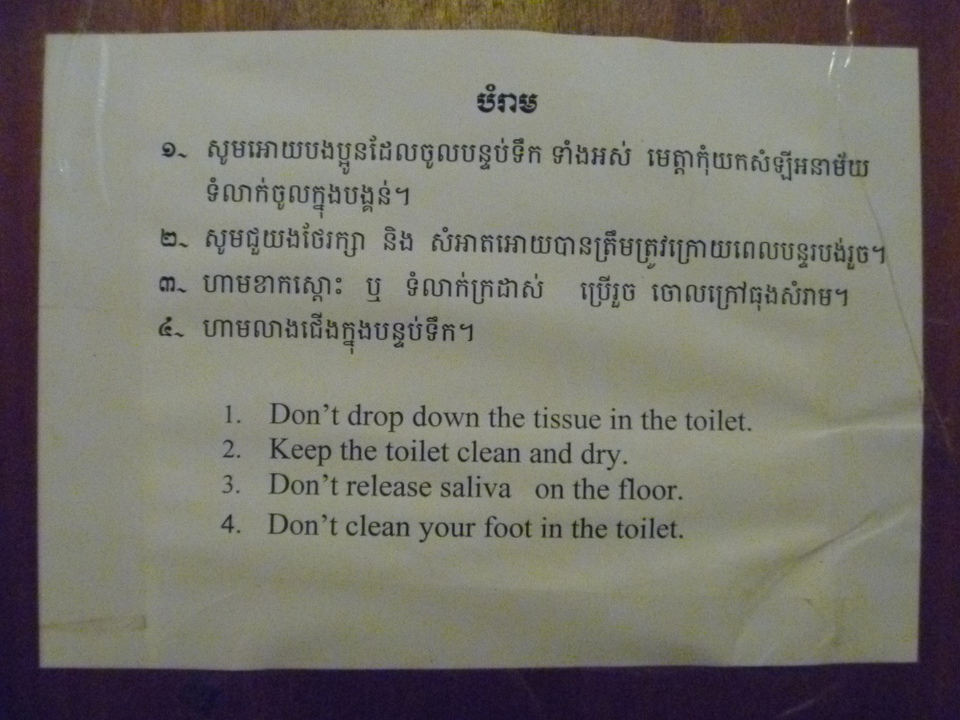 After our time in Siem Reap we headed to Battambang. We had heard about a bamboo train which you can ride with all the locals going from one place to another. When we got to Battambang the hotel manager wasn't the friendliest as we wanted to pay the price we'd seen online but he wanted us to pay more, after that we were given a room which was more like a brothel with only red lighting which was a bit dodgy.
We met two girls who were also going to the bamboo train so decided to go to go with them as it was cheaper to go as a group. Unfortunately the train was not what we thought it would be, rather than hitching a ride with locals it was completely set up for tourists. It was fun though although, you literally sit on a hard surface hitting lots of bumps along the way which after a while gets pretty painful. There is only one track so when you come up to someone coming the other way whoever has the least amount of people on the train has to get off and the train is dismantled, and then reassembled once they have past.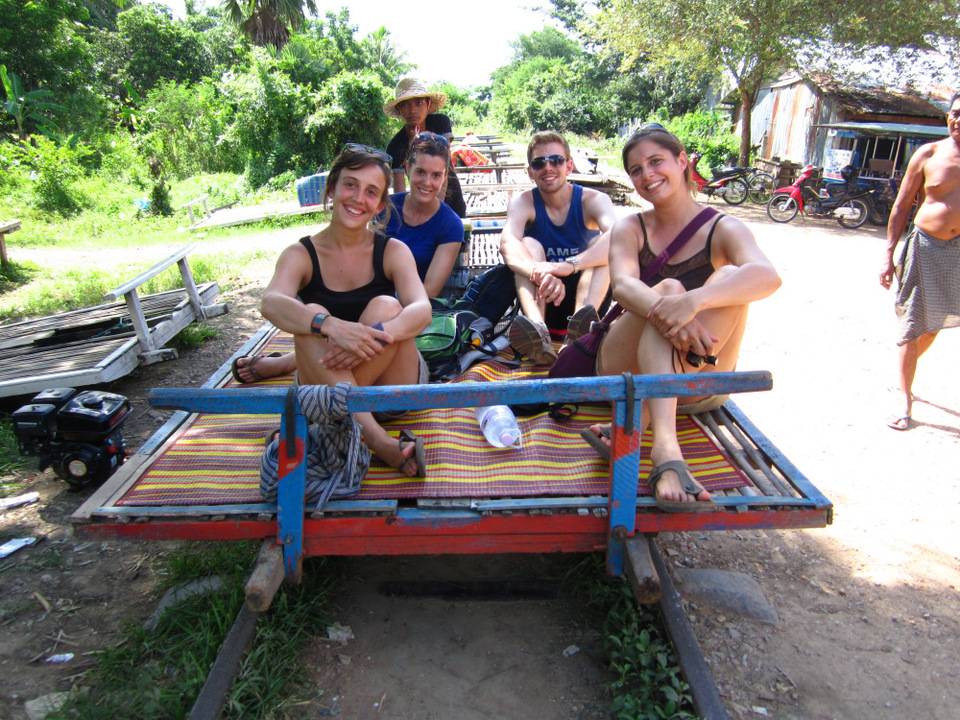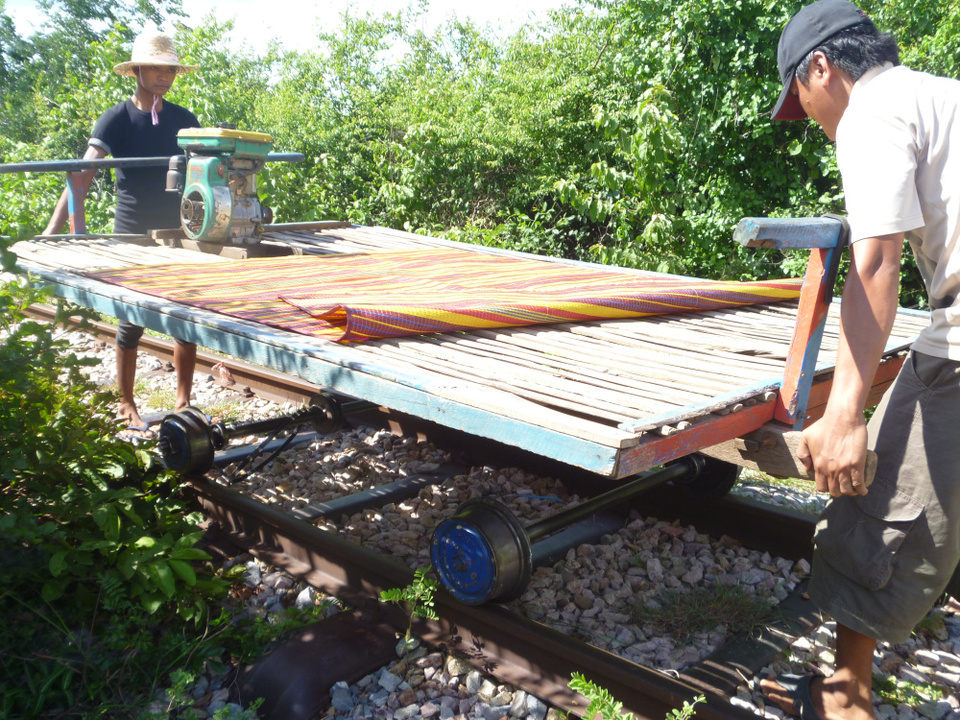 When we arrived at our destination which was a small community, children came running over telling us to come and see the flour factory. After that they were all pestering us for money and wouldn't stop, instead we brought them some food and sweets which they went completely mental for! There was also a small stall selling some scarfs and I ate the tiniest banana ever!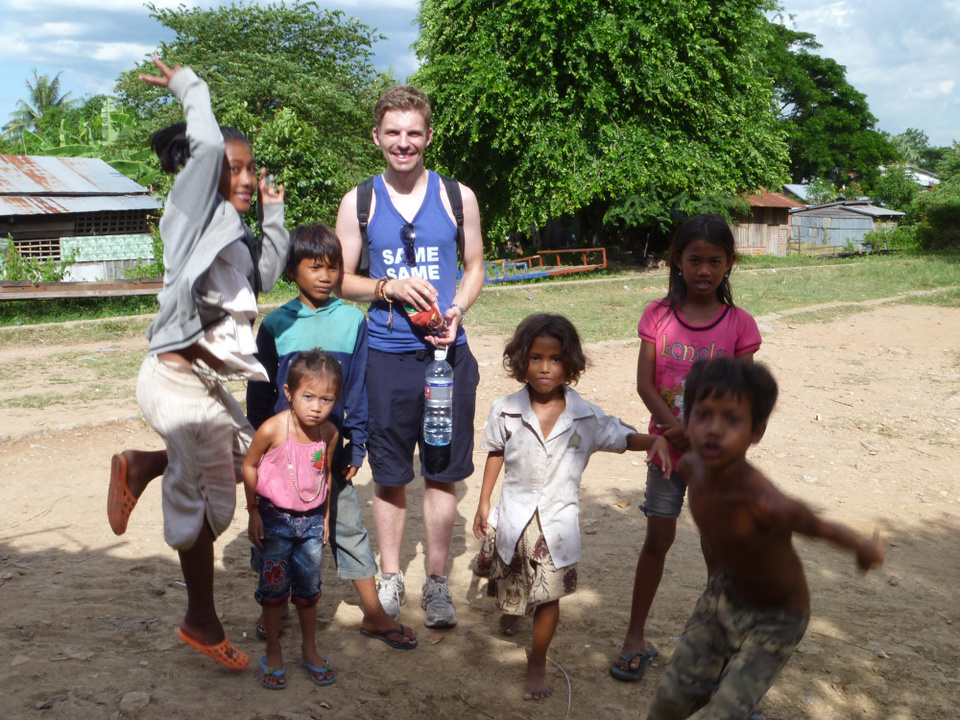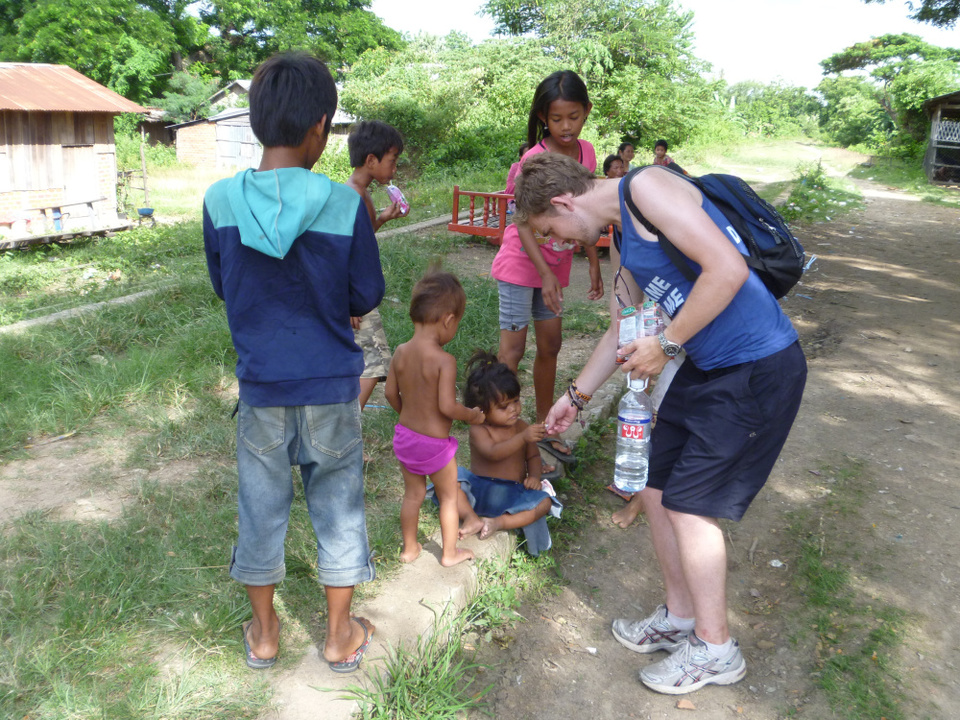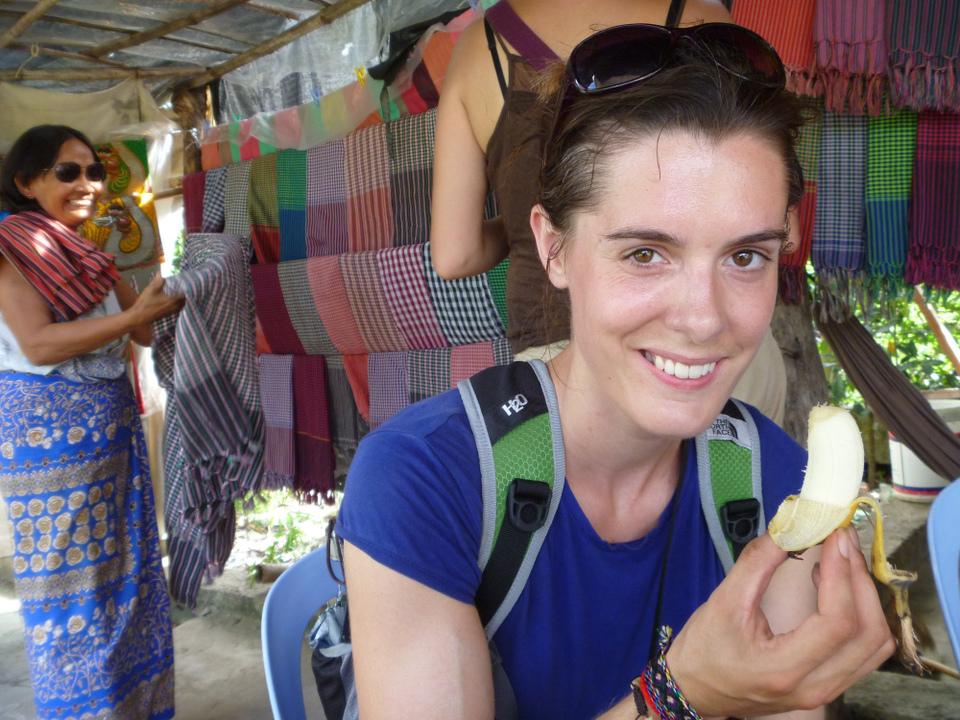 After our bamboo train experience we were then taken Phnom Sampeau, a temple which was very pretty and had lovely views around. It was also a place where Pol Pots regime took people and threw them down a "Death Well" where they dropped to their death. There is a separate entrance which opens up into a large cave housing a reclining Buddha and a glass cabinet with lots of skulls in.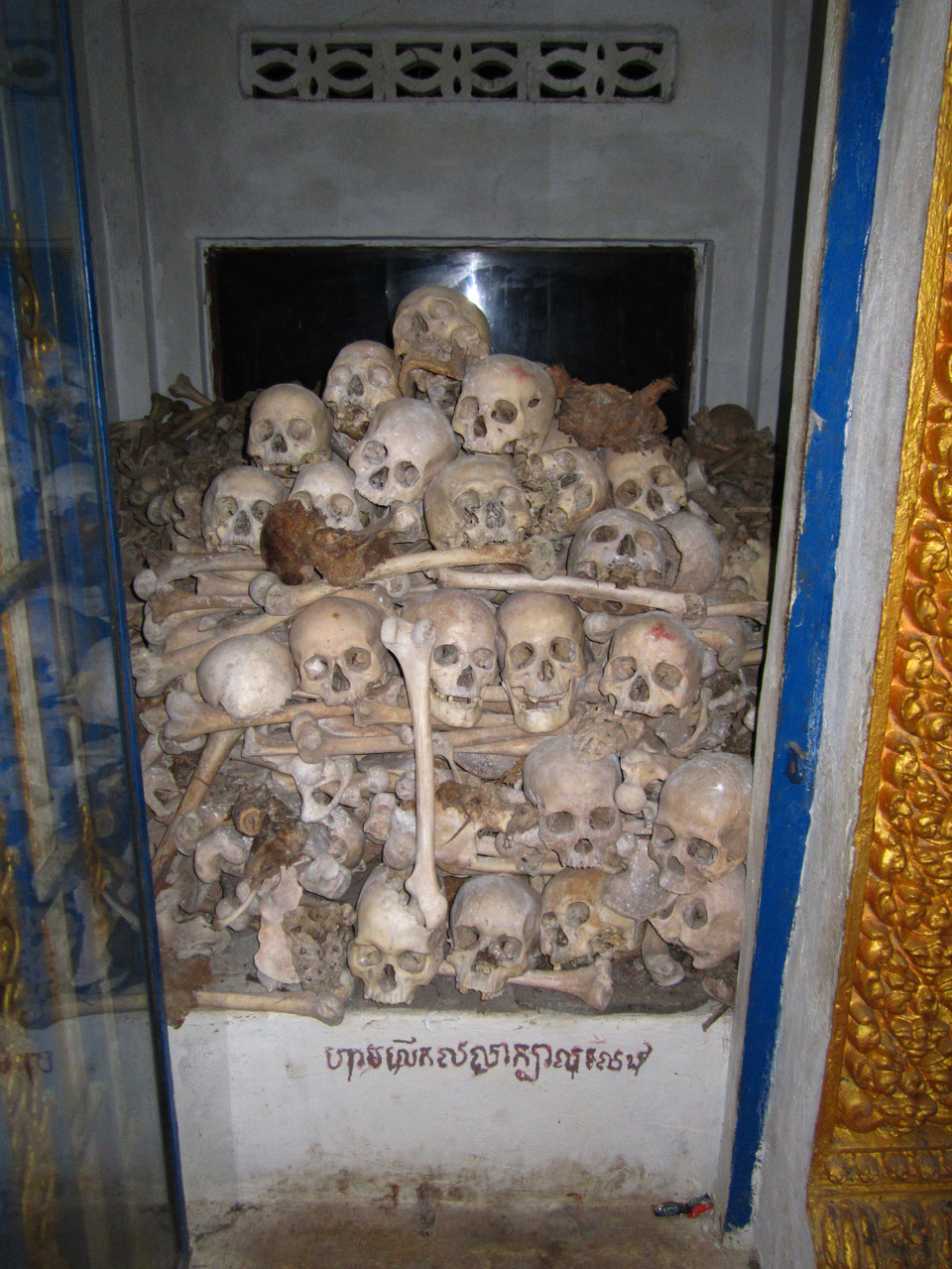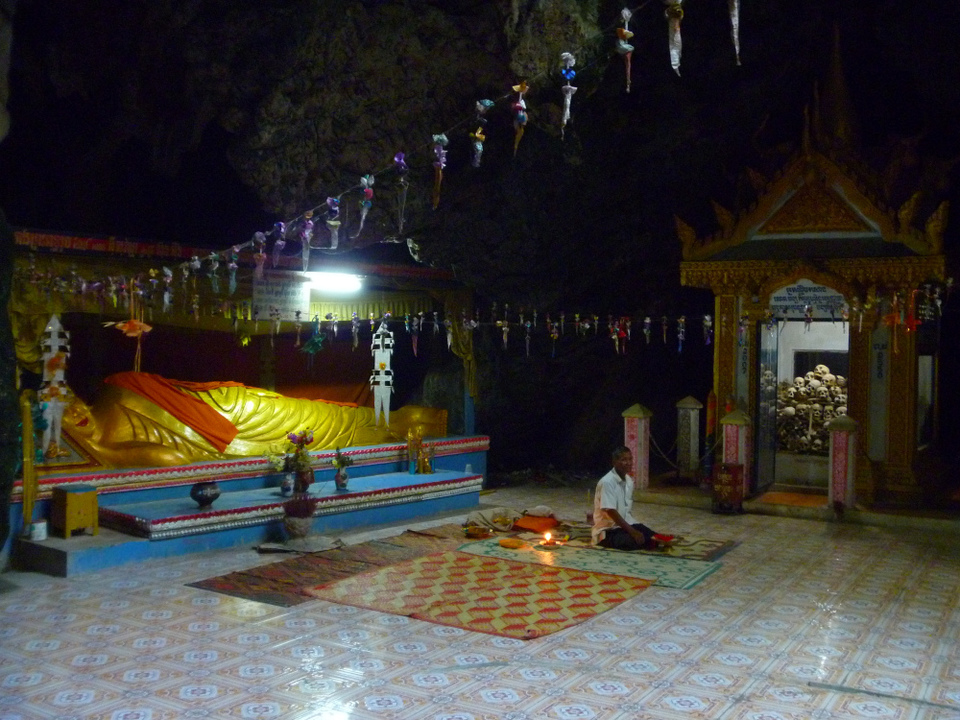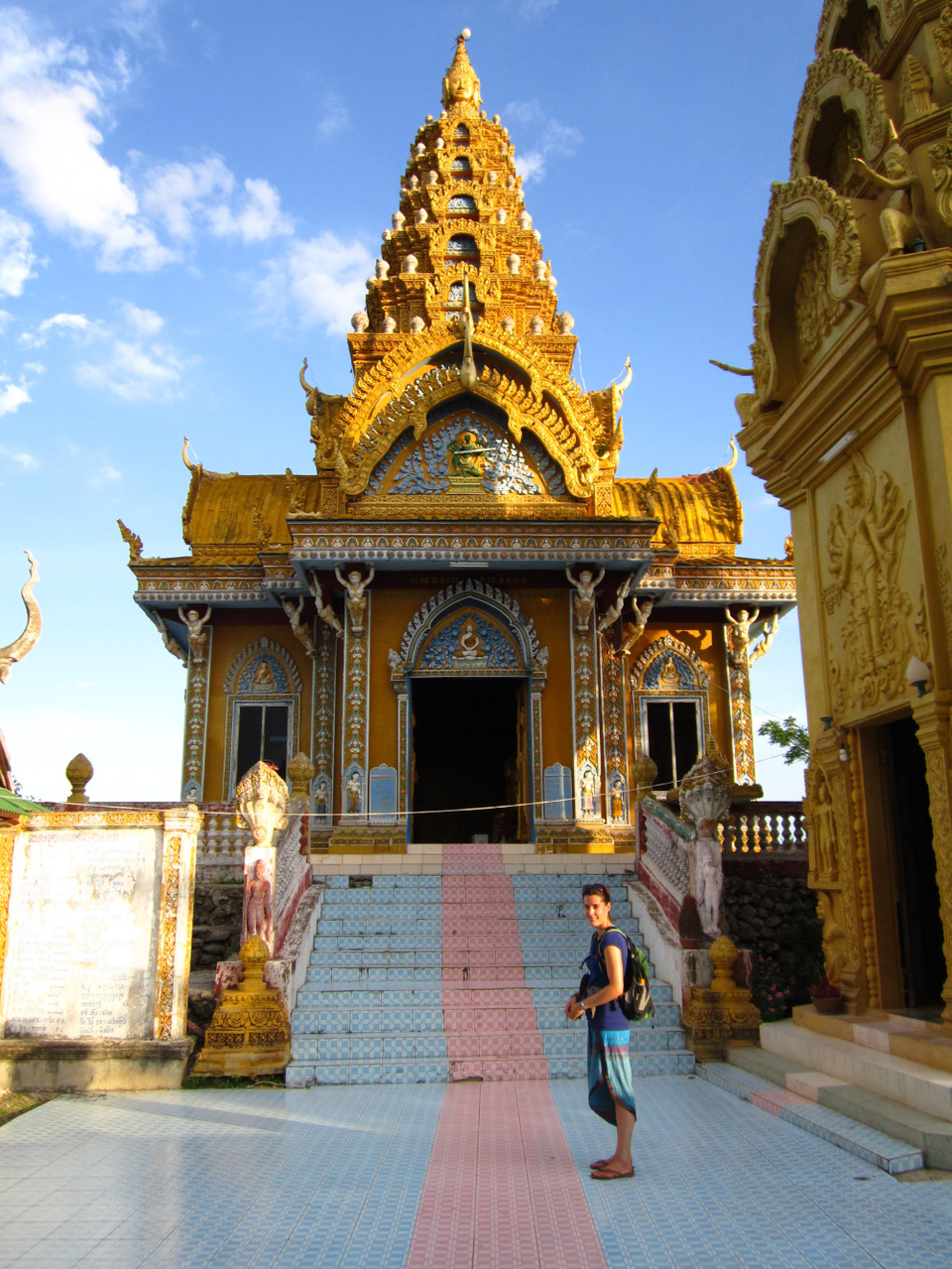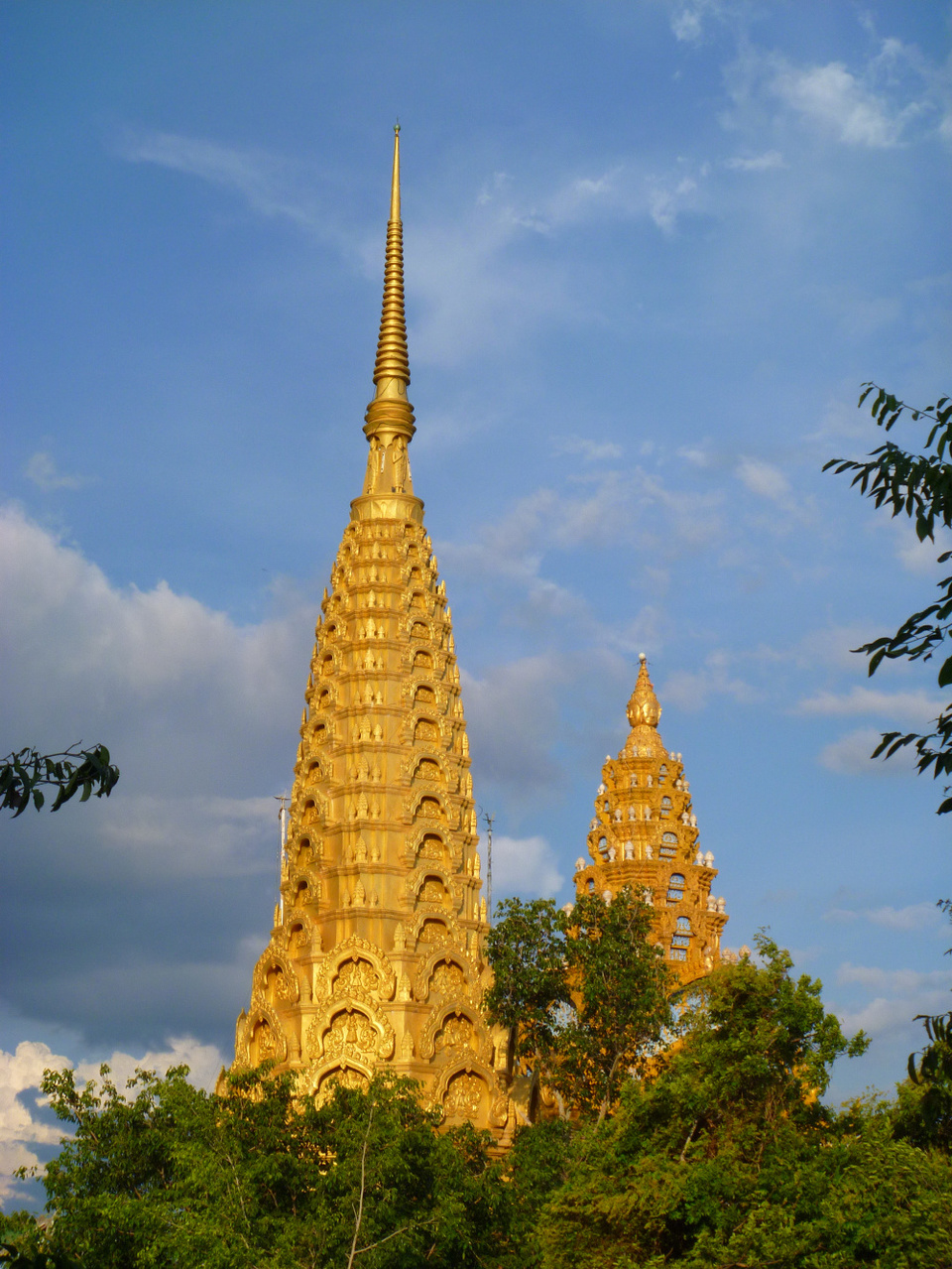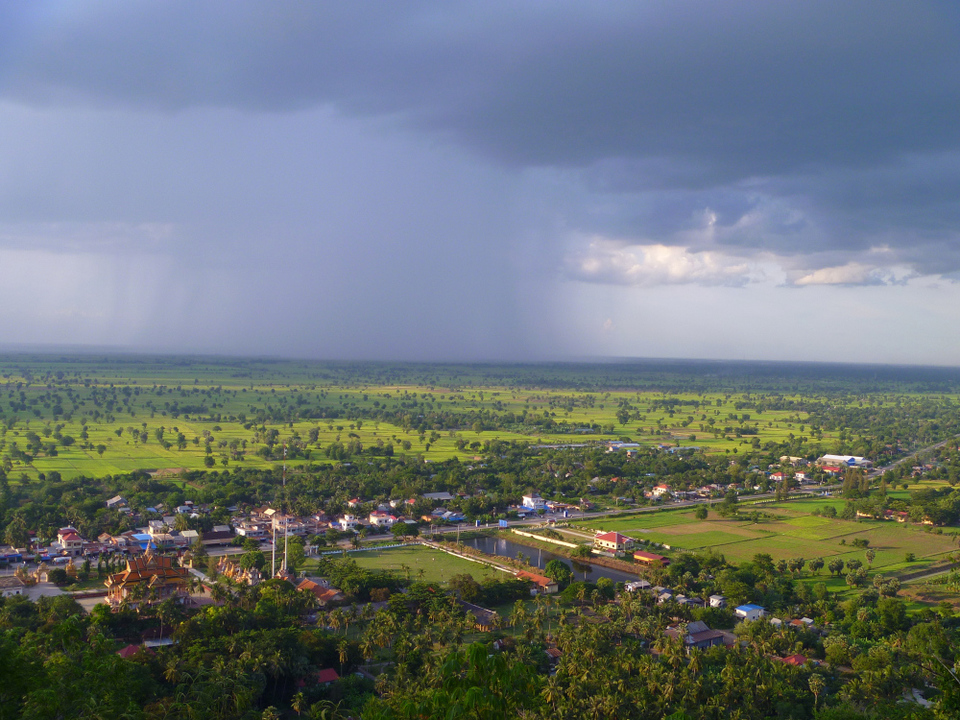 We made our way back to our tuk tuk driver who stopped off and pointed to a cave in the hillside, at first we didn't know he was pointing at it but then he explained that there were bats inside that would come out at exactly 6:00pm. And sure enough they came in their millions, it was incredible. We watched them for about 15 minutes and they were still coming out. We then drove a bit further down the road and stopped to watch them do amazing synchronised turns and swoops in the air, similar to starlings.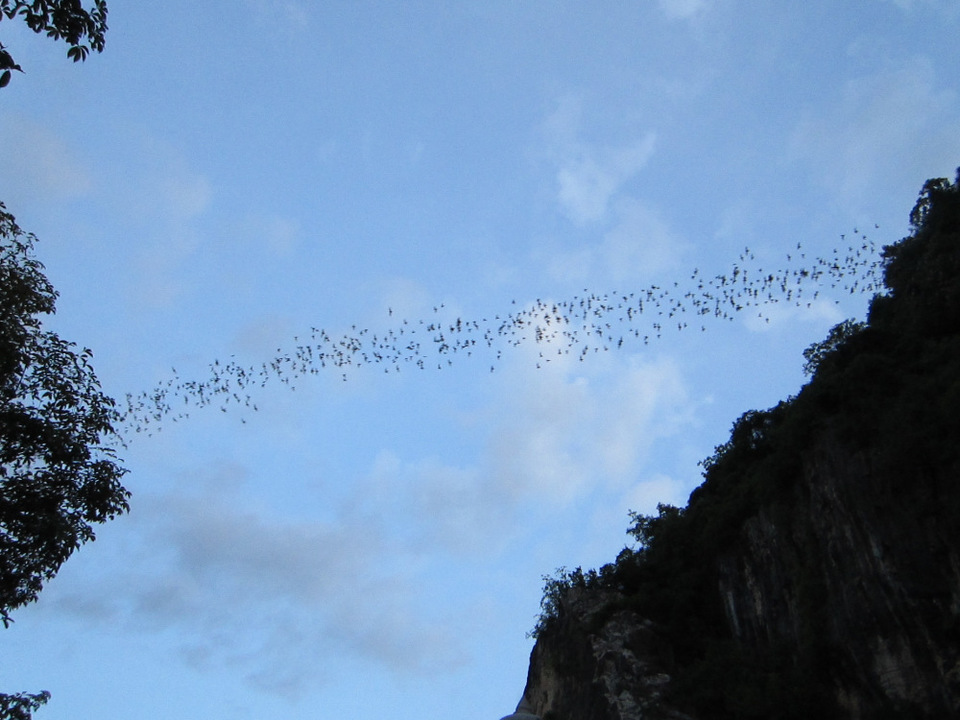 During our last full day we explored the town which took about 20 minutes, Battambang really doesn't have much to offer so we'd heard about blind people doing massage and how great it is. So we went along to this place and were asked to wear blue pyjamas and lie face down on the massage table. They asked us how strong we would like it, I said medium and Liam said hard and I am so glad I said medium because it was the MOST excruciating experience of my life! They pressed so hard and it was agony, it was more like torture and not at all like the relaxing massage we were expecting. I was just gritting my teeth and my palms were sweating so much. Afterwards we were so utterly exhausted we just went straight back to our hostel and slept for a few hours!
That evening we went to our favourite restaurant which happened to be next door and ate our last Cambodian meal before heading to Bangkok in Thailand. The next day I had loads of purple and yellow bruises on my legs – yikes! Not really the way we'd expected to end our time, it was so bad that we could only laugh about it!
Frequent Searches Leading To This Page:-
Cambodia trip plan, Beautiful Cambodia places, Beautiful Cambodia city, Top sightseeing in Cambodia, Tourist attractions in Cambodia