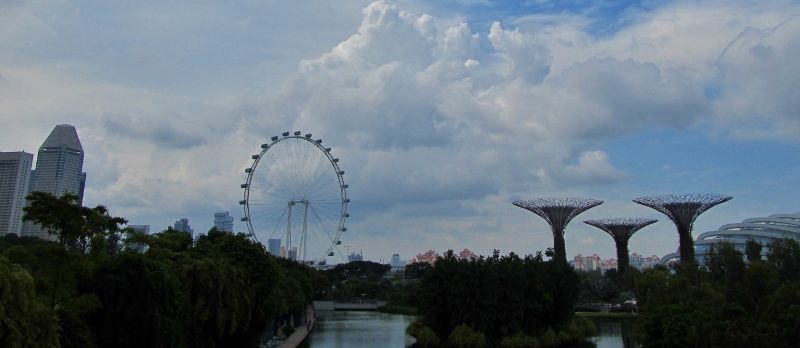 Reading about Singapore can be a daunting experience, especially if you've never traveled abroad before. But there's no point in having a passport if you're not gonna use it, so I decided to get on the traveling bandwagon.
First, the visa. It takes about three to five days to process and the embassy doesn't even need to call you if you've provided all the necessary documents. If you're lucky, they give you a multiple entry visa, valid for one year. I was. I'm not sure if I'll have reason to go back yet, except maybe for the hot chocolate at the 7-Eleven outlets scattered throughout the city.
Second, carry enough cash for your expenses. Put most of it on a Forex card and take some in-hand, just in case. Customs has a long list of do's and don't's for entering the republic and I was petrified to be caught carrying some contraband, so I was very careful. Of course, when I landed in Singapore and submitted the forms at the customs counter, the official gave me a once-over and asked me why I was visiting. No checking, no nothing. Maybe, it's just my upstanding appearance that made the experience smooth.
Third, humidity. Expect to start sweating whenever you step out, so dress light and airy. Shorts and t-shirts are best. Cloudy days are a relief as it gets cooler.
Fourth, use public transport. The buses and metro are air-conditioned so transit is mostly comfortable. Pick up an ez-link or Flashpay card at the airport, so you don't have to hire a taxi. Bus and metro rates can vary between 1 to 2 dollars.
Fifth, eat your heart out. It would be fun to visit all the hawker stands in Singapore, but I think that might take a few weeks. Instead, do a little research before you visit so you can get to the most popular ones, with the most iconic dishes. There's Chicken Rice, Chilli Crab, Carrot Cake, Fish Head Curry, Kaya Toast and many others that would satisfy any foodie.
Sixth, attractions. There are tourist hotspots, which tend to have entrance fees and can add up to a lot of expenses, but there are also places that are free and open to the public. For example, most of Sentosa, Universal Studios and Gardens by the Bay have activities that require fees. Then there are places like Botanic Gardens, MacRitchie Reservoir and East Coast Park that do not.
Seventh, accommodation. If you are traveling with friends, one of the many hostels should suffice. These can range from $12 to $15 per night, depending on the facilities provided. If you are traveling alone, you could check out the home-stays, which though a little more expensive than the hostels provide adequate privacy. Good hotels need to be booked at least a month in advance.
Eighth, expenses. Transport is cheap, excluding taxi's. Even if you're visiting different parts of the city, you can keep your expenses below $10 per day. Food is delicious and affordable. A meal can range between $2.50 to $10. A cup of kopi at a hawker stand is $1. In a day, you might spend between $10 to $20 on food.
On the other hand, if you're a fashionista and love frequenting malls to snag the best deal on your favorite brands, you will need a lot more cash to splurge. One area I visited, called Orchard Road, had at least five malls one after the other. Beware.
Ninth, mobile usage. I heard from one of the shopkeeper's that only 3G and 4G compatible cell phones work in Singapore. If you have a postpaid plan you might be able to opt for a roaming package, but if you have an outdated phone like me, you might be forced to get a new sim and phone. Due to the currency difference, buying a cellphone for $18 seems hilarious, but it's a purchase that can be avoided.
Tenth, before you catch a bus or taxi to the airport for your return flight, ensure you turn in your ez-link card at an MTR counter and get the balance refunded. They don't do it at the airport.
Bon voyage!