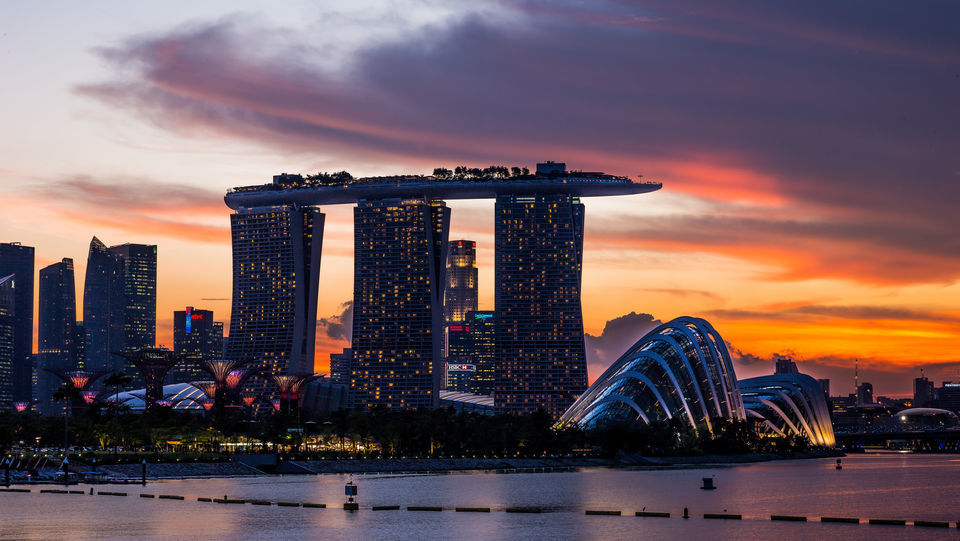 Glittering towers that touch the sky and cars that speed on four-lane highways. There is a method to its madness and a sense of calm despite the chaos. Everything is spotlessly clean and when you pay close attention to the accents around you, you know you're in a melting pot of cultures. Welcome to Singapore!
The Changi Airport has always a favourite of travellers for its efficiency and entertainment value. However, the vibrant city has a lot to offer as well. Next time you have a long layover in Singapore, consider stepping out and exploring the city's culture, cuisine and its cosmopolitan vibe.
9 am Brekkie: If you're looking for a traditional hawker breakfast, we think heading to the Tiong Bahru Road is a good idea. Most locals believe that this is one of the most hip spaces in the city. The street has a whole variety of places to choose from. You can order a traditional breakfast set featuring the famed kaya (coconut egg jam) and kopi (coffee). You can check out the Tiong Bahru bakery or 40 Hands that's particularly known for its excellent breakfast spread.
10 am Since you're already in the vicinity, check out the The Tiong Bahru Wet Market which is always abuzz with vendors selling fresh produce. If you like farmer's markets, you're going to love this local one that sells produce from different parts of the world at half the price of supermarkets. Even if you're not really buying produce, don't miss the tropical fruits and fresh flowers, especially the orchids. There are also a couple of cool bookstores near the market that you can check out. The market gives you glimpse into the everyday life of the locals.
11 am Singapore is home to some beautiful temples. Built in 1839, Thian Hock Keng is the oldest Chinese temple in Singapore. You can easily spend an hour checking out the intricate carvings. The temple was built around 1821–1822. During the 19th century, the then colonial government required massive manpower to develop Singapore. That opened up opportunities for the Chinese. Many travelled by sea and seafarers and immigrants would pray to Mazu, the Goddess of the Seas, here for a safe sea passage on their arrival to Singapore.
12 pm If you are into the arts, head to a 60,000 square metre performing arts centre, located in Marina Bay near the Singapore River. It's tough to miss the eye-catching spiky twin-domes that are now a landmark in Singapore. Esplanade is considered among the busiest arts centres in the world and is a venue for world class acts from across the globe that you can catch. Check out their website to find out what art exhibitions, short film screenings or music festivals are going on at the time you are here.
1 pm Lunch: Take a break for lunch and head to China Town or the Maxwell Food Centre. These are open-air eating spaces that have multiple stalls serving classics such as chicken rice and fried oyster omelette or the popular laksa (spicy coconut milk-based noodle soup). If you're looking for something Indian, Singapore's Indian community makes a roti prata and curries with desi spices, which you can get at the Little India street. Post lunch, you can stroll down the road and shop for spices, fabrics and oils.
3 pm After a hearty meal, retail therapy might be a good way to keep yourself awake. The 2.2km shopping belt, is flanked by iconic shopping malls, restaurants, designer studios, fast fashion, ethnic wares, art galleries, relaxed hangouts and dining and entertainment options for every taste and budget. It's a cool place to buy from local designers and artisans and also to pick up souvenirs that are uniquely from Singapore. The street gets its name from being a small lane lined with fruit orchards, nutmeg plantations and pepper farms about a 150 years ago.
5 pm Nature lovers, rejoice! Apart from the glass and steel towers, Singapore has pockets of green that are gorgeous. The Orchid Garden located on the highest hill in the Singapore Botanic Gardens (now a UNESCO heritage site) is one such place. It houses 60,000 orchid plants consisting of 1000 species and more than 2,000 hybrids on three hectares of carefully landscaped slopes. You could walk around and relax with a cup of coffee and some cake that you can pick up from a bakery or café nearby. Another option is to walk/cycle by the river and cross all the quays.
7 pm Not too many tourists do this, but you can sign up for a guided walk that takes you inside the Bukit Brown Cemetery. It will tell you a lot about Singapore's history and mix of cultures. This public Chinese cemetery, established in the early 20th Century, hosts around 100,000 graves and is the biggest Chinese graveyard outside China. The cemetery is named after its first owner George Henry Brown, who was a ship owner and had arrived in Singapore from Calcutta in the 1840s. The cemetery is home to a variety of bird species and wildlife as well.
8 pm Drinks and Dinner: When you need to take a break and grab a bite, head to the Marina Bay Area. Ce La Vi, a rooftop bar at Hotel Marina Bay Sands offers the best view of Singapore's skyline. You can watch the island nation shimmer as you sip on a heady Singapore Sling or settle for a simple glass of wine. Known for its modern Asian food, Ce La Vi whips up spicy tuna rolls, Hokkaido scallop and oyster ceviche, tamarind braised short rib among its specialities.
9 pm Entering the world of nocturnal creatures and their dimly-lit homes can be a thrilling experience. If you don't necessarily want to spend the night being a party animal, the Night Safari in Singapore remains open until midnight and makes for a great night-out option. If you are travelling with kids, this is one place you absolutely shouldn't miss. It is the world's first nocturnal zoo and is home to 2,500 animals. You can take a tram ride through the park or walk along set trails. The 20-minute live presentation called the Creatures of the Night Show features otters, binturongs and civets performing and is one of the highlights of the show.
11 pm If you feel famished after your excursion at the zoo, you can head to the Lau Pa Sat Market that is open 24 hours. The Satay Street where vendors set up barbecues and present delicious meat on a stick is worth trying out.
Other things to do: If you do get some extra time, stop by the Sri Veeramakaliamman Temple in the Little India area. The temple is dedicated to a 14-hand Goddess Kali. The ceiling of the temple has beautiful paintings and sculptures of Indian gods and its colourful outer roof (gopuram) features brightly-painted sculptures of Hindu gods.
An extra day will also allow you to plan a trip to Sentosa Island that houses Resorts World, Universal Studios Singapore, Tiger Sky Tower, Singapore Butterfly & Insect Kingdom, and SEA Aquarium, which has one of the largest collections of aquatic animals in the world, along with long, sandy beaches. This man-made island is located just south of Singapore CBD. You can take a 12-minute cable car ride from Vivo City to reach Sentosa, and enjoy scenic, panoramic views on the way.
Cuisine on offer
Singapore is a food lover's paradise. From Michelin-starred hotels to gourmet street food; name it and you'll find it here. The cuisine is influenced by flavours of Malaysia, China, Indonesia and India. The Tian Tian chicken rice at Maxwell Road Hawker Centre comes highly recommended.
Further reading: With Dishes Starting At ₹200, This Is The Only Food Trail You Need To Follow In Singapore
When to go
February to April is quite pleasant and is great for outdoor activities and sitting at open-air restaurants and in markets. It rains quite often in the months of November, December and January, while May and June are the hottest months.
Getting around
The most convenient and economical way to travel in Singapore is by using the Mass Rapid Transit (MRT) subway system, which is something like the Delhi Metro in India. The system operates from 5.30am to midnight, with trains at peak times running every two to three minutes. You can also take trishaws (like rickshaws), though there are only around 250 trishaws left in Singapore. You can still easily find them in tourist areas.
Where to stay
Singapore has hotels to suit every budget. You can try the Fragrance Hotel- Riverside located on Hong Kong Street, Boat Quay with rooms starting at ₹5,000 or the Hotel Conrad Centennial Singapore located on Marina Bay for a perfect view of the city's skyline. For more options, check here.
If you've spent a happy 24-hours in Singapore, write to us and share your itinerary.