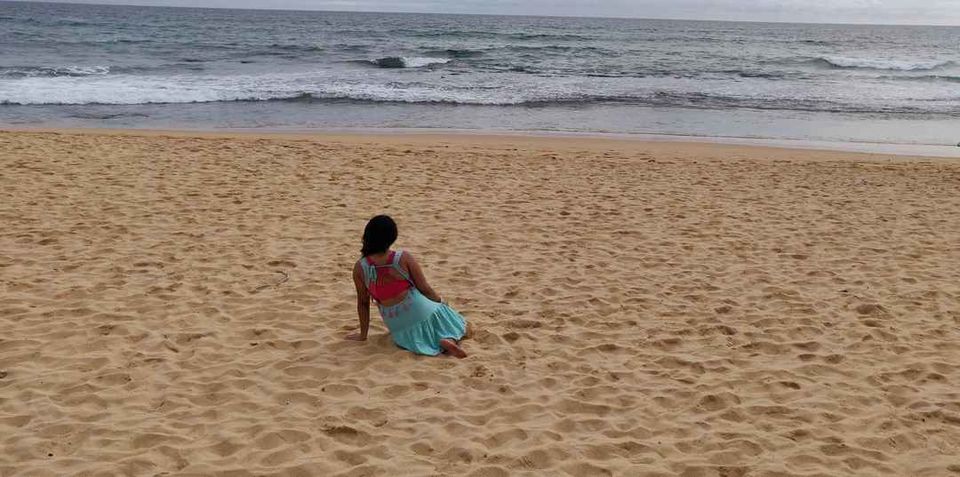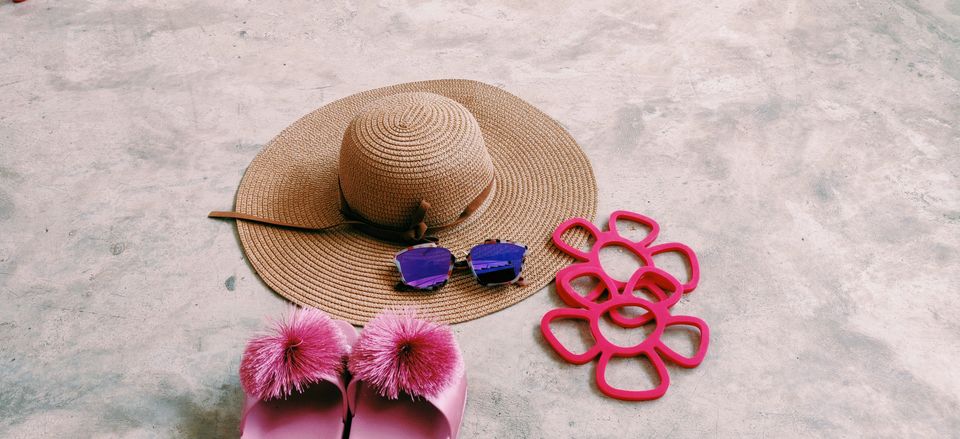 How do you really describe a land which has a bit of everything to offer?
An abundance of sunshine, playful elephants, Buddhist shrines, lush green tea estates, beaches, an adventure enthusiast's paradise and green patches everywhere you look around. These words also do not necessarily define Sri Lanka completely. It is surely a place where there is a mélange of the old and the new worlds and both somehow co-exist almost in sync.
As two women travelling the country on our own, this was quite an interesting experience which is worth sharing.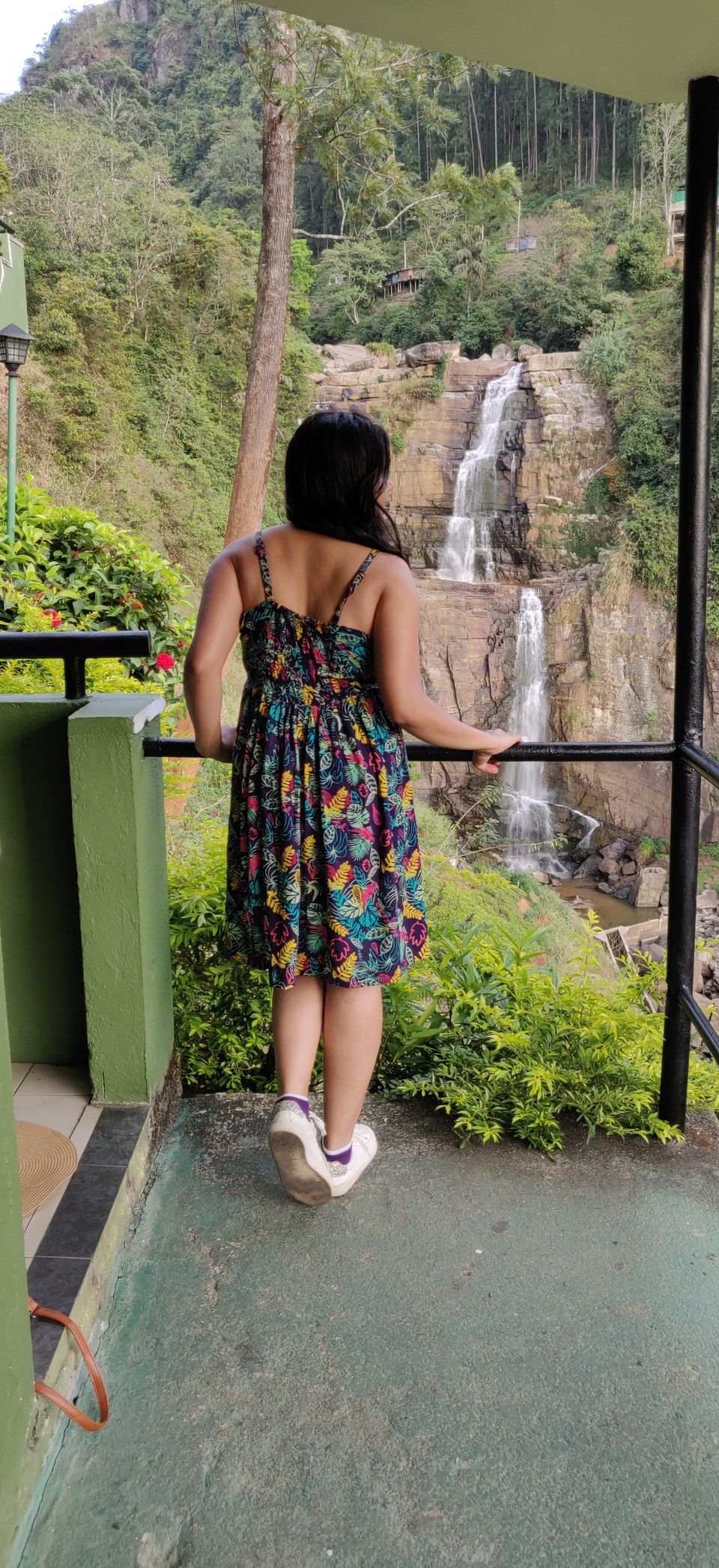 When people ask me how was Sri Lanka for me, I am left speechless and mostly wonder how exactly do I explain the beauty of the place or the experiences associated with it. I feel like it is this place which cannot be put in one box or defined too well with an adjective.
We could cover Colombo, Kandy, Nuwara Eliya, Galle, Unnawatuna, Yala national park and Hikkaduwa in our 7-day trip to the sunny Sri lanka.
Was it enough? Of course not. You can never get enough of what Sri Lanka has to offer. It's a huge island country with so much diversity. I, in fact, find it as diverse as India in its landscape and culture both.
We began the journey with Colombo. It is an equivalent of Mumbai or Delhi (For Indians) and it offers everything a Metro possibly can. Big malls, 5-star resorts or hotels, best brands for shopping and the best food (To be fair, non-vegetarians would enjoy this country much more than vegetarians would) but you have a plethora of options in veg food especially with all major international food chain brands present here. Colombo fascinated me the least since I am from Mumbai and have lived all my life here. But I think the highlight for me was the serene Buddhist temples. It was sunny for most part but we expected it pretty much since the start so we had our hats and sunnies on all through our trip.
We first visited the Galle Face green which is a seaside promenade like the iconic Marine drive in Mumbai, the floating market which to our disappointment was mostly shut and then the Buddhist temples.
We visited the Gangaramaya temple on our first evening in Sri lanka. It is quite contemporary as far as its architecture is concerned. It is one of the most important landmarks of Colombo and can be easily accessed through all modes of transport. To me, the most special part of the visit was that it was immensely peaceful in the evening and sitting by the nearby Beira lake gave us the much-needed calm away from the bustling city of Colombo.
We wanted to visit the landmark 1150 ft. tall Lotus tower but it was under construction then. Looked interesting and picture worthy from a distance, nevertheless.
We ended the day with a visit to the Bailey's Casino and that was a superbly fun experience. Firstly, free food and entertainment. You should be sold on that but if you are a Casino enthusiast then this is the place you should be at. Do not miss out on the performance slot at the end of the night.
The next day we left for the hill city of Kandy which is majorly known for its iconic Temple of the tooth relic. Well, many people come here expecting to see the tooth of the buddha. But it is hidden in a pious casket so some tourists around us were disappointed and our tour guide for the day suggested we don't spend the money to visit the temple at all. But since we had heard so much about the place, we thought we will give it a try anyway.
We then went to watch the 5pm show at the Kandy cultural centre. Please don't forget to buy your tickets in advance since on days when there are more tourists, it tends to be sold out and you do not want to miss this show. It gives you a glimpse into the rich cultural heritage of Sri Lanka and there is a very exciting fire show at the end of the performance which is quite a beauty.
Next day early morning began the most exciting journey to what they call "Little England". We boarded a train from Kandy to Nanu Oyu which takes you to the tea estate town of Nuwara Eliya. But the train bookings are very difficult to get. So, expect a really crowded train with a 3-hour journey but with the most scenic views you would ever see on a train ride. No wonder it is called the most beautiful train ride in the world. Not to miss the vintage style signaling system on the train.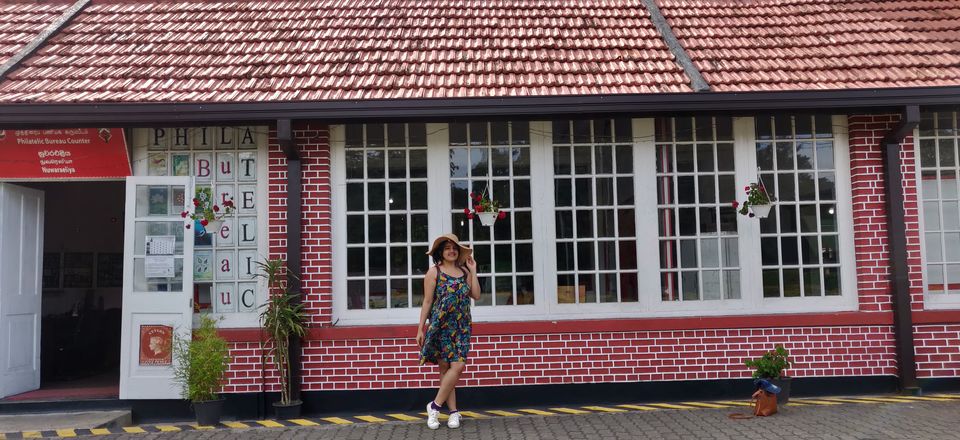 Nuwara Eliya had my heart from the word Go. Lush green tea estates, temperature drop easily by a few degrees and an unplanned stay at an old and vintage style hotel Glendower was all the perfect setting we needed for a beautiful day. It gets colder in the evenings here so do carry something warm for your night stay.
The most interesting part of the day (Apart from of course visiting the amazing tea-estates and the scenic journey leading to them) was a visit to the Post office at the center of the town. I sent out postcards (you might have guessed by now that I am quite old school) to my family and friends back in Mumbai. It was a really fun experience for us and you can give it a try.
We were to leave for Tissamaharama the same night by a bus but due to its unavailability and some delays from their end, we chose to stay that night at Glendower.
Next morning, we boarded a bus from the central bus stop to Tissamaharama. Well what do I say about the most interesting bus ride of the trip. It was crowded way over its capacity, stinky for most part and made us wish we reached our destination sooner. Also, since the bus is overbooked mostly, we travelled half the journey sitting on the footboard of the bus. Every first is special though and this long, bumpy ride was was for me.
We were to go the Yala national park that day and had booked the most beautiful Tara Watergate resort in Tissa. The resort is set around a lush green patch, lakes around it and has a perfect setup for a good relaxed stay. As much as we wanted to just jump in the pool after the weirdest bus journey, we knew we had to rush to Yala national park for our afternoon slot.
The national park is a must visit if you go to Sri lanka. People are usually divided on whether they should visit Yala national park or Udawalave park. But from extensive research we got to realize that Yala will have a more diverse range of animals and Udawalave will be more about huge number of elephants. We chose the former since we wanted to see the most popular of all- the leopard population at Yala apart from all the other animal sightings.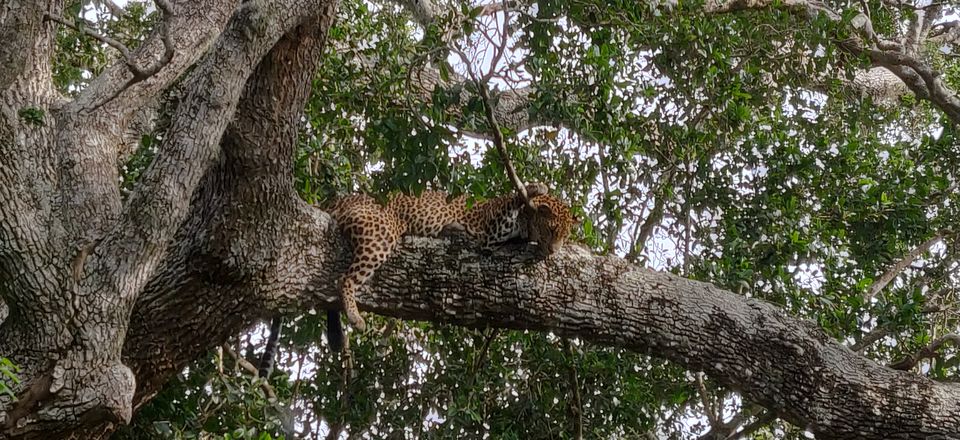 And boy-oh-boy, we were lucky. After almost an hour and a half wait in the jeep and the queuing up with hundreds of tourists (which please do note is usually the case here), we got to spot the most beautiful and fierce leopard sitting quite camouflaged on a tree. I couldn't take my eyes off the beauty and at the risk of sounding unfair to other animals, my day was made. We could also then sight many more animals like elephants, deer, wild buffaloes, crocodiles, peacocks and so on.
The day was tiring and quite exhausting with the sun shining bright at the national park so we decided on jumping in the pool for sometime and had a good night's sleep.
We chose to keep it relaxed the next day so we had a lavish breakfast and some more pool time. The place is so scenic that you can easily get the chill vibe. We had to checkout the same day so requested for a late checkout and then headed to our next destination- Galle.
On the way to Galle, our driver stopped at a point and we had the most amazing Coconut water. He was kind enough to not even let us pay for it. Coconuts in Sri lanka are a must try since they taste different from what we have in India. Needless to say, we had coconuts every single day we were there. Far too many on most days.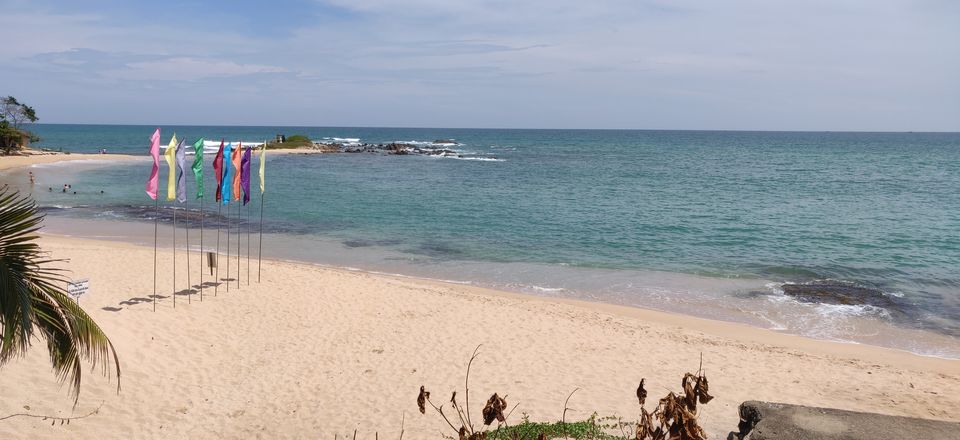 On the way, we see this beach nothing short of a paradise. Well, it is named Tangalle beach but to my mind, it is a slice of paradise. You know how sometimes you pass by something so beautiful you stop and gaze at it for as long as you can. You can then never take that picture out of your mind. Well that is Tangalle beach for me and the picturesque view is imprinted on my mind now.
We then stopped by the Mirissa picture point. It is this slightly elevated point where the view is breathtaking and it is a beautiful line up of coconut trees just perfect for a good picture.
Right before reaching our hotel in Galle, it started raining (our first experience of rains in Sri lanka so far). It got us pretty excited and a tad bit nervous since we had a few things planned for the next two days. We then reached our hotel at Galle and stepped out for shopping and dinner.
If you are in Galle, then a must visit is Galle fort area. It has this very royal, old world charm and is a shopper's paradise. Too many cute boutique shops lined up (Side tip: Do bargain everywhere) and so many food options it is difficult to choose. This coupled with thunder and lightning made for quite an interesting evening for us.
Do stop by at the Isle of Gelato which has the yummiest range of Vegan and gluten free Gelatos of all time. You will be left wanting more I bet.
We arrive at the last day in Sri Lanka. Well, it hurts to say it even now months later since I did not want this trip to end. But some interesting things were lined up that day so I went on with it.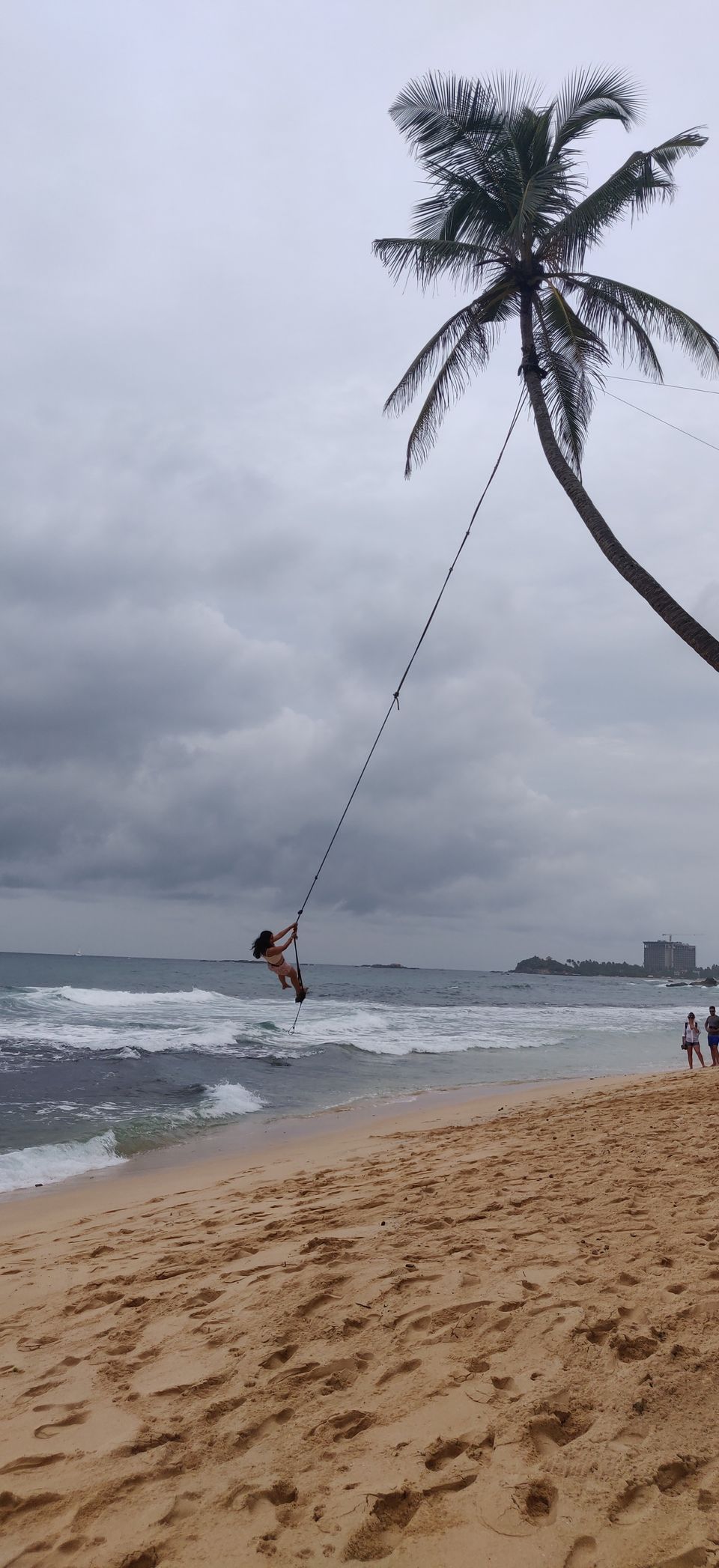 When in Galle, visit the Dallawella beach for the Insta famous beach swing activity. It is this super fun swing on a coconut tree where you are manually pushed being attached to a rope. They charge about 500rs INR for 3 attempts. I had the most fun on the swing. The beach is also one of the cleanest I have visited so far. It was a cloudy day and so we chose to spend some more time at the beach before heading to the next and last destination of the trip Hikkaduwa.
Well, how should we describe Hikkaduwa. Fun, vibrant and quite a popular touristy place. It is a lineup of some of the most famous beaches in Sri lanka. It is known for all kinds of water sports especially snorkeling, scuba diving, glass bottom boat rides and more.
I did none so I don't have much to say about them as far as the experience is concerned. I have quite a phobia with anything aqua (Trying to get over it and getting some swimming lessons right now) but that story is for another day. But for anyone looking for any of these activities mentioned above, this is the beach you should visit in Sri lanka.
We chose to relax the last evening there and went for an amazing spa session at the Citrus hotel.
With a heavy heart, we then left for Colombo airport and promised each other that we are surely coming back to this island country which had our heart by now. Do visit Sri lanka at least once and I am sure it will have your heart too.
Thanks for reading.