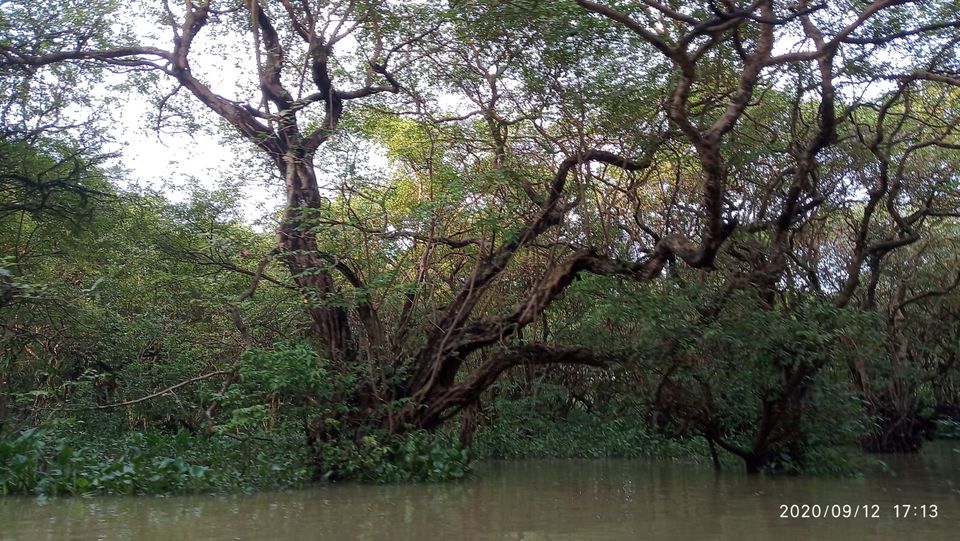 The Ratargul Swamp Forest is a freshwater swamp forest located in Fatehpur Union, Gowainghat, Sylhet, Bangladesh. Bangladesh has only one swamp forest. The government of Bangladesh, the Department of Forestry, is responsible for the natural preservation of the forest.
Three thousand three hundred and twenty-five acres of land cover it. In 2015, 504 acres were declared the animal sanctuary. Swamp forest is located 26 kilometres (16 miles) away from Sylhet, Bangladesh. The name of the forest is derived from the word 'Rata' or 'Pati' tree, used by the locals of Sylhet.
The evergreen forest lies on the banks of the river Goain and is linked with the Chengir Khal channel. When it rains, the forest is submerged under 20–30 feet of water. The water level in Ratargul is about 10 feet deep during the rest of the year. In fact, Ratargul is known as "Sundarban of Sylhet.
Sylhet is about 26 kilometres from Ratargul. Ratargul swamp forest is located in Sylhet range-2 on an area of 504 acres of wetlands and is under the management of the forest department. The site is in Gowainghat. There are two haors in the south of the forest, Shimul Bil Haor and Neoa Bil Haor after tourists arrive at Gowainghat.
The Ratargul Way:
Some bus services from Gabtali and Sayedabad depart from Dhaka to Sylhet. You can find the Green Line, Saudia, S. Alam, Ena Paribahan, and Shyamoli bus stations in Fakirapul, Sayedabad, and Mohakhali. With AC buses, it will cost you between BDT 800 and 1100. With non-AC buses, it will cost you between BDT 400 and 450.
If you wish to travel from Dhaka to Sylhet by train, you will need to take the Upabon, Jayantika, Parabat or Kalni Express trains from Kamalapur or Airport Railway Station.
A train also runs between Chittagong and Sylhet. There are two trains that run six days a week, including Pahari and Udayan Express.
By plane, you can travel easily and quickly. There are a number of airlines that leave Dhaka for Sylhet daily, including Biman Bangladesh, Regent Air, United Airways, Novo Air and US Airplane Air Biman.
A Sylhet to Ratargul journey:
You can travel to Ratargul from Sylhet in two ways. First of all, you can reach the inner roads of Khadim Tea Gardens within a short time. Take a CNG auto-rickshaw or Jeep to Shringi Bridge.
The travel time from Sylhet to Ratargul is about three hours. The cost for a CNG or autorickshaw for the whole day will be about 1200 to 1500 Tk.
The cost of riding a local CNG from Amberkhana in Sylhet to the Shringi Bridge is BDT 100 per person. Shringi Bridge introduces you to Ratargul through fishermen's small boats. Boats can accommodate 4 to 6 people. A boat costs between 400 and 800 BDT.
The second way to reach Ratargul from Sylhet is via Sharighat and Jaflong. It will cost between BDT 40 and 50 to get from Sylhet to Sharighat. From Sharighat, take a baby taxi to Gowainghat. Then you must take a boat to Ratargul. A boat will cost around BDT 800 to 1200 for 10-12 people. This route is more time-consuming and more expensive.
Besides that, you can also take the CNG from Sylhet's Bandar Bazar point to Motorghat, where you will get the Dingi Boat for Ratargul.
To enter the forest, you have to take one of the fishermen's small boats no matter which route you take for going to Ratargul.
Where are you staying:
Ratargul is not a good place to stay. You must stay in Sylhet. In Lala Bazar and Darga Road, there are many standard and affordable guesthouses. There are different types of rooms at BDT 400 to 1000.
What Will You Eat:
Several local foods are available at affordable costs in Sylhet Zindabazar, such as Pansi, Pach Vai, and Palki Restaurant. These restaurants offer about 30 different types of Varta.
Photo Credit: Habiba Farhana