Imagine, somehow you're trapped in a submerged forest, ship wrecked or plane crashed. You got a tiny wooden boat and trying to slither across deep green water, snakes hissing from the adjacent trees and unknown birds are flying over your head. No sound but water drops, eagles and vultures sitting on tree tops. You feel lost and helpless, yet so charmed and amazed by the glowing surreal view nature is offering you! What do you think? Are we talking about the Amazon?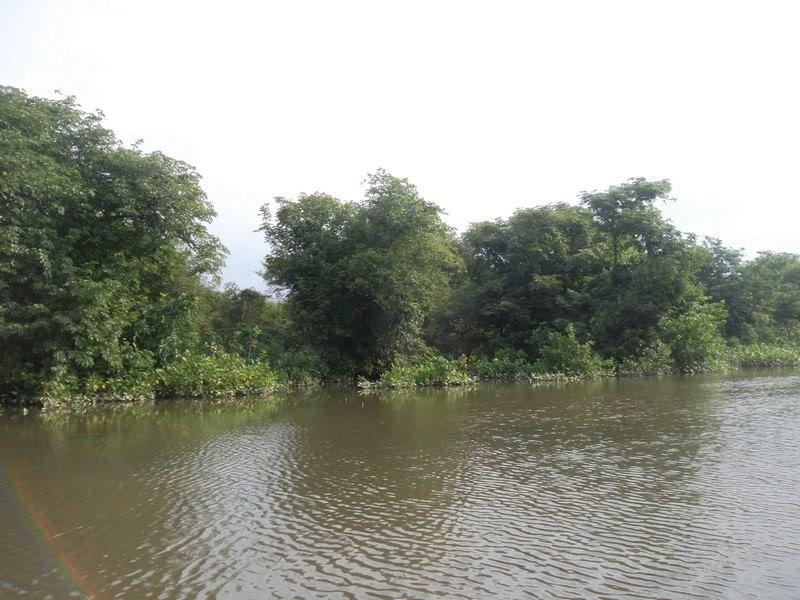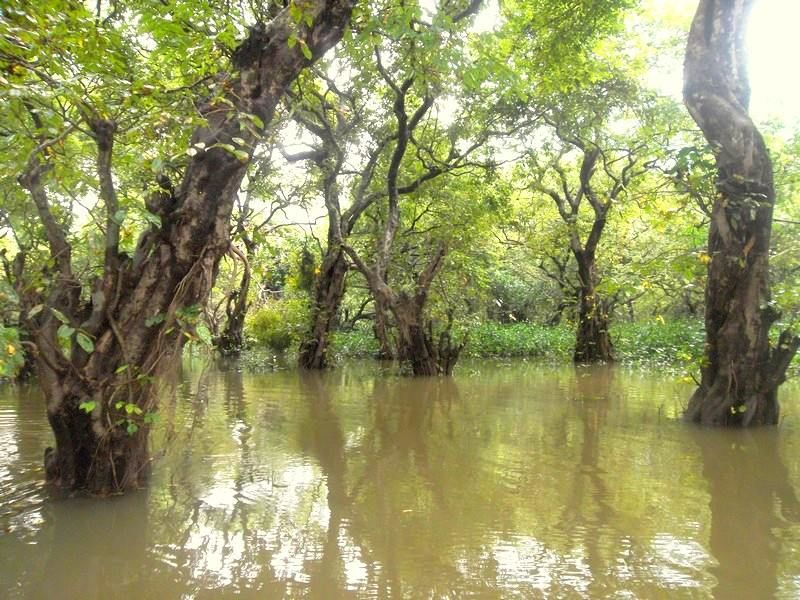 The Amazon of Bangladesh !!!
Yes and No! There is no doubt this description fits fairly well with the mighty green forests of Amazon, but little did you know, our country has a precious forest that offers the same feeling, same view and of course, everything in Desi style! This is Ratargul, thanks to our social media now everyone seems to know the name of the forest at least. This is undoubtedly one of the most popular forests of Bangladesh now-a-days. A few months back, we took a chance to have a glimpse of this unnatural beauty. Allow me to share it with you.
Our Journey to Bangla Amazon
After an uncomfortable overnight journey, we reached Sylhet very early in the morning. Visiting the mazar of Hazrat Shahjalal (R) which is our common stoppage for prayers and breakfast, we started for Ratargul. A CNG Auto rickshaw was enough for four of us, and in the empty streets of the rain bathed Sylhet it started to fly! We reached at the 'Motorghat' at around 7 AM. Even the locals were not seen anywhere in that gloomy rainy morning. Well, we luckily found a boatman there with his light dinghy type boat (They call it Kosha in local terms) and started what we have dreamt of for so long, Ratargul!
Nol-khagra and cane bushes
We passed through a bunch of Nol-khagra and cane bushes, and then the majestic beauty began to unfold before our eyes. We were simply speechless, and confounded by the mystic greenery of Ratargul! Honestly, my words won't be able to do justice here, so try those images!
It doesn't take more than a couple of hours by boat generally to complete the visit. After that, we reserved an engine boat which took us to Goainghat Upazila. That was another great part of the journey; the live beauty of riverside Bangladesh with its cloudy mountainous landscape offered a great deal of mental refreshment for all of us.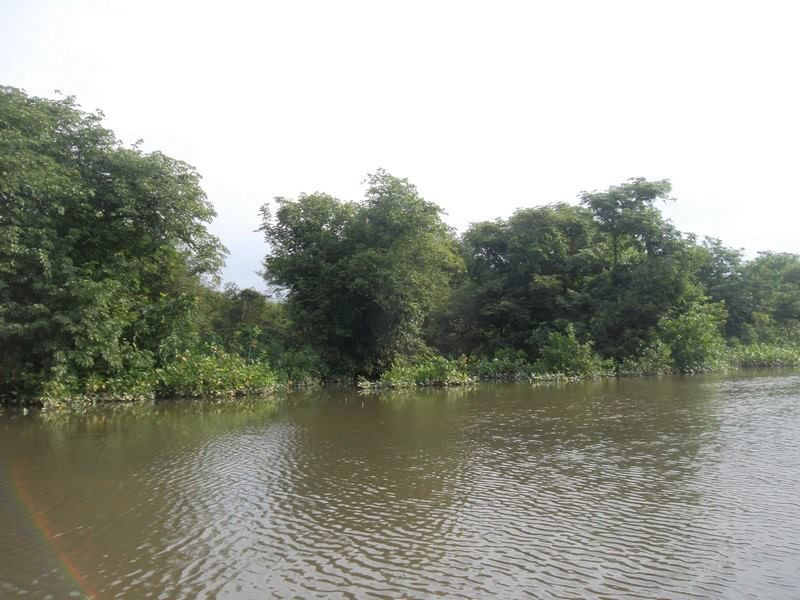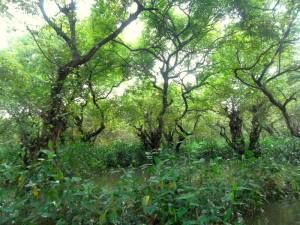 Snakes are very common, We never saw one though :p
Some Basic Information
Ratargul Swamp Forest, the one and only Fresh Water Swamp forest of Bangladesh, and you will be amazed to know that other than Ratargul, there are only twenty one more freshwater forests in the whole world! In our Indian subcontinent we got just two of them, one in Sri Lanka and the other is our precious Ratargul.
Now, the natural question comes in our mind that, what is a swamp forest? Well, Freshwater swamp forests, or flooded forests, are forests which are inundated with freshwater, either permanently or seasonally. They normally occur along the lower reaches of rivers and around freshwater lakes. Freshwater swamp forests are found in a range of climate zones, from boreal through temperate and subtropical to tropical. Some swamps have Hammock (ecology) or dry-land protrusions, covered by Aquatic vegetation, or vegetation that tolerates periodical inundation. The water of a swamp may be Fresh water, Brackish water or Seawater. Some of the world's largest swamps are found along major rivers such as the Amazon, the Mississippi, and the Congo.
Our Ratargul Swamp Forest is located in Goainghat area of Sylhet. This forest is flooded by the water coming from hills of India through the river Goyain only in the monsoon period and makes the swamp. Other time, it remains dry and muddy. Water of this beautiful forest is so clear that you can see the bottom layer. Water level never remains in the same level on this forest. It depends on the quantity of rainfalls. Water level could be 15-20 feet in the forest on the time of heavy rainfall. Total area of the forest is 3325.61 acres, among which 504 acres of forest was declared wildlife sanctuary in 1973.
Main trees of this forest are zigzag style Koroch and Hizal tree. Root of these trees are in two level. One in the ground, and another in the mid level which is used while the forest is flooded in the monsoon time. If someone sees this forest in monsoon time, he may think these trees are born above the water because of the roots in mid level. It's a good source of different local fish. It's the habitat of different snakes, monkeys, lizards, insects & birds. You would have seen vulture & Eagle if you are lucky. Some part the forest gets so narrow that you can't go by boat.
How to Go
First, you have to come to Sylhet. Then, there are two options you can enjoy the beauty of Ratargul.
Firstly, Hop on to a CNG Auto rickshaw from Ambarkhana point of Sylhet city. It takes about an hour and a half to reach Motorghat. From there, hire a boat or more (according to your team, a boat can carry five or six persons), each of them will cost 300-400 for the trip. After finishing the visit, you can return to Sylhet in the same way. This is the easiest way and takes less time and money as well.
Second option, Hop on to a CNG Auto rickshaw from Ambarkhana point of Sylhet city or get into a bus heading for Jafflong from Sobhanighat. In both way, you have to come to Goyainghaat upazilla which will take about two and a half hours. Then you have to reserve an engine boat, two ways around (to and from Ratargul, waiting couple of hours) from Goyainghaat which will cost around 1500. This boat will drop you at the Forest bit office of Ratargul. From there, you need to take those small boats for getting in to the forest. It's a bit more costly and time consuming way, but if you plan to visit Jafflong in the same route, you should choose this option.
The best season to visit Ratargul (And the whole Sylhet) is the Rainy season…….. May-June to September-October.
Safety Concerns
As it is a submerged forest, knowing how to swim is required for safety, as the boats sometimes tilt there. Otherwise, you can use life jackets (around 600 BDT from Nababpur Road, Dhaka). Another thing, in full monsoon when the water level is at peak, poisonous snakes tends to seek refuge in those trees. So it's not a good idea to touch the trees or even the water casually. You can also take Carbolic acid (available in large pharmacies) for a better precaution.
But the most important thing is, please do not litter the forest. Collect your empty bottles, packets of chips or biscuits with you. This is our forest, our jewel and we need to take best care of it.
Happy Traveling!!!
This trip was first published on https://skmahdi.wordpress.com/.