🙂Chapter 1: Preparations Before the trip🙂🙂
My first post begins with the story of our latest trip to SriLanka.
To start the story, let's go through the backgrounds. It's around mid 2019, we (me and my wife) with two of our friends planned to have a trip in early 2020 in India specifically the Golden Triangle. So as the time approaches, all the plans are made accordingly for India including the Golden Triangle and Some parts of Rajasthan. Everything was set for a trip of four, even shortlist of hotels and others were done. Just we needed to book. Then the Indian political issue came up and we were highly disappointed but as i was too stubborn that i need to go somewhere and exploring other opportunities. 1st i explored Egypt but it turned out too expensive for that moment. Then after exploring Vietnam, Philippines and even Madagascar. We finalized SriLanka as it matches the budget and others.
But at the last moment one of our friends cancelled her plan. So then it was 3 of us.
We started chalking out the final plans and itineraries according to budget. First part is to finalize which airlines we need to choose. Though SriLanka has direct flight operated by SriLankan Airlines, the cost is too high around 43k bdt even a month before. Then the budget airlines Thai Lion came to us as a blessing offering Dhaka to Colombo Flight with transit in Bangkok worth 21k bdt only. But there is no baggage with the ticket only carry on is allowed, 1st i think to finalize as a backpack trip but then we bought 20 kgs total for 3 of us to and from worth around 8k bdt. Finally we booked tickets for 31st Jan 1.15 AM and returned on 8th Feb 10.15 AM. The total cost was around 23.5K bdt each for return flights. We need to complete our ETA before booking a ticket. ETA is worth 21 usd per person.
There is an official website of Sri lanka immigration where u can apply for ETA(Electronic Travel Authorization) and pay by your credit card. You just need to have your passport and one email ID for this. We will need 15 minutes to complete and submit the form, and they will send u approved ETA within 15-30 minutes approximately after submission. Trust me it is a very easy process, some travel agencies claim service charge to do this, i don't think any person who can type and read should go for this. Just a caution there are many lookalike websites on the internet like Srilankan govt immigration site, don't fall for those. Check before you submit an application, govt site will just claim 21 USD.
Then the ticket was booked, the date was finalized, now it's time to finalize the transport according to our itinerary. Lets share some details about Srilanka, bus and rail transport in Srilanka is quite good and cheap. So, first we prepare all the timelines according to bus and rail transport surfing the internet through many travel blogs and YouTube videos. But since i was confused with some information's about the route plan, i posted my itinerary in SriLanka forum of TripAdvisor, from there some of Srilankan travel agencies contacted with me and offered car services. I found those quite convenient and budget worthy. So i booked a car from Lanka tours and excursions as their owner named Kaan contacted me through trip advisor and then whats app. I booked the car for the whole trip from airport pick up to airport drop off, specifically 24 hours at 395 USD total.
But unfortunately in the meantime corona virus breaks out and it spreads in Bangkok also where our 3 hours transit will be. So we bought some good masks and boarded the airplane on the big day on 31st Jan midnight. The plane was 1 hour late.
🙂Chapter 2: The trip Starts with history exploration🙂🙂
We landed on SriLanka at around 10.30 AM in the morning, crossing immigration and getting a sticker visa and finding luggage took 45 minutes more. Then we are free to go. We bought a tourist sim worth 1300 LKR of Dialog which provides best service throughout Srilanka. The exchange rate that day was 179.80 LKR per USD. So as u can guess now Srilanka is cheaper than Bangladesh in most cases.
Our chauffeur Kaan was waiting for us outside with my name written on a board to welcome us and start our day 1 in Sri Lanka. We planned to spend the 1st 2 days in Dambulla.
Day 1: Airport to Dambulla Hotel, and visit Dambulla cave temple on the way. Entry for the temple is 1500LKR and we will get to see an ancient cave temple with awesome architectures of Buddha sculptures and cave paintings of around a thousand years ago after climbing around 300 stairs and the view from up is too good. Climbing down in a different route we got to see a golden temple of Buddha.
Day 2: Sigiriya and Polonnaruwa ancient city. Sigiriya is the one iconic thing in Sri Lanka which is claimed by many as the eighth wonder of the world. To get to the top of Sigiriya, the lion rock fortress u need to climb more than 1200 steep stairs which is around 400 m. When you get to the top, you will instantly forget the hardships you just had. Entry fee for SAARC nationals is 15 USD which is double for other foreigners but don't forget to carry your passport.
Polonnaruwa is another ancient city of an ancient king who was ruler of that city, many famous architectural sights are preserved there. But the fun part is you can hire a cycle there to roam around the whole city in just 500 LKR. Entry fee for SAARC nationals is 12.5 USD which is double for other foreigners but don't forget to carry your passport.
Hotel in Dambulla: New Peacock Resort booked through booking.com
🙂Chapter 3: Ella, the mountains and the waterfalls🙂🙂
Ella is one of the famous tourist cities in Sri Lanka full of visitors from different countries around the world. Despite having this many tourists, they managed to preserve nature and greenery.
Day 3: We started very early in the morning from Dambulla to Ella, on the way we visited Dunhinda falls which is located near Badulla District. Trust me this is one mighty waterfall but you can't swim there and it is more popular among locals than other foreigners. We need to trek 1.5 km to reach the waterfall, it takes around 30 minutes but there are lots of shops on the way to sit and relax and have juice. Entry fee is 300 LKR for foreigners. After we checked into the hotel and later had dinner. There were many happening restaurants in Ella to have your dinner at night.
Day 4: we started early morning to see another mighty falls named Diyaluma Falls, very popular among foreigners. There are two parts: upper Diyaluma and lower Diyaluma, u can swim and dive in upper Diyaluma. You need to trek 2 km in the jungle with a guide to reach there which takes about 40 minutes. When you reach there and jump into the pool of the falls, you will get a heavenly feeling. No entry fee, my guide took 800 LKR to take and bring us, he also took care of our bags and all.
After returning back from upper Diyaluma, we had our lunch near lower Diyaluma. U just stand on the road and see the waterfall, then we walked about 2 km through the rail line from Ella railway station to visit the iconic Nine Arches Bridge in Demodara.
Day 5: we woke up early to see sunrise on little adam's peak. It is a 25 min hike up and it was hard. But the view from the top was too good, the sunrise was average. We can see the whole Ella from the top including Ravana falls. After returning back we took the famous and one of the most scenic train journeys of the world from Ella to Nuwara Eliye. It took 2.5 hours, our purpose is just to experience the train journey. So after reaching Nuwara Eliye, we visited Gregory lake and returned back to Ella by evening train. Many people took the train from Kandy to Ella which took almost 7hours but the most scenic part was after Nuwara Eliye, so i must recommend this short journey.
Hotel in Ella: Green Paradise Resort booked through agoda.com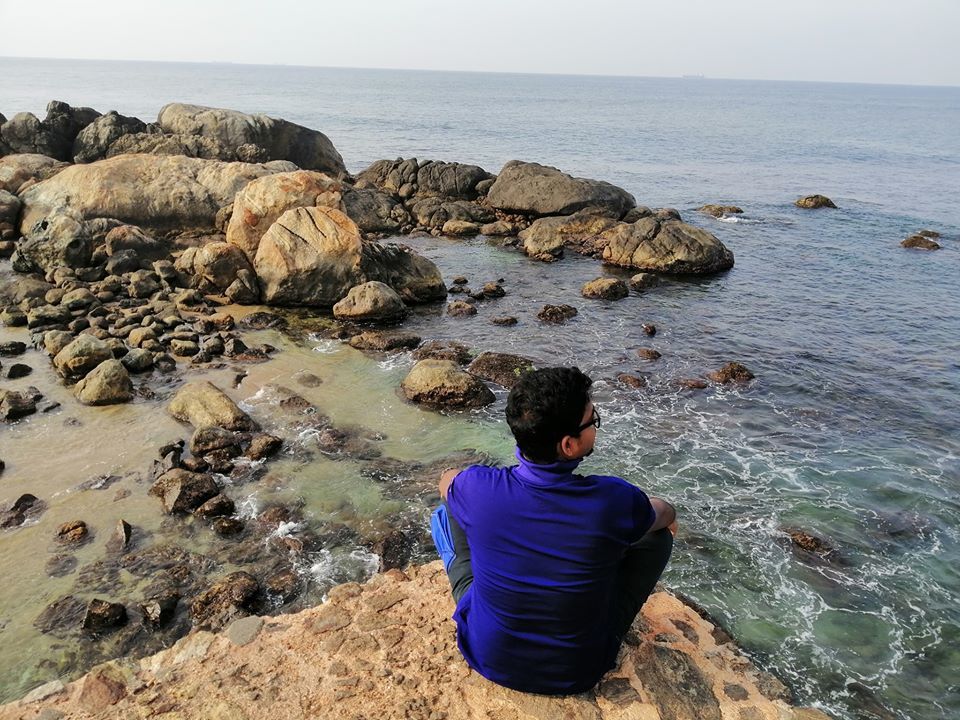 🙂Chapter 4: Mirissa, Beaches and Whales🙂🙂
Among many other beaches in Sri lanka, we chose Mirissa to stay as this claimed to be the most beautiful beach. Mirissa is located in Matara District. From Mirissa, all the whale watching tours are operated.
Day 6: We started early morning for Mirissa, but there were two more waterfalls to visit on the way. Ravana falls is the most common waterfall in Ella just beside the highway, and it's good. Ella Wala waterfall, a hidden beauty. Not many of the tourists aware of this yet, Our chauffeur told us about the place, u need to take a tuktuk from a point for 2 km and walk for 10 minutes to reach the falls. It's too wild and between the jungle surrounded by greenery, I can't explain more. No entry fee for any of those. But tuktuk fare will be 600 round trip and tuktuk driver will also guide u. Then we reached Mirissa, we booked a sea view nice resort which is worthy to spend the whole day just sitting on the balcony. You can swim and surf on the beach. Of course you can take lots of Instagram pictures. You can have fresh fish barbecued by the beach in many restaurants with music and candle decorated tables.
Day 7: Whale watching day, normally whale watching trip will cost 40-45 USD per person with breakfast, it's almost 100% sure that u will get to see a whale but the trip can be 3 hours to 8 hours long subject to whale availability and u will definitely get sea sickness if the tour extends more than 3.5 hours because the sea tend to be rough and boat rolls a lot. Sea sickness doesn't mean everyone will vomit and get really sick but it might not be a good experience if you are not too enthusiastic and crazy. To be assured, I felt dizzy sometimes but I was enthusiastic and crazy, and saw an approximately 40 feet long Whale swam around. After returning, sameas the previous day, just chilling in the beach
Hotel in Mirissa: Coral view Beach Resort booked through booking.com
🙂Chapter 5: Galle, Capital Colombo, Fort, Street Foods and The End🙂🙂
Day 8: We started early for Colombo from Mirissa. On the way we saw Unawatuna beaches from the car, and didn't get down. Some Tsunami affected sights were also on the way to visit though we didn't stop by. We stopped at Galle Fort, which is an intrinsic example of Dutch architecture. And the whole fort area is too scenic, you can just walk through the fort walls by the sea and it was great. Lots of shops and restaurants were also inside the area and there were some Muslim shops and mosques too. Then we reached the capital, and trust me Colombo is far ahead. They are high rise buildings and malls are totally organised. We visited Colombo City Center which is a shopping mall and enjoyed sunset on Galle facing beach. This is the place where all famous street foods of colombo are available. After having lots of food we got back to the hotel for the last sleep of last night in Sri Lanka
Hotel in Colombo: Port View City Hotel booked through agoda.com
Day 9: we started early morning for the airport as the airport is in another city named Negombo 40kms away from the capital. We bid Goodbye to our Chauffeur and start our return journey. We had a 7 hours transit in Don Muyenag airport of Bangkok, passed our time in duty free shops and in a lounge accessing through priority pass. Then Landed on Dhaka at 12.45 AM midnight of 9th Feb 2020. Thus the story ends.
Total cost for the trip was 62K BDT per person. We were 3 people, and a trip of 4 people will lower the cost a bit.
SriLanka is unexpectedly too clean in every place whatever it is city, mountain, jungle or waterfall.. Please be alert to keep the environment same as clean and healthy.
Check out my Cycling Related BLOG. Hope you guys like it.